Senate Passes Bill that would Legalize Industrial Hemp

By Brandon Moseley
Alabama Political Reporter
Tuesday, April 12, the Alabama Senate approved Senate bill 347, sponsored by state Senator Paul Bussman (R-Cullman) to permit the growth of industrial hemp for research purposes in Alabama. Such a move would make Alabama the 29th State to allow the scientific research of industrial hemp.
Senate Bill 347 would authorize the Department of Agriculture and Industries, or an institution of higher education, to research the uses of industrial hemp, which is genetically different from marijuana and refers to non-psychoactive varieties of the Cannabis plant.
Sen. Bussman said, "There is enormous economic potential for the use of industrial hemp, which can be used in the production of insulation materials, yarns, textiles, and auto parts." "This proposal will allow our colleges and universities to investigate industrial hemp's full potential. I believe industrial hemp could be a huge benefit to our Alabama's agriculture, but I'm glad we're taking this initial step approving research before we consider legalization for economic production."
Auburn University prepared a white paper in 2015 that concluded industrial hemp is well-suited to most of Alabama's soils and seasonal weather patterns and the Hemp Industries Association estimates the total retail value of industrial hemp products in 2014 was $620 million.
Alabama Commissioner of Agriculture and Industries John McMillan said in a statement, "I want to commend Senator Bussman for his leadership on this issue and for his willingness to seek alternative cash crops for Alabama farmers. We look forward to the potential research opportunities this legislation provides our state institutions of higher education."
Hemp used to be more commonly grown and was used in paper and rope manufacturing. The plant is difficult for a non-farmer or botanist to distinguish between its close cousin, marijuana, so growing hemp has been suppressed for decades. As decriminalization of marijuana has progressed, it is available legally with a prescription in a growing number of states, the reasoning for preventing American farmers from growing hemp has also diminished.
SB347 now goes to the House for its consideration.
Trump Truck and boat parades this weekend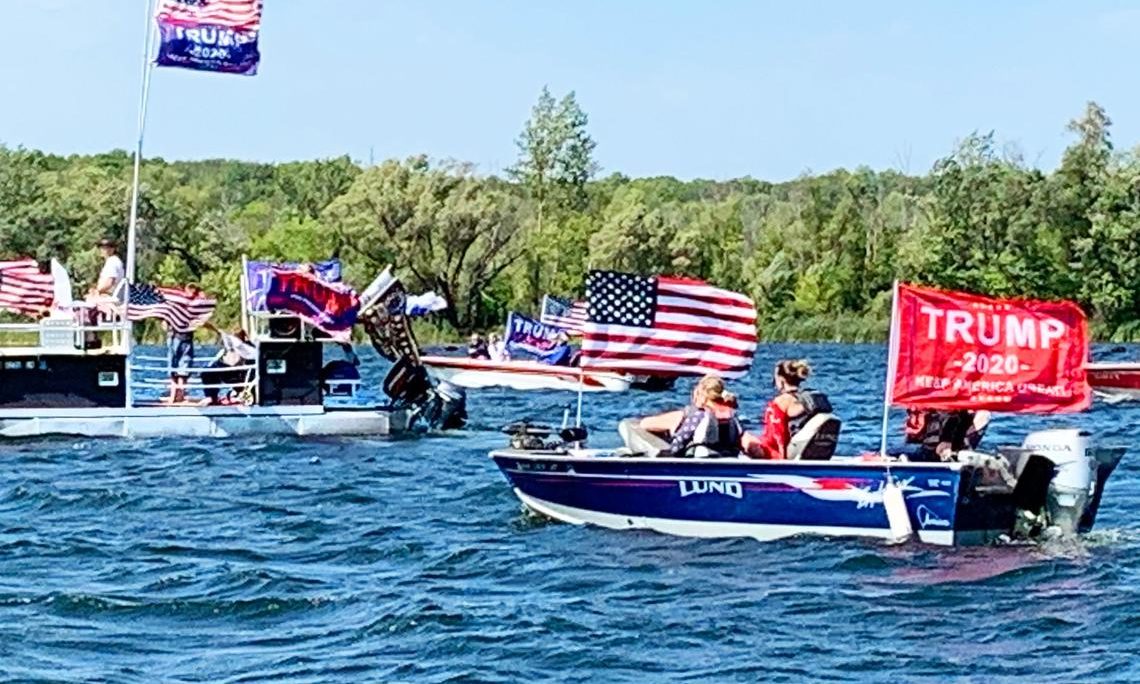 As Election Day draws near, Alabama Republicans are excited about promoting the re-election of Donald J. Trump as President and the election of Tommy Tuberville for U.S. Senate. This weekend two pro-President Trump events are happening in the state. There will be a truck parade from Ashland to Phenix City on Saturday sponsored by the Clay County Republican Party, while there will also be a boat parade on Wilson Lake in the Shoals sponsored by the Colbert County Republican Party on Sunday.
The pickup trucks will assemble at the Ashland Industrial Park in Clay County, 8240 Hwy 9, Ashland. There is a pre-departure rally at 10:00 a.m. central standard time. The trucks will depart at 11:00 a.m. and then proceed on a parade route that will take them into the bitterly contested swing state of Georgia. The Trump Pickup Parade will wind through east Alabama and West Georgia traveling through LaGrange and Columbus before concluding near the Alabama/Georgia line in Phenix City, 332 Woodland Drive, Phenix City at approximately 2:00 p.m. central time. Speakers will begin at 3:00. Trump flags will be on sale at the event.
The Phenix Motorsports Park will be hosting what sponsor hope could possibly the world's largest Pickup Tuck parade in U.S. history that is routing over 50 mile through Georgia in effort to "pickup" President Trump's numbers in GA.
A number dignitaries have been invited to address the Phenix City rally, including Coach Tuberville. Former State Sen. Shadrack McGill, Trump Victory Finance Committee member former State Rep. Perry O. Hooper Jr., and Paul Wellborn, the President and CEO of the largest Family owned Kitchen Cabinet manufacture in the USA are among the featured speakers who have committed to speak at the event.
Entertainment will be provided by: Charity Bowden, an up and coming country music singer who was the runner up on "The Voice". Charity will sing 'I am Proud to be an American' as well as songs from her Voice performances. The McGill Girls will also perform. The three beautiful and talented sisters will be singing patriotic songs in three part harmony. Geoff Carlisle, a professional DJ will be keeping the crowd pumped with music and entertainment.
Following the speakers and the entertainment there will Trump truck-vs- Joe Bidden truck races down the drag strip for the finale.
The Northwest Alabama boat parade will be on Sunday. The boats will gather at 2:00 p.m. near Turtle Point and then the flotilla will parade around the open waters of Wilson Lake til 3_00 p.m.. There will be a contest for best decorated Trump boats.
Trump supporters have held a number of large boat parades across the state to show their support for the re-election of Pres. Trump.
Boat parade sponsors say that this parade will be: pro-American, pro-law enforcement, pro-military.