Sine Die! – "with all deliberate speed"

By Lieutenant Governor Kay Ivey
When I struck the gavel for the Senate to adjourn Sine Die at midnight on Wednesday, May 4, 2016, the Senate completed its 30th and final legislative day of the 2016 Regular Session. Sine Die is a Latin phrase meaning "without day" that is, without designating the next day the legislature will meet; it is the final adjournment of a legislative session.
On the last day of the Session, my day began at 8:30 a.m. when I participated in a Legislative Council meeting.  Nearly 16 hours later, "with all deliberate speed," the Legislature had completed its statutory requirement to meet 30 legislative days during 105 calendar days.
During this year's session only 93 calendar days were used, with some legislative days lasting 2-3 hours, while others were 10-12 hour days.  This may not sound practical, but it's the way the Legislature operates and much of their schedule is dictated by the legislative process, as well as actions in the other body or committees.
When the 2016 Regular Session convened on Groundhog Day, February 2, many challenges again faced state government.  Governor Robert Bentley, during his State of the State Address, launched his "Alabama's Great State 2019 Plan" along with an aggressive legislative agenda.  Three months later, the Legislature had adopted roughly half of the Governor's legislative priorities. Even though Senate and House Republican Caucuses offered a less aggressive agenda, they successfully adopted most of their legislative priorities targeting a pay raise for educators, continued efforts to generate new job creation incentives, and new protections for the unborn.
For those of you who like to review the box score and may be interested in the "inside baseball" nuances of how productive the Legislature was during the 2016 Session, I will share a few statistics.  Legislators introduced 1,005 bills, with the House introducing 574 and the Senate 431.
The Senate gave third reading to 440 bills to be placed on the calendar for consideration.  Overall 281 bills were passed by both bodies and enrolled. The Legislature slightly improved its efficiency this session with a 28 percent passage rate compared to a 26 percent average for 2011-2015 although fewer bills were introduced compared to recent years.
The major highlight of the Session was passage of both budgets ahead of schedule. The General Fund Budget (GF) totaling $1.85 billion was passed in March, with the Legislature overriding the Governor's veto on a 22-11 vote the first week in April. The FY17GF Budget, which goes into effect October 1, 2016, is 5.2 percent larger than the current GF Budget and does not include any new taxes.  The GF Budget increased funding for Medicaid and continues to provide protection against cuts for major state agencies including: Corrections, Law Enforcement, Human Resources, Medicaid, Mental Health and the Courts.
Alabama's other budget, the Education Trust Fund Budget (ETF), was passed on the 25th legislative day on a 32-0 vote and quickly signed by the Governor.  The FY17 ETF Budget totals $6.3 billion and is 5.6 percent more than the current education budget and the largest since 2008.  The ETF Budget includes a pay raise for teachers, the first in nearly a decade, and includes increased funding for Pre-K, transportation and classrooms while providing for 475 new teachers.
Just as important as what passed is what did not pass and how it impacted the Legislature.  A proposed gas tax, efforts to redefine bingo, renewal of historic building tax credits, prison construction and use of future BP settlement proceeds all failed, but had a great deal to do regarding the legislative process and its impact on other bills. It appears two separate bills, a proposed gas tax and the distribution of the BP settlement proceeds, became intertwined in the House.  With marginal support in the House for a gas tax, an alternative proposal to the Senate-passed proposal to utilize BP funds was crafted in the House to help garner support from Members to support a gas tax.  Once the House BP settlement alternative proposal was assigned to the Senate General Fund Budget Committee, where it died, Gulf Coast region House members filibustered actions in the final days of the session.  There never was substantial support in the Senate for a gas tax, which resulted in the House not bringing it for a vote, leading to the eventual demise of additional funding for roads and bridges.
The prison construction bill met a similar fate.  Even though there were concerns about the plan proposed by the Governor which would address overcrowding, growing demands on correction officers, and increased costs of operating the Department of Corrections, the Senate passed a bill providing for the construction of four new prisons with the proceeds of a $800 million bond issue on a 22-11 vote.  The House amended the Senate prison bill, which resulted in a Conference Committee to resolve any differences, while concerns continued to grow over the lack of transparency.  After lengthy negotiations with the Administration, the Conference Committee produced an alternative plan to build three new prisons utilizing a $550 million bond issue that was adopted by the Senate on a 23-12 vote.  Due to procedural delays by Democrats in the Senate to kill the prison bill, the Conference Committee report was not transmitted to the House until the final hour of the Session, where it died.
Separately, the never-ending gambling issue continues to impact the legislative process.  Several bills were introduced to redefine bingo in certain counties so they could operate games similar to those offered by the Poarch Creek Indians at various venues around the State.  Although these bills were not successful, some Senators chose to exercise procedural delays to reinforce their position and slow the legislative process during the final days.
The last two days of the Session were a culmination of actions in both Houses which killed key legislation.  In the Senate on Tuesday, the 29th legislative day, a five-hour logjam was created by a filibuster.  In the House, Gulf Coast members filibustered actions due to Senate Committee actions on the BP settlement bill.  On Wednesday, the last day, from Noon to 8:00 p.m. the Senate recessed and returned five times to allow for caucus discussions and conference committee deliberations. At 11:40 p.m., during the last twenty minutes in the Senate, nearly three dozen local bills were quickly passed ranging from Sunday liquor sales in certain communities, to distributing taxes and increasing lodging taxes.
In the end, it all came down to the wire where tactical delays resulted in there not being enough time to act on key legislation – the clock ran out. The challenges looming over the State at the beginning of the last session such as prison overcrowding, pension reform, Medicaid, continued education reform, as well as others, will be key legislative agenda items to be reconsidered when the Legislature convenes the 2017 Regular Session on February 7, 2017.
I am encouraged that the Joint Medicaid Study Group is continuing to meet throughout the year to help educate members on Medicaid and develop possible solutions.  I am hopeful this same model will be considered for prisons and other key issues.  In the meantime, the alternative is for the Governor to call a Special Session later this year to address some of these issues. Regardless, as President of the Alabama Senate, I stand ready to serve and preside.  I continue to be committed to helping make Alabama a better place to live, raise a family, and educate your children, our best days are ahead of us – I believe in Alabama and her people.
Print this piece
Opinion | "Just Mercy" and Justice do not exist in Alabama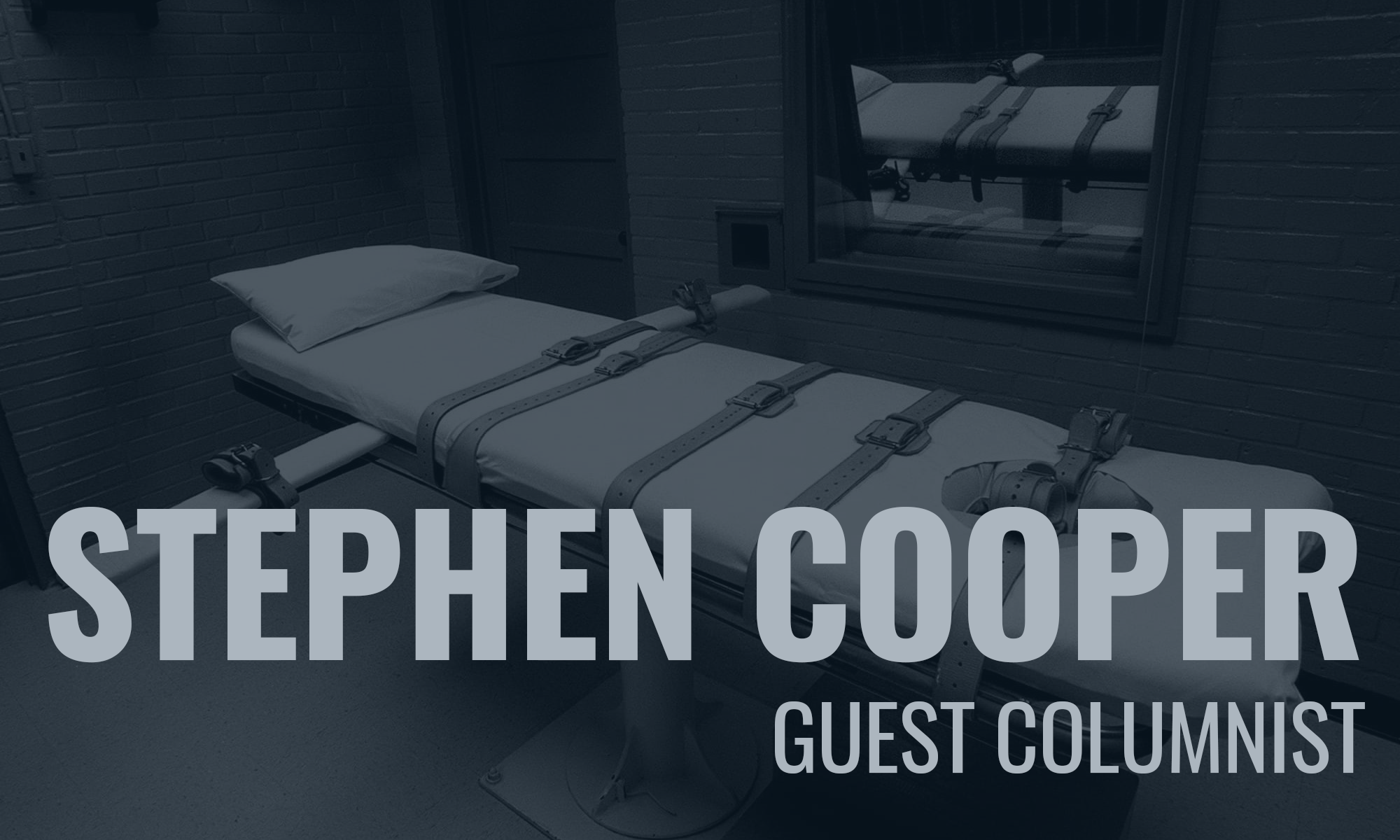 The chance of there being "just mercy" for Nathaniel Woods—facing lethal injection on March 5 for the killing of three Birmingham police officers—is as good as the chance Alabama will ever reform its dismal, no-justice-to-be-found-anywhere legal system; it ain't gonna happen.
A Hollywood movie and best-selling book about a legendary lawyer getting an innocent man off of death row can't change a culture of condemnation on its own. It can't, by itself, defeat deep-seated hatred and crass corruption that feeds off, subjugates, and disenfranchises the poor in Alabama.
And so I hate to tell my progressive, abolitionist friends: But it is unreasonable and naive to think the undeniably decent call for "just mercy" can push the needle from out of the veins of flesh-and-blood human beings—even old, dying ones—condemned to death in Alabama.
The righteous cry for "just mercy" can't cool the hot, facile, and feral appeal of vengeance in a state soaked in the blood of slavery and segregation, where hatred for common humanity thrived, and, where it remains, having long ago seeped into its criminal code, its policies of mass incarceration, its entrenched and inescapable poverty for so many, its abysmal prison conditions, and its terrible, twisted addiction to capital punishment.
"Just mercy" doesn't exist in Alabama, because truth be told, justice doesn't exist in the state either.
Elsewhere I've written how Alabama has been torturing poor people for a long time, how it's been ducking and dodging death penalty accountability, and, how its sick and shrouded plan to exterminate a substantial portion of its death row population with nitrogen gas is an abomination. But this time let me offer a new, concrete, more personal anecdote to illustrate how unfair and unjust Alabama's so-called "justice" system is.
Over five years ago, as a "capital habeas" or "post-conviction" attorney, I was involved in litigating a capital case in Alabama; the end result of our Herculean effort was that a man named Christopher Revis had his death sentenced vacated and a new trial ordered—by Marion County Circuit Court Judge John H. Bentley—because of juror misconduct and ineffective assistance of counsel. 
Over five years have passed since that magical, momentous, Hollywood movie-like day when Bentley ruled. But, guess what? Christopher Revis still has not had his new trial. 
That's right: Even though Revis was ordered to have a new trial on capital murder charges over five years ago, he hasn't had it. Nor has his case otherwise been resolved. Instead, the only thing that has happened to Revis during all this time is he has remained in Holman prison—locked down in a place that is otherwise known as "hell on earth"—where he had already been incarcerated for nearly a decade before I met him.
Last year, after more than four years had passed since Revis was ordered by Judge Bentley to have his new trial, I re-activated my Alabama bar card and traveled to Alabama for a few days to see if I could suss out—as a freelance writer who still cares about my former client, his family, and the rule of law—what the heck is happening. I failed.
But I am not alone. Because does anyone in the legal community, press, or the public know why Christopher Revis has not had his new—constitutionally mandated—trial yet? Has any competent, conscientious journalist anywhere ever looked into Christopher Revis's case and this question before?
Nope and nope.
Have I, as Revis's former lawyer, and after having been contacted and asked to do so at various times by Revis's desperate family—over the years since I left law practice—done everything possible to alert members of the legal community and the press (both local and national) of the unconscionable passage of time in Revis's case? Yup. But you can google for yourself to find out just how little that has accomplished.
And so, although I don't relish being in the role of spoiler and bearer of bad news: In my opinion, based on my own personal experience, before "just mercy" can be anything but a wishful and fleeting slogan on highway billboards in Alabama, the state must first be able to competently and fairly provide justice to its citizens. Citizens like Christopher Revis. So far it hasn't.

Stephen Cooper is a former D.C. public defender who worked as an assistant federal public defender in Alabama between 2012 and 2015. He has contributed to numerous magazines and newspapers in the United States and overseas. He writes full-time and lives in Woodland Hills, California. Follow him on Twitter at @SteveCooperEsq
Print this piece