After the Storm: A Modest Proposal

By Bill Britt
Alabama Political Reporter
Jury selection in the State vs Michael G. Hubbard began Monday, with opening arguments to begin on May 24 or 25. The trial is expected to last approximately a month, according to statements made at the last hearing.
If Hubbard, who is charged with 23 felony counts of public corruption, is found innocent, the monster, who is Speaker Hubbard, will scorch the Earth with his vengeance and retribution, and our State will never be rid of his corrupting influence. If convicted, there will be a brief moment to change rules, institutions and policies, that will prevent men like Hubbard from harming our State by using government for craven, personal gain. If convicted, there will be an opening to stop the practices that have enabled Hubbard and his cronies to thrive.
That moment, after the storm, is our best chance to get it right.
In 2010, Hubbard claimed that he stormed the State House, taking it back from 136 years of corrupt Democrats. He replaced those Democrats with a tyrannical regime, which ushered in an unparalleled circus of bacchanal. Lawmakers, policy wonks and even lobbyists should be eager to come together to bring about change to our broken system.
With Gov. Robert Bentley's administration out of control and under investigation, more tempests lie just over the horizon; but they are not so great as to thwart honest men and women from doing their duty.
While I do not pretend to have any absolute solutions, I will offer some suggestions.
First, we must admit that our Ethics Commission is broken beyond repair. As an institution, its formal opinions have enabled public officials to skirt State Ethic laws, and its informal opinions have opened the door for widespread abuse.
Even now, lawmakers are employed by organizations whose sole purpose is to lobby the government. Even now, the ethics commission continues to offer secret opinions that hide lucrative contracts from the public. It has not only failed, but has institutionalized systematic lawlessness. They have not enforced the ethics code as intended, but have looked for every way to allow public officials to cheat and disobey the black letter of the law. The politically appointed and motivated Ethics Commission must be disbanded completely.
What is to be its replacement?
There are ethics laws on the books just as there are laws about theft. The State doesn't have a special commission to issue opinions or free advice to those who want to steal. What we have are law enforcement officers, the Attorney General's Office, district attorneys, and courts to investigate, indict and try criminals. That system has, for the most part, served our State well.
The job of policing, investigating and enforcing our ethics laws should be placed under the Special Prosecutions Divison of the Attorney General. A line item budget guarantee should be instituted as it is, with the current ethics commission, to prevent political meddling. A special unit with the division can be established to oversee and enforce the ethics laws. The current budget can be moved to the Attorney General's Office where career prosecutors will carry out the duty of enforcing the laws unlike the the Ethics Commission who has refrained from doing.
It is a simple and straightforward solution.
Secondly, the State Legislature should pass a law that forbids public office holders, who are convicted of an ethics violation related to their office, from lobbying in any capacity. No politico should be allowed to make money as a lobbyist, if they were convicted of a crime related to their office.
Once again, a simple solution.
Thirdly, a Blue Ribbon panel, comprised of judges, members of the Attorney General's Special Prosecution Division, and lawmakers should be appointed to review current law. This will allow for real reformed not guided solely by politicos but everyone with a stake in the outcome.
If Hubbard is convicted, lawmakere must be resolved to make changes to rein in the corruption.
Hubbard stormed the State House and Hell followed. It is time to clean up the debris so our State can heal and prevent the next Hubbard-in-waiting.
Opinion | Hubbard did the crime; he should do the time
Hubbard may not be a violent offender but his actions are a danger to society and a threat to the public.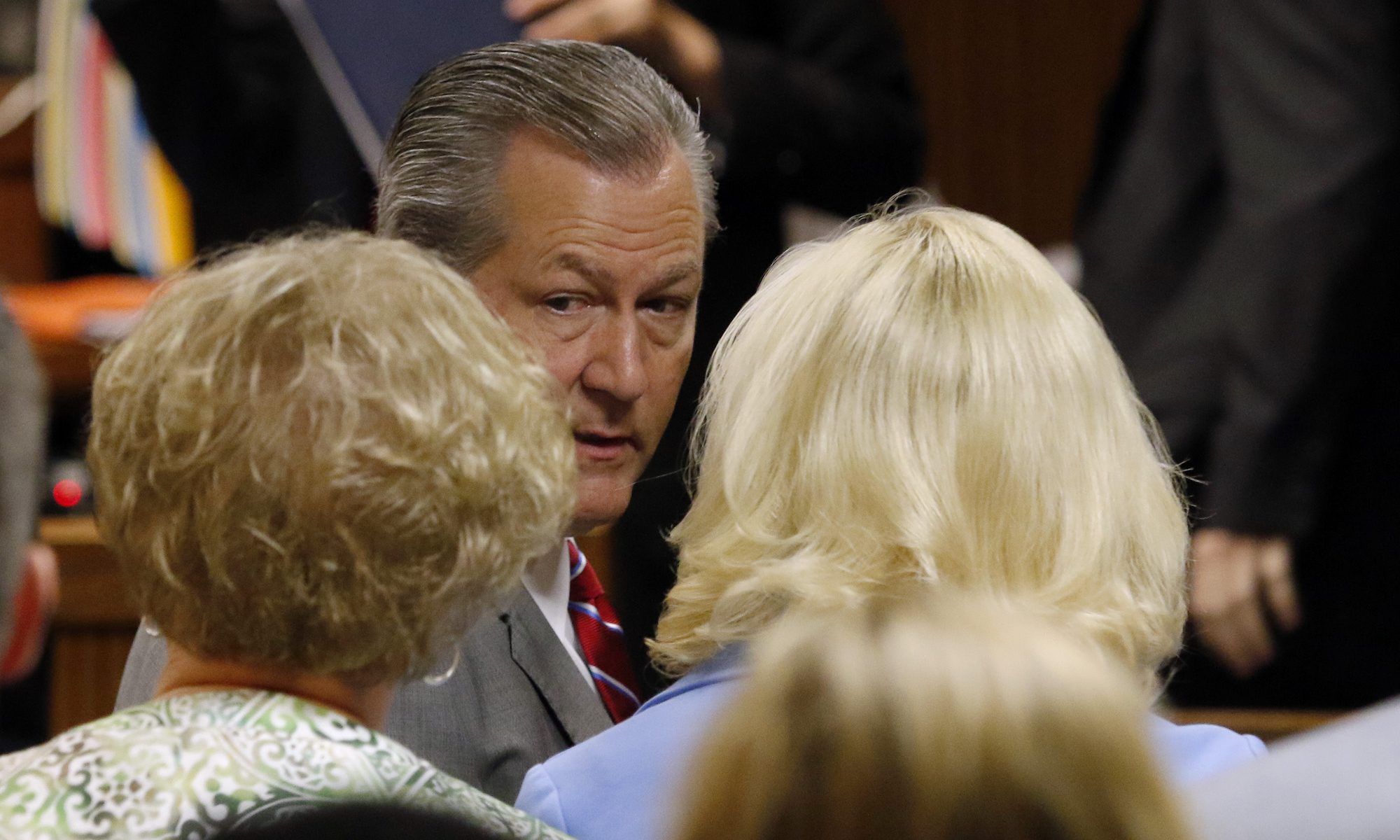 Attorneys for convicted felon, former Speaker of the House Mike Hubbard, believe he has suffered enough, and his sentence should be reduced because six of the charges against him were overturned on appeal.
The remaining six counts against Hubbard call for a prison term of four years, 16 years probation, and substantial fines independent of the charges the upper courts set aside. Therefore, there exist no reasonable grounds under which trial Judge Jacob Walker III should lessen Hubbard's sentence.
This action on Hubbard's behalf is simply another attempt to subvert justice.
A Lee County jury found Hubbard guilty of twelve counts of public corruption, most notably using his office for personal gain and using state resources and personnel to enrich himself—and those counts still stand.
The Court of Criminal Appeals rejected Count 5, and the Alabama Supreme Court struck down another five, which primarily dealt with the charges surrounding "principals."
The upper-court's finding appears more political than judicial, but most people in the state are used to jurists who bend the law for the rich and politically connected.
Of the remaining charges against Hubbard, five carry a ten-year spit sentence of two years in prison and eight years probation, and one count has a six-year split sentence with 18 months in jail with the remainder served on probation.
Why would Judge Walker reverse his judgment since the appeals process left in place the charges that carry the very sentence he imposed?
Does Judge Walker think he erred in his sentencing? Does he now, in retrospect, believe he was unfair as Hubbard's lawyers contend?
Hubbard's appeal is merely more subterfuge and trickery disguised as a legal argument.
Astonishingly, in their latest filing, lawyers, David McKnight and Joel Dillard, assert that Hubbard is not "a danger to society, nor a threat to the public" as a reason to let him out of prison.
Hubbard may not be a violent offender but his actions are a danger to society and a threat to the public.
Prison is not only for brutal inmates it is also for those who break a certain class of laws. Because a felon wears a thousand dollar suit doesn't mean they deserve less jail time.
Hubbard's crimes are some of the most heinous perpetrated against civil society.
Public corruption undermines the rule of law and the principles of good government and is an offense more potent than property theft, drug use, or other nonviolent crimes because it rips apart the very fabric of society and its trust in the foundations of the republic.
A corrupt politician's actions subvert the very meaning of representative government.
Hubbard is not now a danger to society, or a threat to the public because he is behind bars. But make no mistake he is a menace to public good. Even before his indictment, Hubbard used every scheme at his disposal to thwart justice, entice lying and manipulate public trust. And now he wants one more shot at corrupting the system.
There are only two occasions when every individual should expect equal treatment: when they stand before a court of law and when they stand before their maker. Yes, a wealthy defendant like Hubbard can afford better legal representation, but it doesn't mean he can purchase special justice.
Hubbard has been given preferential treatment by lawmakers, the media, and even some on the courts. All along the way, Hubbard was handled with kid gloves and given unwarranted privilege.
McKnight and Dillard argue with a straight face that letting Hubbard out of prison early will, "Preserve scarce prison bed-space for habitual offenders and others from whom society needs protection… [and] more likely result in the defendant's rehabilitation than incarceration."
The word rehabilitation is used several times in Hubbard's most recent court filings as if somehow allowing him to avoid prison time will serve to rehabilitate him. To this day, Hubbard doesn't believe he's committed a crime, so how is rehabilitation possible?
His attorneys lastly make the most laughable argument possible by indicating Hubbard has suffered enough.
"[The] Court should consider the punishment that Hubbard has already suffered. The convictions in this case alone have resulted in a wide range of punishments which include his removal from office, the loss of his right to vote, the divestment of his business interests, and his current incarceration."
Suffered enough?
When lawmakers break ethics laws, it upends society because it shatters trust while nullifying the social contract that binds us together in peace and safety.
State ethics laws are an attempt to force the government to rule themselves honestly.
Hubbard ignored the very ethics laws he championed and would do it all again.
He deserves punishment for his unlawful acts, and his prison sentence should stand as a reminder to others that justice doesn't play favorites.
Hubbard did the crime, and he should serve the time.