Perdue Approves Merger of Cheaha Mental Health Centers and AltaPointe Health System

By Brandon Moseley
Alabama Political Reporter
Thursday, July 2, Alabama Department of Mental Health Commissioner Jim Perdue (R) was in Sylacauga for the first of an anticipated eighteen town hall meetings across Alabama about the State of mental health services in Alabama. Commissioner Perdue also had a local issue to deal with in deciding on whether or not to allow the Cheaha Mental Health Centers (which serves Talladega, Coosa, Randolph, and Clay Counties) with the AltaPointe Health System. The opposition to the proposed merger had faded away so Perdue announced that he would sign for the two mental health service providers to merge, a move that was supported by most members of the area's legislative delegation.
Over seventy people; including judges, sheriffs, police chiefs, political party officials, legislators, and healthcare professionals, crowded into the Sylacauga Chamber of Commerce building for the public forum.
Commissioner Perdue said that the large turnout for the first town hall event, "Is really encouraging to see."
Perdue said that he was a probate judge for 14 years, which is the, "Best job in the world." Perdue grew up in Luverne, received a degree in accounting from Auburn University and worked with the Federal Reserve bank in Miami and then in Birmingham. He returned to Luverne in Crenshaw County, went into business and built convenience stores for 25 years across the state. I understand what it means to run a business. He was elected Probate Judge of Crenshaw County and did that for fourteen years before running for Secretary of State in 2014. Judge Perdue lost in the Republican Primary to state Representative John Merrill (R-Tuscaloosa). Merrill went on to election as Secretary of State. Gov. Bentley appointed Perdue as Alabama's Commissioner of Mental Health in July 2015.
Commissioner Perdue said that there is a crisis nationally in mental health. I went to the mental health commissioners meeting in DC and eighteen of them are newer than me. There is a high turnover rate in that job because people burn out so quick. My goal is to bring some consistency to the position in Alabama. Ideally I would like to finish with Gov. Bentley and be asked to stay by the next Governor.
Perdue said that this is an exciting time, because this is a merger of two talents. There were some questions about the merger; but this is the right thing to do. We are going to succeed here today. I signed it (the letter approving the merger) I am counting on it.
AltaPointe Chief Executive Officer J. Tuerk Schlesinger thanked Commissioner Perdue, but then took a more somber tone. Schlesinger said that level funding for healthcare is not level funding because the medical inflationary rate is about 4 percent a year. We are losing 4 percent of our ability to help the people we are responsible.
Schlesinger said that what we looked at is a model in Mobile to provide the most efficient care possible. We have mental health centers all over the state. We have the same struggles that you all have. Right now we have 1350 employees that really don't make enough money to raise their families. Many of them are working part time jobs to make ends meet. We are using technology to be more efficient. At AltaPointe we invest $5 million a year just in IT to help us do more with less people. The mental health center you have here has been traditionally underfunded. What you have been able to do is miraculous.
Schlesinger said that they need a mental health center in Coosa County (Cheaha serves Coosa County but the residents have to drive to offices in other counties for services.) I am glad to have a partnership with Cindy (Atkinson) and her leadership team.
Schlesinger said that technology is one area where they can improve. How we can leverage that technology to expand the services that are offering in this region. Two years ago AltaPointe merged with Baldwin mental health. We were able to leverage our resources to put more Baldwin employees back on line providing services. Nurses and therapists were able to go back into taking care of patients. Physicians were trying to do administrative functions. There is a great staff here in Sylacauga. We hope to expand your services in a way that you would not be able to. Your 12 board members will join with our board members and we are good with that.
Cheaha CEO Cindy Atkinson told the Alabama Political Reporter that the merger will take effect on August 1. Atkinson said that after studying all of the options she felt that this was the right thing to do for the people served by Cheaha Mental Health Centers.
Talladega Republican Party Chairwoman Gina Grant said that getting the merger approved had been a two year process. Most members of the local legislative delegation had been for the merger but there had been some who voted against in Montgomery.
Commissioner Perdue said that he wanted the state to provide more funding for Alabama mental health services and expand those services to include autism.
Senator Jim McClendon (R-Springville) spoke in favor of his lottery bill, which he intends to bring forward again in either the 2017 legislative session or a special session this year, if Gov. Bentley calls one to deal with the Medicaid crisis.
Fauci calls on governors in states with surging cases to issue mask orders
As COVID-19 deaths in Alabama passed 1,000 on Tuesday, Dr. Anthony Fauci called on governors to issue face mask orders to slow the spread of the virus.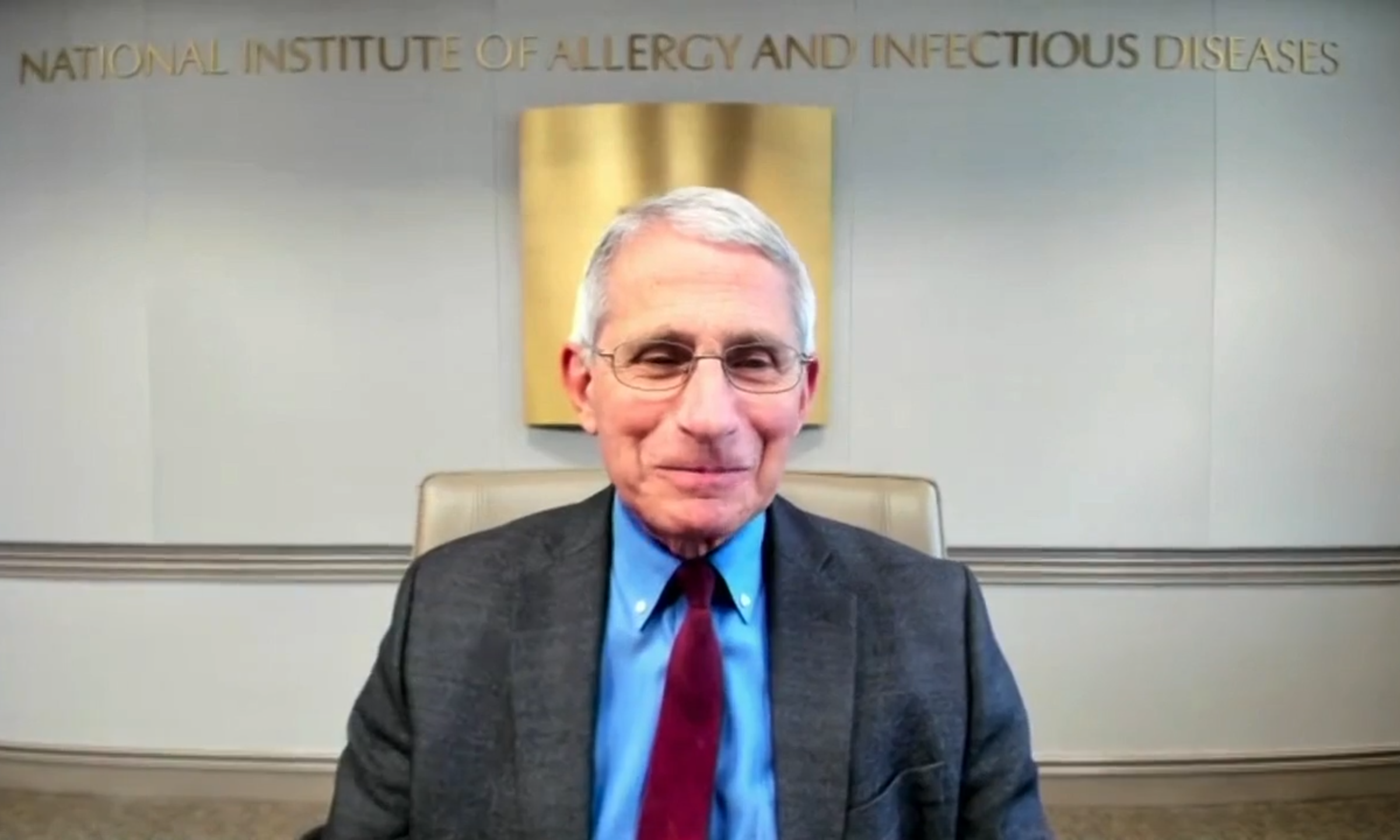 As COVID-19 deaths in Alabama passed 1,000 on Tuesday, a member of the White House's coronavirus task force called on governors to issue face mask orders to slow the spread of the virus.
Dr. Anthony Fauci, head of the National Institute of Allergy and Infectious Diseases and a member of the White House's coronavirus task force, when asked by APR whether he'd like to see governors in states with surging cases institute statewide orders to wear masks, said yes.
"I do believe a statewide mask order is important because there is a variability in people taking seriously or even understanding the benefit of masks," Fauci said during a press conference, hosted by U.S. Sen. Doug Jones, D-Alabama on Tuesday. "Masks make a difference. It is one of the primary fundamental tools we have."
Alabama Gov. Kay Ivey on June 30 extended her "safer-at-home" order until July 31, but declined to institute any further mandates despite surging new cases and hospitalizations.
Fauci also said that social distancing and the closure of bars are important to communities looking to slow the spread.
"Fundamental things like masking, distancing, washing hands, closing bars — if you do that, I think it will be a giant step toward interfering with the spread in your community," Fauci said.
At least 1,007 people have died statewide from COVID-19, according to the Alabama Department of Public Health.
New daily COVID-19 cases in Alabama dipped below 900 for the first time in six days, but just barely, with 888 new cases on Tuesday. Thirty-one percent of the state's total confirmed cases have come within the last two weeks.
Alabama's hospitals on Monday were caring for more COVID-19 patients than at any time since the pandemic began.
UAB Hospital had 86 coronavirus patients on Monday, the highest the hospital had seen. Huntsville Hospital had 72 COVID-19 patients on Monday, and the surge in cases prompted the hospital to cancel elective surgeries and convert three surgical floors to COVID-19 care, according to AL.com.
At East Alabama Medical Center in Opelika there were 41 COVID-19 patients on Monday, which was the highest the hospital has seen in weeks and not far from the hospital's peak of 54 patients on April 11.
The average age of those becoming infected with coronavirus has dropped by 15 years since the beginning of the pandemic, Fauci said, which has lowered the overall death rate due to the virus, as younger people usually fair better, but not if that young person has an underlying medical condition.
"We are now getting multiple examples of young people who are getting sick, getting hospitalized and some of them even requiring intensive care," Fauci said, adding that even those young people who have coronavirus but are asymptomatic can spread the virus to others, who may be more compromised.
Fauci warned against pointing to the overall declining death rate and becoming lax about coronavirus, and said that "it's a false narrative to take comfort in a lower rate of death."
"There's so many other things that are very dangerous and bad about this virus. Don't get yourself into false complacency," Fauci said.
Dr. Don Williamson, president of the Alabama Hospital Association, told APR on Monday that it may take several weeks to learn whether the increasing number of those hospitalized in Alabama will worsen and require ICUs and ventilators, and possibly lead to a rise in deaths.
"We just don't know yet. We don't know which way we're going to go," Williamson said Monday. "We just know we got a whole lot more cases than we had a month ago, and we've got a lot more hospitalizations than we had a month ago."
Asked about his thoughts on the state of the virus in Alabama, Fauci said that what's alarming is the slope of the curve of new daily cases.
"When you see a slope that goes up like that you've got to be careful that you don't get into what's called an exponential phase, where every day it can even double, or more," Fauci said. "You're not there yet, so you have an opportunity, a window to get your arms around this, and to prevent it from getting worse."
Speaking on what's become the politicization of the wearing of face masks, Fauci said that politicization of any public health matter has negative consequences. President Donald Trump does not wear face masks in public, prompting concern from many that by doing so he's suggesting to the public that masks aren't needed. The issue is divided rather sharply along partisan lines.
In a recent Quinnipiac University poll, two-thirds of voters, 67 percent, said Trump should wear a face mask when he is out in public, but while 90 percent of Democrats and 66 percent of independents say the president should wear a mask in public, just 38 percent of Republicans said the same.
"I mean, obviously today, it's no secret to anybody who lives in the United States that we have a great deal of polarization in our country, unfortunately," Fauci said. "We hope that changes, but there's no place for that when you're making public health recommendations, analysis of data, or any policies that are made. That will always be a detriment to do that."