Siegelman Says: Not This Lottery

By Brandon Moseley
Alabama Political Reporter
Seventeen years ago, one Alabama Governor proposed a lottery amendment to the Constitution. It sailed through the Alabama Legislature and went to the people of Alabama who decisively rejected the proposal. Now a new Alabama Governor, Robert Bentley (R), is proposing a new lottery amendment; but that former Governor, Don Siegelman (D), is urging that this new lottery proposal be rejected.
Gov. Siegelman said, "I had been asking the people of Alabama to establish a lottery since 1989. Over and over I pleaded "Every child, regardless of where they are born or to whom, deserve the right to quality education and every child should have the hope and dream of knowing that if they make their grades and stay out of trouble, they'll be able to go to college free. In 1998 I was elected Governor again calling for an "Education Lottery". A Georgia style lottery with 100% of the proceeds going into the "Alabama Education Trust Fund".
Siegelman said that his lottery trust fund would have paid for Pre-K, college scholarships for most high school graduates, and school technology while Gov. Bentley's lottery is being promoted by, "Hypocrites who opposed the lottery before now want to be bailed out from having to pass tax reform to force large foreign corporations, out of state, multinational corporations to pay their fair share of taxes. Hundreds of companies make billions of profits in Alabama but don't pay a penny. Foreign corporations which own nearly 30% of our timber land, pay only pennies in taxes compared to our neighbor, Georgia." "Some of these same people who fought the lottery in 1999, whose greed or lust for power cheated our children out of a better life, want Alabama voters to bail them out."
Gov. Bentley's lottery would go towards Alabama's state general fund's needs primarily: economic incentives; prison improvements, and Alabama Medicaid, which is costing the state $700 million in fiscal year 2016
Gov. Siegelman claimed that, "Medicaid would not be in trouble in the first place if elected Alabama politicians had accepted the billions of dollars that came along with the Affordable Care Act. They foolishly looked that gift horse in the mouth, yelping political criticism at President Obama trying to curry political favor."
Siegelman wrote, "Governor Bentley, a staunch Baptist, once joined the loud "Christian" refrain opposing a lottery as a sin, immoral, something so wicked it would surely usher in prostitution, muggings, robberies and create a wave of gambling addiction. These were the arguments used by opponents to defeat the "Education Lottery" referendum in 1999."
Siegelman blamed Baptists, Karl Rove, Ralph Reed (then President of the Christian Coalition), lobbyist Jack Abramoff, Mike Scanlon, then Congressman Bob Riley (R), and the Mississippi Choctaw Indian casinos for his stunning 1999 lottery referendum failure. Seigelman said that his opponents engaged in a money laundering scheme to funnel up to $20,000,000 from the Indian casinos into Alabama to defeat him, the lottery, and other gaming proposals.
Ironically it was the lottery referendum that ultimately led to Siegelman's prosecution and present incarceration. Jurors found Siegelman guilty of agreeing to put then Heathsouth CEO Richard Scrushy on the Board that certifies hospital construction in exchange for a $250,000 contribution to his pro-lottery media blitz…..a charge that Seigelman hotly contests to this day. Siegelman contends that his indictment by then U.S. Attorney Leura Canary was timed to help then Gov. Bob Riley, whose campaign was supported by Leura's husband, Business Council of Alabama (BCA) President William "Billy" Canary.
Siegelman said, "Today, I am not even sure how much money a lottery would yield, but I do know this, whatever it might raise should go to educate our children and voters should not let the Governor or Alabama Legislature get their hands on a penny of it. So I say, 'Maybe a lottery, but not this lottery.'"
Democrats are hoping to use the lottery as an issue to build support for a comeback at some point in the future, like Seigelman did in 1998 (unseating Gov. Fob James (R)). Siegelman is the only Democrat to win a gubernatorial election in Alabama since George C Wallace (D) defeated Montgomery Mayor Emory Fulmer (R) in 1982 (Wallace's fourth and final term as Governor). Republicans also know this and some contend are planning on passing this GOP lottery version to take the issue away from Democrats, who won't be able to pull lottery funding from the general fund once it gets entrenched there. Voters who give the legislature a lottery are also going to be reluctant to then vote for any kind of a tax increase in the future.
Gov. Bentley has called a special session of the legislature that begins on August 15. State Senator Jim McClendon (R from Springville) and State Representative Allen Harper (R from Northport) are reportedly working on the controversial lottery proposal. A state lottery is expressly forbidden by Alabama's 1901 Constitution so no lottery can pass without a vote of the people of Alabama. If a lottery passes through both Houses of the Legislature it would likely be on the November 8 ballot.
Gov. Siegelman is expected to be released from prison in August of 2017.
(Original reporting by CBS New Channel 42 contributed to this report.)
Jefferson County health officer, UAB head say COVID-19 numbers are improving but flu season is near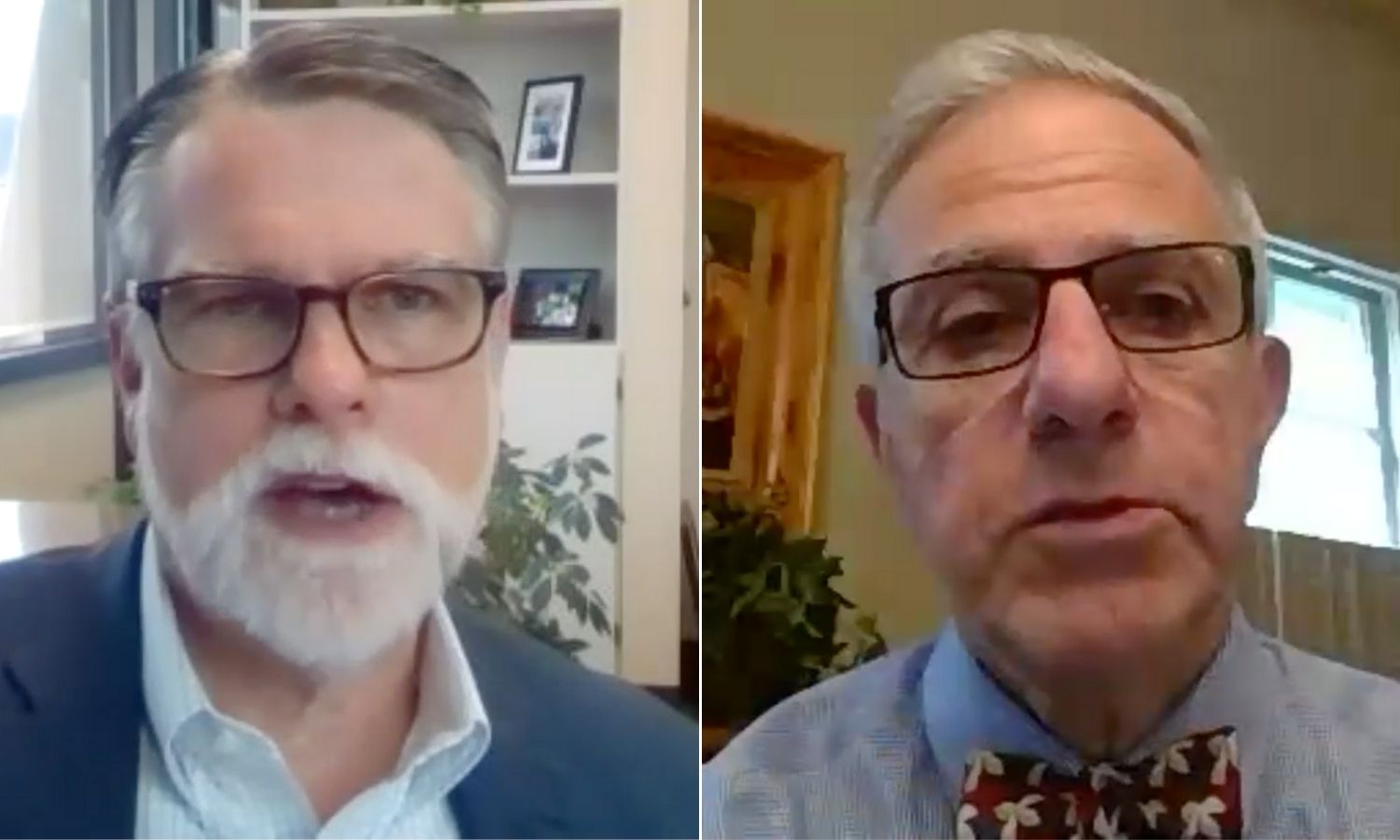 Jefferson County Health Officer Dr. Mark Wilson said Friday that the county's COVID-19 numbers are improving, but with schools reopening and flu season approaching, it's critical for the public to continue wearing face masks and practicing social distancing. 
Wilson and Will Ferniany, the CEO of the UAB Health System, held a press briefing on Friday to discuss the state of coronavirus and what's being done to mitigate the disease that has killed 1,825 people in Alabama and infected 102,196.
In the last few weeks, the number of new daily COVID-19 cases and the percent of tests that are positive in Jefferson County has begun to decline, Wilson told reporters, but he put that decline into perspective. 
"Keep in mind though that this is a slight improvement from being at a pretty bad place with really high numbers, so we still have a long way to go," Wilson said. 
There have been 13,682 confirmed coronavirus cases and 262 deaths in Jefferson County as of Friday, and 939 cases were added within the last week. The county's seven-day average of new daily cases fell from its peak of 295 on July 18 to 156 on Thursday.
Wilson said there is good evidence that the county's face covering order is making a difference in the spread of the disease, and that he thanks the public for making that difference, and asked that they keep doing so. 
"We have four levels of surge," Ferniany said, referring to UAB Hospital's process of temporarily adding hospital bed capacity for COVID-19 patients by removing beds from other areas. "We're on level two capacity." 
Ferniany said the hospital is running at 90 percent capacity, which he said is a "very full hospital" and that between March and around July 20, the hospital was caring for between 60 and 70 coronavirus patients daily, and reached a peak of 130 patients a little more than a week ago. 
"Today we're at 97 patients in-house, and roughly 40 percent are in the ICU," Ferniany said. 
Ferniany said the hospital's ability to care for COVID-19 patients is now limited by the numbers of nurses and other staff, and that UAB is "down several hundred nurses" and burnout from long periods of caring for coronavirus patients is common. 
Both Ferniany and Wilson said they're very concerned about the upcoming flu season and the impact it could have on hospital capacity, as physicians continue to care for COVID-19 patients. 
"The 2018-2019 flu season was the worst flu season we have seen in 40 years, and we actually asked the governor back then to declare a state of emergency because our hospitals were full then with influenza," Wilson said. 
Wilson urged the public to get their annual flu shots once available on Sept. 1 to help prevent additional strain on hospitals statewide. Public health officials worry that the combination of flu and COVID-19 could be difficult to handle — both on a system-wide level and the level of an individual person.
"We have no reason to think that somebody can't get the flu and COVID-19 at the same time, which could be a deadly combination," Wilson said. 
Wilson said while he isn't certain what Gov. Kay Ivey may decide about the statewide mask order, but "in Jefferson County, it's very likely I'm going to be pushing to continue face coverings through the flu season," Wilson said.
Wilson in July advised school superintendents in Jefferson County that middle and high school students should attend school virtually only for the first nine weeks, a stronger recommendation than most superintendents elsewhere have received. 
Wilson told reporters Friday that his recommendation for virtual-only classes to start was done to keep kids, teachers, staff and families safe. 
"We're probably going to have some cases. It's inevitable, but what we want to do is everything we can as kids go back to school to reduce the spread within school so that schools can stay open." 
There are also preliminary plans for a new testing site for children as schools reopen, Wilson said, but those plans continue to be developed. 
Ferniany said UAB Hospital on Thursday got initial approval from the hospital's board to expand COVID-19 testing capacity. 
"Our goal is to try to expand it significantly by the end of December. We probably can't get it up faster than that, but this pandemic is not going away by the end of December so I think we will have a significant increase in our ability to have rapid tests in place by the end of this year," Ferniany said.