Shelby and Sessions Both Object to Obama Releasing Dangerous Criminals

By Brandon Moseley
Alabama Political Reporter
Both US Senators from Alabama, Richard Shelby (R) and Jeff Sessions (R), expressed objections to President Obama's commutations of sentences for a number of federal offenders.
On Wednesday, August 3, Senator Richard Shelby said in a statement, "President Obama announced today that he has granted 214 sentence commutations to federal inmates, the highest number of individuals in more than 100 years. Additionally, 48 of them were convicted of firearm-related crimes."
On Friday, August 5, Senator Jeff Sessions wrote, "President Obama continues to abuse executive power in an unprecedented, reckless manner to systematically release high-level drug traffickers and firearms felons. These 214 individuals are not so-called 'low-level, non-violent' offenders – which simply do not exist in the federal system. They are serious criminals, including 56 with federal firearms convictions, several career offenders, fugitives, many who violated conditions of their release, and at least one who engaged in witness intimidation."
Sen. Shelby said, "This misguided decision is completely contrary to the Administration's claim that it is committed to making our communities safer and reducing violent gun crime. This decision is completely contrary to the Administration's claim that it is committed to making our communities safer and reducing violent gun crime."
Sen. Sessions wrote, "The President is playing a dangerous game to advance his political ideology. Violent crime has been rising across the country since 2014. And now, according to new data from the Administrative Office of the US Courts, thousands of the most violent, federal career criminals are applying for early release in droves because of two recent decisions by the Supreme Court invalidating long-standing criminal laws intended to keep armed felons off of our streets. In a report released last month, the US Sentencing Commission found that career offenders account for more than 11 percent of the federal prison population, and are 'increasingly receiving sentences below the guideline range, often at the request of the government.' The report also notes that career criminals re-offend at alarmingly high rates, with 66.2 percent of those released between 2004 and 2006 re-arrested for a new crime or violation of conditions of release – many for violent crimes."
Sen. Shelby added, "On one hand, the Obama Administration is attempting to limit law-abiding Americans from exercising their Second Amendment right and protecting themselves from harm. On the other hand, the President will let criminals with firearm-related offenses off easy. I am deeply concerned by today's announcement, and I will continue to press the Administration and Attorney General Lynch on the misguided decision to put criminals, particularly those convicted of a crime involving a gun, back on the streets."
Sen. Sessions concluded, "President Obama and Hillary Clinton continue to push for so-called 'criminal justice reform' legislation that would further weaken penalties for and result in more early releases of federal felons, including criminal alien drug traffickers. Not only are such proposals a thumb in the eye of the law enforcement officers, prosecutors, defense attorneys, judges, court and prison personnel who put time and resources into these cases, but they are ill-timed. The wiser approach is to evaluate the consequences of the already dramatic policy changes that have taken place, the rising violent crime rates, and our dramatically declining federal prison population. President Obama has said he would like 'criminal justice reform' to be his 'legacy item.' Unfortunately, history and common sense tell us that rushing to release federal prisoners will have long-lasting, harmful consequences, particularly for our nation's most vulnerable communities."
According to the US Bureau of Justice Statistics, in 2014 I,351,000 Americans were imprisoned in state prisons; 1,561,000 were incarcerated in local and county jails; and 210,600 were in federal prisons. Another 4,708,000 were serving probation or were out on parole.
US Senator Richard Shelby is the Chairman of the Senate Appropriations Subcommittee on Commerce, Justice, and Science (CJS). US Senator Jeff Sessions is the Chairman of the Senate Subcommittee on Immigration and the National Interest.
Print this piece
Opinion | The people have always been more important than the monuments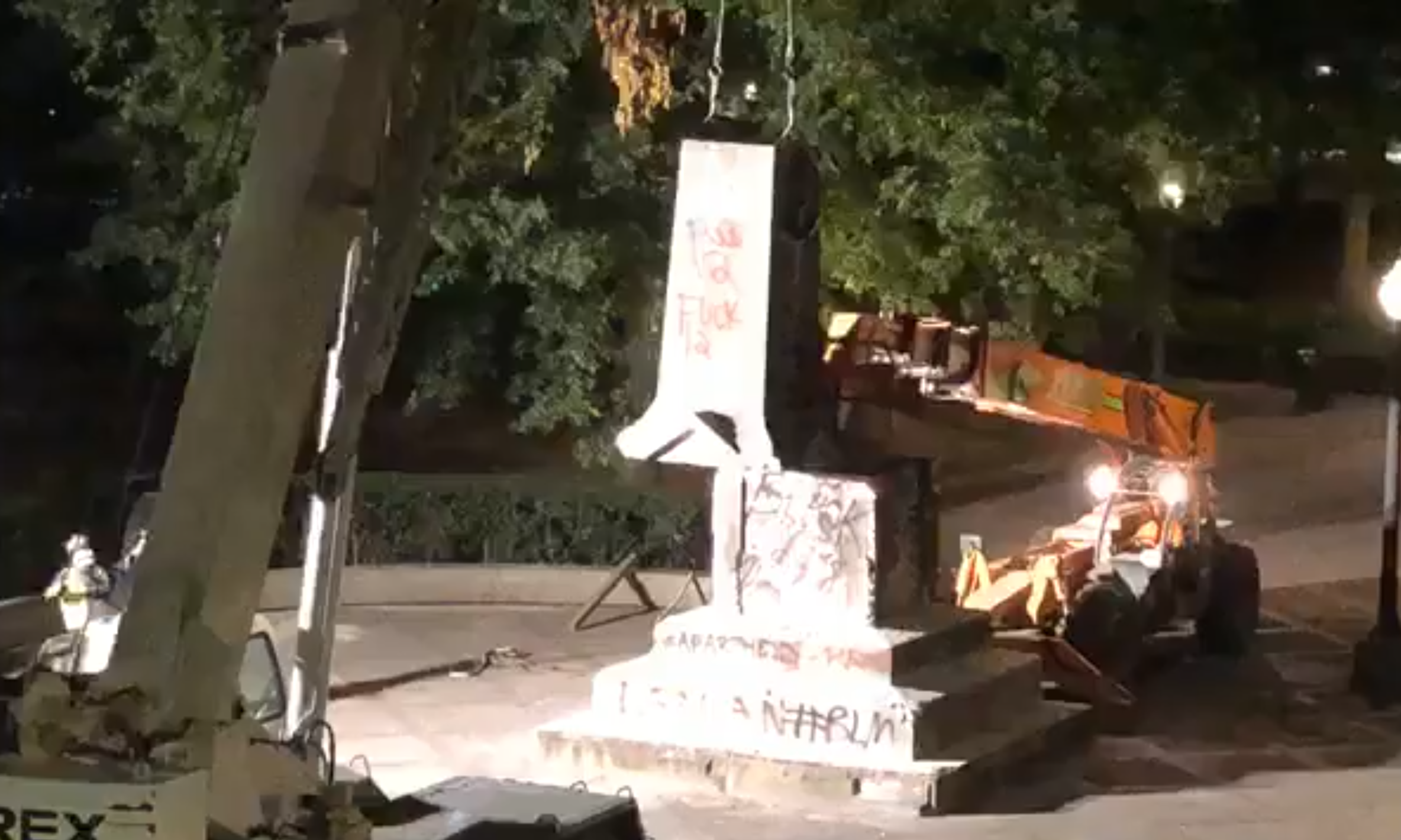 Two participation trophies fell in Alabama on Monday night. 
No tears were shed. 
On the same day that the state "celebrated" Confederate Memorial Day — which is somehow still a state holiday some 150 years after the traitorous South surrendered in its quest to make legal the ownership of other human beings — a large monument in Birmingham's Linn Park went away piece by piece and a metal statue of Robert E. Lee was toppled and hauled away from its spot outside of a Montgomery high school. 
This is progress, I guess. At least those eyesores are gone (for now, in the case of the Lee statue), even if the attitudes that kept them in place remain. 
It is no secret by now that I have never understood the fervor with which so many people in this state cling so tightly to reminders of defeated traitors who fought to enslave black people. 
I mean, I understand why racists cling to them. I don't understand how those who claim to "not have a racist bone in my body" also cling to them. I don't understand our state lawmakers creating laws to protect them. 
Monuments are meant to honor the people depicted in them. You don't see us creating monuments of the 9/11 hijackers at the former World Trade Center site, do you? 
You know why? Because while that day was historic and we'll want to remember those who died forever, we don't honor those who caused that devastation. 
But then, I don't actually think anyone is confused by this. The cries of "protecting history" or "not erasing history" are nothing more than phony excuses meant to mask the true intent of cowards too ashamed or too scared to say what they really mean. 
And what they really mean is that they still cling to this notion of white supremacy. They're just too scared of the societal backlash to put on a white hood and attend the meetings. 
These people see the removal of the Confederate monuments as a loss — a personal loss. Because that tie to the confederacy and the sad, pathetic belief that they were somehow superior because of the color of their skin has sustained them throughout their lives. 
That's why they cling so tightly to these relics of the past — because those relics represent their "heritage" and their worth. 
It doesn't matter at all that poor whites and poor blacks have so much more in common in 2020 than poor whites and rich whites. If the two groups ever bonded, ever formed a mutually beneficial coalition, they could — by the power of their numbers — change America overnight to a more just, more equitable country. 
But they won't, because poor white people would lose their ability to look down on someone. And really, what good is life if you can't make certain that someone out there has it worse than you? 
And so, here we are, more than 150 years after the end of the Civil War and more than 60 years since Dr. King crossed the bridge in Selma, still fighting battles over race and discrimination and hatred and intolerance. 
Maybe the protests of George Floyd's killing will finally be the straw to break this thing. Maybe the days of everything being on fire, along with those awful images of Floyd, will instill in the minds of enough people that there really are problems.
Maybe we can finally stop holding onto these relics of the past and concern ourselves more with holding onto each other. 
Print this piece