Why I Strongly Support Trump

By Frances Taylor
President, Alabama Federation of Republican Women
As we race toward the conclusion of this presidential race, I am often asked my opinion of Donald Trump, especially in light of the revelation of a private conversation and the attacks from the left.
It is easy for me to discuss why I so strongly support him and his vision for a brighter future for America. His plan for America entails several key components that directly affect the prosperity and well-being of its citizens:
Jobs – The Labor Force Participation Rate shows fewer and fewer people actually working under the Democrats – only 62%. Too many people want jobs and cannot find them – after a while you become invisible and are no longer considered unemployed – 38% of the population is not working….two out of every five people. Donald Trump knows that it's time to alter the H1B visa program and put Americans back to work. Donald Trump will do this for us – the Democrats haven't and won't.
Border Security – This isn't just people coming to our country to secure financial aid via anchor babies and other social programs as illegal aliens or 'undocumented workers'. It is much more sinister. Can't we all agree that the heroin epidemic and flood of other drugs is ruining lives? Videos showing strung out parents should be startling to everyone and the drug highway from our southern border MUST be shut down. Again, abject failure by the Democrats – they hide under the blanket and call us all racists. Time for Donald Trump to stop the carnage, stop the flow of drugs and save American lives.
ISIS – isn't it time we all recognized and called it radical Islamic terrorism? Why do we not work with our allies to shut this down? Why don't we vet those coming in? Why do we shy away from the truth? You cannot fight what you do not openly state is a problem. Donald Trump will not hide behind political correctness. He will work with our allies and not allow the Middle East to fester and become a larger training ground for terrorism. He will reinstitute programs that vet individuals coming into America. This is nothing new – we need to protect our home land – just as we protect our homes.
Healthcare – Shock of shocks – even Democrat Governors who were once on board with this great panacea are now waking up to the fact that it is a wholly owned disaster. When individuals cannot afford healthcare because the premiums are so high – it isn't health care anymore – it's a tax that yields no fruit. We need to repeal and replace this tax immediately. As good Samaritans and citizens, we need to supply aid and health care to those who cannot afford it. We don't need to economically cripple vast swaths of the population. The Democrats created this without a single Republican vote. Donald Trump will lead the fight to fix this problem and bring back sanity to the health care system.
Regulation – the new fourth branch of government. Regulation has spun out of control costing the consumer billions of dollars by unelected fiat. The pond in your backyard is suddenly regulated by the EPA? Rain water, too? The same Democrats who so easily mandate tighter and tighter control over our every waking moment then turn and give away control of the Internet!? How is that even logical? Enough of this crippling insanity. Donald Trump recognizes it's time to restore common sense to the regulation wars.
The citizens who voted in Donald Trump as the GOP nominee recognize in him a true leader with plans to rebuild America, they see the deficiencies in the current crop of politicians who seem more concerned with maintaining their liberal positions and the intolerable status quo. The voters' voices need to be recognized and respected. The GOP leadership needs to do the same and support the Republican nominee for President. Anything short of full support will only be viewed as supporting the opposition and disdaining the will of the Republican electorate.
Within the Alabama Federation of Republican Women, you will find overwhelming support for Donald Trump – we understand what is at stake in this election. We understand that in order for our children and grandchildren to have a brighter future change must be made, the regulations that hinder growth must be removed, and the laws that overburden our families with taxes must be repealed.
Do we like the words that he used in the recording? No. Plain and simple, no. Do we believe in today's society and today's culture that the words are shocking? No. Does anyone expect us to be apoplectic over a braggadocios conversation among two men who are private citizens more than ten years ago? No.
He apologized – we accept the imperfections of others, we find forgiveness, we look at the context of the conversation and can move on. Yes, other questions linger. Why isn't there fury at the pay for play scheme she had going as Secretary of State with the Clinton Foundation? Why isn't there fury at the gifts from countries who suppress women's rights and promote terrorism? Why wasn't there this level of fury when the Democrat nominee finally – and I do mean finally – apologized for using a private server that put our national security at risk and put people in harm's way? Why wasn't there fury at her mocking actions of claiming she cleaned the server with a cloth? Why wasn't there fury when she spearheaded the infamous 'bimbo eruptions'? Why isn't there fury at her continual dishonestly about everything from emails to being under sniper fire and even openly laughing at Kathy Shelton, an innocent 12 year old rape victim?
Apparently, we turn a blind eye to what she did as an employee and official representative of the United States just so she could keep her communications private and away from the scrutiny of the Freedom of Information Act but, we roundly condemn boastful, locker room TALK? With the flying debris of one huge indiscretion and mistake and lie after another with her, she doesn't deserve the right to hold the office of the President of United States of America. It is a never ending cycle with her – she's a human wrecking ball.
As women, wives and mothers we can clearly discern the differences between talking and continued endangerment of national security and ruining the lives of innocents. While we disdain and do not approve of boastful conversation, we know the other behaviors costs lives.
Furthermore, we clearly see the vision of America that Donald Trump has laid out. He will work to make that bright future a reality for our children and our grandchildren. He will work to solve our true problems. Do we want someone who has a history while in public office of being self-serving? Do we want the status quo? Do we want our citizens put in harm's way again? The answer is plain and simple. No. It's time for a greater America – time for a brighter future – time to make America great again. That is why we support Donald Trump for President of the United States of America – wholly, unequivocally and without reservation.
Print this piece
Opinion | Jobs to move America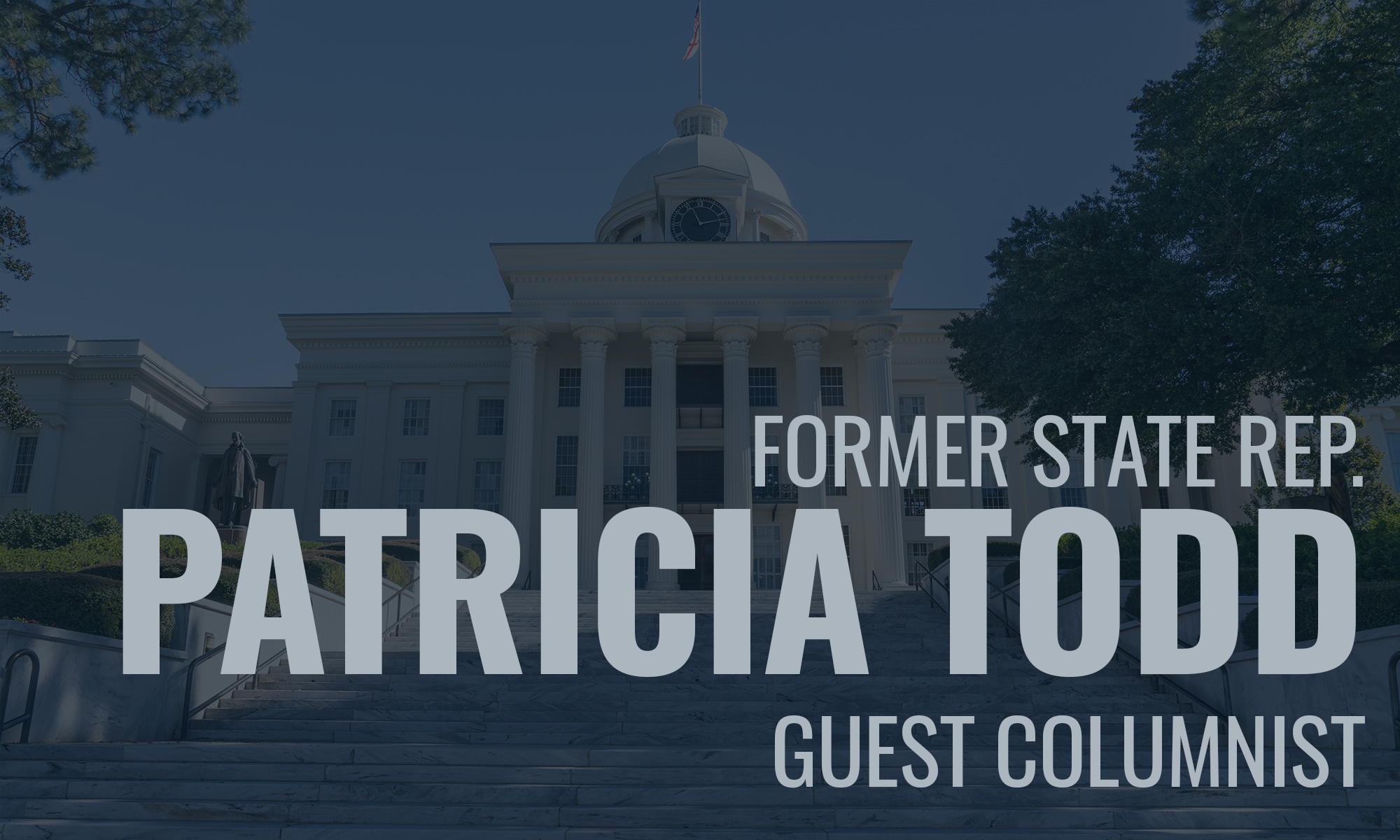 Before COVID-19 swept the country, public officials celebrated Alabama's 2.7 percent unemployment rate: it was a record low for our state, and lower than the national average. But statistics never tell the full story. Were the jobs Alabamians working good ones? With paid sick, family, and medical leave to protect workers from COVID-19? Were people working more than one job to make ends meet?
As we reckon with a pandemic and pending economic recession of a magnitude difficult to comprehend, Alabama needs to start looking beyond unemployment rates to ask some soul-searching questions. As industry after industry demands huge public bailouts, the South's history of offering big corporate giveaways represents a glaring example of why public subsidies should only be on the table if public officials put people and workers first.
Corporate subsidies, in the form of economic tax incentives, have become a popular tool that cities and states use to lure companies to a specific location. The fight over where Amazon would set up its second headquarters — cities raced to provide the most attractive incentive packages, offering billions of our public dollars to sweeten the deal — put a spotlight on the problems with these subsidies. Even after national outrage over the bidding war for Amazon, economic development specialists and elected officials continued to tell us that these subsidies were critical to creating jobs and growing the economy. Cities and states like Alabama still compete aggressively to bring corporations to our backyards, using our public dollars as bait. Promises of subsidies include abatement of income and property taxes, infrastructure development, workforce training, and sometimes cash. But the problem that COVID-19 has brought into sharp relief is that promises made are not always promises delivered. What's worse, many of these promises weren't good enough to begin with.
In Alabama, we celebrate the ribbon cutting of a new manufacturer breaking ground on a new plant and announcing new jobs that will be created. Yet, rarely are we told how much the state or municipality paid to the corporation to bring those jobs to the area or given details about the return on investment. Now that COVID-19 is shutting down production at manufacturing plants across our state, leaving many workers high and dry, it's time to ask how our public dollars can be most effectively invested in private companies to ensure the outcomes we need.
Corporate subsidies have cost Alabama over $3.5 billion dollars over the past decade. The public has no information on how money was spent — or what we got for it. These subsidies do not require corporations to commit to providing a living wage; any paid sick, family, or medical leave; or hiring goals for marginalized communities. Most taxpayers don't even know where to look for the information. This story holds true across the South.
Alabamians, like many of our Southern neighbors, cannot afford any loss of revenue. According to Alabama Possible, our state's poverty rate is 18.9 percent, making us the 6th poorest state in the country. Our education system, mental health services, and public infrastructure are in dire need of funding. The National Center for Education Statistics ranks Alabama last in math, reading, and science. We also rank at the bottom in teacher pay, infrastructure, and access to health care. As a result, we lack the services and infrastructure needed to support working families through a crisis like COVID-19.
Why? For decades, our state has siphoned money from these critical public services and social infrastructure to provide corporations with handsome tax incentives in exchange for little more than a handshake deal. Our state is lining the pockets of corporate CEOs, not workers and communities.
COVID-19 makes it clear that Southerners deserve a better deal.
Which is why Jobs to Move America is building a research-action program, headquartered in Birmingham, to win sunshine and accountability policies in the South. We believe that together, we can turn the tide on endless and unaccountable corporate giveaways. We can demand limits on incentives and institute requirements that companies receiving our precious public dollars provide a living wage, benefits, a safe work environment free of racism and gender discrimination, and hiring preferences for marginalized and underrepresented communities. We can also demand a public accountability report about every company that receives subsidies so that Southerners can scrutinize whether their public dollars are actually doing public good.
To get there, we need to understand and document all the public dollars that our state has given away. We'll write reports about that spending, we'll dig into the consequences of corporate giveaways on our communities and workers. We'll work in coalition with community-based organizations and social justice groups, like Alabama Arise, to educate public officials and community leaders about the impact of these subsidies. And eventually, we'll win legislation that ensures our public dollars create the kind of return on investment that we believe in: good jobs and healthy communities.
Do Mercedes, Amazon and Walmart really need generous tax subsidies to operate business as usual? The clear answer is no. It is time to get our priorities in order and take care of our own people — instead of corporate shareholders.

Patricia Todd is the Southern Director at Jobs to Move America. Patricia has socially and professionally advocated for public policies relevant to social justice, education, HIV/AIDS, and a wide range of issues affect the entire Birmingham community for over twenty years. Patricia was elected to the Alabama Legislature as the State Representative for House District 54 in November of 2006 as the first openly gay elected official in Alabama's history. She retired from the legislature in 2018.
Print this piece