By Larry Lee
Education Matters
"I did not know the rules."
These words won't leave my head. Round and round, "I did not know the rules." The reply given by state school board member Mary Scott Hunter to State Senator Gerald Dial when asked in a Nov. 10 committee meeting if she knew the Ethics Committee does not investigate anonymous complaints.
The words hung over the room like an anvil.
Did I just hear what I just heard? An attorney who has been on the state school board since 2011 says she is unaware of a very basic tenant of how the Ethics Commission works?
The issue this day was an anonymous "smear sheet" injected into last summer's search for a new state school chief. A legislative committee is digging through the carnage to find out how this info, which cannot be investigated by the Ethics Commission because the so-called "complaint" is not attributable to anyone, and if it could be would not be investigated because the time between when the alleged misdeed took place and now have long since passed the prosecution threshold.
The allegations were directed toward Craig Pouncey, superintendent of the Jefferson County school system and one of the leading contenders to replace Tommy Bice.
Obviously someone was trying to make sure Pouncey would not get the job. Why did they not want him? An email from Rep. Terri Collins, who chairs the House Education Policy Committee offers a clue. Collins wrote all state board members last summer saying that they should not consider Pouncey because the then Speaker of the House Mike Hubbard sent a letter to Tommy Bice telling him to keep Pouncey out of the Statehouse.
There was no such letter.
And what was Pouncey's "sin?" When Rep. Ed Henry attacked our public schools in a meeting, Pouncey defended them. So Henry ran to the Speaker's office whining about an educator standing him down.
One does not have to be a Rhodes Scholar to see that the legislative leadership who took control of the Statehouse in 2010 is no friend of public schools. The Alabama Accountability Act, a charter school bill and the much maligned A-F school report cards are testimony to what is afoot.
And the last thing our 740,000 public school students need is someone as state superintendent who will stand up for them.
So someone concocts a bogus set of allegations in hopes of putting doubt in the minds of members of the state school board. Now all they need is someone to make sure the right strings get pulled.
Is this someone Mary Scott Hunter? At this point this seems to be the case. While other board members told the legislative committee they basically ignored the complaint and that it should never have been given credence, Hunter says she was very concerned when she read the allegations and gave a copy to Phillip Cleveland, interim state superintendent so that he could give it to Juliana Dean, his legal counsel.
She then contacted Tom Albritton, who runs the Ethics Commission and told him about it. And though she is just one of eight elected members of the state board, she did not confer with other members about what she was doing–or what she should be doing.
Albritton told his legal counsel Hugh Evans, III , they needed a copy of the smear sheet. He calls Dean who soon hand delivers it. Evans then sends Dean a letter naming Pouncey as the object of the anonymous letter, which Dean sends to all board members. And not long afterwards, copies of this letter end up in news articles.
So now the public knows. Pouncey has been fingered. Rightly or wrongly makes no difference. His name got in the paper. And given the intense politicization of the superintendent selection process that is all that is needed. Because surely the state board members and the governor would not pick a state superintendent who is suspected of wrong doing.
And the children of Alabama get Mike Sentence, an attorney from Massachusetts, to look out for them.
Mary Scott Hunter was on the board in 2011 when Tommy Bice was picked as state superintendent. One of the seven applicants that year was Mike Sentence. Ms. Hunter, nor any other board members, were impressed enough to bring him in to interview.
Yet, now Ms. Hunter says his resume" just "grew on her." The same resume' she trashed five years ago. Ms. Hunter spoke repeatedly of Pouncey in glowing terms to the legislative committee. She voted for four of the six candidates who applied–but not him..
This selection process was poisoned.
We now all know that. But by WHO and WHY? Someone is playing games with our children and our teachers and our school administrators.
I like Mary Scott Hunter. She is not a bad person. But she has become caught up in something bigger than she is and from this point on, simply saying "I did not know the rules" will not suffice.
The fact that the committee meeting audience included the governor's legal counsel and the attorney general's chief deputy indicates that others are looking for answers as well.
Larry Lee led the study Lessons Learned from Rural Schools and is a longtime advocate for public education. [email protected] Read his blog: larryeducation.com
Print this piece
Opinion | Finding the new normal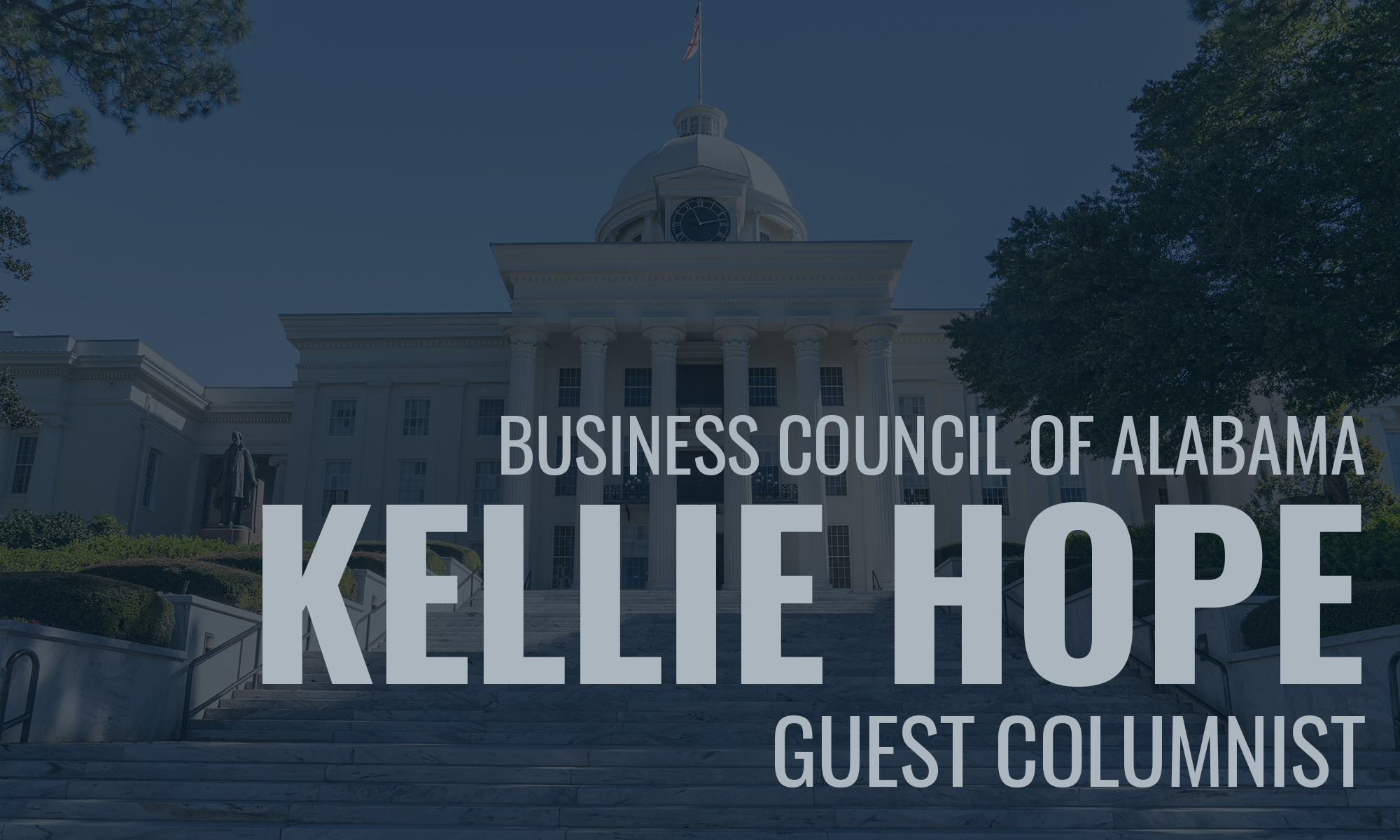 I spent my professional career getting dressed, usually in business attire, leaving my house and driving to another location – office tower, free standing building, hospital – to begin my work day. All of that changed late last year, when I joined the Business Council of Alabama as Regional Director, a newly created role in the organization. One of the best perks (among many) of joining BCA is my ability to work from home. The past four months have been filled with transition and some trial and error. Making the shift from an "office" office to a home office environment can be seamless, but it takes effort, discipline and a healthy dose of humor.
Before the Coronavirus pandemic, remote work in the United States was already on the rise. According to the Federal Reserve, the share of the labor force that works from home has tripled in the past 15 years. Prior to the outbreak, the Bureau of Labor and Statistics noted 29% of the American workforce could and did work from home. This has only increased as "social distancing" has become the new normal. In our current coronavirus reality, hundreds of thousands of workers across multiple disciplines and industries are now joining me in my slippers in front of my computer first thing in the morning. Before I made my transition, I asked friends and colleagues for advice. The overwhelming response was "it's great; you'll love it", quickly followed by "make sure you're organized; it's very different."  That advice is 100 % true – It's great, AND it's quite an adjustment. Their advice has never been more pertinent, and I thought it timely to share it with you. Here are my best suggestions for making the transition:
Have a defined workspace

: An actual home office, the dining room table, a set up on the back porch – it's critical to have a dedicated space where you work that isn't your bedroom. (Although, an occasional conference call from your bed isn't the end of the world.)

Maintain a routine

: Wake up at a consistent time, have breakfast, get dressed, spend some time preparing for your day just as you would if you were leaving the house. The same way you use your drive to make calls or ease into your day, do it at home. Same with the end of the day – download the day's events and prepare for the next day, just as you would before you leave the office. In these very uncertain times, routine not only helps maintain productivity, but it provides a sense of normalcy.

Have defined work time

: This was one of my biggest challenges. It's so easy to jump into work as soon as you open your eyes and find you are still at it when the 9:00 news is on. Conversely, it's tempting to do a few loads of laundry or run a quick errand, and the next thing you know, your day is off the rails.  It's important to take breaks (just as you would if you were in an office)

but work time is for work

.  

Get out of the house:

*Disclaimer: this was much easier before COVID-19 became a part of our daily vocabulary* Looking ahead to the day we return to some semblance of normalcy, set appointments outside your home – at a coffee shop, a colleague's office, etc. For now, take a walk, go to Starbucks drive through – something to break the monotony of being inside all day, every day.

Be patient with yourself

: Working from home requires a different type of discipline than going into the office, especially with kids and others likely in the house also. Be kind to yourself and others. Allow yourself time to adjust to the new routine.

Stay connected

: Communicate with colleagues and peers through the multitude of available outlets – video conference, webinars, conference calls, group chats. This helps maintain the rapport and productive teamwork that exists in the office environment. Connection also benefits our mental and emotional well-being, which we should all pay attention to, especially now.

Enjoy the perks!:

Jeans instead of a business suit – that's great! If you aren't going out, wear your cozy slippers or flip flops all day. If the weather is nice, make calls or handle emails from your backyard or patio and get your daily dose of vitamin D. (Multitasking!) There is wonderful flexibility and creativity when working from home. Enjoy it!
Countless tips and strategies to make the work-from-home transition a success are readily accessible. A quick Google search will yield all sorts of articles and helpful hints. My transition to working from home was the right decision for me and my family.  Coronavirus made that decision for so many others in the last few weeks. It's important that you find a strategy that works best for you and your family, and just do it! Good luck and best wishes.
Kellie Hope is the Business Council of Alabama's regional director based out of Mobile.
Print this piece