The Hill says Sessions can have his pick of cabinet jobs

By Brandon Moseley
Alabama Political Reporter
Tuesday, November 15, 2016, The Hill's Jonathan Swan and Peter Schroeder are reporting that a source claims that US Senator Jeff Sessions (R-Alabama) will get whatever post he wants inside the new administration. They are reporting that Sen. Sessions has expressed interest in the work of three agencies: Defense, Justice and Homeland Security.
Sessions was the first Senator to endorse the New York City billionaire and reality TV star to be the next President of the United States. Sen. Sessions transitioned two of his senior staffers, Stephen Miller and Rick Dearborn, into positions inside Donald J. Trump's campaign.
According to Swan and Schroeder, months before endorsing Trump Sessions and his team wrote Trump's immigration plan. Miller has been writing speeches for Trump and directing his policy team. Sessions and Miller also had a close relationship with former Breitbart News head, Stephen K. Bannon. Bannon later joined the Trump campaign and has now been appointed Trump's Senior Counselor and Chief West Wing Strategist.
Sen. Sessions is passionate about immigration issues. Sessions said recently in a statement, "The Obama Administration's open-border policies have made our country less secure than we were eight years ago, eviscerated any semblance of credibility in our immigration system, and have created an ever-growing financial burden on US taxpayers. The country cannot sustain this course. The Obama Administration and the special interests may not believe in secure borders, but the American people do."
Apparently the Trump Administration is moving ahead with plans to reverse President Obama's executive actions concerning immigration.
Kansas Secretary of State Kris Kobach (who advised Alabama legislators on this State's controversial anti-illegal immigration law: HB56) has been appointed to Trump's immigration policy transition team.
Kobach told Wichita TV station KWCH, "I'm a member of the immigration policy transition team, and there's going to be a lot to do there, in part because Mr. Trump and Mr. Obama are diametrical opposites when it comes to immigration policy, so there will be a lot of changes."
Sen. Sessions is also a supporter of a strong national defense.
Before the election, Sen. Sessions said in an interview with the Defense News, "I think at this point in history with the credibility of president of the United States eroded, were they to suspect that the United States is abandoning its defense spending. It takes more than a speech to turn this around."
According to Sessions Trump wants to enlarge the U.S. Navy from 272 ships to 350 ships. They would do this by bringing cruisers out of mothballs, speeding up overhauls of existing ships, building more littoral combat ships (LCSs), building more attack submarines, and building more Gerald Ford class aircraft carriers to get the total number of carriers up to 12.
Sen. Sessions said, "Trump's plans are actually to build more ships and maintain a higher number of troops and aircraft. It will go a lot further than words to convince the world that we remain strong. It will help us to maintain the peace."
Sen. Sessions is also a possible Attorney General. Sessions is a former US Attorney in Alabama and former Alabama Attorney General.
Fox News is reporting that U.S. Senator Ted Cruz (R-Texas) talking with Donald Trump on Tuesday about the Attorney General position.
Swan and Schroeder report that former New York City Rudy Giuliani wants to be Trump's Secretary of State. Giuliani told Fox News Sean Hannity that he had been to over a hundred countries, "I know the world."
Bush Administration United Nations ambassador John Bolton is also supposed to have a big foreign policy or national security role in the Trump administration.
Bloomberg Politics is reporting that other names being discussed for Secretary of State include former Deputy Secretary of State Richard Armitage, and former Treasury Secretary Henry Paulson.
Trump senior advisor Kellyanne Conway told Fox News that Trump wants people who are loyal to his vision.
Conservative radio host Laura Ingraham is being considered for White House. Ingraham told Hannity, "It is cool to be mentioned."
Former Goldman Sachs banker Steven Mnuchin is being mentioned as a possible Treasury Securetary. Mnuchin was Trump's national finance chair. Wilbur Ross was mentioned by Trump supporter Carl Icahn as a possible Commerce Secretary.
Michelle Rhee, who has advised Alabama Senate Pro Tem Del Marsh (R-Anniston) and Gov. Robert Bentley (R) on expanding school choice in Alabama, has been mentioned as being on Trump's list for Education Secretary. Billionaire Betsy DeVos is another name being discussed for Education Secretary.
If Sessions joins the Trump cabinet, Alabama Governor Robert Bentley will appoint the next Senator. There would be a special election within two years.
Print this piece
Feds seizing needed supplies slowed state's COVID-19 testing efforts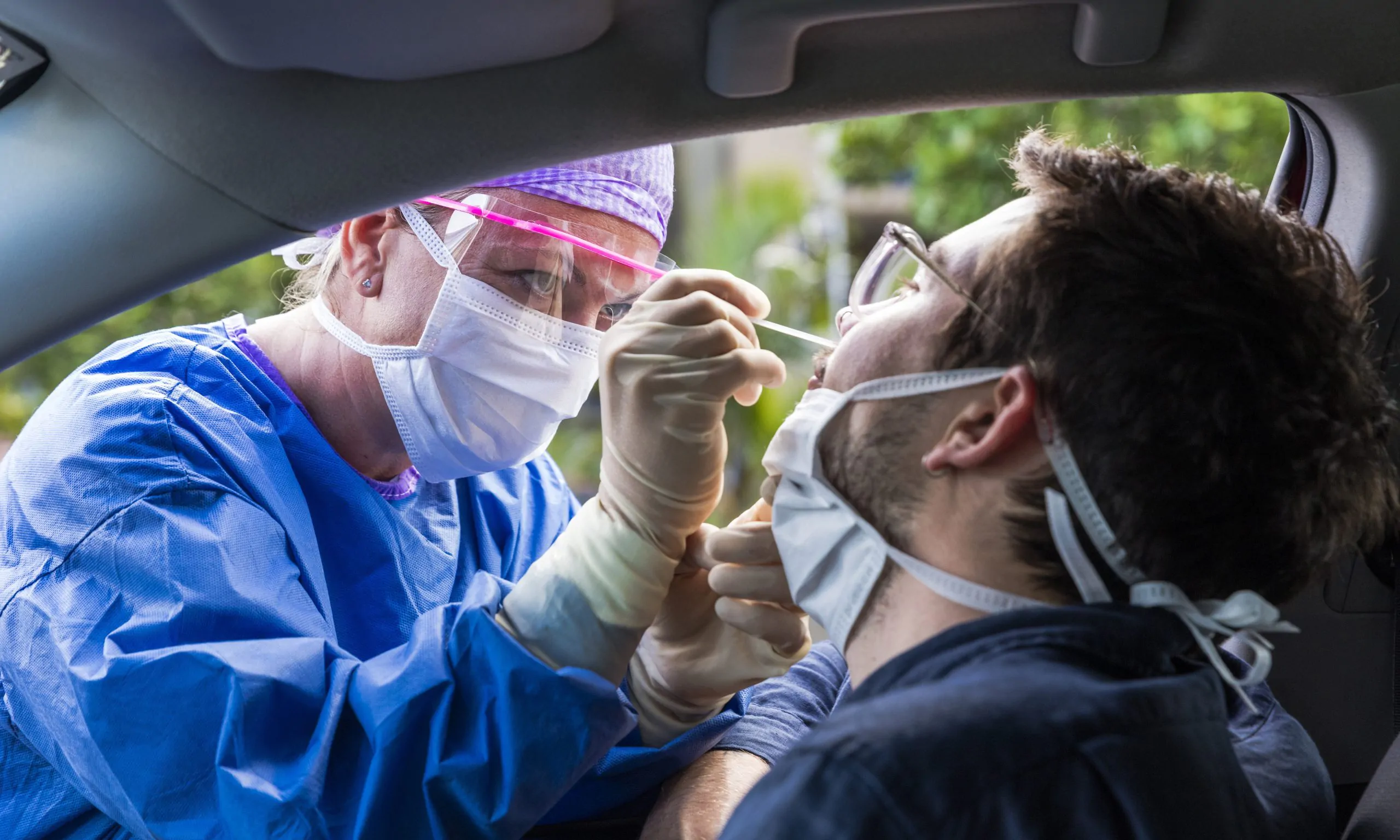 Add Alabama to the list of states that have had trouble acquiring needed medical supplies from commercial vendors because the federal government intervened and took the supplies.
The federal government has been quietly seizing orders of medical supplies, protective gear and testing materials across the country, and Alabama has not been immune.
The federal government's actions, blocking the shipment of those supplies, impeded the state's ability to roll out widespread testing and added to supply shortages in the state, officials say.
The Alabama Department of Public Health told APR Thursday that several shipments of supplies from commercial vendors have been superseded by the U.S. Department of Health and Human Services since the outset of the coronavirus pandemic in the state.
"It's been happening all along," said State Health Officer Scott Harris. "We had orders through about three different vendors, national vendors that we would normally use for medical supplies. They had accepted the orders and given us a ship date."
But then the vendors called and canceled the orders.
"They say, you know, the inventory was acquired by HHS," Harris said, referring to the Department of Health and Human Services.
The department and the Federal Emergency Management Agency have not publicly reported these acquisitions, according to the Los Angeles Times, nor has the administration detailed how these supplies are being used, when they decide to seize them and where the supplies are being rerouted to.
The first time was three weeks ago. The state placed an order for about four thousand nasopharyngeal swabs, the long Q-tip like swabs used to perform COVID-19 tests. The order was accepted, but before it could be shipped, HHS seized the supplies.
"That was one of the things that slowed our rollout of testing around the state because there were no supplies to be had," Harris said.
Since then, the state and hospitals have been able to acquire supplies from other vendors, but the delays have hampered testing, putting Alabama behind other states like Louisiana. As of Thursday, Louisiana had tested nearly 90,000 people for the virus. The number includes most commercial tests.
The main issue facing the state has not been the so-called "test kits" or even the state lab's capacity to run tests.
"We've had days where we thought we were going to be out of reagent, and we've wondered if we were going to have to hold off testing, but we haven't had to stop," Harris said. "We've had some just-in-time deliveries that we weren't sure were coming."
The real issue has been the swabs needed to collect samples. Hospitals and health officials across the state, from Huntsville to Mobile, have at one point or another reported severe shortages of nasopharyngeal swabs.
"We're bidding against every other state in the country, and in some cases, we're bidding against health care facilities here in our own state who are doing their own testing," Harris said of the process of acquiring swabs and other supplies.
ADPH and hospitals have been able to get more of those supplies, and Alabama has slowly ramped up testing as a result. But it has not been easy. "Getting those swabs and viral transport media has really been the rate-limiting step for most of our testing clinics," Harris said.
As of Thursday, the state has tested about 20,000 people, nearly twice the number reported five days ago on April 4. Testing has been increasing over the past week and a half, Harris said.
More have been tested, but it's hard to know exactly how many because not all commercial labs are reporting the number of negative tests they conduct. Harris said the state has asked the commercial labs to report those numbers, but some have been slow to do so.
Alabama has also had trouble receiving other types of needed medical supplies like ventilators and personal protective equipment. Some of the shipments seized by the federal government have been personal protective equipment intended to refill dwindling supplies at some of the state's harder hit hospitals, nursing homes and other providers, according to Dr. Donald Williamson, the president of the Alabama Hospital Association.
Though no hospital has run out of PPE, some have been running low, Williamson said. But hospitals have been forced to take unusual measures to conserve supplies, particularly the N95 masks that offer the most protection to health care workers treating COVID-19 patients.
The city of Montgomery in late March received 28 cases of protective masks from the strategic national stockpile, according to the Montgomery Advertiser. When the city opened the shipment, about 5,800 of the masks had dry rot and an expiration date of 2010.
The difficulties in the supply chain have also affected the state's ability to acquire new ventilators. Harris told APR on Friday that the state asked the federal government for 500 ventilators, and for 200 of them to be delivered urgently. HHS indicated that it would not fulfill the request anytime soon, and that the state could expect additional ventilators only if a dire need was expected within 72 hours.
So Alabama, like a number of states, is being forced to try to source ventilators on its own through the private market, where thousands of hospitals, all the other states and countries all over the world are trying to do the same, causing prices to skyrocket.
Alabama has placed an order for 250 more ventilators, and that order has been accepted, but it has not shipped yet, Harris said.
"We're just not sure when they're going to get here," Harris said. "But we will need them in the next 14 days."
In the meantime, Alabama has shipped about a dozen out-of-date ventilators to California for refurbishment. About half of those have been returned and distributed to hospitals based on their need. The state has also added to its ventilator capacity by retrofitting anesthesia machines and veterinary ventilators for use on those infected with the virus. Even though the state has added about two hundred new ventilators into service, the usage rate of ventilators has remained about the same. As of April 8, at least 101 people have required mechanical ventilation in Alabama for COVID-19. The number is expected to rise in the next weeks.
In the meantime, the state has had trouble getting ventilators from private vendors because the components needed to produce them have been redirected by the federal government to Ford and GM, who have been ordered to manufacture ventilators in mass quantities.
"They have had first-choice at these parts," Harris said. "So the people who normally make ventilators can't get those parts, which slows down delivery for all of us who've gone through the normal channels to get them where we would normally get them."
Williamson and Harris said the state and its hospitals, which are already facing a cash crunch, have been forced to pay inflated prices for needed supplies because demand is high and supply is short.
"Some of our folks are seeing prices substantially higher than they normally have for PPE, specifically N95 masks. Some of it is supply and demand, and some of it is people taking advantage of an unfortunate situation," Williamson said.
The state has been able to identify supply to help support hospitals who are sourcing their own, too, but the costs are exorbitant and a majority of the "vendors" offering to supply the state with supplies are counterfeit.
"You know, you would normally pay 60 or 70 cents for a mask," Harris said. "These offers are typically $5 or $6 per mask now. I've seen some are asking for $10 or whatever, which is truly outrageous."
The governor's office, the Department of Commerce and the attorney general's office have been helping the Department of Public Health source needed supplies.
"We're doing our best to source those any way we can," Harris said.
Harris and Williamson both said PPE supply and ventilator capacity, at least right now, appear to be in decent shape.
"I'm feeling better about ventilators," Williamson said. "But it would always be nice to have more. With the surge we're expecting, we seem to be okay. We've only had a couple of instances where we've had to try to assist and help move ventilators from one hospital to another hospital, but we've been able to do that and no one has gone without a ventilator who needed one."
But the Department of Public Health expects a rise in hospitalizations over the next two weeks that could add further strain the state's health care system.
"Let's see what happens over the next week, but for today, we are much better prepared than we would have been, frankly, a few months ago," Williamson said.
Print this piece