Sources: ASU board to fire Boyd on Friday

By Josh Moon
Alabama Political Reporter
The Alabama State University Board of Trustees has the votes to fire embattled university president Gwendolyn Boyd on Friday and will do so unless Boyd negotiates her resignation prior to the meeting, two sources close to the trustees told The Alabama Political Reporter.
The sources also said that attorney Dorman Walker, who the board hired to navigate its suspension and planned termination of Boyd, was authorized by board members to negotiate a resignation that would possibly pay Boyd a portion of the two-plus years remaining on her contract at the school. But as of late Tuesday, the sources said, Boyd had rebuffed all attempts at negotiating and her attorneys informed Walker that she would only accept continuing as president at the school.
That position, the sources said, has bewildered trustees who believed they made it clear at a meeting in November that they were unhappy with Boyd's performance and the direction of the university.
"I'm honestly at a complete loss as to how she believes she could possibly continue on given the feelings that are there among board members, because it's not like those feelings were hid from her during that last meeting," said one current ASU trustee, who spoke with APR on condition of anonymity.
Boyd has been on administrative suspension since trustees surprised her during a Nov. 4 board meeting by voting to begin the termination process for her. Trustees have cited as cause Boyd's failure to maintain the confidence of the board – a valid cause for termination according to her contract with the school.
The trustees also sent Boyd a letter that provided some details on their displeasure with her performance. According to a source, the one-and-a-half page letter was originally more than four pages long when it was sent to Walker, who trimmed it down to the most pressing issues.
Among those issues were Boyd's "failure to be forthright in communications with board members," inadequate fundraising, failure to act with integrity, failure to have a positive relationship with legislative leaders and the declining morale of students and faculty.
At a Nov. 14 meeting, Boyd, who was represented by famed civil rights attorney Fred Gray, attempted to address some of the trustees' concerns and asked them for specific examples of the issues they noted. But the meeting turned into the two sides – including several trustees who remain loyal to Boyd – arguing about the allegations.
Following the meeting, Boyd said she remained optimistic that she could work out her differences with the trustees and continue as president. Several of the eight trustees who voted against her continuing as president, however, said they didn't see a way forward.
Since that time, trustees say they have uncovered more "concerning news" relating to the operation of the university under Boyd – matters that she didn't relay to the board.
A request for comment from the university was not immediately answered on Wednesday.
Trump Truck and boat parades this weekend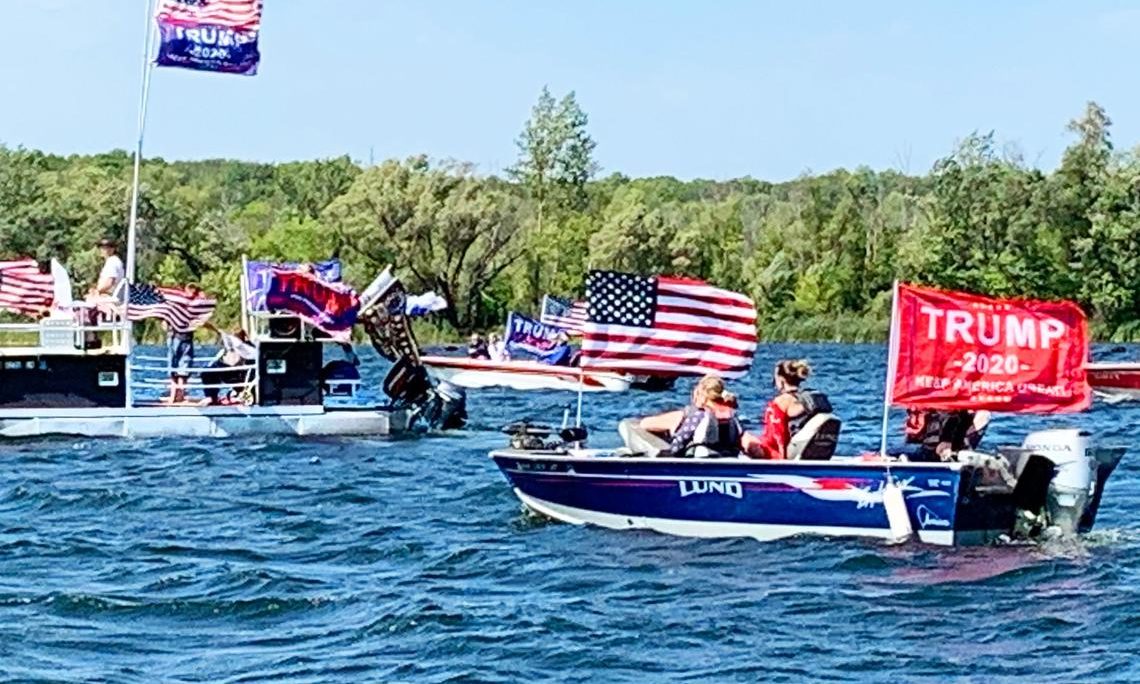 As Election Day draws near, Alabama Republicans are excited about promoting the re-election of Donald J. Trump as President and the election of Tommy Tuberville for U.S. Senate. This weekend two pro-President Trump events are happening in the state. There will be a truck parade from Ashland to Phenix City on Saturday sponsored by the Clay County Republican Party, while there will also be a boat parade on Wilson Lake in the Shoals sponsored by the Colbert County Republican Party on Sunday.
The pickup trucks will assemble at the Ashland Industrial Park in Clay County, 8240 Hwy 9, Ashland. There is a pre-departure rally at 10:00 a.m. central standard time. The trucks will depart at 11:00 a.m. and then proceed on a parade route that will take them into the bitterly contested swing state of Georgia. The Trump Pickup Parade will wind through east Alabama and West Georgia traveling through LaGrange and Columbus before concluding near the Alabama/Georgia line in Phenix City, 332 Woodland Drive, Phenix City at approximately 2:00 p.m. central time. Speakers will begin at 3:00. Trump flags will be on sale at the event.
The Phenix Motorsports Park will be hosting what sponsor hope could possibly the world's largest Pickup Tuck parade in U.S. history that is routing over 50 mile through Georgia in effort to "pickup" President Trump's numbers in GA.
A number dignitaries have been invited to address the Phenix City rally, including Coach Tuberville. Former State Sen. Shadrack McGill, Trump Victory Finance Committee member former State Rep. Perry O. Hooper Jr., and Paul Wellborn, the President and CEO of the largest Family owned Kitchen Cabinet manufacture in the USA are among the featured speakers who have committed to speak at the event.
Entertainment will be provided by: Charity Bowden, an up and coming country music singer who was the runner up on "The Voice". Charity will sing 'I am Proud to be an American' as well as songs from her Voice performances. The McGill Girls will also perform. The three beautiful and talented sisters will be singing patriotic songs in three part harmony. Geoff Carlisle, a professional DJ will be keeping the crowd pumped with music and entertainment.
Following the speakers and the entertainment there will Trump truck-vs- Joe Bidden truck races down the drag strip for the finale.
The Northwest Alabama boat parade will be on Sunday. The boats will gather at 2:00 p.m. near Turtle Point and then the flotilla will parade around the open waters of Wilson Lake til 3_00 p.m.. There will be a contest for best decorated Trump boats.
Trump supporters have held a number of large boat parades across the state to show their support for the re-election of Pres. Trump.
Boat parade sponsors say that this parade will be: pro-American, pro-law enforcement, pro-military.