The shape of things to come?
By Bill Britt
Alabama Political Reporter
Several decisions over the next few weeks and months could significantly affect Alabama's future for generations. Among these are, the appointment of Senator Jeff Sessions' replacement, the Special Supreme Court's ruling in Chief Justice Roy Moore's appeal and the findings of the Montgomery Grand Jury concerning Governor Robert Bentley.
Bentley is publicly holding casting-calls to find Sessions' replacement upon his confirmation as US Attorney General. From a novice State representative to Chief Justice Moore himself, Bentley is parading potential candidates around like beauty pageant contestants. Each day the press publishes an ever-expanding list of hopeful nominees. It seems more like a charade than a selection process. Identifying the next junior Senator from Alabama is serious business, with little in common with the spectacle it now seems to have become. Perhaps, Bentley is using the Senate interviews to line up support for the billion dollar prison bill he plans to push in a special legislative session. Perhaps it is simply to hide his real intentions. With this Governor, the only thing you know for sure is that you don't know.
The State Constitution says the Governor shall call a special election to fill the vacancy "forthwith."
Speculation has ranged from Bentley calling for the election 120 days after appointing Sessions' successor, to holding the election in 2018, two years before the end of that Senate term. The 2018 option would have the appointee running for election in 2020. If Bentley calls the election within 120 days of appointment, then the advantage goes to Attorney General Luther Strange, who has filed papers declaring his intentions to seek the positions in the next election, whenever that may be held. If Bentley opts to wait until 2018, the appointee holds the advantage because special national interest will have already staked ground with the appointed incumbent. This would mean Bentley and outside interests would narrow the people's choice of their next Senator.
Sessions' replacement should be an individual who will go to Washington for the citizens of Alabama. Senior Sen. Richard Shelby is a reliable advocate on behalf of the State, who has protected the State's interest and sought advantage for the State at every turn. The next Senator must take up that mantel to ensure the State is not ignored in the Halls of Congress.
With the Republicans holding a slim majority in the upper chamber, the next Senator from Alabama must not come from the Party's far-right Freedom Caucus or a stalemate will ensue. Senate Majority Leader Mitch McConnell will need flexible to negotiate, and in these matters, good ole Alabama pragmatism would be useful as well. Compromise will become especially needful with President Donald Trump at the helm. Look for The Art of the Deal to be a primer on negotiations for the next four years.
When the Senate reconvenes, Sen. Shelby will serve as the powerful Chair of Appropriation, a position never before held by an Alabamian. In the House, Rep. Roger Aderholt from Alabama's 4th will be third in line on House Appropriations. It is worth considering the loss of House seniority should Bentley appoint Aderholt as Sessions' replacement.
Perhaps there is a better way for Bentley to handle the appointment, a way that gives the people more say and opens up the field of candidates. Bentley could appoint a placeholder who, while representing the State wisely for the next two years, would also agree not to run in 2018.
Lt. Governor Kay Ivey is a public servant who could fill that bill with ease. Her agreeing to serve only two years would cap a long political career and allow for younger aspirants to cast their hats into the ring in 2018.
It is important to remember that Sessions' replacement has a cascading effect on Judges, Marshalls, and other appointed positions.
Perhaps the greatest unknown are the desires of Bentley's alleged mistress Rebekah Caldwell Mason? Anyone foolish enough to discount Mason's influence in this matter is sorely out of touch with the realities of the Bentley Administration.
Another question which hangs like "the Sword of Damocles" over the prospects of an honest and proper due process of law in our State, is the fate of Chief Justice Moore. Currently, seven appointed judges are reviewing Moore's suspension from the court. This panel of seven judges constitutes a Special Supreme Court that may uphold or dismiss the ruling of the Court of the Judiciary, suspending Justice Moore without pay for the remainder of his term.
Last week the Judicial Inquiry Commission (JIC) which found probable cause to indict Moore on unethical conduct, refused to release the records that led to Moore's conviction and removal. Citing a Constitutional right to keep the records confidential, the JIC is hiding behind an argument as thin as their collective skin and as unmoored from reality as their legal reasoning.
This past Sunday on The Voice of Alabama Politics, we revealed that two Supreme Court justices called for an investigation of the JIC after information about Moore's indictment was leaked to certain media outlets. According to reliable sources, this is one reason the JIC is claiming confidentiality; but there may be more to the story.
At issue: Did Justice Moore receive a fair hearing? Was he afforded equal protection and due process? If he did, then what is the JIC hiding, if not the only course of action is for the Special Supreme Court to dismiss the case against Moore. Only by releasing the court records will the people be assured that Moore was not a victim of a political prosecution.
Finally, the Montgomery Special Grand Jury and it's investigation into actions taken by Gov. Bentley to defame former Alabama Law Enforcement Secretary Spencer Collier and the use of State resources to facilitate his alleged affair with Mason.
This past week, Attorney General Luther Strange told a member of the press that he was meeting with Bentley about the Sessions appointment. When asked about an investigation into Bentley, the Attorney General gave a very "lawyerly" answer saying something to the effect of, "You didn't heard that from me." Some have taken this to mean there is no investigation or not enough to indict.
So, perhaps Special Prosecution Chief Matt Hart just wanted to visit with the Governor for a couple of hours, or wanted a little face to face with current and former Bentley staffers for a few days, who knows? If the Governor is not the subject of a Grand Jury investigation the Attorney General's Office should say so publicly. Bentley's administration is in shambles with rumors of Mason and Chief of Staff Jon Barganier holding budget meetings at the Blount Mansion.
Bentley will soon make the most significant appointment of his tenure, belief in the justice system is under suspicion in the Moore trial and the Governor is reportedly a suspect in a criminal investigation, and it's not yet New Year's Day.
With a 2016 that saw the felony conviction of Mike Hubbard the first Republican Speaker of the House since Reconstruction, it would be difficult to imagine what is next. But this is Alabama, where every plan is someone's plot, every good deed has a price tag, and a good lie justifies what comes next.
Business as usual is no longer acceptable and the shape of things to come must be about the people of our State and not just those who serve themselves at their expense.
Opinion | Hubbard did the crime; he should do the time
Hubbard may not be a violent offender but his actions are a danger to society and a threat to the public.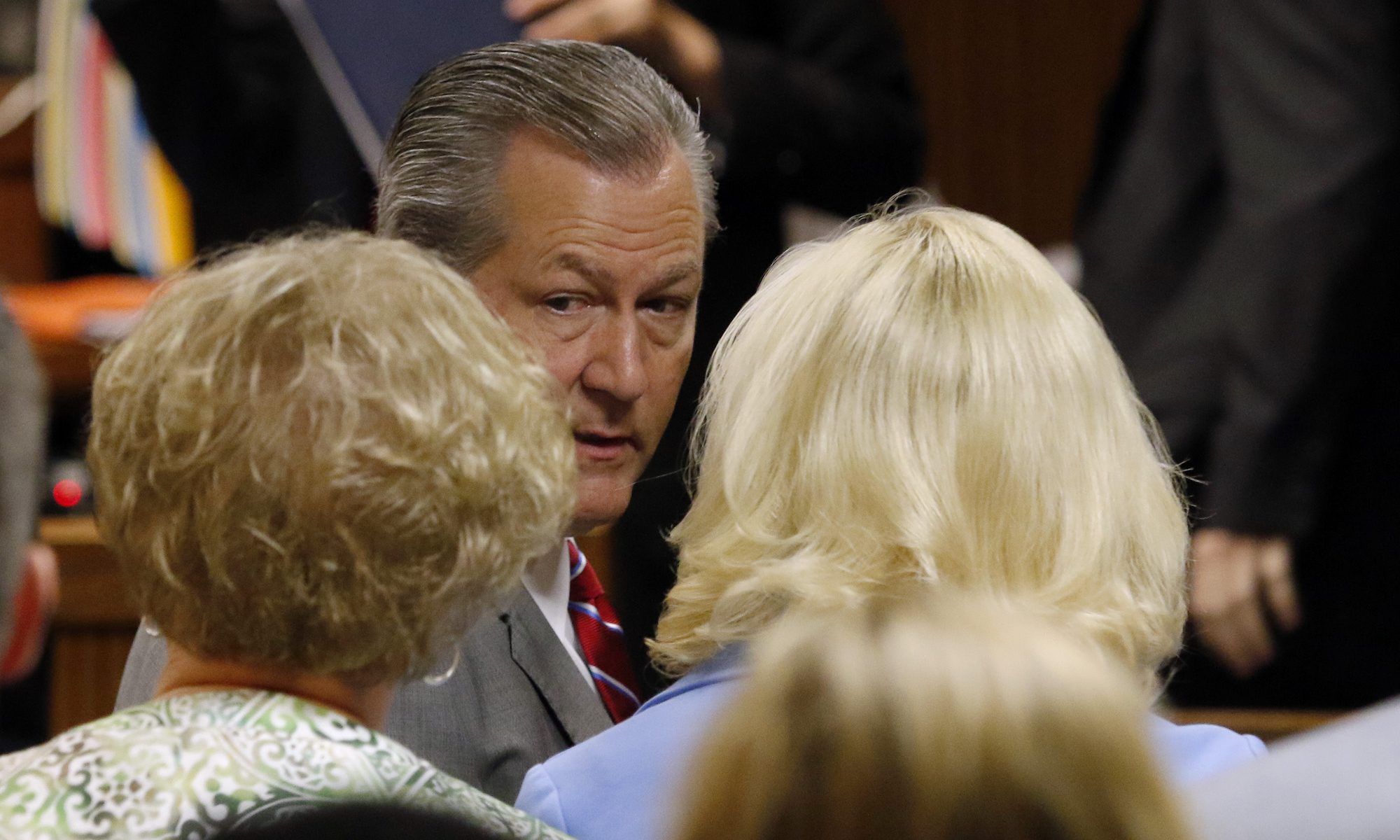 Attorneys for convicted felon, former Speaker of the House Mike Hubbard, believe he has suffered enough, and his sentence should be reduced because six of the charges against him were overturned on appeal.
The remaining six counts against Hubbard call for a prison term of four years, 16 years probation, and substantial fines independent of the charges the upper courts set aside. Therefore, there exist no reasonable grounds under which trial Judge Jacob Walker III should lessen Hubbard's sentence.
This action on Hubbard's behalf is simply another attempt to subvert justice.
A Lee County jury found Hubbard guilty of twelve counts of public corruption, most notably using his office for personal gain and using state resources and personnel to enrich himself—and those counts still stand.
The Court of Criminal Appeals rejected Count 5, and the Alabama Supreme Court struck down another five, which primarily dealt with the charges surrounding "principals."
The upper-court's finding appears more political than judicial, but most people in the state are used to jurists who bend the law for the rich and politically connected.
Of the remaining charges against Hubbard, five carry a ten-year spit sentence of two years in prison and eight years probation, and one count has a six-year split sentence with 18 months in jail with the remainder served on probation.
Why would Judge Walker reverse his judgment since the appeals process left in place the charges that carry the very sentence he imposed?
Does Judge Walker think he erred in his sentencing? Does he now, in retrospect, believe he was unfair as Hubbard's lawyers contend?
Hubbard's appeal is merely more subterfuge and trickery disguised as a legal argument.
Astonishingly, in their latest filing, lawyers, David McKnight and Joel Dillard, assert that Hubbard is not "a danger to society, nor a threat to the public" as a reason to let him out of prison.
Hubbard may not be a violent offender but his actions are a danger to society and a threat to the public.
Prison is not only for brutal inmates it is also for those who break a certain class of laws. Because a felon wears a thousand dollar suit doesn't mean they deserve less jail time.
Hubbard's crimes are some of the most heinous perpetrated against civil society.
Public corruption undermines the rule of law and the principles of good government and is an offense more potent than property theft, drug use, or other nonviolent crimes because it rips apart the very fabric of society and its trust in the foundations of the republic.
A corrupt politician's actions subvert the very meaning of representative government.
Hubbard is not now a danger to society, or a threat to the public because he is behind bars. But make no mistake he is a menace to public good. Even before his indictment, Hubbard used every scheme at his disposal to thwart justice, entice lying and manipulate public trust. And now he wants one more shot at corrupting the system.
There are only two occasions when every individual should expect equal treatment: when they stand before a court of law and when they stand before their maker. Yes, a wealthy defendant like Hubbard can afford better legal representation, but it doesn't mean he can purchase special justice.
Hubbard has been given preferential treatment by lawmakers, the media, and even some on the courts. All along the way, Hubbard was handled with kid gloves and given unwarranted privilege.
McKnight and Dillard argue with a straight face that letting Hubbard out of prison early will, "Preserve scarce prison bed-space for habitual offenders and others from whom society needs protection… [and] more likely result in the defendant's rehabilitation than incarceration."
The word rehabilitation is used several times in Hubbard's most recent court filings as if somehow allowing him to avoid prison time will serve to rehabilitate him. To this day, Hubbard doesn't believe he's committed a crime, so how is rehabilitation possible?
His attorneys lastly make the most laughable argument possible by indicating Hubbard has suffered enough.
"[The] Court should consider the punishment that Hubbard has already suffered. The convictions in this case alone have resulted in a wide range of punishments which include his removal from office, the loss of his right to vote, the divestment of his business interests, and his current incarceration."
Suffered enough?
When lawmakers break ethics laws, it upends society because it shatters trust while nullifying the social contract that binds us together in peace and safety.
State ethics laws are an attempt to force the government to rule themselves honestly.
Hubbard ignored the very ethics laws he championed and would do it all again.
He deserves punishment for his unlawful acts, and his prison sentence should stand as a reminder to others that justice doesn't play favorites.
Hubbard did the crime, and he should serve the time.