Fitzgerald Washington
Secretary, Alabama Department of Labor
We're at the beginning of another year, and ready to see continued improvement in our economy. At the Alabama Department of Labor, we are busy wrapping up the facts and figures for 2016. There were many improvements last year, and I'd like to let people know about them.
We ended the year with our wage and salary employment only 17,000 jobs away from reaching two million. I can't emphasize how great this news is! The last time our economy supported two million jobs was back in 2007, before the recession, before tens of thousands of Alabamians were relying on unemployment compensation to help support their families, and before our unemployment levels reached record highs. A wage and salary employment level of two million is considered to be a benchmark employment figure. I'm hopeful that we'll reach that milestone in 2017.
As employers' confidence was sustained and hiring rose, Alabamians continue to join the workforce. We ended 2016 with the largest workforce we've had in more than five years. Additionally, more people were working in December 2016 than at any time since April 2008. Employers are hiring, and workers are working. Those who don't have jobs are looking for jobs, which tells us they believe there are jobs to be had. All of these are positive signs for our economy.
Our manufacturing industry continues to lead our economy. In 2016, Alabama ranked third nation-wide in manufacturing employment growth (year over year December). These competitive, sought-after jobs carry wages of more than $20 an hour.
As far as unemployment compensation goes, the amount we are paying in benefits and the number of people filing for those benefits are at seven year lows. Those who are receiving benefits are only doing so, on average, for around 14 weeks, which is significantly less than during the recession, when up to 99 weeks were available and some were using all of them.
Last year, we paid out over $183 million in Work Opportunity Tax Credits, more than $71 million higher than in 2015. These are credits that employers can take advantage of when they hire certain individuals, such as the long-term unemployed and food stamp recipients, among others. These are dollars that are going right back into our economy to spur spending and encourage hiring.
Job orders on the state's free jobs database, www.joblink.alabama.gov, were at five year highs, with several months registering more than 30,000 orders!
With all of these positives, we still realize that there is work to be done. Even though there are more people working now than in nearly a decade, there are still more than 130,000 Alabamians who are out of work. Our mission, just like that of Governor Robert Bentley, is to make sure that these citizens have the opportunity to get a job, to support their families, and to live a quality life. In order to meet these obligations, we're setting a few goals:
First, we're aiming to keep 2017's yearly average unemployment rate below the yearly average unemployment rate of 2016 (5.9%).
In order to keep the unemployment rate low, it's important that we maintain employment levels. This means working with the Governor, state agencies, economic development groups, and local governments in order to keep jobs in Alabama and recruit new ones. Since taking office in 2011, Governor Bentley's administration recruited 92,000 jobs to the state. These cooperative agreements are beneficial to all involved.
We're also focusing our efforts to surpass economists' estimates for job growth in 2017.
In January of this year, economists predicted that Alabama will gain 18,700 jobs in 2017. We hope to surpass that number, as we have for the past three years. In 2016, the prediction was for growth of 29,450. For the period covering January 2016 to December 2016, jobs grew by 49,600, bypassing the predictions by 20,150! Again, as employers maintain their confidence in the economy and continue to hire, hopefully, this goal will be an easy one to meet.
We want to increase awareness of free, valuable services available at our 49 Career Centers located throughout the state.
Our Career Centers offer so many wonderful services for both jobseekers and employers. The best part is that they are offered at no charge! Nearly half a million Alabamians were served in 2016, and we hope to increase that number this year. Our regional job fairs, hosted in Montgomery, Dothan, and Birmingham last year, drew more than 12,000 jobseekers to speak with more than 400 employers. We're bringing our job fairs to other regions of the state this year. Come out and see us! Find out more information about any of our services at www.labor.alabama.gov.
Print this piece
Opinion | Secretary of State responds to Alabama Political Reporter op-ed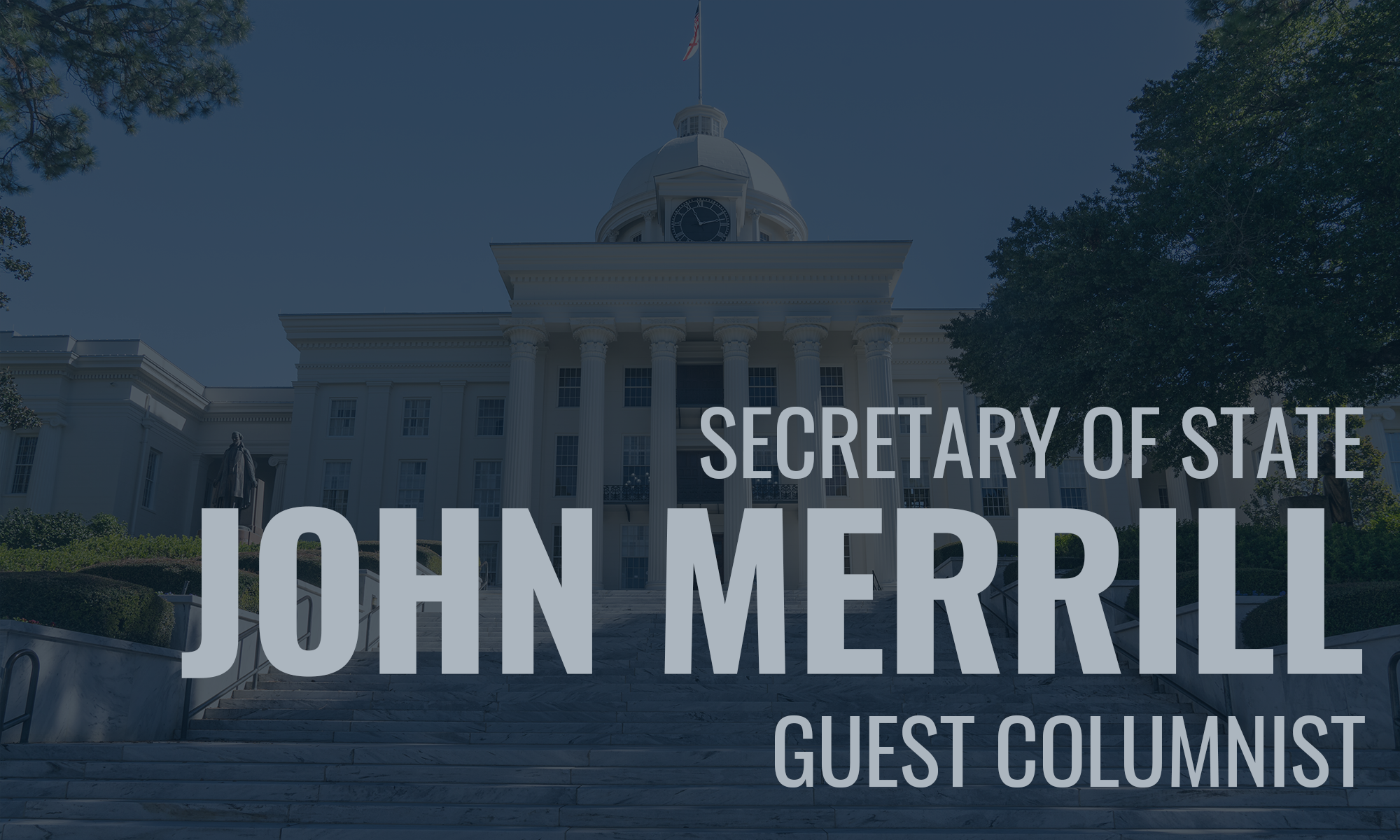 The following statement from Secretary of State John H. Merrill is in response to the inaccurate op-ed published yesterday morning by Josh Moon of Alabama Political Reporter:
This morning, Josh Moon of Alabama Political Reporter alleged that "voting by mail does not lead to fraud."
Moon went on to undermine the six voter fraud convictions and the five associated with tampering with absentee ballots in the last five years, claiming that these numbers are not substantial enough to have basis.
Let's start with the facts, Josh.
When you have one person that violates the trust and confidence in the elections process by committing illegal activity, that is one too many. Whether you have one voter fraud conviction or a thousand, you are proving to the electorate that elections require integrity and credibility! We will continue to work to build trust and confidence in the elections process.
Claiming "you can't commit enough fraud to alter the outcome of such a race" is naive and careless.
In 2018, we saw a member of the legislature who won her race by a mere six votes and another member who won his race by 28 votes. That same year, we witnessed a sheriff's race that was tied even after the recount. It should be apparent to anyone that just a few votes can determine the outcome of an election.
The fraudulent practice of ballot harvesting, which is often associated with voting by mail, led to the defeat of seven Republican candidates in the California 2018 midterm election. Young Kim, who ran to represent California's 39th Congressional District, was leading the vote count on election night and even in the week that followed the election. Two weeks later and after Kim attended New Member Orientation, the Democrat challenger was declared the winner after 11,000 mail ballots were counted. These ballots favored the Democrat challenger at a much higher rate than the previously counted ballots.
Similarly, during the 2018 Election Cycle, the North Carolina Board of Elections appropriately refused to certify the results of the 9th Congressional District's election due to the illegal misuse of absentee ballots.
It has also been reported, through data collected by the Election Assistance Commission, that between 2012 and 2018, 28.3 million mail-in ballots went unaccounted for, which equates to one in five of all absentee or mail-in ballots.
So, obviously, Josh, you can commit enough fraud to alter the outcome of an election.
The issues with mail-in voting far exceed the few that Josh attempts to raise. Consider Nevada where thousands of absentee ballots were just sent to inactive voters in Clark County. Consider the thousands of envelopes piling up in post offices or outside homes, apartments, and other facilities. Consider California in 2016 where 83 ballots were sent to one address housing just two people.
Then, Josh, after you have considered Alabama where in 2016, 109 absentee ballots were sent to the mother of a mayoral candidate in Brighton or when 119 absentee ballots were mailed to an abandoned home in Wilcox County, tell me that mail-in voting does not increase the likelihood for fraud to be committed.
To then pretend "small-town races" in Dothan, which is Alabama's seventh largest municipality out of 463, are not worthy of being noted is ludicrous.
The state's absentee law requiring a photo ID to be submitted with the application, which I remind you was passed last year with bipartisan support and sponsored, at our request, by Rodger Smitherman (D-Birmingham), has worked to prevent these sorts of opportunities in our state. This comprehensive, reform legislation has provided safeguards in our absentee process.
One major consideration that many supporters of mail-in voting fail to mention is cost. Currently, the administration for one Election Cycle (Primary, Runoff, and General) in our state is $16.5 million, whereas the administration of a full mail-in Election Cycle is almost $60 million.
I am positive that even Josh Moon can find a better way to spend $43.5 million generated by taxpayers.
Print this piece