By Sam McLure
"A woman is not an incubator," said Pro-Choice advocate, Tina Goodson, while protesting at a recent Pro-Life rally. In an effort to discredit the rally attendants and organizers, Goodson commented that "[t]hey're pro-birth; not pro-life."
Goodson's feelings on the topic fairly summarize how many Pro-Choice advocates feel. Kathy NJ, a pro-choice Twitter commentator argues that Pro-Life advocates are "pro ensuring anyone they mate with MUST have their child.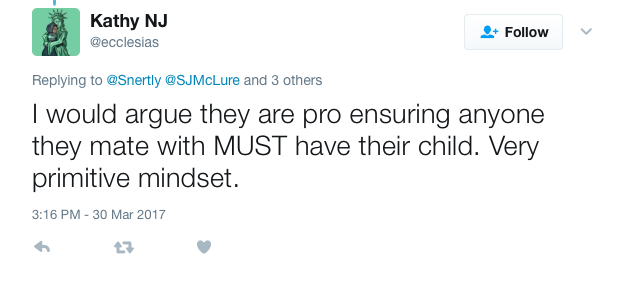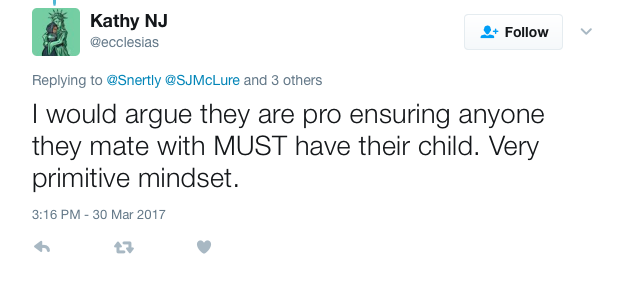 Another commentator on the recent pro-life rally, Michele Sawyer, stated that, "[t]hese people are not, 'pro-life,' they are, 'pro-fetus.' If they were pro life, they would be fighting to keep the programs that feed and provide medical care for the children of this State. … They would be demanding better education for the kids in this State, as, they are the future."
Ray Elliot echoed that response when he stated that, "if they are truly Pro-Life then where are they when it comes time to Feed those Unwanted children? (sic) Oh yeah, they are winning about them being a Burden on the System! (sic)" Sherri Power laments that, "200,000 Alabama children go to bed hungry every night. Why isn't anyone rallying for them?"
These are strong words, for sure. And words that should be taken to heart by anyone advocating for justice and mercy in society. However, their position does not seem to be consistent with reality.
Enter the straw man:

A "straw man" is "an intentionally misrepresented proposition that is set up because it is easier to defeat than an opponent's real argument."
Please allow me to introduce you to Adullam House. The Adullum House is a non-profit, privately funded ministry located in Wetumpka, Alabama, about 30 miles North of Montgomery. Adullam House exists to provide care, education, and nurture to children whose parents are incarcerated.
"Adullum House takes care of the kids whose parents are incarcerated. The goal is reunification between the kids and the moms," said Jeshua Screws, the Risk and Compliance Manager for Adullam House. "We also started a ministry called Mary's Place, which is like a half-way house with a year long commitment, where the mom's can have the children living with them while they are getting their feet back on the ground. We give them basic life skills … how to take care of home, how to balance a check book, and how to function in society."
Screws learned about Adullam House while working on a masters degree in Political Science.
"When I first walked into the main house, I said, this is a house, this is a home. The kids didn't feel like just another number. They were getting love and nurture and the gospel."
"When I first came to Adullam House, James 1:27 resonated with me. 'Pure religion that is undefiled before God the Father is this: visit orphans and widows in their affliction, and keep yourself undefiled from the world," said Screws.
Screws who graduated with honors from Lee University, served in the military, earned a masters degree in political science and a separate masters degree in Christian studies, remembers the words of a mentor from his first year of college, "When you find out what your passionate about, you find out about what makes you cry. I went to college and military, but my heart kept coming back to … 'Evil prevails when good people do nothing.'"
"I started going to the abortion clinics and counseling people considering abortion. I've said to people in front of the [Montgomery] abortion clinic, 'If you don't want your baby, I can find people who will adopt them."
Jeshua Screws' work with Adullam House is just one of countless examples of Pro-Life advocates who care for mothers, fathers, and children – well past birth.
Many Pro-Life advocates serve as foster parents with organizations such as AGAPE, which started in 1978 to fill the need for Christian foster care and adoption services. Alabama is home to some 4,500 foster children. AGAPE equips families to serve as foster parents and stays with them as an advocate in the process.
Other pro-life advocates adopt children who are at risk of adoption. Matt Butts, producer of the renowned podcast, the Reformed Outlook, recently announced on Facebook, "If you are pregnant and considering abortion, my wife and I will adopt your child." His post received 780 shares.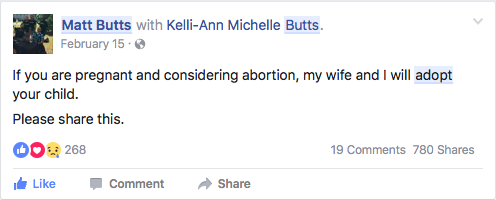 I'm sure there are people who claim to be Pro-Life, yet have no care for the weak, poor, and outcast after they are born. I'm sure some politicians just use the Pro-Life box to manipulate voters into electing them. But, this is not the norm – at least not in my world.
Take for example, Lifeline Children Services, which started in 1981 as a response to the women who were choosing life instead of abortion, yet who knew they could not parent their children. Lifeline's ministry launched with a vision to help these women with their adoption plans, and still holds care, mercy, and discipleship to birth mothers as their hallmark distinctives. Today Lifeline helps to facilitate adoptions from over 20 different countries and domestically.
Perhaps you're reading this and your heart is stirred to be more engaged with one of the ministries in this article. I encourage you to reach out to them and see how you can get involved. As James said, if we say we are religious, but we are acting on those convictions, then our profession is worthless. Or, in the words of Jeshua Screws, "There's all the difference in the world in being pro-life by conviction and Pro-Life by action."
Adullam House, contact Philip Powell, Public Relations Coordinator: 334-514-3070
AGAPE of Central Alabama, Steve Duer, Director of Community Relations: 334-272-9466
Lifeline Children Services, Krisha Yanko, Development Director: 205-967-0811