Big Breakthrough on Repealing Obamacare

Congressman Bradley Byrne (AL-1)
The Affordable Care Act, or Obamacare, is failing the American people by driving up costs and limiting options for families. President Trump and the Republican controlled Congress have pledged to make repealing and replacing Obamacare a top priority.
Well, we had a major breakthrough last week when the House passed the American Health Care Act. I voted in support of this Legislation to repeal Obamacare and replace it with a system that gets the Federal government out of the way.
Americans deserve an accessible and affordable health care system that promotes quality care and peace of mind. Rather than top down, one-size-fits-all insurance plans mandated by the government, we need innovation and competition in our health insurance market to drive down costs for families.
That is exactly what the American Health Care Act does. The bill repeals the individual and employer mandate penalties to allow workers, families, and employers greater flexibility to find health care plans that actually work for them. For low and middle income families who do not receive health insurance through a government program or their employer, the bill offers monthly tax credits to help purchase affordable coverage.
The core focus of the American Health Care Act is to drive down costs and repair damage done to the overall insurance markets by Obamacare. Beginning in 2018, the bill provides immediate funding to help calm the individual market and lower premiums.
Specifically, the bill contains a premium stability program modeled after the successful program enacted in Maine. In Maine, individuals in their 20s saw premium savings of nearly $5,000 per year and individuals in their 60s saw savings of more than $7,000 a year.
As premiums dropped, younger and healthier individuals entered the market. This increased total enrollment in Maine and saved their citizens thousands of dollars a year on their health insurance. Such savings are in stark contrast to what we have seen under Obamacare.
Our commonsense bill also reforms health savings accounts (HSA) to make it easier for families to save for medical care. Even more, the bill fundamentally reforms Medicaid and cuts about one trillion dollars in taxes.
Some in the liberal media have attempted to distort the truth about the American Health Care Act in an effort to protect Obamacare, so I want to clear up some of the misinformation.
First, the bill specifically prohibits insurance companies from denying coverage to anyone with pre-existing conditions. The bill also continues to require insurance companies to allow young adults up to the age of 26 to stay on their parents' insurance, maintains the ban on lifetime or annual limits, and prevents insurance companies from charging women more than men.
The House also passed a bill making crystal clear that every provision of the American Health Care Act will apply to Members of Congress and our staff. Members of Congress should not be held to a different standard than other Americans.
In a victory for those of us who are pro-life, the bill blocks government funding of any kind from going to Planned Parenthood and redirects that funding to community health centers, which are much more plentiful and do not provide abortion services.
I thoroughly read and analyzed the American Health Care Act before voting in favor of it on May 4th. Passing this bill is a huge step toward fixing our health care system and rescuing the American people.
The bill now moves over to the Senate, where it will likely undergo additional changes. I look forward to following the process as it moves forward, and I encourage you to do the same.
Print this piece
Opinion | Secretary of State responds to Alabama Political Reporter op-ed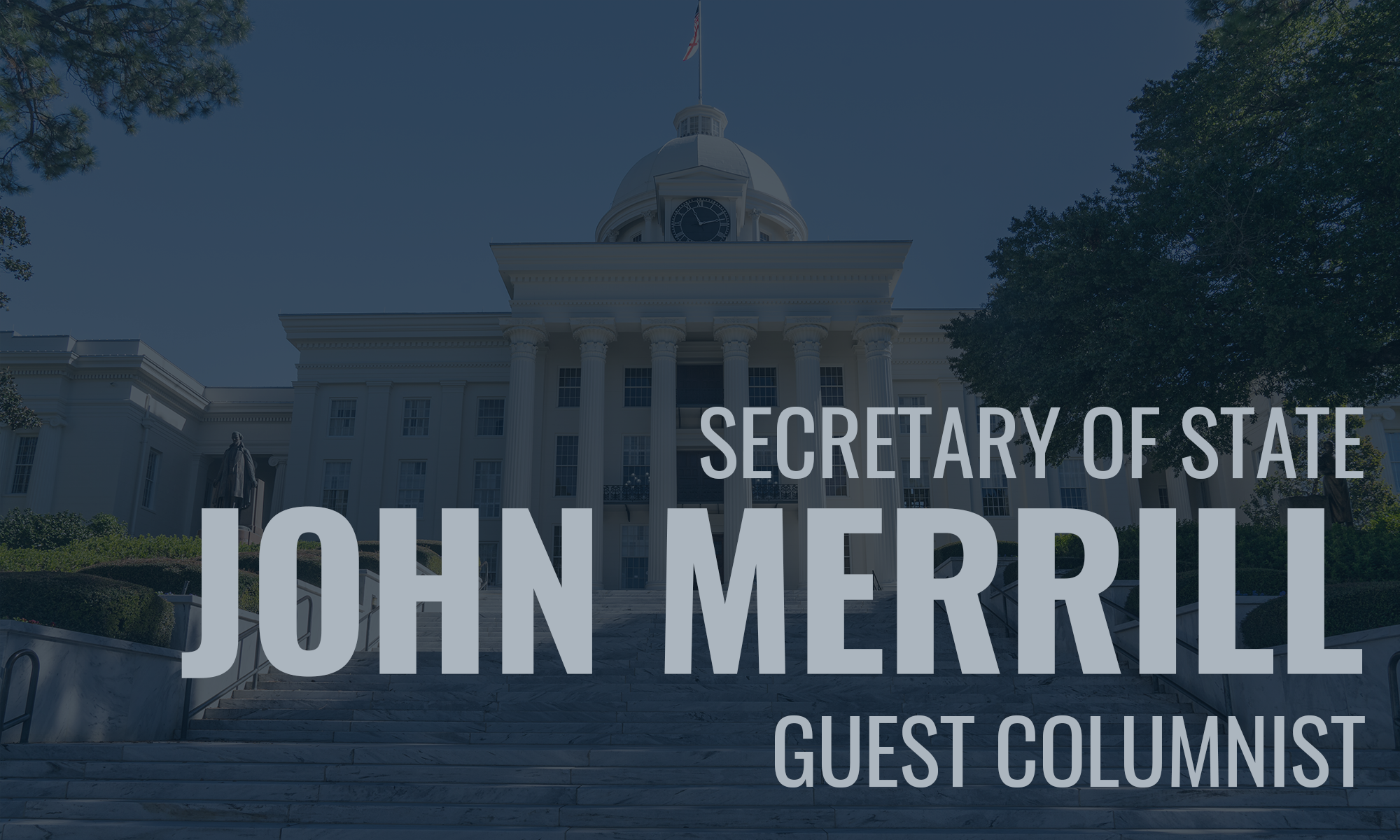 The following statement from Secretary of State John H. Merrill is in response to the inaccurate op-ed published yesterday morning by Josh Moon of Alabama Political Reporter:
This morning, Josh Moon of Alabama Political Reporter alleged that "voting by mail does not lead to fraud."
Moon went on to undermine the six voter fraud convictions and the five associated with tampering with absentee ballots in the last five years, claiming that these numbers are not substantial enough to have basis.
Let's start with the facts, Josh.
When you have one person that violates the trust and confidence in the elections process by committing illegal activity, that is one too many. Whether you have one voter fraud conviction or a thousand, you are proving to the electorate that elections require integrity and credibility! We will continue to work to build trust and confidence in the elections process.
Claiming "you can't commit enough fraud to alter the outcome of such a race" is naive and careless.
In 2018, we saw a member of the legislature who won her race by a mere six votes and another member who won his race by 28 votes. That same year, we witnessed a sheriff's race that was tied even after the recount. It should be apparent to anyone that just a few votes can determine the outcome of an election.
The fraudulent practice of ballot harvesting, which is often associated with voting by mail, led to the defeat of seven Republican candidates in the California 2018 midterm election. Young Kim, who ran to represent California's 39th Congressional District, was leading the vote count on election night and even in the week that followed the election. Two weeks later and after Kim attended New Member Orientation, the Democrat challenger was declared the winner after 11,000 mail ballots were counted. These ballots favored the Democrat challenger at a much higher rate than the previously counted ballots.
Similarly, during the 2018 Election Cycle, the North Carolina Board of Elections appropriately refused to certify the results of the 9th Congressional District's election due to the illegal misuse of absentee ballots.
It has also been reported, through data collected by the Election Assistance Commission, that between 2012 and 2018, 28.3 million mail-in ballots went unaccounted for, which equates to one in five of all absentee or mail-in ballots.
So, obviously, Josh, you can commit enough fraud to alter the outcome of an election.
The issues with mail-in voting far exceed the few that Josh attempts to raise. Consider Nevada where thousands of absentee ballots were just sent to inactive voters in Clark County. Consider the thousands of envelopes piling up in post offices or outside homes, apartments, and other facilities. Consider California in 2016 where 83 ballots were sent to one address housing just two people.
Then, Josh, after you have considered Alabama where in 2016, 109 absentee ballots were sent to the mother of a mayoral candidate in Brighton or when 119 absentee ballots were mailed to an abandoned home in Wilcox County, tell me that mail-in voting does not increase the likelihood for fraud to be committed.
To then pretend "small-town races" in Dothan, which is Alabama's seventh largest municipality out of 463, are not worthy of being noted is ludicrous.
The state's absentee law requiring a photo ID to be submitted with the application, which I remind you was passed last year with bipartisan support and sponsored, at our request, by Rodger Smitherman (D-Birmingham), has worked to prevent these sorts of opportunities in our state. This comprehensive, reform legislation has provided safeguards in our absentee process.
One major consideration that many supporters of mail-in voting fail to mention is cost. Currently, the administration for one Election Cycle (Primary, Runoff, and General) in our state is $16.5 million, whereas the administration of a full mail-in Election Cycle is almost $60 million.
I am positive that even Josh Moon can find a better way to spend $43.5 million generated by taxpayers.
Print this piece