A disquisition on greed in politics, an introduction with Mr. Blue Suit

By Sam McLure
Alabama Political Reporter
"I have no doubt from what I daily see that our whole system is rapidly becoming a mere money-making concern to those who have the control of it."
US Senator Calhoun, (Circa 1848)
The Big 4 meet Mr. Blue Suit
The State of YullaMama is located in the southern region of North America. YullaMama's average temperature is well above 90 degrees. It's warm weather has proven to be a fertile environment for the ice-production business. Currently there are four ice production companies that retain 95 percent of the market share – the Big 4.
The CEOs of the Big 4 met in the Capitol one day for lunch.  One CEO lamented that, "it sure would be nice if there were some way to keep upstarts out of the ice making business."
Another CEO chimed in, "Hey, what if the State required ice makers to be licensed? The State could set the requirements high enough to make gaining entry into the ice making business almost impossible."  The other CEOs applauded the idea, but couldn't fathom how this would be possible.
As fortune would have it, eating at the table right next to the Big 4 was a man in a nice blue suit who couldn't help but overhear the conversation.  "Excuse me, Gentlemen. I hate to interrupt," said Mr. Blue Suit, politely. "My name is Mr. Blue Suit. I work for the Bureau for Community Advancement and I may have a solution for you."
Blue Suit explained to the Big 4 that the Bureau was a "non-profit", member based organization, that specialized in helping like-minded business owners change State laws to further "community advancement." For a small fee, the Bureau could lobby the Legislature of YullaMama, and with Blue Suit's extensive connections, could get a law passed that would require licensure for any ice makers in YullaMama.
The Big 4 were naturally skeptical. One CEO asked, "If we make this small contribution to the Bureau, can you ensure we get Legislation passed that would make it virtually impossible for new competitors to start ice-making business?"
Blue Suit dropped his head and laughed with a chuckle that made the CEO feel naive.  Blue Shirt explained that the Bureau controls one of the most powerful Political Action Committees in the sate. The Bureau's PAC contributes to the political campaigns of almost every elected official in YullaMama. "That means," Mr. Blue Suit explained while emphatically thumping his pointed finger on the table,  "that these elected officials do what the Bureau tells them to do – otherwise, the Bureau will make sure these politicians don't stay in office for long."
"But, won't there be a public outcry about this?", asked one of the CEOs. Blue Suit assured them that the standard protocol in these situations was fail safe.  The Bureau would enlist scientist do perform focused research and retain marketing firms to disseminate their "evidence-based" research.
"I'm just spitballing here," said Blue Suit, "but, we could do some research on the health hazards of contaminated ice. If we could find a couple of cases where people have used ice from some no-name dispensary and gotten sick, well then, there you have it. A bill like this would be all about ensuring the public safety … and ensuring "community advancement"
The Big 4 were in.  They made the requisite contributions and Blue Suit used the influence of the Bureau for Community Advancement to pass the legislations.
Five Years Later
Five years later, the Big 4 found themselves eating lunch again at the Capitol; this time Blue Suit was comfortably seated at their table. One CEO commented, "Blue Suit, we couldn't be happier with the legislation you passed. The demand for ice in YullaMama has doubled and our market share has remained the same. No new competitors have entered the market, and a few of the smaller fish even had to close shop because of the licensing regulations."
"I sense a 'but' coming here," Blue Suit observed with a smile.
"Well, your right," said the CEO. "I wonder if we could do something more. Is there some other strategy that that Bureau could help us with?"
"I'm so glad you asked," said Blue Suit with a grin like a cheshire cat. "You've only just scratched the surface of possibilities. You've accomplished market share protection, but that's just Phase 1. The real money comes from getting your hands into tax revenue. If you can find a way to reach into the public coffers, then … anything is possible."
"YullaMama's state tax revenue is one thing, and we can reach into that for sure," explained Blue Suit, "but, But, BUT … the Federal Government, has an unlimited power to tax and print money. Figure out how to get a piece of that and …," Blue Suit leaned back and raised his eyebrows with an anything-is-possible look.
The Big 4 sat at the table in silence. They mostly looked down at their plate or coffee cup … occasionally glancing at each other. The look each CEO gave to the other made it clear, "We've got to do this." The boldest of the Big 4 broke the silence, "Okay, Blue Suit, lay it out for us. How do we get this done?"
"First, we need to privatize the ice making needs of the schools and prisons," Mr. Blue Suit was clearly in his element. "We can cite some studies that there has been an outbreak of contagious diseases from in-house ice making. So, it's essential for 'community advancement' that we outsource ice-making to someone to 'experts' who are licensed by the State.  And, of course, that would be you guys."  The CEOs of the Big 4 nodded in agreement with a slight smile.
"Can we can get all that done legislatively – like we did with the licensing bill?", asked the bold CEO.
"Absolutely. Remember, nobody gets elected or stays elected in YullaMama without our blessing." Mr. Blue Suit went on, "Next, we have to get you guys tied into Pres. Tupaloo's infrastructure money. Pres. Tupaloo has promised 4 billion to the State for 'infrastructure' if YullaMama will pass 4 or 5 pieces of legislation.  You guys could get a big chunk of that 4 billion as the sole distributors of ice for all the workers out in the field putting up bridges and such."
"Imagine this," said Mr. Blue Suit, "we can find a medical doctor who can show that it is essential for workers in YullaMama to have ice on hand at all times for their health – due to the heat, of course. Then we have an analyst do some research to show that it saves a ton of money to have that ice delivered to the workers on the construction site."
Blue Suit leaned back from the table as before, with the same eyebrow lifting anything-is-possible look, "We are talking millions of dollars of contracts from federal money … and hey, it's gonna go to somebody. Might as well be you, boys."
The CEOs of the Big 4 once again sat in silence as the possibilities of Blue Suit's proposal sank in. After seconds that seems like minutes, the mildest and quietest CEO spoke up, "Something has been bothering me from the beginning of our work with the Bureau. Now, don't get me wrong … we've all gotten filthy rich from the licensure requirement and what you've just proposed could triple our net worth."
"But, here's my predicament," said the mild CEO. "I don't know that what we've done and what we are proposing to do is good for the State of YullaMama. People are paying higher prices for ice because there's less competition.  And, we stomped out all the little guys. And, if we get the contracts to make ice for the schools and the prisons, it's going to costs taxpayers way more money than just making it in-house."
Brows began to furrow on the faces of the other CEOs, but the mild CEO continued, "And, I'm not really sure the Federal Government has the right to tax folks the way they do and spend money like we're talking about. The 10th Amendment gave them very limited powers. Each time the Federal Government taxes and spends money outside those parameters, it sort of feels like stealing. I'm not sure I want to reap the benefits of stolen money."
Blue Suit leaned forward with a nervous laugh and quickly chimed in, "I get where you're coming from. Look, lots of folks have that concern, but you can't turn the clock back.  Our whole two-party system is geared to people, like you boys, reaping the benefits of the tax revenue. Let me break it down to you this way: Republicans scream 'Pro-Life' and Democrats scream 'Criminal Justice Reform.' The reality is, if either party really cared about those things, they would be resolved yesterday.  But the truth is, if they were resolved, then the respective parties wouldn't have a platform to stay in power. We just 'make up' these social justice issues to keep the right people in power so the Bureau can continue to serve your business interests – the interests of 'community advancement.'"
"And this is just Capitalism, Boys." Mr. Blue Suit was starting to sweat, "Greed is good. Greed gives us cars and air conditioning and medicine … and ICE! What we are talking about is just the invisible hand of Capitalism. I'm not proposing anything illegal." Blue Suit looked at the group for affirmation, but all he saw was blank stares. "Look, my perspective is you get as much as you can from on the public's dime without going to jail. If you don't get it, someone else will … someone who is probably a flaming liberal. If that makes me a terrible person, then … I guess I'm a terrible person."
What Would You Do?
What would you do if you were a CEO of the Big 4.  If you agree with Mr. Blue Suit and would move forward with his proposal, then I don't know if there is much I can do for you. But if, like the mild CEO, something doesn't sit right with you about the Bureau's arrangement, then travel with me on this three part series to explore greed in politics. Part I will focus on diagnosing greed. Part II will explore some of the most sinister examples of greed in Alabama politics. And, Part III will propose solutions to curbing the effects of greed in Alabama politics.
Print this piece
Opinion | Push through is what we must do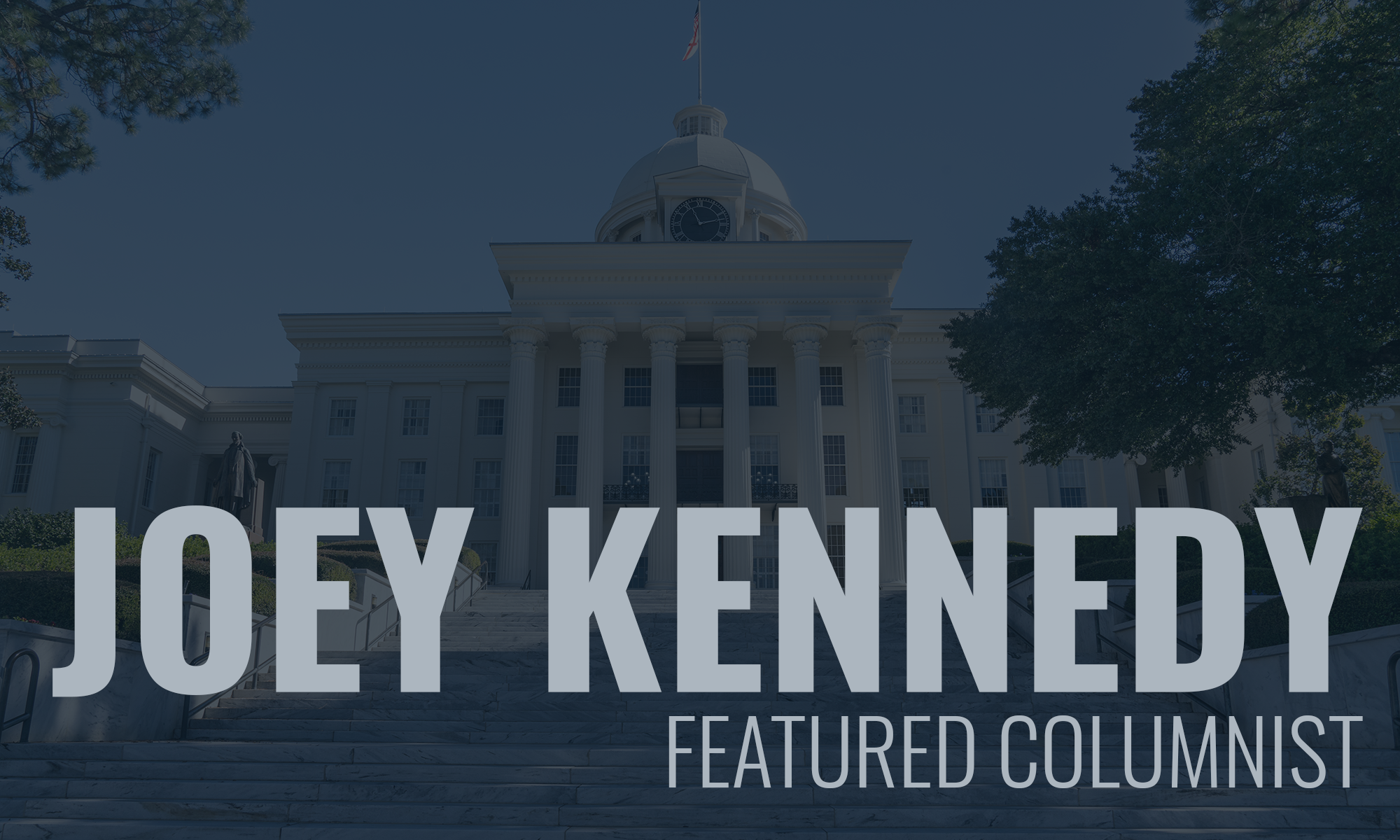 In Alabama, it's difficult to imagine that most churches are going to cancel Easter Sunday services this weekend. That, friends, should be a signal of how serious the COVID-19 pandemic is.
So if you're a little stir crazy, you can't go to Stir Crazy, a Homewood bar, because it's closed for the duration. I hope not for forever, though.
If you're feeling low, you can go to Lowe's. The home improvement store is open. I have to go there to exchange our home water cooler bottles, but I go at 6 a.m., when it opens and hardly anybody is there.
I'm the errand–runner in our family during this crisis. I'm very careful, because I cannot bring this monster home. Veronica has health challenges that would be exacerbated if she contracts the virus. I'm a hand–sanitation fool. I wear an industrial mask and disposable gloves when I pump gas or use the ATM.
People are doing different things to maintain their sanity and try not to physically harm their spouses and children, who they most likely are seeing far too much of.
This pandemic might have happened regardless of what actions the United States took. But it's not likely; other countries, including South Korea and Germany, had better leadership and responses. Our president is creating this disaster like he is Donald Trump. I can't imagine how it could be handled any more poorly, but that's a foolish bet to make with Trump in office.
I teach my classes from an undisclosed location on UAB's campus. I need the stable Wi-Fi and, besides, it is physically impossible to work at home when the dogs are going to believe they can help you and will not take "no" for an answer.
I surveyed a few people I know to see how they're handling the social distancing and the staying at home.
Attorney Johnny Norris, one of the partners in the Davis and Norris, LLP, law firm, has worked at home for a couple weeks now. He meets with his other partner and associates through Zoom meetings.
Norris said lots of law firms are laying off lawyers and staff during this time when the courts are closed. Not his firm. He said that he doesn't have to take that drastic step for now.
"We're a consumer rights law firm specializing in class actions and arbitrations," Norris said. His firm's 10 lawyers and half-a-dozen staff members are getting their full pay as they all work from home.
Norris and his wife, Missy, live in Hoover. They have a nice pool in the back yard to keep them occupies. Norris' wife has two bee colonies to manage. And Norris said just for kicks, he and Missy are going to have a Coronavirus Thanksgiving today. He's going to smoke a turkey, make dressing, and a green bean casserole. Missy may add a squash casserole and deviled eggs.
Leanne Blackmon of Gadsden has been working at home for years. Her online business, Classy Yet Trendy, is a fashion influencer. She said sales of her popular e-books are down, but her site is getting about the same number of clicks as before the pandemic.
"I'm still getting the same number of visitors to my site, because people don't have anything to do but surf the Internet," Blackmon said. She's also adapting to the reality; Blackmon is considering offering a loungewear capsule wardrobe.
While Blackmon works at home anyway, she still is missing out because department stores are closed. She continuously scouts the big stores for current styles with decent prices. She'll come to Birmingham or go to Atlanta, but right now she's staying home, like her husband, Danny, a competitive billiards player.
Yes, all sports, including pool, are down. To occupy his time, Danny Blackmon made a billiards ball cleaner and polisher in his home shop.
Leanne Blackmon says from now on, if she and her husband must go out, she's going to pull out some of her more fashionable bandannas to use as nose and mouth masks.
But for the most part, she said, "We're just homebodies. We actually get along pretty well, and we always have. That's a blessing."
Server and jewelry store owner Rachel Bayerle is counting her blessings, too. A longtime wait staff member at the popular Southside Italian restaurant Giuseppe's, Bayerle celebrated her 14th year with the restaurant on April 1.
While Bayerle had to close her downtown jewelry store, Charm on Second, for the time being, she's still serving at Giuseppe's, which has a pretty strong curbside clientele. 
"We've had some really gracious people," Bayerle said. "All of my regulars have shown up, and they've left their normal tips, or even bigger.
One generous patron gave Bayerle a $100 tip on a $15 ticket.
Bayerle spends her down time at her Crestwood home with her boyfriend. Both like to put together jigsaw puzzles. "We like the 1,000–piece or more puzzles." Bayerle also has a sketchbook she works in and her boyfriend has re-landscaped the front yard. "And we're renters," Bayerle said.
Bayerle does have some concerns, though. They are the same concerns that many of us have.
"My mom, who's over 60 (years old), lives in Florida; she thankfully isn't a smoker any more, but she was for a really long time," Bayerle said. "I'm not around her, so I don't know how seriously she's taking this. Same with my grandmother (who lives in Birmingham). I've told her I can't see her because I deal with the public a bunch." But if her grandmom needs anything, Bayerle drives it over and puts it on her porch.
And then, not atypical for Alabama: "I'm also concerned about the people who are still not taking this seriously," Bayerle said. "I know they're out there because I talk to some of them. I'm worried they're going to get started back too soon, because a lot of people just want this to go away."
Most days, even the president doesn't act like he's willing to make the difficult decisions; instead, he's pretty much left the heavy lifting to the individual states, and leadership varies at the state level.
Former Birmingham resident Angela Balfour has moved back to her home state of Connecticut, and she says her state, New York and New Jersey have been coordinating the response to COVID-19.
"People are in serious lockdown here," Balfour said, adding that most people at grocery stores are in masks. "It's being taken very, very seriously here."
Three weeks ago, Balfour was supposed to start substitute teaching. "Talk about incredibly poor timing," she said. When she was in Birmingham, Balfour was the Education in Newspaper coordinator at The Birmingham News.
Balfour is seriously worried about the president's decision-making abilities.
"It is frightening to know that every decision made is made based on money and financial interests for him or his family," Balfour said, noting that Trump is pushing the use of hydroxychloroquine, a malaria drug that Trump's family trusts have a small interest in. Of course, if the drug becomes the panacea, that could change. Or not.
Balfour is right to worry about Trump's decision-making, though, because in this crisis, he's been awful.
Kathy Sexton, the associate director of the UAB Tissue Biorepository, has been working full time at home since March 17.
"It's a little challenging because the Wi-Fi (at home) is not always as consistent as it is in the office," Sexton said. "Also in the office, I have two screens, where at home I'm working on my laptop."
Sexton said she has plenty to keep her busy. Her husband, lawyer Steve Sexton, is doing his legal work from his home office as well. Their 19-year-old son, Jonathan, is a first-year student at UAB, now taking online classes.
"It's one thing to shut everything down for a couple of weeks," Kathy Sexton said. "But now we're talking the end of April. At some point, we're going to have to look at what this is doing for general research and how it affects routine operations."
Another challenge about working from home is just figuring out how to keep the house running when she's there full time for UAB. She says she still has home responsibilities: laundry, cooking, cleaning, yardwork.
"I feel like I'm one of the lucky ones," Sexton said. "UAB is still supporting our employees. I'm fortunate to be in a place(the family home in Glen Iris Park) where we have a big yard and can go outside."
Jonathan, meanwhile, gets bored and frustrated, but when he does, he hops on his motorcycle and rides around or hits the PlayStation to game remotely with his cousin who lives in Auburn.
Of course, each of the 22,000-plus students at UAB and at all the other universities in Alabama and around the nation have been affected by schedule changes. UAB announced Wednesday that summer classes, too, will be conducted online. There's no word yet about the fall.
That worries Madelyn Gilbertson, 20, who is at the end of her first year at UAB's Nursing School.
On March 18, Gilbertson transitioned from in-person classes to online. Her clinicals have been interrupted.
"It's difficult for me because I like to learn in person," Gilbertson said. "I find it more effective (to be in person). There's a lot of things, with nursing, that are hands on. You don't get the same teaching online as you do in person."
And classroom teachers aren't as good online as they are in person, either. I can vouch for that.
To keep from getting bored, Gilbertson works out to "give myself endorphins, and then just to wind down and take our mind off things, my family and I enjoy watching period dramas, like Downton Abbey.
Gilbertson is keeping her chin up, though.
"I don't have time to be depressed," she said. "There are still things I have to take care of. The world doesn't wait for you. You just have to push through."
So let's push, people. Let's push through.

Joey Kennedy, a Pulitzer Prize winner, writes a column every week for Alabama Political Reporter. Email: [email protected].
Print this piece