Going nuclear: Big money, bigger risk, and political power on the line

By Bill Britt
Alabama Political Reporter
When a billion dollar out-of-state investment fund pays three times the starting price for a 40-year-old nuclear plant that has never produced one kilowatt of energy, there are reasons to explore events surrounding its purchase.
The June 2016 issue of Popular Mechanics found that "nuclear development in the United States today [is] slow, over-budget, economically untenable."
However, in November 2016, a group led by Tennessee billionaire real estate developer Franklin Haney placed the winning bid on the unfinished Bellefonte Nuclear Plant just north of Scottsboro. He paid $111 million for a facility whose owners, power-giant Tennessee Valley Authority (TVA), never completed and abandoned all ideas of reviving in 2015. At the time of purchase, the Washington, DC-based Nuclear Holdings LLC said it planned to invest $13 billion in the site.
Lawmakers applauded the venture for its potential to create jobs in Northeast Alabama, despite TVA's assessment that there was an insufficient demand to risk finishing the project. As stated by an industry newsgroup, "If an organization as sophisticated as TVA pronounces the need for a big new plant in the area is superfluous, then many will assume the math has been done, and there would be nothing more to do than to hold a funeral for the project."
TVA began building the Bellefonte Nuclear Plant in the 1970s, but halted all meaningful construction on the site in 1988.
Haney, who has made substantial investments in real estate and Alabama politicians, sees something TVA could not. He said around the time of purchase, "Bellefonte can service all the Southern states."
According to a report in Nuclear World News, Bellefonte Unit 1 is now thought to be no more than 55 percent complete because, since the late 1980s, TVA has sold or transferred many of the unit's components.
Rather than investing further capital in Bellefonte, TVA focused on its Tennessee Watts Bar Nuclear Power Plant, Unit 2, at a completion cost of over $12 billion. Unit 2 is the first civilian reactor to come online in the United States in the 21st Century. The project was required to undergo significant redesign after the March 2011 Fukushima Daiichi nuclear disaster in Japan so as to avoid a similar catastrophe.
TVA and Haney said the purchase of Bellefonte is about economic development: "Our primary goal in selling the site is to provide the best long-term economic return to the surrounding communities and the people of the Tennessee Valley," says Jim Chardos, TVA Bellefonte plant manager, in a press release. "Each bidder needed to provide an end-use and investment plan to demonstrate that they can do just that: promote economic investment in the area."
Kyle Whitmire and John Archibald have outlined much of Haney's investments in Alabama in a series of unflattering articles regarding the nexus of his business interests and political influence. In May 2016, the pair wrote, "On one end of the money pipe is a Tennessee real estate mogul and financier with a national network of political connections and a plan to turn a half-built nuclear power plant in Northeast Alabama into an operational, private, money-making enterprise.
"On the other end of the pipe is a scandal-plagued, former Alabama Governor under investigation by an alphabet soup of Federal and State agencies."
Whitmire and Archibald track a total about $300,000 from Haney's business interests to former Gov. Robert Bentley's campaign account, as well as funds to ACEgov, a dark-money 501(c)4 that was used to supplement the activities of Bentley's alleged paramour, Rebekah Caldwell Mason.
Whitmire and Archibald describe Haney as a "government's landlord," who, through a network of companies, has used, "sophisticated tax-exempt financing, leasebacks and public-private partnerships to build a real estate empire throughout the Southeast, with State and Federal government agencies as his biggest tenants."
Over his career, Haney has favored Democrats with his political contributions, but as reported by The Daily Caller, "For a politically astute businessman [Haney] looking to get into the nuclear power industry, a series of contributions to influential Legislators could cut some of the inevitable red tape. But, a million-dollar gift to Donald Trump's Inauguration might help seal the deal." The right-leaning newsgroup also said, "Haney chipped in for the Inauguration only after embarking on a business venture that would require favorable treatment from Trump administration regulators."
Haney has made many "generous" donations to other Republican officeholders over the last election cycle, which The Daily Caller claims is an attempt to "cut through the red tape that 'dogs' most nuclear power projects."
While State lawmaker's praise Haney's investment in Bellefonte and enjoy his generous donations, few have questioned why a savvy businessperson would venture so much money on an incomplete and aging nuclear facility?
As part of the sale of Bellefonte, TVA is requiring Nuclear Development, LLC to make a $25 million minimum investment in the property during the five-year period following the closing.
Nuclear Development, LLC has up to two years to close on the property. Until then, TVA will maintain the site.
Opinion | Let's hope for Reed's success
Reed's temperament and style appear right for this moment in Alabama's history.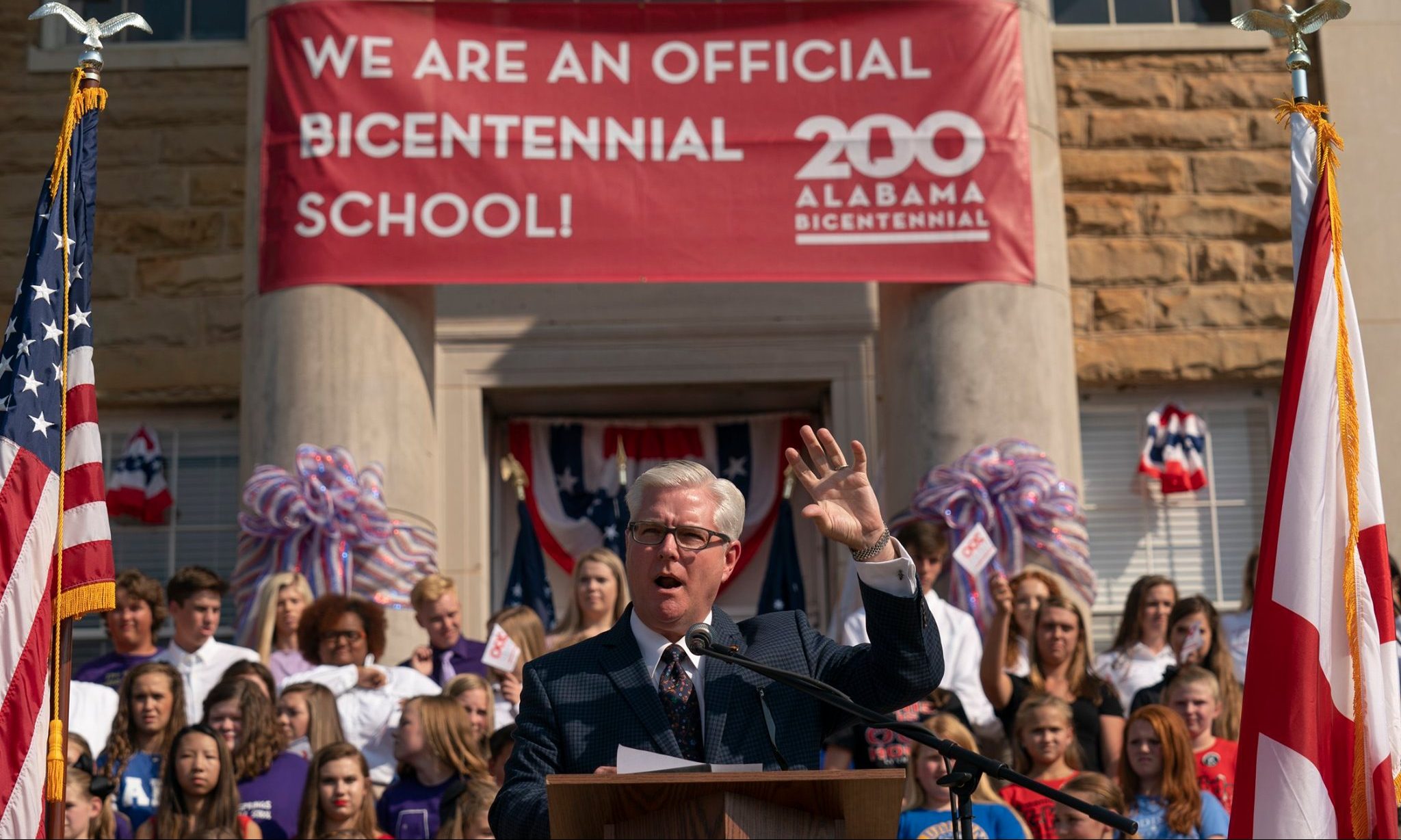 State Sen. Greg Reed, R-Jasper, will lead the Alabama Senate as president pro tem during the upcoming 2021 legislative session. What changes will Reed bring to the upper chamber, and how will his leadership differ from his predecessor? No one knows for sure.
Reed succeeds Sen. Del Marsh, who has served as president pro tem since Republicans took control of the Statehouse in 2010. Marsh, along with then-Gov. Bob Riley, current felon Mike Hubbard and ousted BCA Chair Billy Canary orchestrated the 2010 takeover that saw the Republican rise to dominance.
Reed, who won his Senate seat the same year, was not a charter member of the Republican ruling class, but he benefited from the power sift.
Mild-mannered and studious with a quiet charm, Reed has steadily ascended the ranks of Senate leadership. His silver hair and calm determination have served him well. Reed is a senatorial figure straight out of Hollywood's central casting.
In all, Reed is nearly universally liked and respected, which in the near term is a hopeful sign of potential success. But political leadership always comes with a warning: "Friends come and go, enemies accumulate."
Reed's relationship with Gov. Kay Ivey is certainly less contentious than Marsh's and gives rise to the belief that there will be greater cooperation between the executive and the Senate.
With the economy and public health under dire stress due to the ravages of COVID-19, legislative priorities are fixed: get people back to work and eradicate the coronavirus.
However, one of Reed's first tests will be whether he can cool the smoldering anger of those senators who still feel the sting of Ivey's rebuke over the allocation of CARES Act funds. He will also need to resist those who want to punish the administration over its use of public health statutes to implement mask mandates and other safety measures to prevent the deadly coronavirus spread.
Despite outward declarations of a unified body, the State Senate is a small, insular and unwieldy beast where egos loom large and consensus on policies is often tricky to achieve except on "red meat issues."
Building a coalition on policy in the Senate is often a combination of horse-trading, cajoling and carefully applied pressure. The way forward in the near term is exact: pass legislation that spurs economic recovery and mitigates the health crisis at hand.
But Reed will also simultaneously need to recognize what comes next for justice reform, prison construction, gambling and a myriad of other pressing issues. His job will be to understand the prevailing winds, which are evolutionary, not revolutionary.
As author Doris Kearns Goodwin noted in Lyndon Johnson and the American Dream: "For political leaders in a democracy are not revolutionaries or leaders of creative thought. The best of them are those who respond wisely to changes and movements already underway. The worst, the least successful, are those who respond badly or not at all, and those who misunderstand the direction of already visible change."
Reed's temperament and style appear right for this moment in Alabama's history.
As President Abraham Lincoln said, "If you want to test a man's character, give him power."
Let's all hope that Reed passes the test.