Longtime Tuscaloosa Mayor considers run for Governor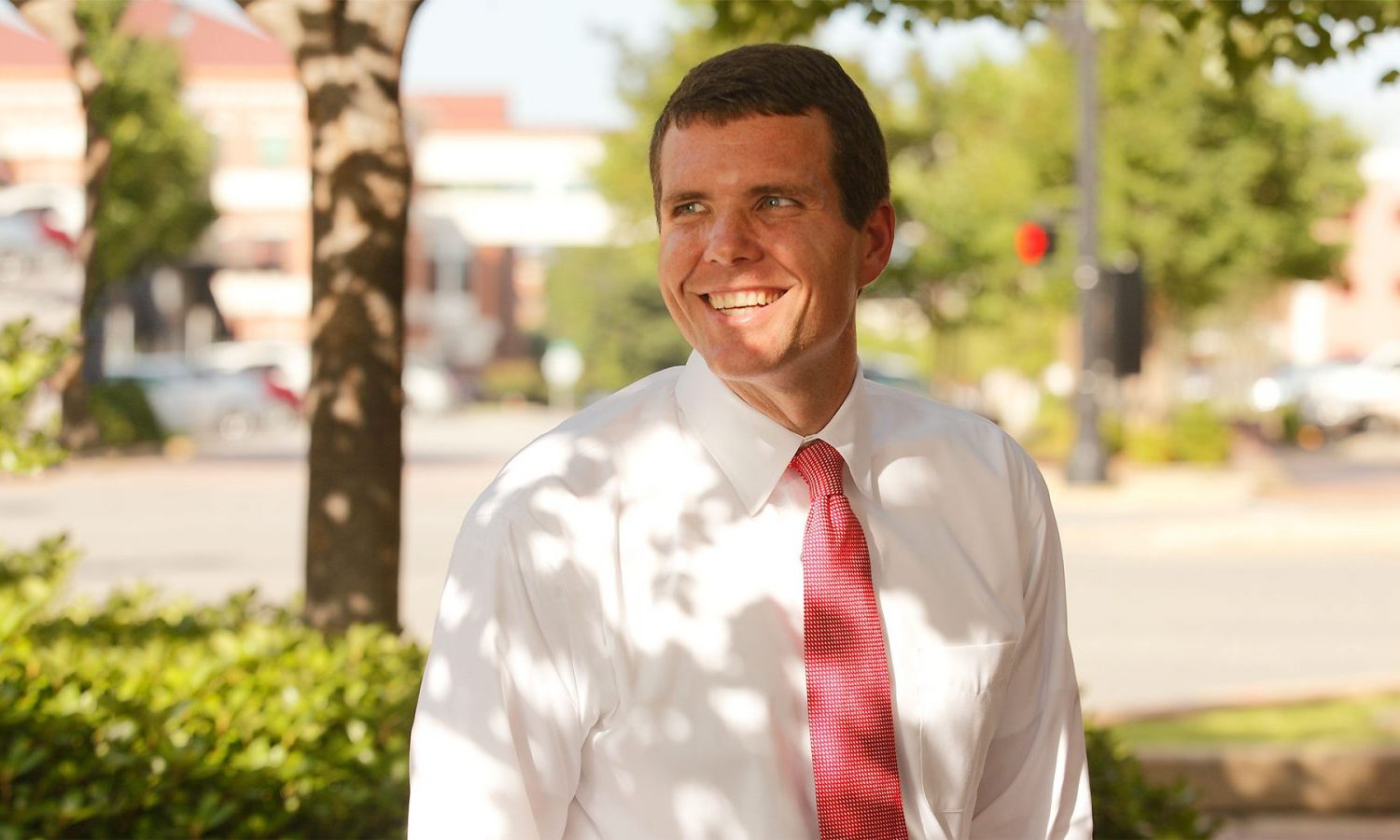 By Chip Brownlee
Alabama Political Reporter
Longtime Tuscaloosa Mayor Walt Maddox — a quiet upstart in the Alabama Democratic Party who has drawn the eyes of many in the party despite maintaining a relatively low profile in statewide politics — is considering a run for Governor next year.
Maddox, 44, has been the mayor of Alabama's fifth largest city since 2005 and recently won his fourth term in May. For several years, Democrats across the State have been pushing Maddox to consider a run, believing that his success in one of Alabama's largest cities could be translated to a Democratic resurgence in Montgomery.
Maddox confirmed Thursday in an interview with APR that he had launched an exploratory campaign but hasn't made a final decision about whether he will run. If he chooses to run, he'll run as a moderate Democrat — despite the urging of some friends and colleagues who thought he would do better on the GOP ticket.
"It would be dishonest to change parties because of our State's political climate," Maddox said. "It would be dishonest with the voters; it would be dishonest with my family; it would be dishonest with myself."
Being competitive in a gubernatorial race in Alabama as a Democrat — much less winning — would require a big shift in the State's electoral landscape. The state hasn't had a Democratic governor since Don Siegelman, who was elected in 1998, ended his term in 2003.
Since then, the elections have been largely safe bets for Republican candidates including former Gov. Robert Bentley, who won by nearly 30 percentage points in his 2014 re-election bid. Siegelman's race against then-candidate Bob Riley in 2002 was the last time a Democrat wholeheartedly challenged a Republican candidate.
Maddox hopes to change that.
"People are going to be interested in the individual and what that individual can do to help them — their lives and their children's lives," Maddox said. "We have reached that point, and I think Alabama is ready to be proud again. They're ready to look toward Montgomery and be proud of its leadership."
Though he never went negative toward his own party in his interview with APR, Maddox has been notoriously quiet about his membership in the Democratic party before. He has painted himself as a centrist interested in appealing to voters across party lines.
"For 136 years, the Democrats didn't succeed," Maddox said. "For the last seven years, the Republicans haven't succeeded. We, as a State, have been captured by the parties and not by the people."
Maddox rose to statewide prominence in 2011 after the April 27 tornado outbreak when he was praised for his handling of the aftermath. More than 40 people died in Tuscaloosa that day and tens of millions of dollars in damage was done.
More than 12 percent of the city was destroyed, leaving thousands unemployed and the economy of the city in question.
The New York Times, a month after the storm, hailed Maddox as an "efficient, earnest, unwavering hero of the storm, praised by federal officials and tornado victims alike."
Since the storm, Tuscaloosa has more than recovered. Most of the areas of the city destroyed by the storm have now been replaced with new shopping centers, apartments and homes. The city now has an unemployment rate of 4.7 percent, much lower than the the statewide rate.
Before becoming mayor, Maddox served as a personnel director for Tuscaloosa City Schools and later on the Tuscaloosa City Council before deciding to run for the mayorship. In 2005, he made the jump, and he hasn't looked back.
"What we have done in Tuscaloosa has been results oriented," Maddox said. "For nearly 12 years, we've demonstrated what results-oriented government means and you can see it in every corner of our city."
Maddox said he was tired of leadership in the state who are content with Alabama being ranked near-last in almost all quality-of-life categories. He said 2018 is an opportunity for a change in style of leadership.
"In recent years, our politics has been about bumping heads. Our politics has been about distraction. Our politics has been about fear," Maddox said.
"The people of the state continue to get farther and farther behind because the leadership in Montgomery are more concerned with playing the game than they are with changing the landscape so that we can compete with Mississippi, North Carolina, Tennessee, Georgia and Florida — not only now, but in the future."
Over the course of a single year, Alabama lost all three of its top political officials — from former House Speaker Mike Hubbard, to Chief Justice Roy Moore and finally culminating with the resignation of Gov. Robert Bentley. New scandals have also engulfed Sen. Luther Strange and the Alabama Board of Education.
Maddox said those were evidence of a bigger problem.
"Beyond the fact that we lost leadership in all three branches of government due to corruption or the unwillingness to follow the law, our state is hurting," Maddox said. "We need leadership that is going to focus on what everyday Alabamians are experiencing."
The Tuscaloosa mayor said he was perhaps most concerned with the dire straights of the health care industry in Alabama, including Medicaid, rising private insurance premiums and rural hospitals struggling to keep their doors open.
Dozens of small rural hospitals are on the verge of closing.
"That would be calamitous for our state, for Alabama," Maddox said. "We need leadership that is going to have the willingness to address it."
Though he hasn't yet released comprehensive policy memos, Maddox said he would like to develop a set of detailed policies that will move his campaign forward, focusing on implementation and results.
His health care policy memo would most likely include expanding Medicaid in compliance with a portion of Barack Obama's 2010 healthcare law, the Affordable Care Act. ACA's Medicaid expansion was meant to make up for restructured reimbursements in the Medicare program, which provides insurance coverage for those 65 and older.
Without the Medicaid expansion to make up for lost dollars, the loss in Medicare dollars hit Alabama's hospitals — hospitals that largely rely on caring for the Medicare and Medicaid beneficiaries — even harder.
"As it comes to rural hospitals, think about what happens if rural hospitals close," he said. "That means the residents in that county — thousands of people — face more than just losing a hospital. If they have a heart attack or a stroke, whatever it may be, they go from having health care in minutes to health care in over an hour.
"That can be the difference between life and death."
Maddox said he believes a Medicaid expansion, which would largely be covered by federal dollars currently, would be one of the first things he'd do if it's still available.
"It will bolster our health care system here in Alabama. Ultimately, it's going to be good for all Alabamians," he said.
Maddox said he would bring a comprehensive policy approach to all of the issues facing Alabama including education, infrastructure, prisons and health care.
"If you look at every quality of life category that we are judged by, we are not succeeding," Maddox said. "There is going to have to be a laser-like focus to go and begin tackling those problems."
Those issues have been bandaged and put aside, Maddox said, leaving the people to deal with the fallout.
"All of these problems that we are getting accustomed to, there are real people who are hurting behind these statistics, and they need leadership that is going to be their voice — leadership that is going to be their advocate, leadership that is not going to forget that they are there to serve everyone," Maddox said.
On the Democratic side, Maddox would join Alabama Democratic powerhouse Sue Bell Cobb, a former chief justice of the Alabama Supreme Court. Maddox will have to defeat her and any other Democratic candidates to make it to the general to face off against a Republican.
Both battles could be difficult for Maddox. Cobb enjoys wide support within the Democratic party in Alabama, and she herself was also the focus of pressure to run for the office.
The Republican field is already more crowded than the Democratic primary despite the fact that Gov. Kay Ivey could seek re-election next year. She hasn't made an announcement yet.
---
Email Chip Brownlee at [email protected] or follow him on Twitter.
House passes General Fund Budget
By Brandon Moseley
Alabama Political Reporter
The Alabama House of Representatives passed the state General Fund Budget on Tuesday.
The General Fund Budget for the 2019 fiscal year is Senate Bill 178. It is sponsored by Sen. Trip Pittman, R-Montrose. State Rep. Steve Clouse, R-Ozark, carried the budget on the House floor. Clouse chairs the House Ways and Means General Fund Committee.
Clouse said, "Last year we monetized the BP settlement money and held over $97 million to this year."
Clouse said that the state is still trying to come up with a solution to the federal lawsuit over the state prisons. The Governor's Office has made some progress after she took over from Gov. Robert Bentley. The supplemental we just passed added $30 million to prisons.
The budget adds $50 million to the Department of Corrections.
Clouse said that the budget increased the money for prisons by $55,680,000 and includes $4.8 million to buy the privately-owned prison facility in Perry County.
Clouse said that the budget raises funding for the judicial system and raises the appropriation for the Forensic Sciences to $11.7 million.
The House passed a committee substitute so the Senate is either going to have to concur with the changes made by the House or a conference committee will have to be appointed. Clouse told reporters that he hoped that it did not have to go to conference.
Clouse said that the budget had added $860,000 to hire more Juvenile Probation Officers. After talking to officials with the court system that was cut in half in the amendment. The amendment also includes some wording the arbiters in the court lawsuit think we need.
The state General Fund Budget, SB178, passed 98-1.
Both budgets have now passed the Alabama House of Representatives.
The 2019 fiscal year begins on Oct. 1, 2018.
In addition to the SGF, the House also passed a supplemental appropriation for the current 2018 budget year. SB175 is also sponsored by Pittman and was carried by Clouse on the floor of the House.
SB175 includes $30 million in additional 2018 money for the Department of Corrections. The Departmental Emergency Fund, the Examiners of Public Accounts, the Insurance Department and Forensic Sciences received additional money.
Clouse said, "We knew dealing with the federal lawsuit was going to be expensive. We are adding $80 million to the Department of Corrections."
State Representative Johnny Mack Morrow, R-Red Bay, said that state Department of Forensics was cut from $14 million to $9 million. "Why are we adding money for DA and courts if we don't have money for forensics to provide evidence? if there is any agency in law enforcement or the court system that should be funded it is Forensics."
The supplemental 2018 appropriation passed 80 to 1.
The House also passed SB203. It was sponsored by Pittman and was carried in the House by State Rep. Ken Johnson, R-Moulton. It raises securities and registration fees for agents and investment advisors. It increases the filing fees for certain management investment companies. Johnson said that those fees had not been adjusted since 2009.
The House also passed SB176, which is an annual appropriation for the Coalition Against Domestic Violence. The bill requires that the agency have an operations plan, audited financial statement, and quarterly and end of year reports. SB176 is sponsored by Pittman and was carried on the House floor by State Rep. Elaine Beech, D-Chatham.
The House passed Senate Bill 185 which gives state employees a cost of living increase in the 2019 budget beginning on October 1. It was sponsored by Sen. Clyde Chambliss, R-Prattville and was being carried on the House floor by state Rep. Dimitri Polizos, R-Montgomery.
Polizos said that this was the first raise for non-education state employees in nine years. It is a 3 percent raise.
SB185 passed 101-0.
Senate Bill 215 gives retired state employees a one time bonus check. SB215 is sponsored by Senator Gerald Dial, R-Lineville, and was carried on the House floor by state Rep. Kerry Rich, R-Guntersville.
Rich said that retired employees will get a bonus $1  for every month that they worked for the state. For employees who retired with 25 years of service that will be a $300 one time bonus. A 20-year retiree would get $240 and a 35-year employee would get $420.
SB215 passed the House 87-0.
The House passed Senate Bill 231, which is the appropriation bill increase amount to the Emergency Forest Fire and Insect and Disease Fund. SB231 is sponsored by Sen. Steve Livingston, R-Scottsboro, and was carried on the House floor by state Rep. Kyle South, R-Fayette.
State Rep. Elaine Beech, D-Chathom, said, "Thank you for bringing this bill my district is full of trees and you never know when a forest fire will hit.
SB231 passed 87-2.
The state of Alabama is unique among the states in that most of the money is earmarked for specific purposes allowing the Legislature little year-to-year flexibility in moving funds around.
The SGF includes appropriations for the Alabama Medicaid Agency, the courts, the Alabama Law Enforcement Agency, the Alabama Department of Corrections, mental health, and most state agencies that are no education related. The Alabama Department of Transportation gets their funding mostly from state fuel taxes.
The Legislature also gives ALEA a portion of the gas taxes. K-12 education, the two year college system, and all the universities get their state support from the education trust fund (ETF) budget. There are also billions of dollars in revenue that are earmarked for a variety of purposes that does not show up in the SGF or ETF budgets.
Examples of that include the Public Service Commission, which collects utility taxes from the industries that it regulates. The PSC is supported entirely by its own revenue streams and contributes $13 million to the SGF. The Secretary of State's Office is entirely funded by its corporate filing and other fees and gets no SGF appropriation.
Clouse warned reporters that part of the reason this budget had so much money was due to the BP oil spill settlement that provided money for the 2018 budget and $97 million for the 2019 budget. Clouse said they elected to make a $13 million repayment to the Alabama Trust fund that was not due until 2020 but that is all that was held over for 2020.
Clouse predicted that the Legislature will have to make some hard decisions about revenue in next year's session.