Auburn Athletics may be about to fire Bruce Pearl

By Brandon Moseley
Alabama Political Reporter
Tuesday, November 8, 2017, Auburn University fired assistant men's basketball coach, Auburn/NBA basketball legend, Chuck Person.
Person was indicted by a federal criminal grand jury Tuesday on six counts fraud, bribery, and conspiracy.  The Federal Bureau of Investigation claims that a financial manager paid $91,500 worth of bribes to Person to refer clients to financial advisor Marty Blazer.  Former NBA referee, Rashan Michel, was allegedly the go-between between Blazer a shoe company and Person and the other coaches.  Person allegedly then gave $18,500 to the parents of two un-named Auburn players.  According to the FBI, Adidas, Auburn's sponsoring shoe and apparel company, is named as being involved in this scandal.  Blazer is cooperating with federal authorities.
Now ESPN's Mark Schlabach and Paula Lavigne are now reporting that Auburn men's basketball coach Bruce Pearl is refusing to cooperate in the school's internal investigation into his program.
Auburn has hired a law firm to do an internal investigation into the basketball program.  Pearl is reportedly refusing to talk to those investigators.  His cell phones and computers have already been seized by the FBI as part of the FBI criminal investigation.
University officials have reportedly advised Pearl that his job is in jeopardy if he doesn't cooperate.
Pearl's fourth season is set to begin on Friday night; but the mood for the season is not optimistic.  During Pearl's tenure, Auburn basketball is just 44 and 54 and have never finished better than 11th in the SEC.  Last Thursday, Pearl's team lost an exhibition game to Division II Barry University.
While Auburn will not announce which two players allegedly were involved in this, Auburn did announce last week that it was keeping basketball players Danjel Purifoy and Austin Wiley out of games indefinitely in an attempt to "avoid any potential eligibility issues."
On Wednesday Coach Pearl told ESPN's Jeff Goodman, "We are involved in an ongoing investigation to certify the eligibility of players.  It's ongoing. I can't comment any further on it."
An NCAA investigation is certain to follow on the heels of the federal indictments.  Pearl was fired at the University of Tennessee as a result of an NCAA investigation into the basketball program that exposed recruiting violations.  Pearl was found to have lied to NCAA investigators then.
Pearl then went to work for ESPN as a TV analyst.
When Auburn Athletics Director Jay Jacobs hired Pearl he said that he believed Pearl "has learned from his mistakes."  "I've thought about this a great deal, and obviously so has Coach Pearl.  I believe people who are genuine and sincere deserve second chances. If I did not believe Coach Pearl's apologies were sincere and heartfelt, I would not have even considered him."
Jacobs has already announced that he is retiring as Auburn Athletics Director effective June 1 or when Auburn has named his replacement.
Auburn has given basketball season ticket holders the opportunity to get a refund of their money.
The Auburn men's basketball program is not the only mess that Jacobs' replacement will inherit.
According to a report by ESPN's Tom Junod and Paul Lavigna, Auburn is facing a Title IX complaint and a lawsuit by former softball pitcher Alexa Nemeth, who is represented by Milwaukee attorney Martin Greenberg.  According to a letter sent by Greenberg "Coach Clint Myers knowingly let his son Corey Myers (who was an assistant coach at the time) have relations and pursue relations with multiple members of the team."  According to Greenberg's letter on March 30, 2017, "several players approached Head Coach Myers with proof in the form of text messages from a student-athlete's cell phone that Coach Corey was having an inappropriate relationship with one of the student-athletes."
Nemeth was cut from the team by Clint Myers following the 2017 season.  Coach Clint Myers has since retired.  Corey Myers resigned in the spring.
Auburn has hired Attorneys from Lightfoot, Franklin & White to conduct an investigation into whether former assistant coach Corey Myers engaged in inappropriate behavior with players.
The law firm is also investigating allegations that a former part-time employee in the athletics department's academic services department may have taken a final exam for a former football player.
The firm's lawyers are also defending Jacobs, Auburn's board of trustees and other athletics department employees in a federal lawsuit filed by former baseball coach Sunny Golloway, who claims that he was unjustly fired in September 2015 and is owed a $1 million buyout.
Former Auburn track and field assistant coach Adrian Ghioroaie is also suing the board of trustees and assistant head track coach Henry Rolle claiming that he was wrongfully fired and that Rolle physically assaulted him.
During Jacobs tenure Auburn has won it's second football national championship and has played in two national championship games.  Many powerful boosters however are unsatisfied with the football team's performance.  Auburn football is presently 7 and 2 and in second place in the SEC West; but still faces the #1 and #2 ranked teams in the country in Georgia and Alabama.  While Auburn has already clinched a winning season and bowl eligibility, losses to both rivals could lead to some of those boosters pressing Jacobs (or whoever will be Athletics Director then) to replace head football coach Gus Malzahn.
Alabamians request more than 101,000 absentee ballots with 30 days left to apply
So far, 35,184 absentee ballots have been successfully returned for the general election.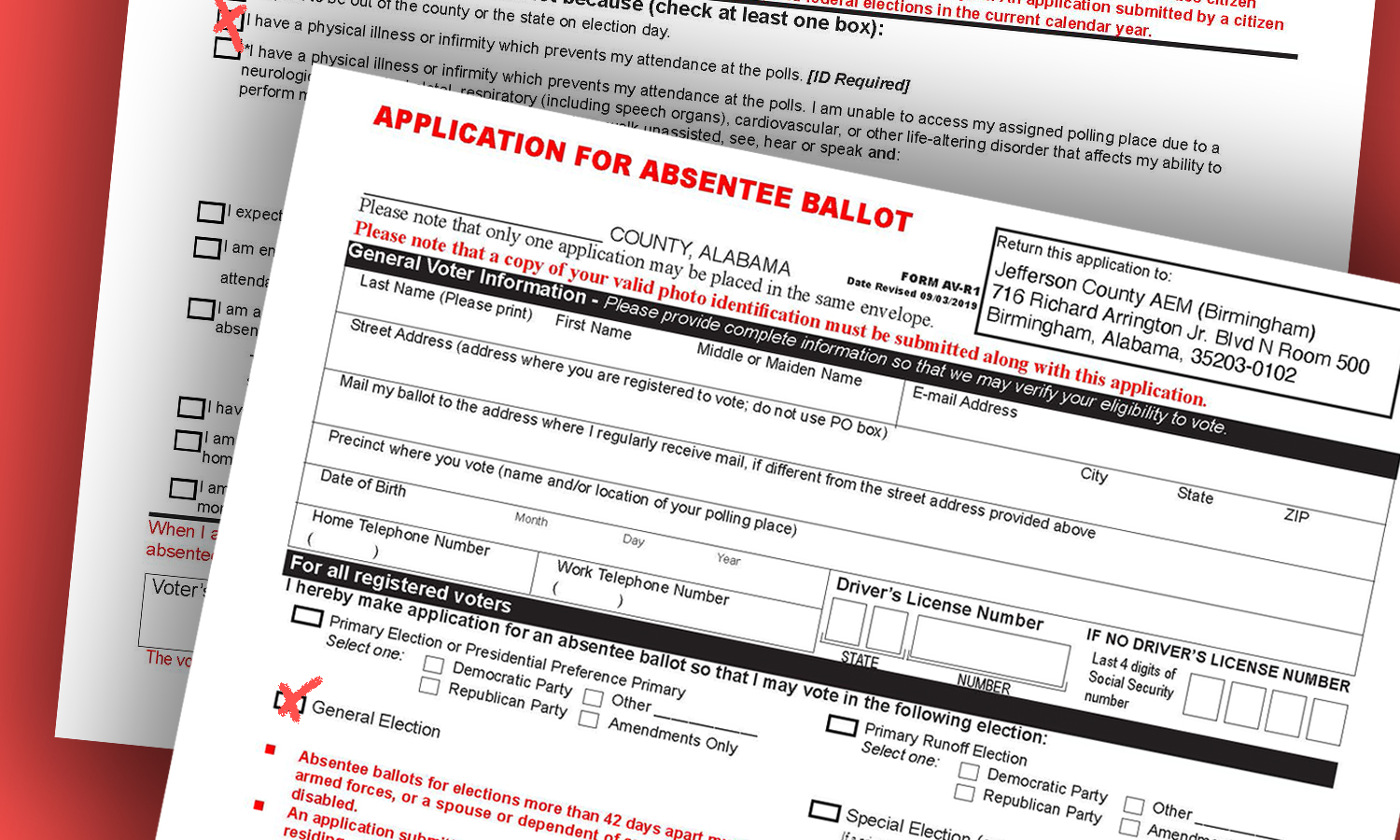 At least 101,092 absentee ballots have been requested so far in Alabama according to Secretary of State John Merrill, with just 30 days left to apply for an absentee ballot for the Nov. 3 General Election. So far, 35,184 absentee ballots have been successfully returned for the general election.
In order to protect the safety and well-being of voters, Merrill is encouraging those who are concerned about contracting or spreading the coronavirus to apply for and cast an absentee ballot.
Absentee ballot applications can be downloaded online or requested by visiting or calling your local absentee election manager's office.
Voters may also contact the Secretary of State's office at 334-242-7210 to request an absentee ballot application.
Due to the declared states of emergency, any qualified voter who determines it is impossible or unreasonable to vote at their polling place shall be eligible to check the box on the absentee ballot application that is most applicable to that individual. In the case none of the boxes are appropriate, voters can check the box which reads, "I have a physical illness or infirmity which prevents my attendance at the polls. [ID REQUIRED]"
For the Nov. 3 General Election, the deadline to register to vote is Monday, Oct. 19, the deadline to submit an absentee ballot application is Thursday, Oct. 29, the deadline to return an absentee ballot to the absentee election manager is the close of business Monday, Nov. 2, and the last day to postmark an absentee ballot is Monday, Nov. 2.
Voters who are eligible to vote pursuant to the Uniformed and Overseas Absentee Voting Act will have until Tuesday, Nov. 3 to postmark an absentee ballot.
Voters concerned about COVID-19 are encouraged to select the box on the affidavit, which accompanies the absentee ballot, which reads as follows: "I am physically incapacitated and will not be able to vote in person on election day."
Due to recently witnessed delays with the U.S. Postal Service, Merrill encourages voters interested in returning their ballot by mail to go ahead and make application for their absentee ballot. As a reminder, Merrill worked with the Legislature last year to pass Act 2019-507, allowing voters the opportunity to return their absentee ballot by commercial carrier in addition to U.S. mail.