Moore says there is too much disparity for a debate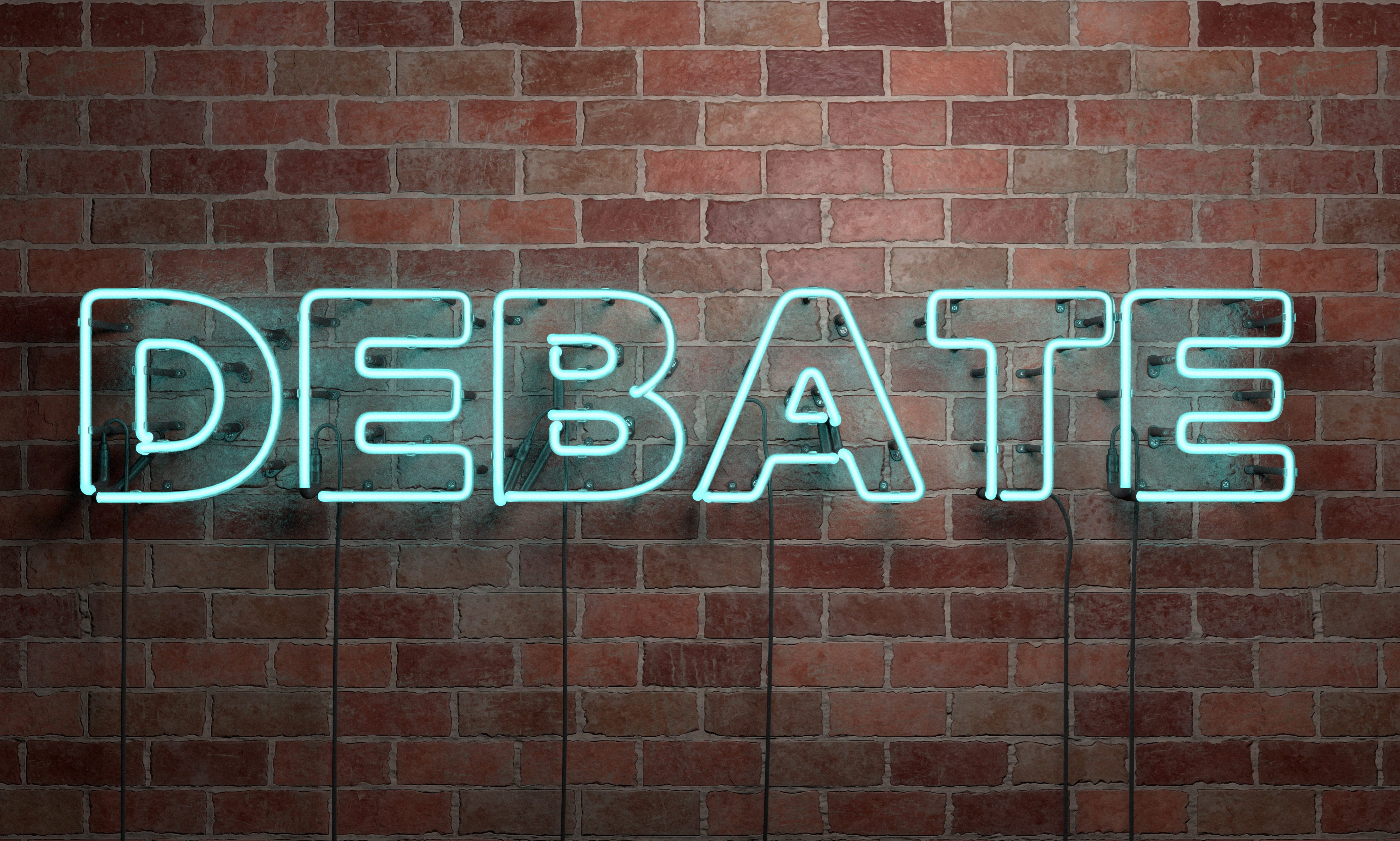 By Brandon Moseley
Alabama Political Reporter
Wednesday, November 8, 2017, Republican U.S. Senate candidate Roy Moore told reporters that there is too much disparity between he and his opponent and between the two parties for there to be a debate.
Moore said, "There's a great disparity between the two parties' positions, between the Democratic Party and the Republican Party.  Not only on social issues, such as the acknowledgment of God, we need to have God back in our platforms, but also because there's a great disparity in fiscal issues, Obamacare for example. I'm for repealing Obamacare, but also repealing the McCarran-Ferguson Act to allow the free enterprise system to take the place of the government-controlled health care system. My opponent is for increase of Obamacare and increase of government control. There's great disparity."
"Right now, my opponent favors transgender rights in the military, transgender bathrooms under title nine. I oppose these issues. I oppose them very strongly. I think transgenderism has no place in the military. I've been in the military. My opponent hasn't. So, there's a great disparity. We don't need to debate."
WHNT TV Channel 19 had asked both candidates to participate in a televised debate hosted by WHNT.
Moore said that there had already been a candidate's forum in Huntsville where both Republican and Democratic candidates were invited.  He attended, several Democratic candidates attended; but that his opponent (Doug Jones) chose not to attend.
Moore said that his campaign is set to increase its visibility leading into the special election for U.S. Senate on December 12.
"We're going to be increasing our views on television, the media," Moore said. "We're going to be getting around in mailers. We're going to do all the things to get out the vote."
Moore has returned from Washington where he met with the other Senators.  Moore said that he has had to fight the mischaracterization about him that has been perpetuated by the media.
When asked how that he had been mischaracterized Judge Moore said, "I've been mischaracterized in the press saying that I hate people because of their beliefs. I don't hate anybody. I'm a Christian. That's why I'm speaking at the American Christian Academy here. Christians don't hate people. We don't hate gays, we don't hate people — we hate sin. That's something biblical. I stand for principles, but I don't hate people, and I don't hate them because of their religion or anything else."
Moore stressed that he was for repealing Obamacare; but that Medicare and Medicaid would still be in place after the repeal.  On the Child Health Insurance Program Moore said, "That is before the Congress. I better restrain myself on speaking about that issue until I consult with my colleagues."
"I will not compromise on principle, but there are things you can compromise on, besides principle and that's procedures, and the manner of going about stuff and things like that,"  Judge Moore said.  "Of course, you work with Democrats. We all have the same love for our country, or are supposed to. I realize that this party difference is going on in Washington and it's unfortunate."
Moore's opponent, Clinton era U.S. Attorney Doug Jones is running a statewide television ad campaign entitled, 'There is honor in compromise' featuring Colonels Joshua Lawrence Chamberlain (20th Maine) and William C Oates (leading both the 15th and 47th Alabama) who clashed on the hill, 'Little Round Top' in the Battle of Gettysburg.
Chamberlain was elevated to general and later became a Republican Governor of Maine.  Even though Oates lost his right arm in the war he went on to represent Alabama in the Democratic National Convention and in 1880 the U.S. Congress.  In 1894 he was elected as Alabama's 29th Governor.  Oates would resign his governorship in 1896 to accept an appointment by President William C McKinley (R) to became a Brigadier General in the U.S. Army General during the Spanish American War.  For the rest of his life Oates said that if just one more Confederate regiment had supported him against Chamberlain that day on Little Round Top that Lee's Army of Northern Virginia could have turned General Meade's left flank and crushed the Union Army of the Potomac, taken Washington D.C. and the South would have won the War Between the States.
Jones says that we fight too much and he wants to go to Washington and work with the Senators from Maine and other places on the country's problems.
Moore's comments to the press were made at American Christian Academy where Moore was the keynote speaker at the school's annual Veterans memorial program.
Since the September 26 special Republican primary runoff, Moore has made two trips to Washington for fundraisers and to meet with Senators.  This was the third press event that Moore has held.
The special election will be on Dec. 12, 2017.
Alabama GOP chair: "We expect our elected officials to follow the law" after Dismukes arrest
"Will Dismukes matter: We expect our elected officials, regardless of Party, to follow the laws of our state and nation," Alabama GOP chair Terry Lathan said on Twitter.
Alabama Republican Party Chair Terry Lathan said Thursday that Alabamians expect their leaders to follow the law. Her comments came in response to news that an arrest warrant had been issued for State Rep. Will Dismukes, R-Prattville, on the charge of felony theft.
"Will Dismukes matter: We expect our elected officials, regardless of Party, to follow the laws of our state and nation," Lathan said on Twitter. "No one is immune to these standards. It is very disappointing to hear of these allegations. This is now a legal matter and it must run its course."
Will Dismukes matter:
We expect our elected officials, regardless of Party, to follow the laws of our state and nation. No one is immune to these standards. It is very disappointing to hear of these allegations.This is now a legal matter and it must run its course. #alpolitics

— Terry Lathan (@ChairmanLathan) August 6, 2020
Speaker of the House Mac McCutcheon, R-Monrovia, said Friday in a statement that Dismukes will get his day in court.
"As a former law enforcement officer, I have faith in the criminal justice process and trust that he will receive a full and fair hearing," McCutcheon said. "Both Democrats and Republicans have been accused of similar crimes in the past, and we cannot tolerate such behavior whether the lawmaker involved has a D or an R beside their name."
Dismukes has been charged by his former employer, a custom flooring company, of felony theft charges. Dismukes left that employer and started his own custom flooring company.
Dismukes, who is serving in his first term and is one of the youngest members of the Alabama Legislature, has been heavily criticized for his participation in a birthday party for Confederate Lt. General Nathan Bedford Forrest in Selma. Forrest was also the first grand wizard of the Ku Klux Klan.
The party in Selma occurred the same week that Congressman John Lewis's funeral events were happening in Selma. Dismukes resigned his position at Valley Baptist Church when the Southern Baptists threatened to disassociate the Prattville Church if they retained Dismukes. He has defiantly refused to step down from the Legislature, but if convicted of a felony, he would be automatically removed from office.
Both Democrats and Republicans have called for Dismukes to resign from the Alabama House of Representatives over his being the chaplain of the Prattville Sons of Confederate Veterans and his Facebook post lauding Forrest. The investigation into the theft predates the controversies surrounding Dismukes's glorification of the Confederacy and Forrest.
Republican State Sen. Clyde Chambliss, who also represents Prattville, has called on Dismukes to resign.
"Since first being elected in 1996, I've had a policy of not publicly criticizing other elected officials, but at this time I am making an exception since Rep. Dismukes is MY state representative. He does not represent my views or the views of the vast majority of people of District 88," Chambliss said. "The post is bad enough, the timing is even worse, but the real problem is that an elected official in 2020 would attend a celebration of the life of someone that led a group that terrorized and killed other human beings. He has had 24 hours to understand why people are so upset, but his interview on WSFA a few moments ago confirms that he is lacking in understanding and judgment — he should resign immediately."
Alabama Democratic Party Chairman State Rep. Chris England, D-Tuscaloosa, has repeatedly called for Dismukes to resign from the Alabama House of Representatives.
The Alabama Democratic Party recently said in a statement, "Will Dismukes is morally unfit for office. Republicans and Democrats statewide seem to agree. Unfortunately, despite the mounting calls for his immediate resignation, Will intends to stay in office and seek re-election without penalty from the Republican Party."
"While Alabama Republicans hope this will be a distant memory when Dismukes runs for re-election in 2022, we are not going to let him off the hook," the ADP wrote. "The Alabama Democratic Party is going to leverage every tool we have to send Will packing when he comes up for re-election in two years."
"In our darkest hours in life there is still light in Christ!" Dismukes wrote on social media Wednesday. "As the storm continues to blow with heavy force, there is yet a peace that this too shall pass. I guess sometimes we find out if we have built our house on sand or the solid rock of Christ. Psalm 23."
When Speaker of the House Mike Hubbard, R-Auburn, was indicted on 21 charges of felony ethics violations, he did not resign and actually remained speaker until a jury of his peers in Lee County convicted him on 12 counts.