Pro-Jones PAC is not disclosing its donors, the FEC has been asked to investigate
By Brandon Moseley
Alabama Political Reporter
Baldwin County businessman Kevin Spriggs has asked the Federal Election Commission to investigate a Super PAC that is spending large amounts against Republican senate candidate Roy Moore but is not showing any donations.
Spriggs made the request to FEC Chairman Mathew Peterson Monday.
"Mr. Commissioner – As a resident of Alabama, I have noticed a Super PAC titled 'Highway 31' running numerous campaign commercials in the Mobile Al television market, including an ad during the SEC Championship football game.  A search of the FEC website shows hundreds of thousands of dollars of expenses without any donors. I also checked the irs.gov website for forms 8871 and 8872 required to be filed by 527 organizations. No filings are shown for donors and expenses. If donations and expenses exceed $50,000, the IRS requires an electronic filing of form 8872.
"I am asking you to please investigate this matter as it appears that this Highway 31 organization is evading campaign finance law by not disclosing their donors."
Spriggs owns a gas station, restaurant and other businesses in Baldwin County.  In 2015 he led a campaign against a massive tax increase for Baldwin County.  The Baldwin County school system retaliated by ordering their bus drivers to stop using Sprigg's gas station. After Spriggs complained, the school system rescinded the order.  The tax increase was soundly defeated by voters.
Spriggs said that he has not received any reply from the FEC but says he hopes for action before the December 12 special election for an Alabama U.S. Senate seat.
Republican nominee Judge Roy Moore faces Democrat former U.S. Attorney Doug Jones for the seat formerly held by Jeff Sessions.
The financial irregularities were first reported on Friday by the 'Daily Beast's Lachlan Markey
Highway 31 has spent millions to defeat the Moore; but voters don't know who is donating to the shadowy group because they have refused to reveal who the donors are behind its $multi-million ad buy.
Highway 31 has reported spending almost $2 million worth on ads in the race, making it the single largest independent spender in the special general election. The group filed its finance report on Thursday but said it had received and spent no money.
According to original reporting by Breitbart News' Michael Patrick Leahy, the venders both have close ties to former President Barack Obama. Bully Pulpit Interactive is based in Washington and was founded by former Obama campaign official Andrew Bleeker, they have provided more than $800,000 in online advertising services to Highway 31 between November 6 and November 22.  Waterfront Strategies, also based Washington, is reportedly a wholly owned subsidiary of GMMB Consulting, which was founded by former Obama campaign official Jim Margolis. It has spent more than $309,000 in media buy services during that same period.
Neither report being paid for any of this, which could mean that donors will come forward to pay for all of their efforts after the people vote, too late for the voters to see who is the puppet masters behind the scenes before they cast a ballot or the two venders could just provide the expensive services themselves to Highway 31 out of their own civic interests.  That is probably unlikely.
The same Highway 31 PAC has been chastised as purposely misleading voters by Alabama Secretary of State John Merrill's office. Secretary of State Spokesman John Bennett wrote, "Reports from several sources indicate a targeted effort to misinform and confuse voters regarding whether an individuals' voting record would be available to the public. No individual voting record is made available to anyone at any time, including the voter who cast the ballot."
"When voters cast a ballot the State of Alabama's voter registration system is updated to document the election that a voter participated in but no record is ever made documenting the candidate for whom the ballot was cast," Bennett said. "In the Alabama Primary and Primary Run-off Elections a record is made which would indicate whether a voter had voted in either the Democrat or Republican party race but the name of the candidate for whom the voter cast their ballot is never recorded."
"In Alabama, voters do not provide political party affiliation when they register to vote because the state does not track that information," wrote Bennett.  "We have communicated with the individual(s) that created the video and have expressed to them the misinterpretations presented in this political commercial. At the time of this release follow-up communication had not yet been received."
The group has been, according to the Secretary of State's office erroneously, telling voters, "If you don't vote and Roy Moore—a child predator—wins, could you live with that? Your vote is public record and your community will know whether or not you helped stop Roy Moore."
Moore has accused the Jones campaign of blatantly lying in ads about his time as chief justice of the Alabama Supreme Court.  On Friday, Moore said in a statement, "In all three Supreme Court cases mentioned in Doug Jones's latest campaign ad, he blatantly misrepresents the facts and my judicial record. I did not disagree with the convictions of the defendants in those cases."
"In the Tate and Pittman cases, two of the most conservative justices on the Court—Tom Parker and Glenn Murdoch—joined me in dissenting from the Court's refusal to review the case, a procedure known as 'certiorari,'" Moore wrote, "Justice Douglas Johnstone, who served on the Court during Judge Moore's first term, has stated: 'My impression was that he genuinely wanted to apply correct law to accurately distilled facts.'  We are demanding that Doug Jones immediately retract his blatant lies and apologize for misrepresenting Judge Moore's judicial record. All stations should immediately remove this deceitful ad from their rotations."
Moore is being outspent ten to one by Jones and his out of state allies.
The special election will be on Dec. 12 for the Senate seat formerly held by Jeff Sessions.
Mazda, Toyota invest additional $830 million in joint Huntsville plant
The additional investment into the plant, which is to produce new SUV's for both car companies, is for new manufacturing technologies to the production line and additional training for the 4,000 or so expected workers.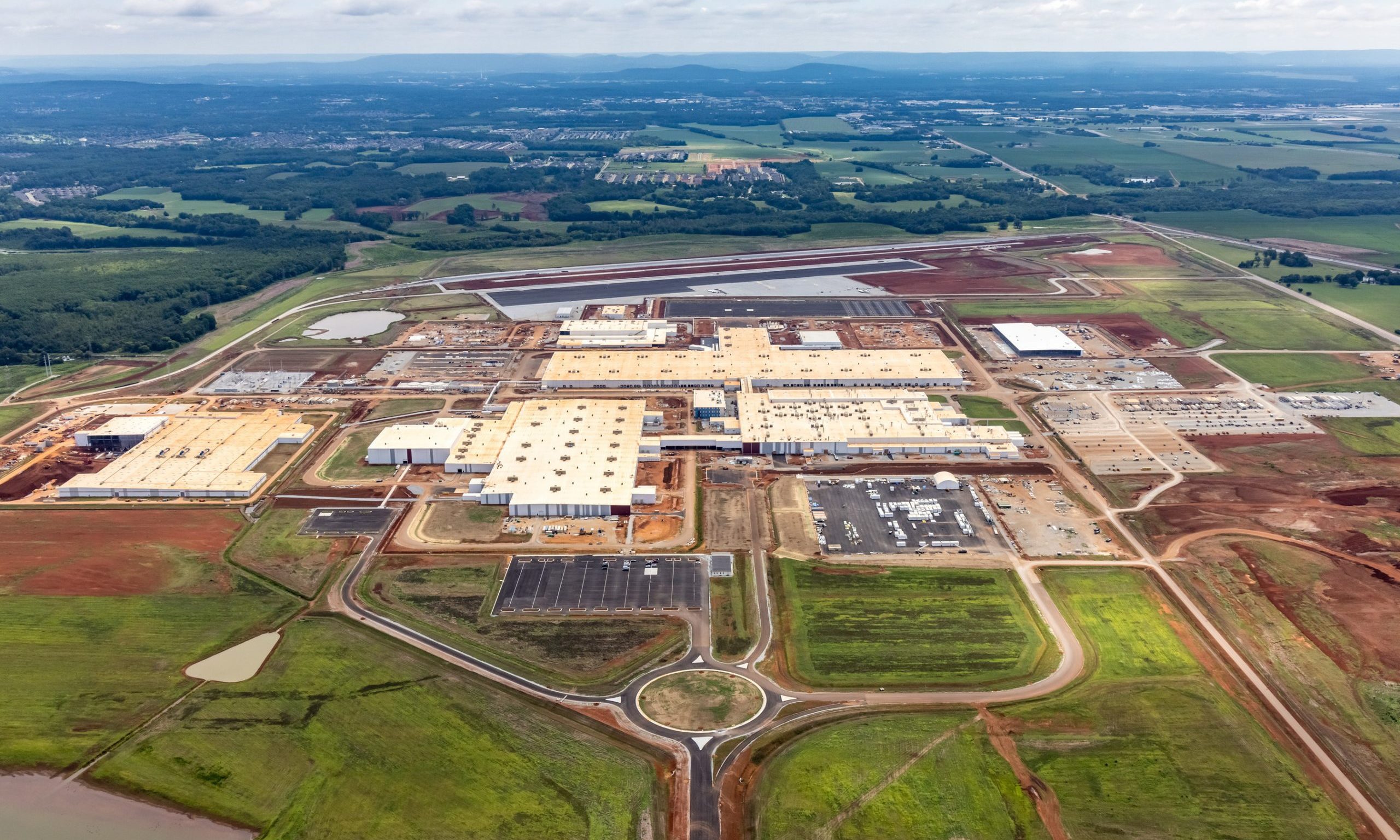 Gov. Kay Ivey on Thursday announced an additional $830 million investment in Mazda Motor Corp. and Toyota Motor Corp.'s joint manufacturing venture, Mazda Toyota Manufacturing, in Huntsville. 
The additional investment into the plant, which is to produce new SUV's for both car companies, is for new manufacturing technologies to the production line and additional training for the 4,000 or so expected workers, according to a press release from Ivey's office. 
"Toyota's presence in Alabama continues to build excitement about future opportunities that lie ahead, both for our economy and for the residents of our great state," Ivey said in a statement. "Mazda and Toyota's increased commitment to the development of this manufacturing plant reiterates their belief in the future of manufacturing in America and the potential for the state of Alabama to be an economic leader in the wake of unprecedented economic change.
The additional $830 million brings the total investment in the project to $2.311 billion and will allow for production line modifications for both of the new models. Once complete, the facility is slated to be able to produce up to 150,000 of a future Mazda crossover model and up to 150,000 of the Toyota SUVs annually. 
The joint venture has already hired approximately 600 of the planned 4,000 new workers, and the companies expect to begin accepting applications again later this year.
"Mazda Toyota Manufacturing is proud to call Alabama home. Through strong support from our state and local partners, we have been able to further incorporate cutting-edge manufacturing technologies, provide world-class training for team members and develop the highest quality production processes," said Mark Brazeal, vice president of administration at MTM, in a statement. "As we prepare for the start of production next year, we look forward to developing our future workforce and serving as a hometown company for many years to come."
Construction on the Huntsville plant is ongoing, with 75 to 100 percent completion on roofing, siding, floor slabs, ductwork, fire protection and electrical, according to the press release. 
"This newest investment by our partners at Mazda Toyota Manufacturing shows the company's continued confidence in the ability of our community to provide a strong, skilled workforce to meet the demands for quality and reliability," Huntsville Mayor Tommy Battle said in a statement. "We look forward to the day when the first vehicles roll off the line."
"We are excited to learn of this additional investment being made by Mazda Toyota Manufacturing," Limestone County Commission Chairman Colin Daly said in a statement. "We continue to be grateful to MTM for their belief in our community and look forward to our partnership with them for many years to co
Greg Canfield, Secretary of the Alabama Department of Commerce, said the new investment will magnify the economic impact of a project that is poised to transform the North Alabama region.
"With this enhanced investment, Mazda Toyota Manufacturing USA is adding new technology and capabilities to a manufacturing facility that was already designed to be one of the most efficient factories in the automotive industry," Canfield said in a statement. "We're confident that the groundbreaking collaboration between Mazda and Toyota will drive growth not only for the companies but also for North Alabama for generations."