By Chip Brownlee
Alabama Political Reporter
Gov. Kay Ivey issued a State of Emergency Monday afternoon ahead of what is expected to be a serious winter weather event Tuesday into Wednesday morning.
The National Weather Service based in Birmingham is forecasting that the system could bring snow, sleet, freezing rain and ice across most of the state beginning Tuesday, prompting the service to upgrade a winter weather watch to a winter weather advisory.
The combination of precipitation during the day Tuesday and below-freezing temperatures Tuesday night into Wednesday could prove to be a perilous situation for travelers and commuters.
More than 90 school systems, community colleges and universities — including Birmingham City Schools, Huntsville City Schools and the University of Alabama — have already announced closings for Tuesday ahead of the system. Others may close or delay opening Wednesday as the system passes through.
A full list is available here via AL.com.
The State of Emergency took effect 6 p.m. Monday night for all counties in the state in preparation for the inclement weather. The state Emergency Operations Plan and the Emergency Management Agency's Emergency Operations Center were mobilized Tuesday at 6 a.m.
Ivey said Alabamians should be prepared for the winter weather.
"I have directed essential state agencies to be on the ready should they be needed over the next couple of days," Ivey said. "As with any severe weather event, being prepared is of utmost importance. Everyone should take the necessary precautions now and stay informed of the latest weather forecasts for their area. This State of Emergency will ensure that all available state resources are ready if and when they are needed."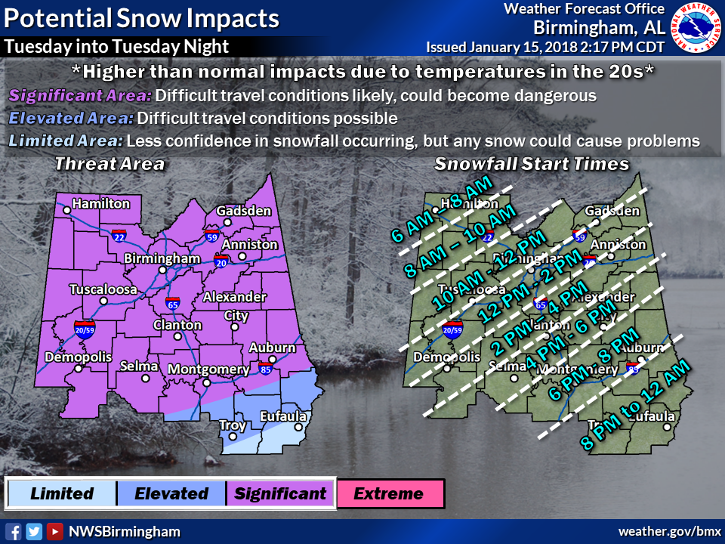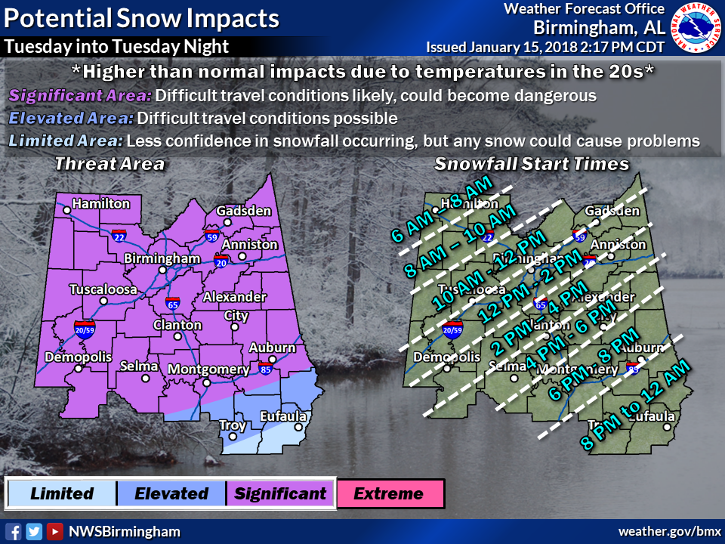 In addition to mobilizing state response resources, the State of Emergency makes it unlawful for any person or business to engage in price gouging, and it eases federal transportation regulations that allow for trucking companies to more quickly deliver supplies, goods and services.
Though the forecast is still uncertain as it stands, there is the possibility that the winter storm could deliver a crippling blow with icy conditions potentially lasting for a couple of days due to freezing temperatures. The NWS says that precipitation could fall, melt and then re-freeze as above-freezing temperatures Tuesday fall to below-freezing levels in the night and into Wednesday morning.
The Alabama Law Enforcement Agency and the EMA are encouraging drivers to stay off the roads, particularly once conditions become treacherous. The winter storm also comes as the state is dealing with a widespread flu outbreak that has filled hospitals to near-capacity.
"It also important to factor in your commute time to ensure you are off the roads before the first flakes start falling from the sky," Ivey said. "Now is a good time for people to plan ahead and remain weather aware. "