By Brandon Moseley
Alabama Political Reporter
Wednesday, Alabama Supreme Court Associate Justice Brad Mendheim qualified for the Republican nomination, Place 1.
"I am pleased to announce that I will be a candidate for a full term," Mendheim said. "I am grateful for the confidence placed in me by Governor Kay Ivey, and also to my colleagues and staff at the Supreme Court for their assistance during this transition."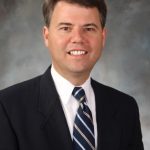 Mendheim was recently appointed to the Alabama Supreme Court by Gov. Kay Ivey to fill the seat formerly held by Justice Glen Murdock, who resigned to pursue other opportunities. Prior to his appointment by Ivey, Mendheim was a Circuit Judge for Houston and Henry counties. Before he was elected to that office, Mendheim served as District Judge of Houston County from 2001 to 2008.
Mendheim has a Bachelor's degree from Auburn University, 1989, and a law degree from Samford University's Cumberland School of Law, 1993.
During his judicial career, Mendheim has presided over more than 300 jury trials. He accepted special assignments in over 35 Alabama counties to hear cases where there is a backlog, or the local judge is disabled or has recused from a matter.
"My experience as a trial judge will be critical to the fair application of the law, which is our aim on the high court," Mendheim said. "Over the coming months, I look forward to traveling Alabama and speaking to the importance of a strong judicial branch."
Brad and his wife, Michelle, have been married for over 23 years. They are the parents of three sons and are long time members of First Baptist Church of Dothan, where Brad is a Sunday school teacher and deacon.
Justice Mendheim faces a contested Republican primary. Circuit Judge Debra Jones and Circuit Judge Sarah Hicks Steward have also both qualified for the District 1 seat. No Democrat has qualified yet for any of the state Supreme Court races.
Major party qualifying ends on Friday, Feb. 9.
The major party primaries are scheduled for June 5, 2018.