Opinion | Arming teachers is a terrible idea

By Joey Kennedy
Alabama Political Reporter
The email from the dean of UAB's College of Arts and Sciences arrived in my in-box while I was drinking coffee and reading my Kindle between my two composition classes this past Wednesday morning.
In a way, some part of me was expecting it. Dreading it. Accepting it.
The college has scheduled two sessions for "Active Shooter Response Training" for faculty and staff. I'll be attending one of those sessions in early March.
I love teaching. I love my students.
And now I'm going to be trained on how to respond to an active shooter on campus.
Of course, I hope that never happens. But I want to know how to respond, even if it's only to body block a classroom door that probably can't be locked from the inside.
One way I will not respond, a repeated suggestion from some Alabama lawmakers and even Donald Trump himself: Arm myself with a gun, in my classroom, while I'm teaching 18- and 19- year-olds how to write a college composition or while I'm explaining Robert Frost poems or a Zora Neale Hurston novel to my second-year students in American literature.
When I expressed this reluctance to a friend, he said I would be my students' first line of defense. I agreed, and I said I would be that first line of defense, unarmed.
So I'm going to "Active Shooter Response Training" at UAB early next month.
Arming teachers, in public elementary, middle, and high schools is a terrible idea. Arming college teachers at our universities, the same.
We are teachers. We teach. And I don't want that gun to be a distraction or, worse but very possible, for that gun to get out of my control.
A SWAT team member said recently over social media that when his team responds to a mass shooting, the goal is to take out the shooter. What will happen to a teacher or administrator who, surrounded by frightened students, carrying a gun in a confused active-shooting situation, is located by first-responders? Yeah. That.
And how will a teacher, armed with a handgun, be able to adequately defend a classroom from a deranged person firing an AR-15? I've been to the shooting range. I'm not a horrible shot, but I'm not a marksman. I've certainly never fired a gun in such a panicked, frenzied setting as we see in those student videos from Marjory Stoneman Douglas High School in Parkland, Fla. It would have taken a lucky shot for anybody there to hit the gunman, and more likely, "friendly" fire would have injured or killed more students.
I love teaching, and I love my students. I will defend them in an "active-shooter situation" as best I can. But I will not carry a gun.
I'll say this, though. The way to go at this violent gun culture we have in this country, with frequent mass shootings using military-style, semi-automatic weapons (sometimes altered to become automatic) is not to arm teachers. It's to get rid of these types of weapons.
We need to eliminate the public's ability to obtain them. We need to prohibit large-capacity magazines. We need to do away with bump stocks and other devices that make a semi-automatic weapon almost automatic. We need to expand background checks and mental health screening.
This, we need to do now.
Then we need to allow the Centers for Disease Control and Prevention to study our violent gun culture, and to declare gun violence a national health emergency. Because it is. That can't happen today because the NRA-owned politicians in Congress won't allow it.
Nobody wants to do away with the Second Amendment, but we do want the Second Amendment – a "well regulated militia" – to reflect its "well regulated" phrase in today's society, in real time, even as new killing technologies are developed.
We need politicians who reject the National Rifle Association's millions of campaign dollars and do what's best for their constituents, who, by the way, also include school children and teachers.
We need to listen to these young people from Douglas High School and many others across the nation who have started the #NeverAgain revolution. I don't think the discussion is going to disappear anytime soon. Not until something other than token action is taken.
Fewer guns means fewer deaths.
As one of those Parkland survivors, Ashley Paseltiner, explained: "If a kid throws a rock at another kid in a sandbox, you don't give every other kid a rock."
Until that day when we understand we don't need so many rocks to protect our "sacred" Second Amendment, I'll go to the "Active Shooter Response Training" next month, as my college's dean suggested.
I will be as prepared as I believe a teacher can be prepared — but without the gun.
Joey Kennedy, a Pulitzer Prize winner, writes a column every week for Alabama Political Reporter. Email: [email protected]
Print this piece
Opinion | Facts are stubborn things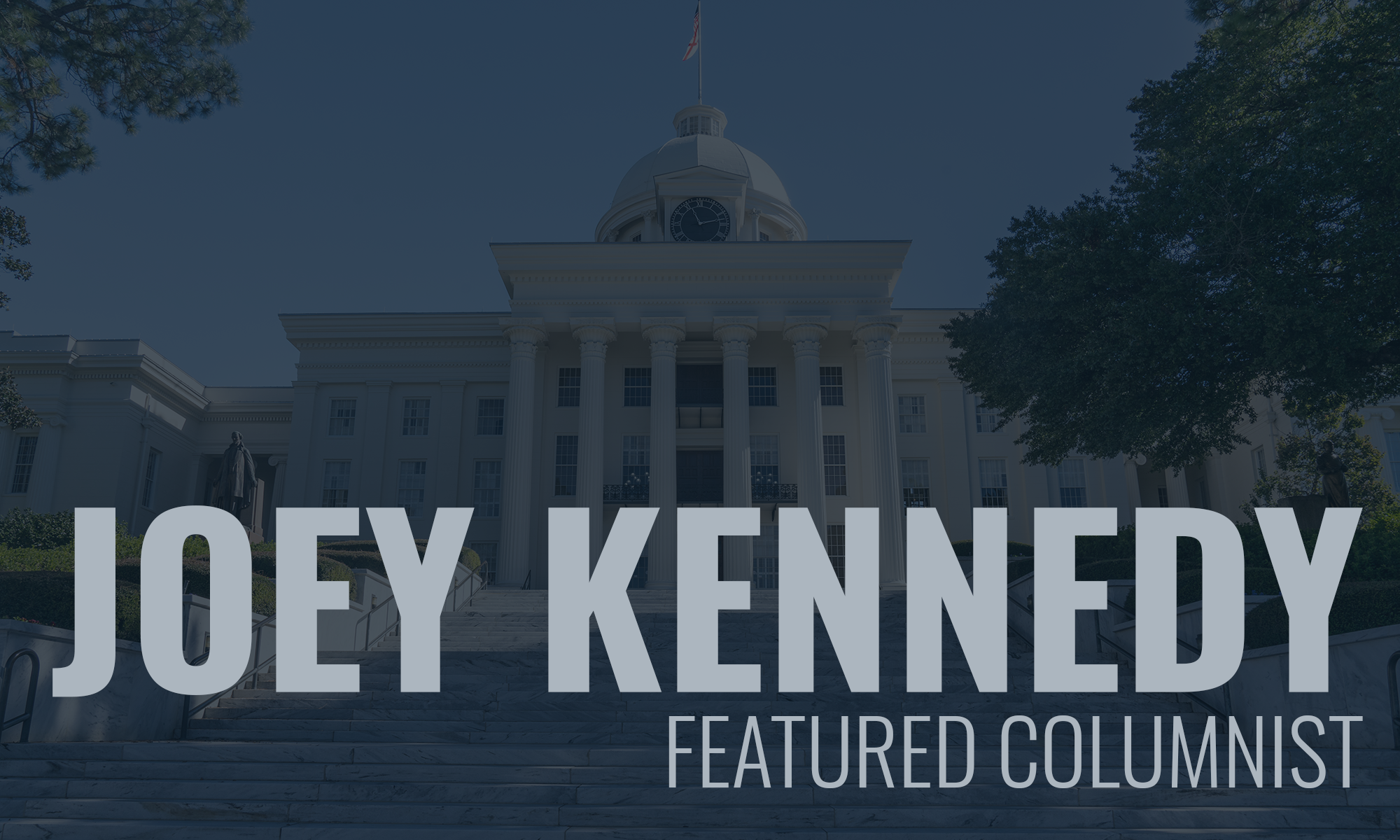 I'm in my 20th year of teaching in the English Department at UAB. I've never taught my primary discipline, journalism, and I really don't have much of a desire to, either.
Yet, in 2017, the leadership of UAB's University Honors Program asked me to be a part of their interdisciplinary faculty for the fall. UHP's fall semesters are themed, and that year, the first year of Donald Trump's term as president, the theme was appropriate: "Evidence and Belief in a Post-Truth Society." For UHP, I was a "communications" (journalism) professor. I taught with a scientist and public health professor, a religion professor, a philosophy professor, a literature professor and a psychology professor.
The students in this program – all 100-plus of them – are among the smartest students on campus. Needless to say, I was intimidated. For my first lecture before the students, I took a Xanax (it's prescribed because I do have anxiety sometimes). The Xanax didn't make me lecture better, but it made me not really care if I screwed up.
I'm sort of a one-trick pony – I teach and write in the only language I know: English. Here, you had neuroscience and biology and chemistry majors galore. And, yes, there were a few English and history and business and engineering students, too. Pretty much every discipline taught at UAB is represented in UHP, and certainly in its umbrella school, the UAB Honors College.
That fall went by quickly. I only took the Xanax for the first lecture. I settled into my groove pretty quickly. But when it was over, I ached for the continued intellectual stimulation I received as a teacher. I'm a lifetime learner, and that program taught me a lot. And I got to teach others a lot, too.
I thought it was a one-shot deal. Until, that is, the program's director, Dr. Michael Sloane, asked me to return in the fall of 2018 to direct the first-year students' literary analyses. And that fall, I was also asked to propose a UHP seminar class for the spring of 2020. I returned last fall to once again direct the first-year literary analysis. And I've been asked to return for first-year LAs again this coming fall.
This semester, I'm teaching the class I proposed, "Media and Social Justice." And I've already got another self-created UHP seminar class scheduled for next spring, "Media and War: Men and Women Making a Difference on the Front Lines."
Unlike my composition and literature classes in the English Department, these seminars have no template. I have to create the teaching as I go. Some days, I'm very confident; others not so much.
I divided the "Media and Social Justice" class into six two-week units: Nellie Bly (mental illness and investigative journalism), The Jungle (food safety and immigration), Jim Crow Lives (the civil rights era and voter suppression), #MeToo (sexual assault and harassment), Black Lives Matters (police and other shootings of people of color), and March for Our Lives (gun violence and sensible gun regulation).
These classes are limited to 16 honors students, but 19 students wanted in my "Media and Social Justice" class, so I have 19 students.
I teach these classes as a communications professor, not an English professor. I direct the literary analyses as a literature professor, not a communications professor.
We're covering historical topics, for sure, but also contemporary topics. It doesn't get any more current than Black Lives Matter, #MeToo, voter suppression, or March for Our Lives.
We don't just talk about the journalism around these topics, but also about other media. For example, I find protest songs for each topic. While it's not on our plate, did you know Trump has inspired a whole catalog of protest songs? Most every president inspires protest songs, though Trump has inspired an awful lot of them.
Maybe at some point, I'll create a "Media and Donald J. Trump" class. There is plenty of material.
The point, though, is that we all should be lifelong learners. I can't tell you how much I've learned from by English students and my honors students, how much the English faculty has taught me, and how much the faculty and directors of the University Honors Program have taught me.
That I get to return the favor by teaching these unique classes says a lot about UAB, and how it values critical thinking and learning.
I hope I never lose my enthusiasm for learning, or become too stubborn to change when the facts point toward another direction. That is our responsibility to the truth. I guess I am stubborn in one way: There are no alternative facts. Facts are truth, reality. The alternative is false, untruth, lies.
Readers, that's a fact, and like me sometimes, facts are stubborn.
Joey Kennedy, a Pulitzer Prize winner, writes a column every week for Alabama Political Reporter. Email: [email protected].
Print this piece