Opinion | Defending the classroom
By Deborah Love and Shanna Chamblee
Executive Director, Eagle Forum, and Deputy Director of Legislative Affairs, Alabama Gun Rights Inc.
The events at Marjory Stoneman Douglas High School have left students, parents and an entire nation in agony.  Since the Columbine massacre, our nation has been horribly awakened to a new normal – a world in which these massacres are not all that irregular.  Each time one occurs, people are motivated to offer idyllic solutions so that such an incident may not happen again.
The truth of the matter is that there cannot be an all-encompassing solution to end all murder.  We instinctively know this, but the carnage sometimes shocks us into considering reactionary alternatives, that in reality would not stop a motivated killer.  Worst of all, these killers appear to be learning from the past, gaining tactical knowledge from each incident that occurs.  That is indicated by the fact that "gun free zones" (gun prohibited areas) have been the target of more than 98 percent of all mass shootings according to the Crime Prevention Research Center.  We see this effect in terrorist attacks as well, where large trucks have supplanted firearms as the weapon of choice in Europe.   As the criminals learn, we must learn as well, that a motivated killer will kill. Sometimes, despite innumerable red flags, a criminal intent to harm will slip through.  It happened in this case, and will continue in the future. Our schools need a better first-line of defense.
We know that law enforcement agencies at the Federal and State level in Florida failed to properly respond and prevent this attack on the school even though the individual was reported multiple times to authorities. One school resource officer and three sheriff's deputies, who possessed guns, allegedly cowered outside the building while students and staff were left to face a monster, defenseless.  Law enforcement officers arrive on the scene after the fact, often too late. The most logically effective thing we could do remains untried in many schools. In most gun free zones where mass shootings or attacks take place response time is critical. Seconds count in such a situation.  Even with a school resource officer on site in Florida, the killer had at least 4 minutes alone among unarmed students and staff.
Several teachers in Florida were forced to give their lives bravely and heroically to physically shield the children with their bodies from the attacker.  They didn't have arms, but they did have a heroic fortitude.  This brings to question: what if teachers could elect, after suitable training, to carry on school campuses?
Representative Will Ainsworth and 31 co-sponsors have filed the solution: HB435. If this legislation passes into law our teachers in Alabama will have the choice to obtain proper training and yearly qualification to be able to carry at school for the purpose of defense. The bill requires each teacher who wishes to carry to obtain a pistol permit, to have 40 hours of training that is specific to hostile/active shooter situations/crisis management by the Alabama Peace Officers' Standards and Training Commission, and an assurance that they are mentally sound. What more could we ask for? It has been said that we need more officers in schools. Who better than the dedicated men and woman of whom we trust the lives our children each day? Rather than shield bullets with their bodies, we can give them the option to fight back. This in effect will put more officers in our schools.
Some people have wrongly criticized HB435 by arguing it puts more pressure on the teacher's shoulders to protect our children. Such a bill does not contemplate that all teachers will carry, and HB435 does not require any teacher to carry.  It certainly does not depend on making a docile, elderly English teacher into Bruce Willis.  Instead, the proposal relies on the numerical likelihood that in a school with a few dozen teachers, there will be a handful with the skills and dependability necessary to mitigate the danger of a school shooter.  A handful would be enough to, at a minimum, slow such a killer down, and perhaps allow students to escape, until law enforcement could arrive.
Ultimately whatever security measures, it is the fault of the killer for taking innocent human life and attacking the school. But the question from a school safety standpoint is what can we do to increase survivor rates?  Today our nation has more gun laws than ever before in American history; yet we still have gun violence. Gun free zones may have been implemented in good faith, but at this point they are giving a massive tactical advantage to killers who will not be swayed either by prohibitions on their acquisition of arms or use of them on school grounds.  We must allow teachers who are trained to elect to exercise their Second Amendment right to defend themselves and our children.  Similar legislation to HB435 has worked successfully in many other states.  Currently eighteen other states allow teachers to carry on school ground to promote school safety. Many other states have also filed similar legislation this year such as South Carolina.  President Trump as well as policy leaders have shared their support for allowing trained teachers to carry.
It is natural to want to do everything possible to prevent such horrific attacks as the one in Florida, but any suggestion must be subjected to sober scrutiny.   Both the Sutherland Springs and Florida shootings happened when a person slipped through the cracks.  Gun free zones in schools allow these people an uncontested chance to do harm before they can be confronted by someone who has a chance at stopping the assailant.  Gun free zones act as a welcome mat for attackers. We must remember that there will always be some individuals desiring to do evil through acts of violence regardless of the current cultural or political dynamics in our nation.  Sometimes, these people will succeed, but passing HB435 is the most direct and effective way to improve the safety of our schools.
Print this piece
Opinion | Alabama doctor: We've lost precious time and must act now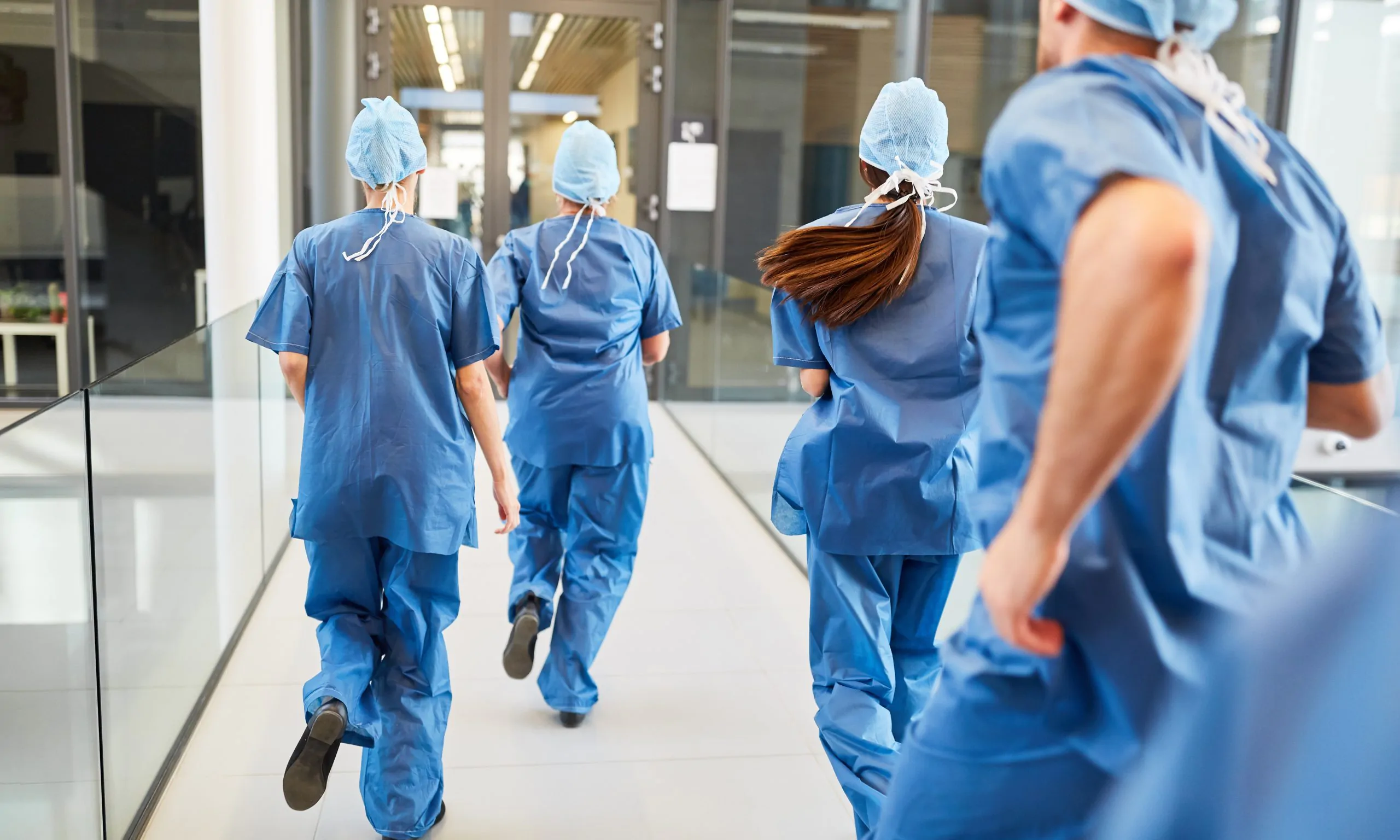 Disclaimer: The opinions expressed in this perspective are my own.
My home air conditioning unit broke this week. Worst possible time, right?
Fortunately, it was an outdoor problem, so the repair guy didn't have to come inside.
When he approached the door to discuss the problem, I told him I was an intensive care unit doctor at one of the largest hospitals in the country who couldn't risk any potential coronavirus exposures and asked him to stand as far away from me as possible.
He responded, "Think this whole coronavirus thing is real?"
The way that our political leaders have failed at handling this pandemic has seeped into the culture. This nonchalant attitude was modeled by Alabama's leaders who acted like this could never happen in our state two weeks ago, by spring breakers enjoying themselves on the beaches despite pandemic warnings last week, and by my repair guy who was completely oblivious just a few days ago.
Political action was needed weeks ago when those of us in the medical community were sounding the alarm. We now have lost precious time, and the president is even considering loosening restrictions.
Meanwhile, my wife and I are planning how to isolate me away from my kids for the next several weeks, since my friends and I are anticipating placing many Alabamians on ventilators as we see severe cases skyrocket.
Allow me to make one last plea for the state of Alabama.
Our state political leaders are doing the equivalent of sitting at the dinner table wondering if we should buy a weather radio for protection while a tornado is at the front door, and the president is about to let everyone go outside to play.
Time is of the essence. Please urge your leaders and Gov. Ivey to implement much heavier action in Alabama now. More shelter in place orders are needed across the state like what Birmingham did on Tuesday.
This is the minimum we need to give our state's healthcare system the most essential commodity it needs right now – time.
Some people are doing great at social distancing and are taking this very seriously. I thank you for this. However, the average person is barely listening to even these simple requests.
Staying at home is the most basic way to flatten the curve. Loosen this recommendation any further as the president has suggested, and it will magnify the Alabama April 2011 tornado outbreak by several fold. Nine years later, this is our "James Spann with no suspenders," "respect the polygon," "once in a generation" moment, Alabama.
I urgently plead with our local and state leaders to quickly take the next steps needed to proactively protect all of us right now. Our healthcare systems need the valuable time to build capacity at a reasonable pace, figure out treatment options for this novel virus, and hammer out backup plans.
I see several other immediate priorities. At the national level, rather than waiting for corporations to pivot towards mask and ventilator making, we need to invoke and implement the Defense Production Act now to generate vital medical supplies to protect those of us on the frontline and our patients.
The outpouring of community support for making masks is amazing. We are grateful, but the federal government could make them to scale. My colleagues across the US are unsafely reusing masks, especially N95 masks that are supposed to be reserved only for those of us on the very front of the frontline. Please don't hoard these masks. Rather, donate them to your local hospital.
At the state level, our leaders should ensure that rural and small-town hospitals, such as the ones in my hometown of Anniston, are adequately prepared with the supplies and communication structures needed to identify and ration critical needs and workforce. I know many aren't ready. As the virus spreads quickly throughout the state, hospitals in rural Alabama will most surely run out of supplies unless we act quickly to help them. The federal government isn't stepping up at the moment.
Finally, and at the very least, we need our leaders to be highly visible on television continuously urging citizens to stay at home every day. Other countries that have successfully controlled the pandemic have made this a priority and a natural part of all messaging that is being delivered. We should do the same.
Things will get bumpy in the next month, but we in the medical community are here to guide and protect you through this as best we can, Alabama.
I echo the urgency and recommendations of Dr. Anthony Fauci and Surgeon General Jerome Adams.
Please stay at home unless absolutely necessary.
Take care and be safe, Alabama.
Dr. Anand S. Iyer, MD, MSPH Pulmonologist and Intensivist, is a 2003 graduate of The Donoho School in Anniston.
Print this piece