Opinion | Making Congress work again

By U.S. Rep. Bradley Byrne
Anyone who has followed Congress over the last twenty years knows that things have been pretty dysfunctional. While I believe our Founding Fathers intended for the Legislative Branch to be deliberative, I think they would be troubled by how broken things have become.
One of the top drivers of the dysfunction is the budget and government funding process. Did you know that the last time Congress passed a budget and all twelve government funding bills on time was 1994?
Instead, we have found ourselves in a very dangerous cycle of governing from one funding crisis to the next. At the same time, two-thirds of federal spending is on autopilot as the national debt and federal spending continues to grow. We must do better.
I am tired of just talking about how the process is broken. We need less talk and more solutions, so I introduced the Protecting Our Children's Future Act. I chose this title because getting our budgeting and spending right really is all about the future of our country.
Our legislation reforms the Congressional budget process to make things work again. Just as important, it lays out a process that would make it easier to cut spending and reduce the deficit.
First, our bill moves to a biennial budget timeline. This means that the budget and funding bills would cover two years instead of just one. This would allow Congressional committees to spend more time overseeing how money is spent, and it will create fewer opportunities for budgetary holdups.
Second, the bill subjects all government funding bills to the reconciliation process. This would result in just a 51-vote majority being needed for passage in the Senate if funding bills stay within the budget. President Trump has proposed some major cuts to federal spending over the last two budget cycles. Unfortunately, Democrats have held many of these cuts hostage with a filibuster. Our bill would end this practice.
Third, our bill puts in place a "No Budget, No Pay" provision for all Members of Congress. Members of Congress would not be paid until a budget passed out of the House and Senate. American families must have a budget. If Congress fails to do so, then we should not be paid.
Fourth, we need a budget timeline that more accurately reflects the calendar. For example, the current time frame expects a newly elected President to submit their budget proposal right after being sworn in. Instead of the fiscal year beginning in October, we would start the calendar on January 1 each year. Our bill would make the process much more realistic and simplistic.
Fifth, the bill shifts most mandatory spending to discretionary. This would take all spending other than Social Security retirement benefits, Medicare, TRICARE, and veteran programs off autopilot. Congress cannot do its most important job to allocate federal resources if two-thirds of the budget is outside the spending process.
Finally, the bill moves to zero-based budgeting. All programs and expenditures would have to be justified by agencies from the ground up at the beginning of each budget cycle. No longer would a program or agency be assumed an automatic increase. Every taxpayer dollar would have to be justified.
If you are like me, you probably think these changes sound pretty commonsense. Well, they are. We need to stop making things so confusing and complicated and just use a little more commonsense.
By doing so, we can rein in federal spending, reduce the national debt, and create a more efficient federal government. I urge my colleagues on both sides of the aisle to support the Protecting Our Children's Future Act, and let's make Congress work again.
Print this piece
Opinion | Love in the time of the coronavirus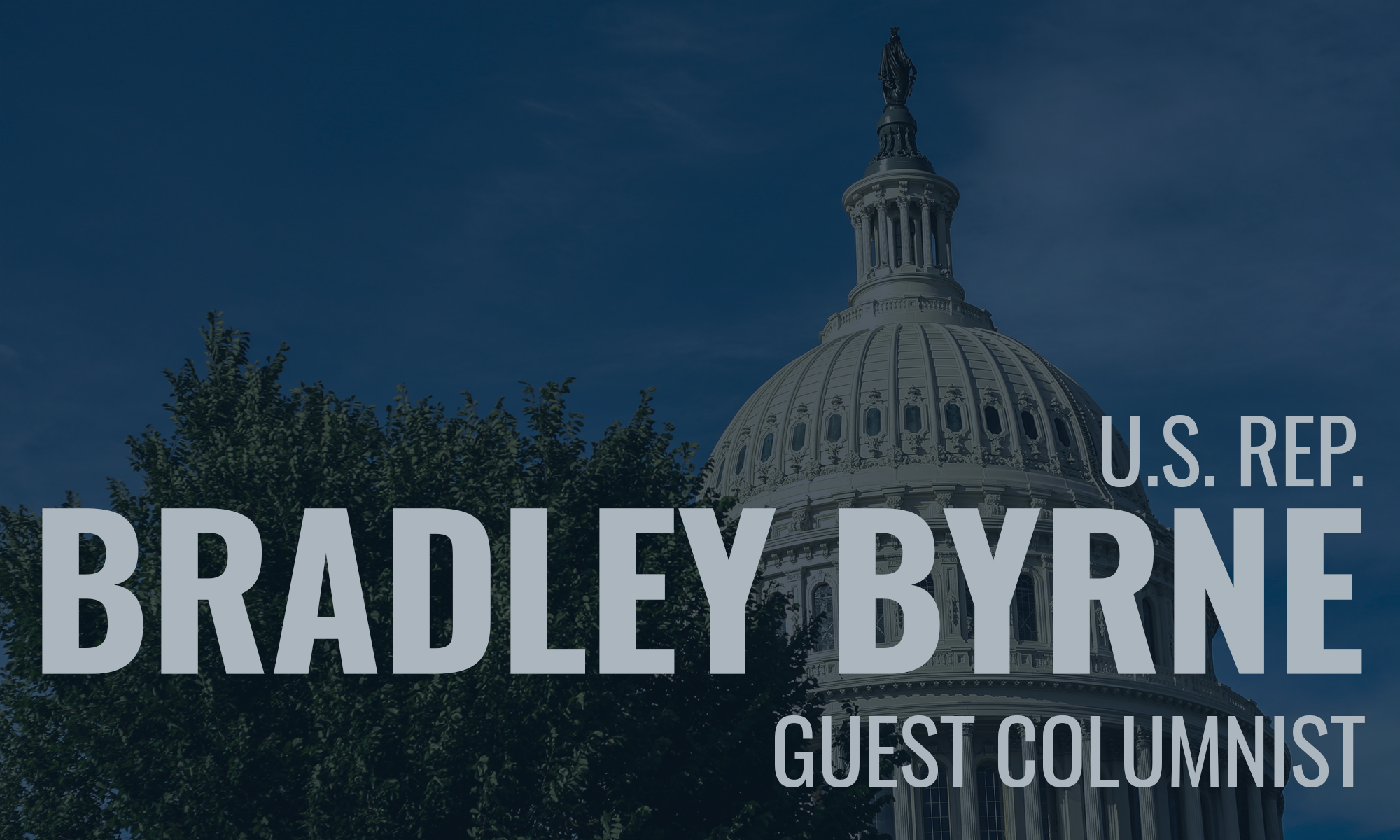 Like many of you I "attended" Palm Sunday worship online. It was strange not to be there at St. James Fairhope physically for the Liturgy of the Palms to gather outside for prayers and walk into the church together with our palms singing "All Glory, Laud and Honor."
I heard the words of the Passion according to St. Matthew but wasn't there to see the faces and expressions of the readers. We said prayers for those afflicted by the disease and those caring for them. We also said the right words for the Offering, the Eucharist, and the Peace, but there was no Offering or Eucharist, and we couldn't physically greet one another with the words, "The Peace of the Lord be always with you; And also with you."
Worship is more than just words. It's the act of coming together as God's people to worship Him, sing hymns, pray, hear God's Word, and be one body. We did it apart last Sunday and will do it this Sunday for Easter. It's strange but necessary.
When I was a teenager there was a novel and movie called Love Story. It had one of the dumbest lines I've ever heard: "Love means never having to say you're sorry." Love means frequently having to say you're sorry, whether or not you caused another's trouble or hurt.
Over a million people worldwide are confirmed to have COVID-19. Tens of thousands have died from it. I'm very sorry for them, their family members, and loved ones. I'm sorry so many on the front lines are working long hours, exposing themselves to danger, and that so many have lost their jobs as we practice social distancing.
All that could drive many to depression, anti-social behavior, and self-destructive acts. To avoid that we all must help one another, just as we do down here during hurricanes, except at a physical distance. And it doesn't do any good – in fact it's harmful – to play the blame game. While there will be a time to assess the culpability of the Chinese government, rhetoric or discrimination against Asian Americans is irrational, harmful, and just plain wrong.
Congress and President Trump put aside our differences, however temporarily, to overwhelmingly pass the CARES Act, pumping over $2 trillion into our economy in a bold move to cushion the economic effects of social distancing and pay for the health care and research to defeat this disease. I and my staff are working around the clock to get information to our constituents about the disease itself and these new government programs. And, as we hear needs, we take them directly to those in charge of providing help. We aren't on the front lines caring for the sick, but we have a supportive role to play and are determined to do our part.
During Sunday's online service, I remembered that love isn't a sugary, sentimental thing. It often involves sacrifice. It's not that sacrificial for me to miss being physically in church, though I felt I was missing something. That something is a small thing compared with risking the spread of this disease.
And, listening to the Passion narrative, I remembered what real sacrifice, the ultimate sacrifice, really is. And why did Jesus do it? Because He loved us that much. It wasn't just the physical agony, but more painful to him, taking on all our sins to himself, all our collective denial of and disobedience to God. He said "I and the Father are one" and then allowed Himself to be separated from God as He took on all our sins. No wonder he cried out at that moment, "My God, my God, why have you forsaken me?"
But God did not leave Jesus to death, for the Resurrection was three days away.
God has not forsaken us. To care for us, he requires each of us to love and take care of one another. Right now, in part that means we must be apart from one another, and for many to suffer economically and perhaps even emotionally. Let's all be more attuned and sensitive, and helpful, to one another.
Good Friday isn't good because Jesus was killed but because He rose again. It may seem dark now, but the light of Easter morning is just around the corner.
The last verse of an old French Easter carol called Now The Green Blade Riseth says, "When our hearts are wintry, grieving, or in pain, thy touch can call us back to life again, fields of our hearts that dead and bare have been: Love is come again like wheat that springeth green".
Spring is here. So is love. Pass it on.
Print this piece