Speaker: Ainsworth bill to arm teachers scrapped this year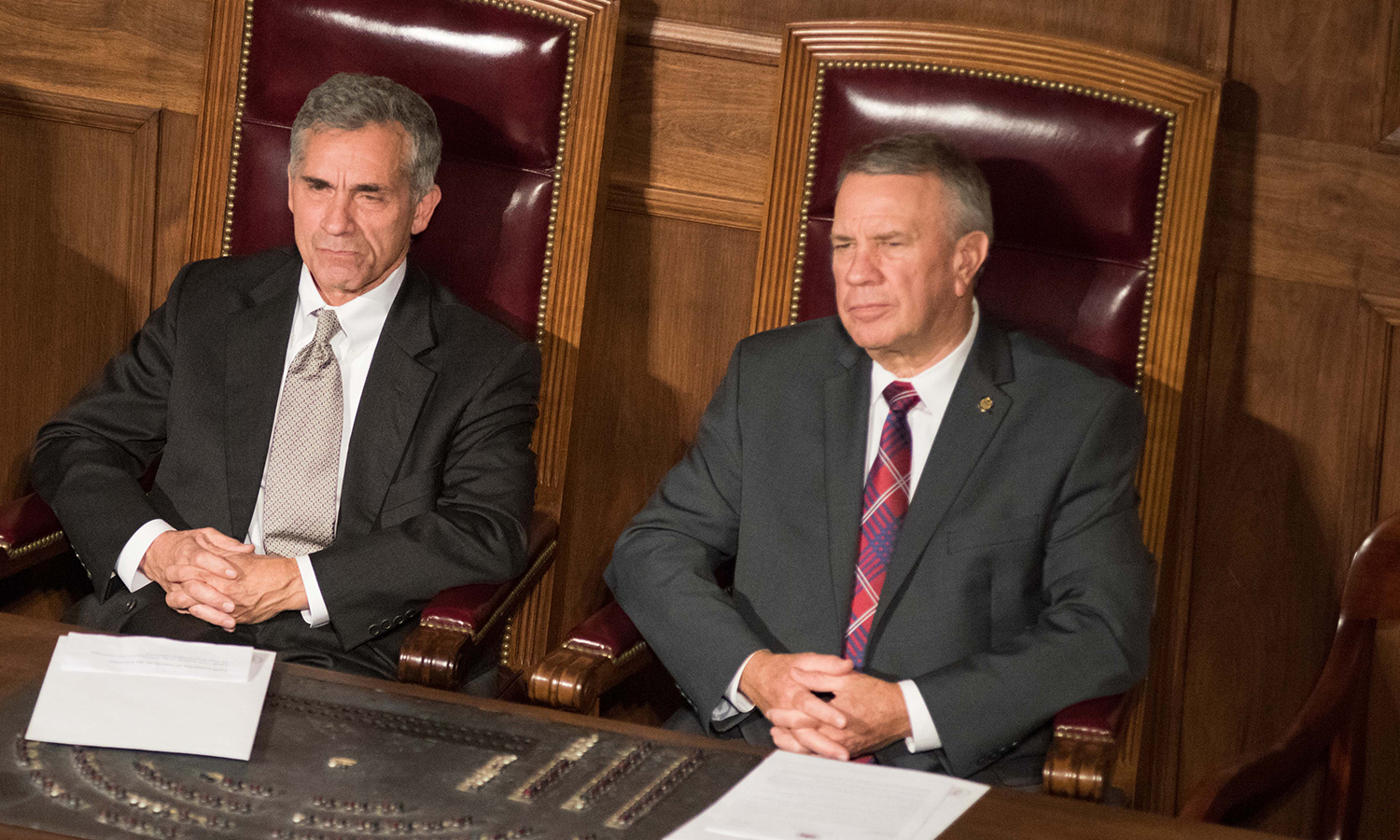 A bill that would have allowed teachers to be armed in classrooms across the state is dead for this session.
The bill, sponsored by Guntersville Republican Rep. Will Ainsworth, was one of the most prominent of several gun and school safety bills filed this session.
Filed three weeks ago, just a month before the Legislature is expected to sine die and end the session, the controversial bill had a steep hill to climb.
It didn't make it to the top.
Leaders in the legislature — from the House speaker to the Senate president pro tempore — have been cautious about the calendar realities of passing gun bills this session, and McCutcheon was the more optimistic of the two.
But Tuesday House Speaker Mac McCutcheon said opposition from Democrats threatened to derail the session and led to the bill's demise, though several Republicans — particularly in the Senate — had also expressed opposition to the measure.
"Although the bill was in a position to be considered yesterday, the Democratic opponents of the legislation were prepared to lock down the chamber to prevent its approval," McCutcheon said. "There was also a great deal of misinformation being distributed to educators, school administrators, law enforcement agencies, and parents that needed to be corrected."
McCutcheon wasn't clear what "misinformation" had been spread about the bill.
The House speaker, in his second session in the Legislature top role, said he expects the bill to make a reappearance during the next session.
"I can offer a personal guarantee that this issue will be revisited when the Legislature convenes its next session," McCutcheon said.
The Legislature won't return for a regular legislative session until March 2019. Lawmakers will have an extra month off next year during the first year of the quadrennium after the 2018 statewide general election.
Ainsworth's HB435 isn't the only gun bill that died this week. All of the other proposals — from both Democrats and Republicans — were also given a hypothetical death certificate after their sponsors admitted that it's unlikely they'll move forward with less than a week to go in this session.
Ainsworth was more forceful, calling on Gov. Kay Ivey to convene a special session of the Legislature later this year to revisit school safety proposals. It's unlikely Ivey will call a special session given lawmakers are battling it out ahead of primaries scheduled for June 5 and a general election set for November.
Constitutionally, the Legislature has several more weeks left in the session, but lawmakers are expected to depart next week in order to get home and campaign. It's typical for lawmakers to end an election-year session early.
Nevertheless, McCutcheon and the bills' sponsors say they are not abandoning them, and some school safety legislation has already passed or has a much better chance of making it out before the end of March.
"The House is deeply committed to school safety issues, and we are already passing legislation this session that allows retired law enforcement officers to serve as school resource officers, redirects state technology dollars to fund school security needs, and creates a permanent committee that will suggest school security improvements on an annual basis," McCutcheon said.
The speaker said lawmakers are also researching how existing laws on the books could allow for changes to school safety, and he directed lawmakers to get feedback from their local school districts and law enforcement on how the Legislature could help. McCutcheon said the House won't forget about the need for school safety and gun reform next year.
"As the next regular session approaches, we will be taking a look at all the pieces of the complex school security puzzle and come forward with a package of legislative proposals," McCutcheon said. "Ensuring that the children parents send to school in the morning return to their home safely in the evening will always remain among the top priorities of the Alabama House of Representatives."
Print this piece
Moore legal team files motion for Judge Rochester to recuse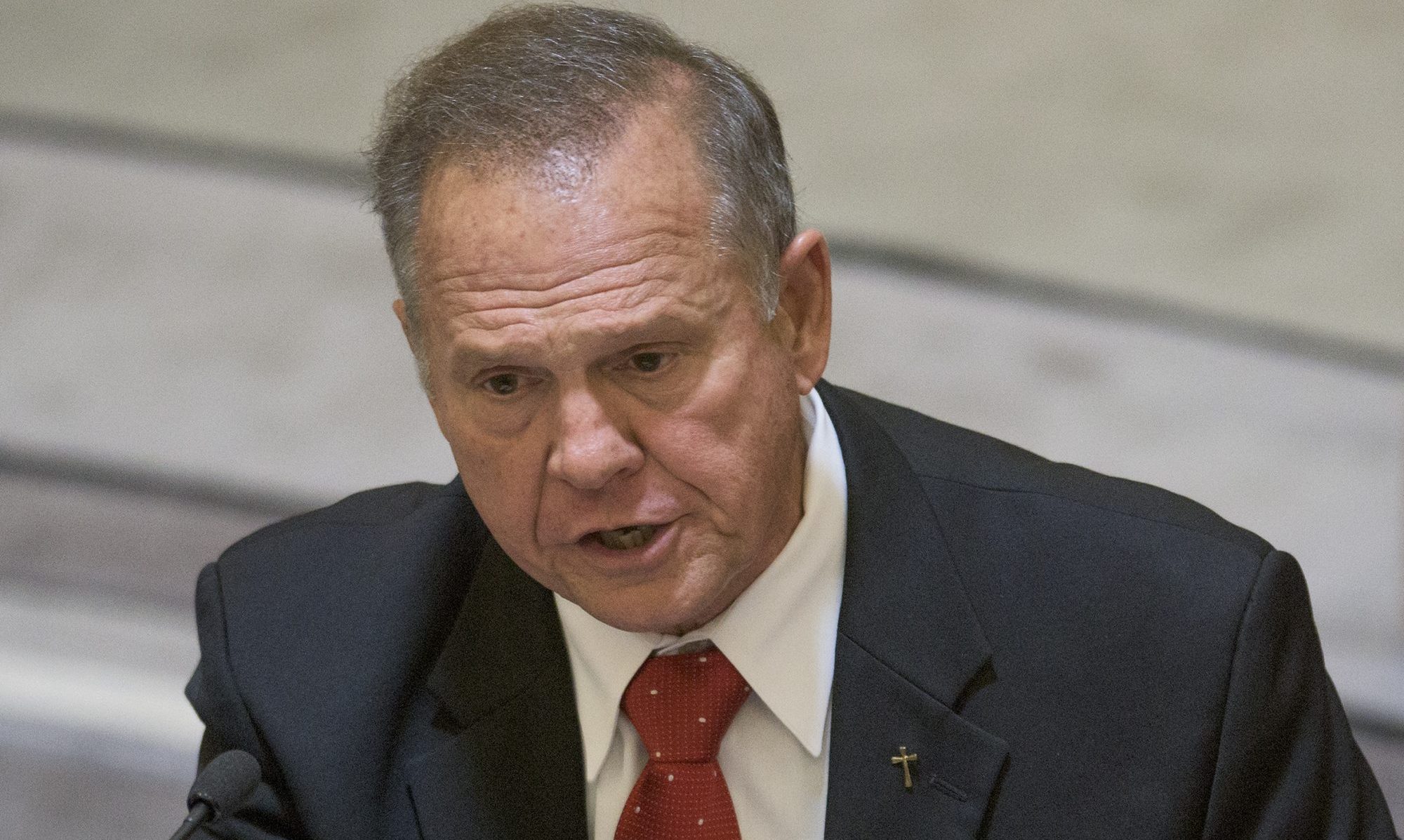 Attorney Melissa Isaak filed Thursday on behalf of her client, Judge Roy Moore, a motion to recuse Judge John Rochester from further consideration of the legal case between Moore and his accuser, Leigh Corfman.
The Moore team said that is the case due to the following reasons: "Judge Rochester's continued decision to preside over this case despite the fact that his appointment was "temporary" and expired on January 14, 2019 over a year ago, Judge Rochester's untimely delay of approximately five months in ruling on dispositive motions in this case brought only to accuse Judge Moore of defamation for merely denying false allegations against him, which is not even a valid cause of action, Judge Rochester's open friendship, support, and financial contributions for Doug Jones in his 2017 Senate campaign against Judge Moore, according to his own personal Facebook account, Open and virulent criticism of Judge Moore by Linda Rochester, wife of Judge John Rochester during the 2017 Senate campaign on her own personal Facebook page, Judge Rochester's criticism and mocking of Christianity on his Facebook page with full knowledge of Judge Moore's strong belief in God, Judge Rochester's political animus against the Republican Party and President Donald Trump who supported Judge Moore in the 2017 general election, Judge Rochester's obvious political bias in his quick response to set a trial date in this case, within two weeks of the upcoming Republican primary which will determine the opponent in the general election against Doug Jones."
Moore claims, "As stated in Attorney Isaak's motion, any individual would have a solid basis for questioning Judge John Rochester's impartiality, political motivation, and bias in presiding over this case."
Moore is claiming that Judge John Rochester's friendship, support, and financial contribution to Doug Jones in combination with his wife's open criticism of Judge Moore during the 2017 special election for US Senate in which Judge Moore was a candidate, mandates immediate recusal of Judge John Rochester in this frivolous action.
Moore has also objected in the past to this case being in Montgomery County court, when Corfman's allegations of improper sexual conduct between her and Moore in 1976 allegedly occurred in Etowah County.
Corfman claims that Moore and her engaged in inappropriate touching through their underwear in 1976 when Corfman was just 15 years old. Under Alabama law, then as now, the age of consent for sexual activity is 16, not 15. Corfman's allegation, along with allegations by women dating from decades ago were released in an article by the Washington Post after Moore had won the Republican nomination for U.S. Senate in 2017. The shocking allegations were trumpeted by the national press as well as by Democrats. Moore narrowly lost the December 2017 special election to Clinton era U.S. Attorney Doug Jones (D), the only time a Democrat has won any statewide election in Alabama since 2008.
Moore has steadfastly denied the allegations. Corfman sued Moore in Montgomery Court after the election for defamation of character. Moore has since sued Corfman, the other accusers, and the architects of the Reed Hoffman financed, illicit Russian style tactics, which Moore claims were largely responsible with depressing Republican turnout and increasing the efforts by GOP moderates to defeat Moore by writing in the name of some candidate other than Moore.
While many Republicans accepted the accusations against Moore as "credible" they rejected similar accusations against Supreme Court Brett Kavanaugh.
Moore was twice elected Chief Justice of the Alabama Supreme Court and is a current candidate for the Republican nomination for the U.S. Senate seat, currently held by Jones.
The Republican primary is on March 3.
Print this piece