Governor signs execution by nitrogen bill into law
Two other states have nitrogen hypoxia listed as a method of execution in the state law books, but Alabama would be the first to offer it as an option to the condemned
Gov. Kay Ivey has signed a piece of legislation into law that would authorize the use of nitrogen gas as a method for executions, which could make Alabama the first state in the country to offer that method as an alternative to lethal injection.
The bill, SB272, which was passed out of the Senate last month and approved by the House Wednesday by a vote of 75 to 23, received the governor's signature Thursday. It was sponsored by Sen. Trip Pittman, R-Montrose.
As the bill becomes law, the state may soon add a third, untested option for death-row inmates deciding how they want their lives taken from them: a gas mask or gas chamber filled with pure nitrogen gas.
While lethal injection has been the primary method of execution used in Alabama since 2002, the state's electric chair, known as Yellow Mama, is still sitting in an attic waiting in the case an inmate was to decide they preferred that method of execution — or if lethal injection was ever ruled unconstitutional or drugs needed to perform the execution became unavailable.
The bill would add nitrogen hypoxia as a third option, giving inmates the choice to choose that method of execution were they to desire it. It would also become another backup if lethal injection was invalidated or unavailable, a possibility that has increasingly worried death penalty proponents.
Two other states have nitrogen hypoxia listed as a method of execution in the state law books, but Alabama would be the first to offer it as an option to the condemned, though lethal injection would remain the default method. Other states, Mississippi and Oklahoma, would only use nitrogen executions in the case of lethal injection being ruled unconstitutional or the drugs becoming unavailable.
But the method has never before been tested on humans and is really only a scientific concept that is expected to be painless. Pittman has said the method would need testing before being implemented, and the Department of Corrections has given no indication of what the process of implementation might look like.
"The Department of Corrections will follow the law of the state and adhere to the protocols and method of an execution as ordered by the Alabama Supreme Court," the Department of Corrections said in a statement.
The Attorney General's Office and the governor declined to comment on this story, referring questions to the Department of Corrections.
Lethal injection was once the new method of execution believed to be a humane advance, but it has in recent years been questioned by court challenges and public debate after several botched executions left inmates in apparent pain or discomfort as they died.
In 2016, Ronald Bert Smith Jr., who had been convicted of the 1994 murder of a convenience store clerk, coughed, gagged and heaved for 13 minutes after staff administered the three-drug cocktail used in executions. He was eventually pronounced dead 34 minutes later, according to an Associated Press Report.
Late last month, another Alabama death row inmate became the subject of a botched execution. A federal judge has since ordered Alabama prison officials to retain all evidence related to the execution. Medical professionals performing the execution were unable to locate a vein on the inmate, Doyle Lee Hamm, 61, over the course of more than two hours.
His attorney later wrote in a blog post that a medical exam after the execution found that personnel almost certainly punctured his bladder, because he urinated blood the next day, and probably punctured his femoral artery because he gushed blood.
"He has pain going from the lower abdomen to the upper thigh," the attorney, Bernard Harcourt, wrote. "He is limping badly now and terribly sore."
This new method of execution, which has never been used in the United States before, replaces the oxygen in a prisoner's available air supply with nitrogen, resulting in death within minutes.
Pittman has said nitrogen executions could be more humane.
"There's a debate about the death penalty and whether that should be a punishment for certain crimes, but that is a separate debate," Pittman said when the Senate passed the bill. "This is about the method, and what is the most humane and what can allow that sentence to be carried out."
Death-row facilities across the country have increasingly had difficulty finding the drugs needed to perform a lethal injection execution as drug manufacturers began objecting to the use of their products in executions.
Though the law doesn't specify how, the death-row inmate, were he or she to choose nitrogen hypoxia, could be placed in either a sealed chamber or wear a gas mask. As the oxygen in the air is depleted and replaced with a nitrogen, the result is unconsciousness, coma and then death.
Nitrogen hypoxia has increasingly been discussed as an alternative method of execution as the availability and constitutionality of lethal injection drugs — specifically the first sedative in the cocktail, Midazolam — has come into question.
Within a given time period, inmates could inform the Department of Corrections in writing that they would rather die by nitrogen hypoxia.
Proponents of nitrogen hypoxia and some researchers suggest a lack of oxygen is not what causes painful asphyxiation and nitrogen hypoxia would be painless because the person would still be able to breathe regularly until they passed out. The natural composition of air is about 78 percent nitrogen already.
The method has been used for veterinary euthanasia, but the American Veterinary Medical Association has recommended sedatives be administered to larger animals as a way of preventing any discomfort.
However, the method of execution the governor has now approved has never been tested on humans, and it's never been used in capital punishment throughout the rest of the world, either.
Pittman, the bill's sponsor, has said there have been examples of accidental deaths caused by humans being in a nitrogen-rich environment without realizing it. Other have used nitrogen to end their own lives, he said.
It would likely need to be tested before being implemented, but there's no indication of what that testing would look like and how long it might take.
Alabama reports record-breaking 2,164 new COVID-19 cases
Thursday's number of new cases hit 2,164 and blew past the previous daily record set on July 3 by 406 cases.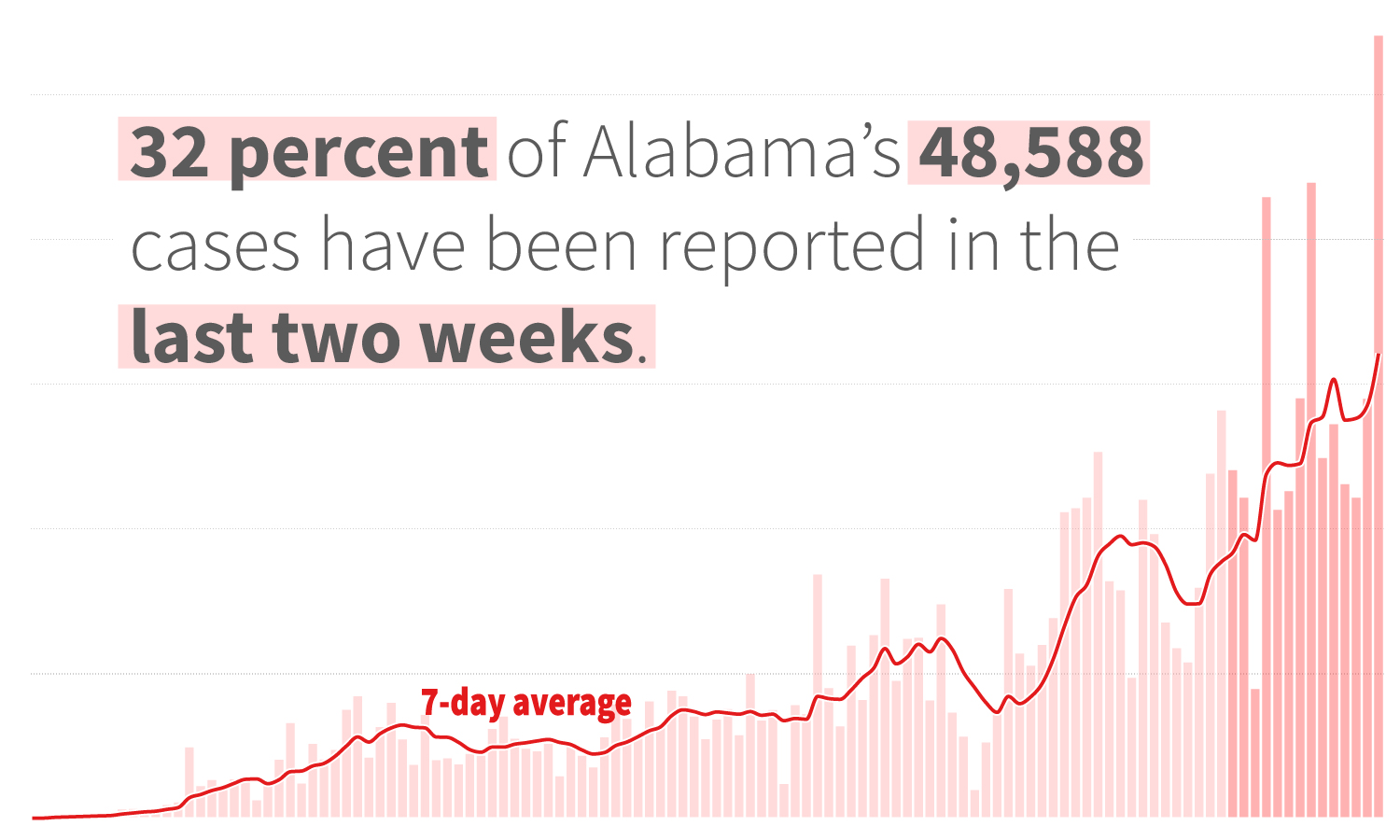 New COVID-19 cases in Alabama on Thursday jumped by nearly double from the day before, and for the first time broke 2,000 in a single day, according to the latest data from the Alabama Department of Public Health.

Thursday's number of new cases hit 2,164 and blew past the previous daily record set on July 3 by 406 cases. Both the seven-day and 14-day rolling average of new daily cases in Alabama were also at record highs Thursday. 
Thirty-two percent of the state's 48,588 cumulative confirmed cases have been added within the last two weeks. 
The Alabama Department of Public Health did not publish Wednesday an update to the total number of tests performed, which throws off the day's figures for the percentage of tests that are positive, but on average, over the last week, the state's seven-day rolling average of percent positivity has roughly 15 percent. 
Public health experts say the percent positivity should be at or below 5 percent — otherwise there isn't enough testing being done and cases are going undetected. 
Along with surging new cases, the number of COVID-19 patients hospitalized on Wednesday was higher than it's been since the beginning of the pandemic. On Wednesday 1,110 coronavirus patients were being treated in state hospitals, which was the fourth straight day of record current hospitalizations. 
UAB Hospital's COVID-19 Intensive care units were nearing their existing capacity Tuesday. The hospital has both a COVID ICU and a COVID acute care unit designated to keep patients separated from those who don't have the virus, but it has more space in other non-COVID units should it need to add additional bed space.

Hospitals in Madison County this week are also seeing a surge of COVID-19 patients. Paul Finley, the mayor of the city of Madison, told reporters Wednesday that local hospitals were reporting record numbers.

Hospitals there were at 80 to 90 percent capacity.
"Our ambulances yesterday had their greatest number of runs since this started," said Crestwood Hospital CEO Dr. Pam Hudson on Wednesday, adding that in about 20 percent of calls staff is having to wear full personal protective equipment. "That indicates that they are working with patients who have symptoms that could be compatible with COVID."
Meanwhile, Madison County set a new daily record, adding 286 cases Thursday, the first time the county has surpassed 200 cases a day. The county was largely spared early on in the pandemic, with low case counts and low death rates, but roughly 42 percent of Madison County's total case count since March has been reported in the last week as 803 new cases have been added.
Jefferson County and Madison County, over the last week, have accounted for 26 percent of the state's new cases.
Jefferson County led the state in the most new cases Thursday with 343 and has added 1,498 cases in the last week. The county's total cases increased by 33 percent from last week, and stood at 6,030 confirmed COVID-19 cases Thursday.
While Jefferson County and Madison County are seeing the state's most intense increases, other large counties including Shelby County, Baldwin County and Tuscaloosa County have also seen record increases and rising percent positive rates.
At least 81 people have died from COVID-19 in the last week, and 162 people have died in the last two weeks.
At least 1,042 people have died from COVID-19 since March, and at least 26 other deaths are listed as "probable" COVID-19 deaths.