Analysis | Democratic candidates offer idealistic goals in debate. Realities remain unseen
Tuscaloosa Mayor Walt Maddox, former Chief Justice Sue Cobb and former state Rep. James Field gathered in Birmingham on Wednesday in a televised debate by WVTM 13.
The debate, while eventful in moments, was plagued with common solutions by Democrats in the state.
Here are the highlights of the night:
Maddox and Cobb spar over minimum wage
When it came time for candidates to ask each other questions, Cobb did not hold back and confronted Maddox on a decision he made to oppose a proposal to increase the minimum wage in Tuscaloosa to $10.10 in 2016.
The former chief justice said that actions spoke louder than words and questioned Maddox's commitment to raise the minimum wage, which has been a talking point of Democrats for years.
Maddox defended the decision by pointing to a law that was going through the Legislature at the time. The bill would have prohibited municipalities and local governments from increasing the minimum wage. It eventually passed out of the body and was signed into law.
According to reporting from AL.com at the time, Maddox had been informed by Tuscaloosa's attorney that the city did not have the authority to raise the minimum wage and the Tuscaloosa mayor re-iterated that point at Wednesday's debate.
Maddox said that he swore an oath to follow the "laws of the land" and also said that passing the proposal to raise the minimum wage would have embroiled the city in "costly litigation."
Cobb, who has served as a legal authority, disagreed and continued to criticize Maddox.
The continued attacks led to a back-and-forth between the two candidates, which is not allowed per the debate rules. Cobb, while engaging with Maddox in an argument, restarted her time and Maddox was not allowed to respond.
Lotteries
Perhaps the most used solution during the debate was a state lottery to pay for Alabama's budget shortcomings. The budget shortfall, mostly from the large Education and General Fund budgets passed this year, will reach into the tens of millions unless Alabama makes plans to stave off the deficit.
All the candidates have proposed a state lottery to fix the problems in the state, whether they be in improving education or shortfalls in the General Fund Budget. The candidates floated those same plans on Wednesday by proposing the funds go to lofty budget items like Education, Work Development, and Mental Health Funding.
Actually passing a lottery, however, is an issue that has plagued the state government for years.
While Republican leadership has cozied up to the idea in recent years with support coming from as high as Gov. Robert Bentley's administration, passing a lottery bill in Alabama has been an arduous task for state legislators.
The most recent bill, proposed by Huntsville Republican Sen. Paul Sanford, never made it to the Senate floor after narrowly passing its own committee. The main hang-up for most lawmakers is finding a lottery bill that has the right language and does not overextend the powers of the state government.
Senate President Del Marsh, R-Anniston, cited this very reason for not supporting Sanford's bill.
Even if a lottery bill were to clear the Legislature, it still must contend with a popular vote in the state, and the citizens of Alabama voted down a lottery proposal in the 1990s.
Candidates on Wednesday all said the time for another vote has come, but it is unclear if the Legislature is ready to act on lottery proposals.
When asked about solutions to the funding shortfalls that did not include a lottery, Cobb and Maddox indicated that the problems could not be solved without a lottery.
"I don't think you can take the lottery out of the equation," Maddox said.
Fields took a different approach and proposed an overhaul of Alabama's taxes. He also said the government would face tough decisions as they decide how to fund a system with little revenue.
Marijuana Debate
A brief question segment dealt with the question of Marijuana legalization in the state. While all candidates proposed relaxed solutions, Maddox was by far the strongest by advocating for decriminalizing the drug.
Cobb took a softer approach and said we needed to move towards medical marijuana. She said Alabama's drug laws were "out of step" with the rest of the nation.
While bills like Sen. Dick Brewbaker's in 2018, which advocated relaxing punishments for possession of Marijuana, passed favorably out committee, an outright decriminalization of the drug hasn't picked up traction in the Legislature.
Domestic problems also include a contingent of senators and representatives who bitterly oppose the relaxation of drug laws and would likely stop any bills like Brewbaker's from passing out of the body.
The decriminalization also seems unlikely as U.S. Attorney General Jeff Sessions, a former Alabama Politico himself, has indicated that the Justice Department will crack down on states that evade the federal prohibition on drugs.
Blue Wave
Unsurprisingly, the three candidates pointed to Sen. Doug Jones' victory over favored Republican Roy Moore last year as an indicator that a Democrat can win in Alabama.
Jones, a once thought long shot, defeated Moore by a significant margin and was seated in Washington earlier this year.
The candidates hope to be part of a "blue wave" that Democrats say will fall on the country in the 2018 midterms as a result of the Trump administration's unpopularity. In December of last year, Jones' victory in Alabama sent shock waves around the country and many pointed to his win as a sign of changing times in the YellowHammer state.
But to others, Jones' victory was the result of a special election with a controversial, firebrand GOP candidate who lost the backing of Republicans after allegations of sexual misconduct surfaced in a Washington Post report.
Jones' victory did leave an infrastructure of support as volunteers were the foot soldiers of his campaign, but it is unclear if national Democrats are willing to fund the campaigns in Alabama when they could focus on other battleground states and districts that hold a more strategic advantage.
WVTM will host a Republican Debate tonight that will feature every candidate except for Gov. Kay Ivey, who had other events to attends, and Michael McAllister, who was found dead on Wednesday.
Editor's Note: This article originally incorrectly stated the news station as WTVM in the lede of the story. The correct call letters are WVTM.
Voting rights activist calls for federal Department of Democracy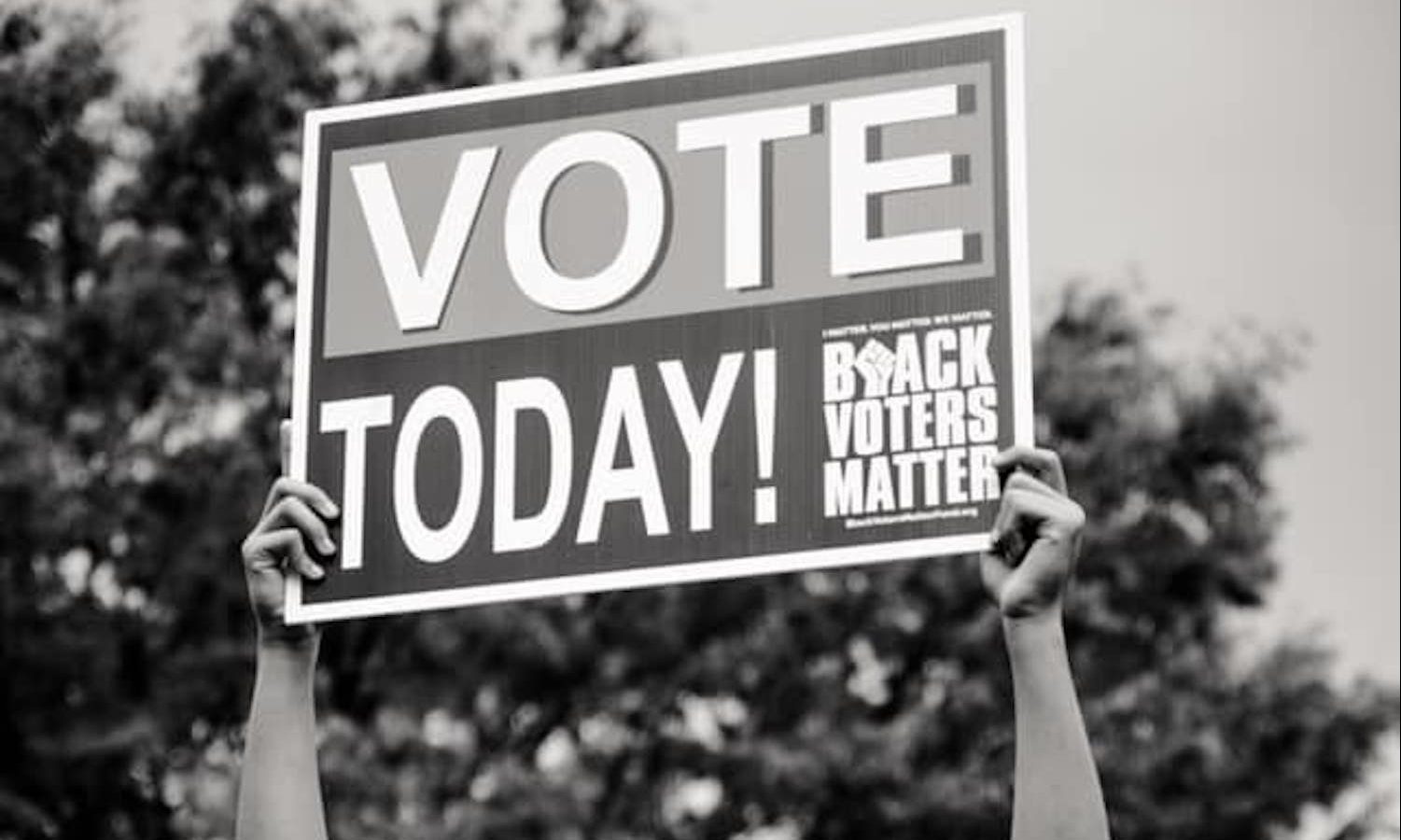 The co-founder of an organization that is working to mobilize Black voters in Alabama and elsewhere used the 55th anniversary of the Voting Rights Act on Thursday to call for a new federal agency to protect voting rights nationwide.
LaTosha Brown, a Selma native who co-founded Black Voters Matter, issued a statement saying that it is time to reimagine American democracy.
"The Voting Rights Act should be reinstated, but only as a temporary measure. I want and deserve better, as do more than 300 million of my fellow Americans," Brown said.
The U.S. Supreme Court invalidated a key provision of the law in a 5-4 ruling in 2013, eliminating federal oversight that required jurisdictions with a history of discrimination to get approval before they changed voting rules.
"To ensure that the Voter's Bill of Rights is enforced, we need a federal agency at the cabinet level, just like the Department of Defense," Brown said. "A Department of Democracy would actively look at the patchwork of election systems across the 50 states and territories. With federal oversight, our nation can finally fix the lack of state accountability that currently prevails for failure to ensure our democratic right to vote."
She cited excessively long lines, poll site closings and voter ID laws in the recent primaries in Wisconsin, Georgia, Kentucky and Texas as voter suppression techniques that disproportionately affect Black and other communities of color.
Brown said that the July 17 passing of Rep. John Lewis, who was nearly killed marching for voting rights in Selma in 1965, has amplified calls for the Voting Rights Act to be strengthened. That's the right direction, she said, but it isn't enough.
"History happens in cycles, and we are in a particularly intense one. We have been fighting for the soul of democracy, kicking and screaming and marching and protesting its erosion for decades," Brown said.