Moore team files motion to disqualify special prosecutor in son's case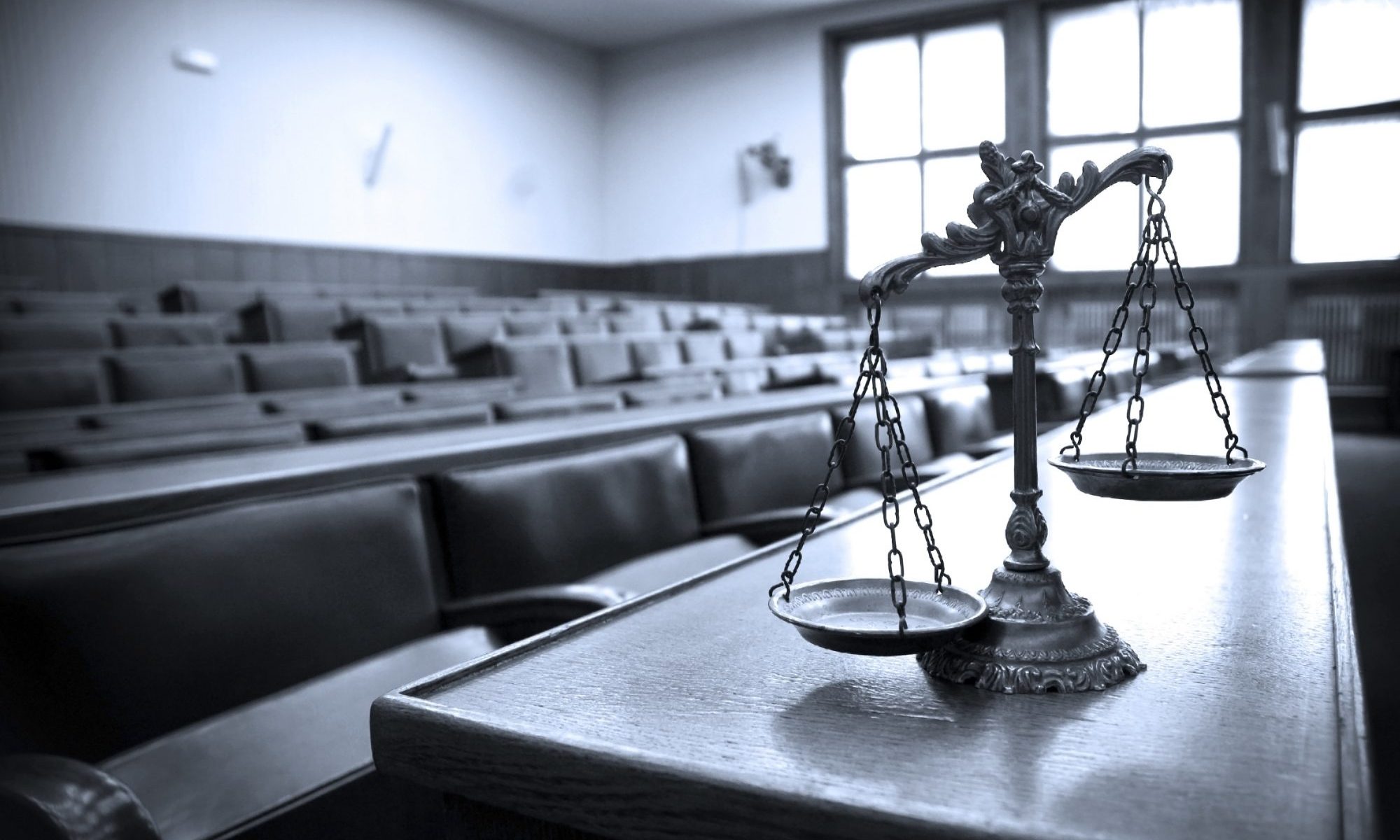 Wednesday, the Moore teams filed a motion with the court asking that James Hedgspeth be removed as special prosecutor in the case against Caleb Moore. Former Alabama Chief Justice Roy Moore's son, Caleb, is being investigated for criminal trespass.
In the filing, the defense asks that Hedgspeth be removed for bias, conflict of interest and unethical professional conduct. In support of this petition Caleb Moore shows unto the court the following:
Caleb Moore is alleged to have, in late 2016, a dispute arose between Caleb Moore and Ernest Payne resulting in cross warrants between the aforementioned parties. Defendant Moore was charged in district court in 2016. Ernest Payne and his son Joe Payne were charged in district court. Following that and eleven months after the events, Caleb Moore was charged again for actions which arose from these same events.
On May 8, 2017, James Hedgspeth entered his appearance as a special prosecutor and supernumerary District Attorney in this matter after the District Attorney recused himself. The defense claims that sometime on or around October 6, 2017, Caleb Moore met with Hedgspeth, at the urging of Hedgespeth, and without the knowledge and consent of Moore's defense counsel.
During this conversation, the defense claims that James Hedgspeth attempted to discuss pending criminal charges against Caleb Moore and even offered to dismiss the case if he would pay the attorney's fees of Earnest Payne.
The defense claims that such conduct was biased, in violation of Rule 4.2 of the Alabama Rules of Professional Conduct, and in violation of the Fifth Amendment and Sixth Amendment to the United States Constitution.
The defense offered as evidence a detailed affidavit from Caleb Moore.
The defense argues that this conduct reflects bias, a conflict of interest, and unethical conduct of the on the part of Hedgspeth which would clearly disqualify him from acting further in this case.
The defense has also filed a bar complaint against James Hedgspeth and has asked the court to remove and disqualify Hedgespeth from the case.
Caleb Moore has had a troubled past with a number of run-ins with the law, usually involving drugs; but has been able to avoid any really serious charges. In this incident, Moore is accused of trespassing and hunting on Payne's property without permission.
The defense claims that filing the last charge 11 months after the incident was brought and timed to hurt Roy Moore's candidacy for U.S. Senate (Moore lost a close election to Doug Jones).
Alabama reports record-breaking 2,164 new COVID-19 cases
Thursday's number of new cases hit 2,164 and blew past the previous daily record set on July 3 by 406 cases.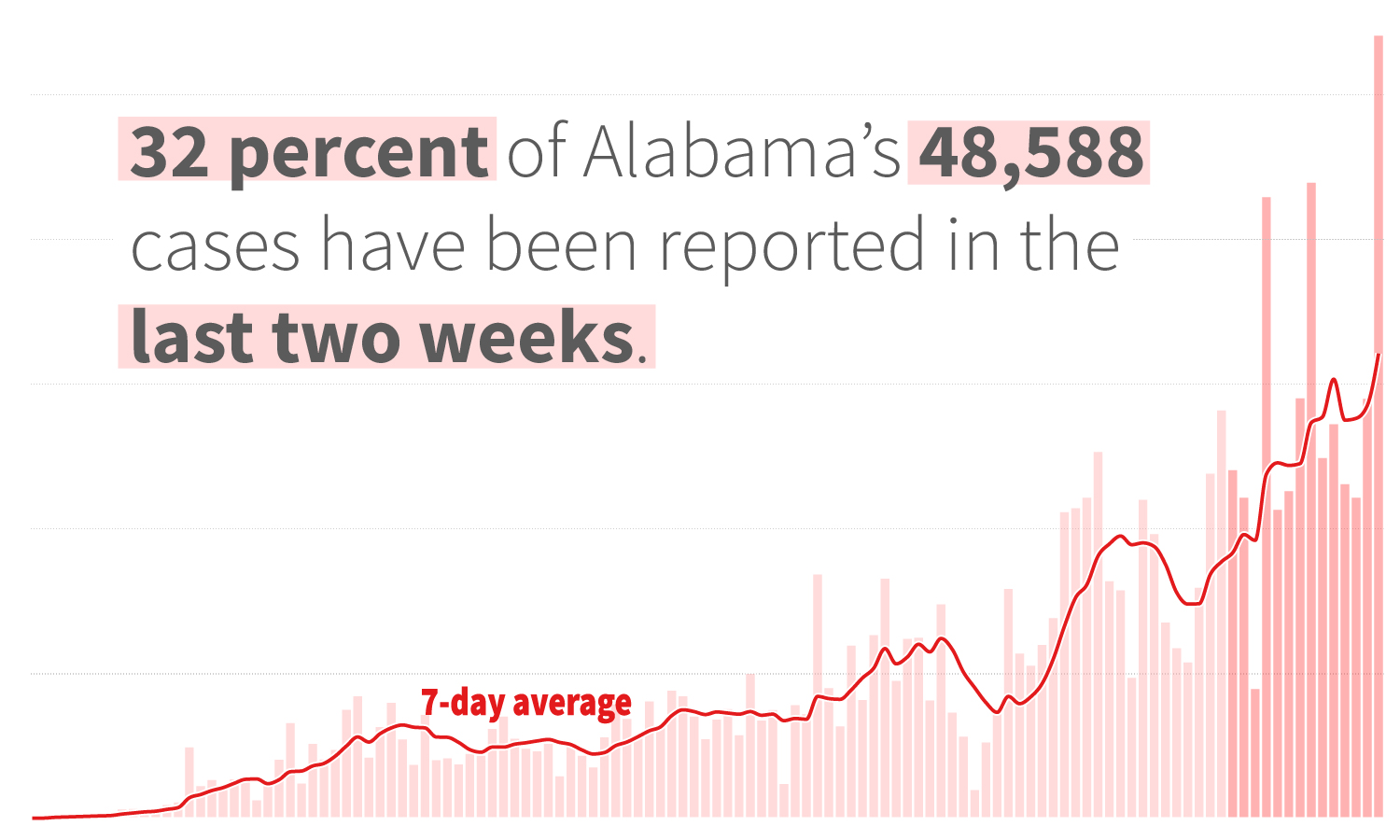 New COVID-19 cases in Alabama on Thursday jumped by nearly double from the day before, and for the first time broke 2,000 in a single day, according to the latest data from the Alabama Department of Public Health.

Thursday's number of new cases hit 2,164 and blew past the previous daily record set on July 3 by 406 cases. Both the seven-day and 14-day rolling average of new daily cases in Alabama were also at record highs Thursday. 
Thirty-two percent of the state's 48,588 cumulative confirmed cases have been added within the last two weeks. 
The Alabama Department of Public Health did not publish Wednesday an update to the total number of tests performed, which throws off the day's figures for the percentage of tests that are positive, but on average, over the last week, the state's seven-day rolling average of percent positivity has roughly 15 percent. 
Public health experts say the percent positivity should be at or below 5 percent — otherwise there isn't enough testing being done and cases are going undetected. 
Along with surging new cases, the number of COVID-19 patients hospitalized on Wednesday was higher than it's been since the beginning of the pandemic. On Wednesday 1,110 coronavirus patients were being treated in state hospitals, which was the fourth straight day of record current hospitalizations. 
UAB Hospital's COVID-19 Intensive care units were nearing their existing capacity Tuesday. The hospital has both a COVID ICU and a COVID acute care unit designated to keep patients separated from those who don't have the virus, but it has more space in other non-COVID units should it need to add additional bed space.

Hospitals in Madison County this week are also seeing a surge of COVID-19 patients. Paul Finley, the mayor of the city of Madison, told reporters Wednesday that local hospitals were reporting record numbers.

Hospitals there were at 80 to 90 percent capacity.
"Our ambulances yesterday had their greatest number of runs since this started," said Crestwood Hospital CEO Dr. Pam Hudson on Wednesday, adding that in about 20 percent of calls staff is having to wear full personal protective equipment. "That indicates that they are working with patients who have symptoms that could be compatible with COVID."
Meanwhile, Madison County set a new daily record, adding 286 cases Thursday, the first time the county has surpassed 200 cases a day. The county was largely spared early on in the pandemic, with low case counts and low death rates, but roughly 42 percent of Madison County's total case count since March has been reported in the last week as 803 new cases have been added.
Jefferson County and Madison County, over the last week, have accounted for 26 percent of the state's new cases.
Jefferson County led the state in the most new cases Thursday with 343 and has added 1,498 cases in the last week. The county's total cases increased by 33 percent from last week, and stood at 6,030 confirmed COVID-19 cases Thursday.
While Jefferson County and Madison County are seeing the state's most intense increases, other large counties including Shelby County, Baldwin County and Tuscaloosa County have also seen record increases and rising percent positive rates.
At least 81 people have died from COVID-19 in the last week, and 162 people have died in the last two weeks.
At least 1,042 people have died from COVID-19 since March, and at least 26 other deaths are listed as "probable" COVID-19 deaths.