Analysis | GOP Debate: Overtly friendly but not toward Kay Ivey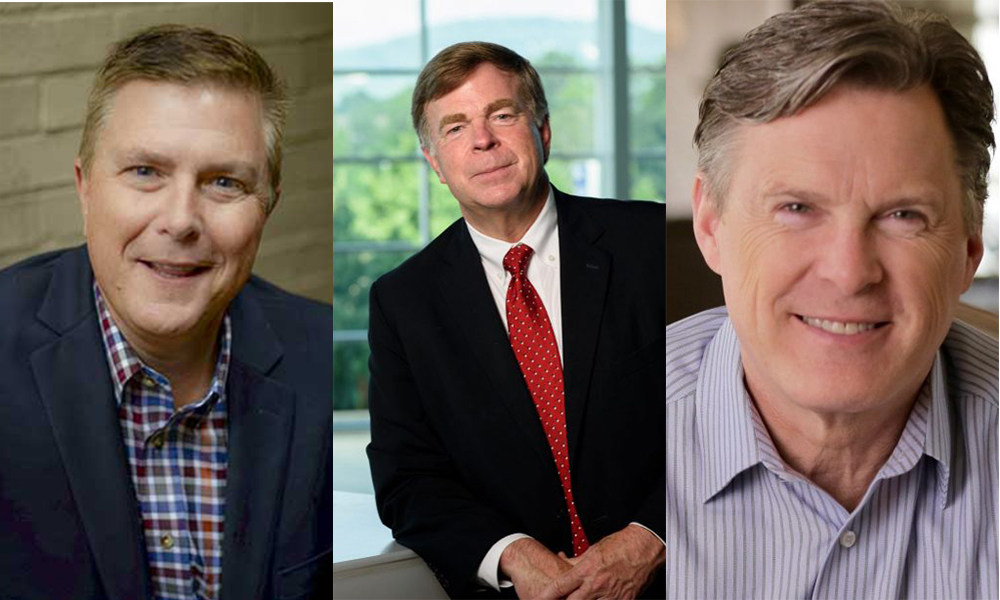 While the three GOP gubernatorial candidates were in Birmingham debating, their minds drifted towards the empty podium in the room meant for Gov. Kay Ivey.
Former state Sen. Bill Hightower, Evangelist Scott Dawson, and Huntsville Mayor Tommy Battle gathered for a televised debate last Thursday. Minutes before the debate, WVTM, who hosted the debate, announced they had prepared for Ivey's arrival despite her rejection of the offer earlier this month.
Ivey's decision to not participate has drawn ire across the state and the three other GOP candidates made it the focus of key parts of Thursday's debate.
During the pivotal question toward other candidates portion of the debate, which the Democratic candidates used to contrast ideas, the GOP candidates present used it to bash Ivey for a variety of topics.
To each other, the candidates were noticeably less competitive than their Democratic counterparts. In a Democratic debate that same week, former Chief Justice Sue Cobb and Tuscaloosa Mayor Walt Maddox endured a brief spat over a minimum wage proposal that Maddox struck down while he was mayor of Tuscaloosa.
No such spat occurred on Thursday, and the candidates seemed to bond over their similar views and disdain for Ivey's absence. They may share similar sentiments later this month when they gather for another debate hosted by Reckon that Ivey has also announced she will not attend.
Besides the negative feelings towards Ivey, the debate yielded some other interesting points.
Medical Marijuana
An interesting point of the debate was that all of the gubernatorial candidates supported medical marijuana in some shape or form.
"I'm not against that particular," Dawson said of medical marijuana. "I think it has to be highly regulated under doctor's care and there has to be no other medicine available that could treat that condition.
They all drew the line at recreational marijuana, which only Democratic Gubernatorial candidate Walt Maddox has championed openly in last week's debate.
"Recreationally–no way,"  Dawson said.
"I don't like the negative effects of that," Hightower said. "We're facing an opioid epidemic and marijuana is a gateway drug."
Support for Roy Moore
Even now 4 months after the December Special Election, Republican Senate Candidate Roy Moore was still present in Thursday's debate. Hightower and Battle took a page out of the Republican playbook immediately after Moore was accused of sexual misconduct by a woman. That play, mainly used by Washington Republicans, was to ask Moore to resign only if the allegations were true.
"I have supported Republicans nominees throughout my history," Hightower said. "My position on it was that if the atrocious claims were true, the Senate could have dealt with the candidate. But I could not stomach Doug Jones."
Hightower went on to say that Democrat Jones, who won the Senate election, had filled his "worst nightmare" in supporting abortions up to 20 weeks, which was a controversial view even among Democrats.
"When the allegations came out against Roy Moore, I said if those are true, he does not need to serve in the U.S. Senate," Battle said in response to the allegations of Moore. "After that, I said I was running for governor. I'm running for governor. I'm not running for U.S. Senate That's where I stand on it."
Dawson took a different approach and said he openly voted for Moore, which Battle and Hightower declined to say whether they did.
"They need to be dealt with," Dawson said of the allegations against Moore. "But they are not supposed to be considered absolute truth either. There is a balance. When I was looking at this, the worst possible statement is to say that I believe the young ladies, and I am still voting for the candidate. You have to look at these and the tenant of society is innocent until proven guilty–here you have to give the benefit of the doubt."
Medicaid Work Requirement
Another question dealt with a work requirement for Medicaid that is being pursued by Alabama's state government. The proposal, which has been referred to the Federal Government for approval, would push hundreds of people out of Alabama's program.
Democrats have suggested that the state expand Medicaid, a plan that was shut down by Gov. Robert Bentley when the Obama administration offered it to the state.
"What government was designed to do is now being perverted," Dawson said. "It was never intended to meet every need. When you try to do that, it starts to implode."
In place of Medicaid expansion, Dawson floated that those left behind on the work requirement could be picked up by charities, communities, churches, and private corporations.
"It seems like it's always the first resort and the only option," Dawson said. "I think Alabama should have been on that list of the right to work, and I will push it forward."
Hightower broke away from Dawson's view and came out rather harshly against the motion.
"It is brutal and not treating people like they need to be treated, I'm against it," Hightower said.
The state senator was quick to say that he is not entirely okay with people not working and receiving medical insurance from the government.
"Work is a gift," Hightower said. "It's not a curse. It gives us purpose. It gives us meaning. I would want that opportunity to be given to these people as well, but their medical care is very important."
Battle fell somewhere in the middle of the two views.
"There is a small group in the middle and there needs to be an opt-out for parents with small children who need day care," Battle said. "The biggest thing is, it is not wrong to ask someone to work. If they can work, I think it's the greatest thing they can do. You help them become someone who is productive in society."
A State Lottery?
Perhaps the biggest topic discussed during the Democratic debate last week was the state lottery, which Democrats have been pushing for years. Lately, however, certain Republicans are rallying for the state lottery with the highest support coming from Gov. Robert Bentley in the waning days of his candidacy.
"I am for the vote on the lottery," Battle said. "I would allow that vote. I don't think it is a cure-all that everyone talks about, it's just a financial tool more than anything else. Last time, I voted."
Dawson and Hightower were firmly in the no camp.
"I'm against the lottery," Dawson said. "Not necessarily because of my spiritual formation, but also because it is a poor economic decision for the future of Alabama."
"It's no answer," Hightower said of the lottery. "What I really dislike about this is they market to minorities for this. That's what I don't like we are also seeing a change in culture in gaming. It's going online. We are in a changing environment, and I don't want to have the Jersey boys coming down, walking the state house throwing their money around to more of the politicians like we had a few years ago. I think it's a bad introduction into government and creates a dependency issue."
Jones urges public to heed surging COVID-19 cases, hospitalizations
U.S. Sen. Doug Jones, D-Alabama, on Thursday pleaded with the public to take COVID-19 seriously, especially now, as reopening of schools and Fourth of July celebrations near. Meanwhile, the state continues to see record numbers of new cases and hospitalizations. 
Alabama on Thursday saw a fourth straight day for record-high COVID-19 hospitalizations — and a record number of newly reported COVID-19 cases, when taking into account data collection problems that inflated Monday's total.
As of Thursday afternoon, 843 people were being treated in Alabama hospitals for COVID-19, according to the state health department. That number is an increase of nearly 22 percent over this time last week, and a near 40 percent increase compared to the beginning of June.
At least "961 of our neighbors and family members have lost their lives to COVID-19, and we need to be cognizant of that as well, as those numbers continue to grow," Jones said during a press briefing Thursday, also noting that over the last 14 days Alabama has seen 11,091 new cases of the virus, which is 28 percent of all the state's COVID-19 cases. 
Jones said that while we're testing more people in recent weeks, The Alabama Department of Public Health's statistics show that a greater percentage of the tests are coming back positive.
Based on a seven-day average, roughly 14 percent of the tests conducted in the state are now coming back positive. Public health experts believe that such a high percentage of positives is a sign that there continues to be community spread of the virus, and that there still isn't enough testing being done. 
Jones said he's concerned, too, about the timing of the surge in new cases, coming in the weeks after Gov. Kay Ivey lifted her more rigorous restrictions and after Memorial Day celebrations.  
"People did not seem to get the message about social distancing and wearing masks, and we are seeing these numbers increase and increase and increase," Jones said. 
Jones noted the state's long lines for people seeking help with their unemployment applications, some even camping out overnight to get that help, and said he's written a letter to Senate leadership asking for federal funding to state departments of labor to better service those in need. 
The senator also discussed Oklahoma's recent expansion of Medicaid, and said that the action made clear state leaders there understand that during the pandemic they needed to get all the help they can to their fellow citizens. 
"It is my hope that Alabama will also do likewise. We continue to see a rise in the number of people that could benefit from expanded Medicaid," Jones said, adding that he's still working to get another round of incentives to states to encourage expansion of Medicaid. 
Asked if there would be another round of stimulus checks sent to individuals, Jones said "maybe." 
Jones said the next round of COVID-19 legislation is being drafted behind closed doors by Sen. Mitch McConnell, the Republican Senate majority leader from Kentucky, and that it's uncertain whether more direct payments to individuals will be included in the final bills. 
"I've heard mixed messages coming out of the administration and Senator McConnell's office," Jones said, adding that he's for the additional payments and thinks it will be needed going forward. 
Montgomery Mayor Steven Reed, speaking during the press conference, said the Montgomery City Council could take up at the next council meeting a measure that would place guidelines on businesses within the city to be held accountable for helping enforce the city's mask ordinance for the public. 
In the absence of a statewide mask order, local governments have been instituting their own in recent weeks. Wearing masks, staying home when at all possible and maintaining social distancing when one can't are the best ways to reduce spread of the virus, public health experts say.
Montgomery currently has a mask order in place, which carries the possibility of a $25 fine for individuals not following the order. 
Reed said at the next meeting, council members may deliberate on a measure to require businesses help ensure the public adheres to the mask order or face possible suspension of their business license "for a couple of weeks, so that is yet to be voted on, and we will look at that." 
Reed said that the point of the city's mask order isn't to fine people, however, but to encourage them to wear masks and help save lives. He noted that Montgomery's mask order has been followed by similar orders in Mobile and Selma, as local municipalities make independent decisions to protect their fellow citizens.