Parker Moore wins special election in House District 4
Republican Parker Duncan Moore won a decisive victory in the special election for the vacant House District 4 seat.
As of Wednesday morning, Moore had 1,709 votes (67 percent). Democrat Juanita Allen Healey had 524 votes (20.6 percent) and independent Polan "Pete" Willis Jr. had 316 votes (12.4 percent). 25 of the 27 boxes had been counted.
Moore is a 29-year-old marketing representative with Encore Rehabilitation.
Moore will only be the state representative for the next six months and will only actually sit in the Legislature to vote on something if Governor Kay Ivey  were to call a special session between now and the end of November.
Parker Duncan Moore will also be on the Republican primary ballot on June 5.  Rep. Moore will face Tom Fredericks in the GOP primary. The eventual GOP primary winner will face Juanita Allen Healey again on November 6 in the general election.
House District four includes parts of Limestone and Morgan Counties.
Some have called for ending the practice of holding special elections for vacant legislative seats and instead allow the governor to appoint someone to fill vacancies. In House District Four there has been a special Republican primary, a special Republican primary runoff election, and now a special general election, all of which cost money, for the vacant seat. The 2018 regular session was over weeks ago and House District Four's seat was vacant the whole session and now Moore will likely never cast a vote in this term.
House District Four became vacant after former House Majority Leader Mickey Hammon, R-Decatur, pled guilty to bank fraud as part of a wider federal corruption investigation last year. Hammon is now cooperating with federal authorities. Former Republican Party Chairman Marty Connors, state Representative Jack Williams (R-Vestavia), and a California healthcare billionaire have all been indicted based, at least in part, on Hammon's testimony. After the election of 2010 Republican lawmakers chose Hammon and Mike Hubbard (R-Auburn) as the leaders of the Alabama House of Representatives. Hubbard was convicted on multiple felony ethics violations in 2016.
Original reporting by the Times Dailey's Mary Sells contributed to this report.
Print this piece
Doug Jones praises end of state Democratic Party lawsuit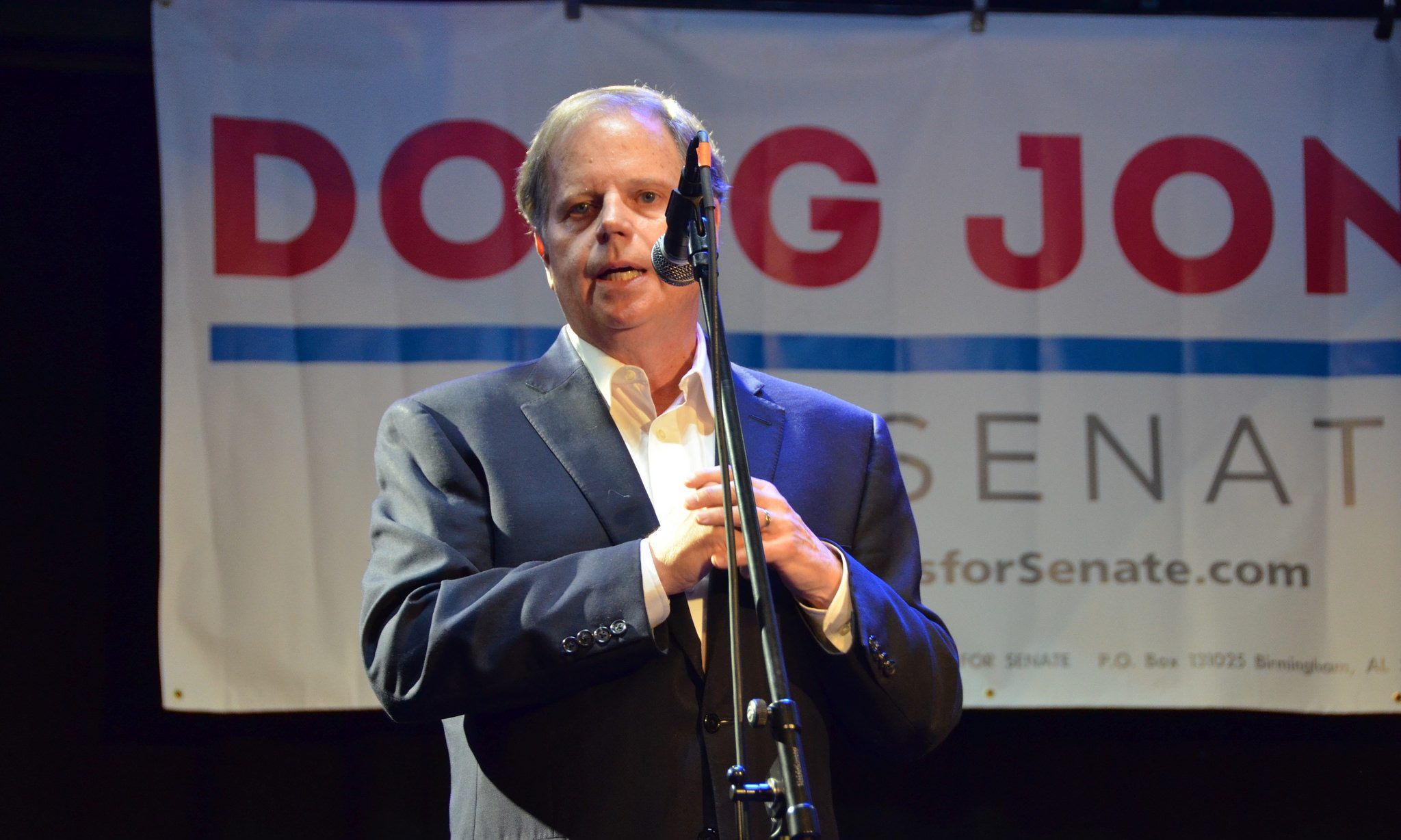 U.S. Senator Doug Jones, D-Alabama, on Thursday applauded the end of a lawsuit over control of the state Democratic party. 
Montgomery County Circuit Judge Greg Griffin on Thursday dismissed a lawsuit filed by former Alabama Democratic Party chairwoman Nancy Worley, which means that state Rep. Chris England, who was picked to lead the state Democratic party by a reform group championed by Jones, is the party's chair. 
"This is a great day for Alabama and her Democratic Party. Throughout much of last year, countless Democrats in our state worked to create a more open and diverse state party, while recognizing and being true to the crucial and historic role held by African-American voters," Jones said in a statement Thursday.
"The by-laws of the Alabama Democratic Party now reflect the growing diversity in our state — including representation for Hispanic voters, Native American voters, Asian voters, voters with disabilities and voters from the LGBTQ community. And most importantly, the Alabama Democratic Party has dramatically increased leadership opportunities for young voters. Around 70 new caucus members were added to the state party Executive Committee last year—many of them young people from diverse backgrounds throughout the state. I'm proud to continue to work alongside a more unified, diverse and inclusive state party. 
"With the dismissal of this lawsuit, it is time that all who have been involved in this challenge, resolution, and expansion of the Democratic Party come together for a common good. Our state benefits from the ideas and engagement of a competitive two-party system. We have now demonstrated that we have the ability to be inclusive within our own party while working to expand the number and experiences of people who play a role in moving it forward.  
"Chairman Chris England and First Vice Chair Patricia Todd have my complete support and I call on Democrats throughout the state to unite behind them as we move forward in modernizing, re-invigorating, and expanding the Alabama Democratic Party.," Jones said.
Print this piece