Opinion | Ducking and dodging death penalty accountability in Alabama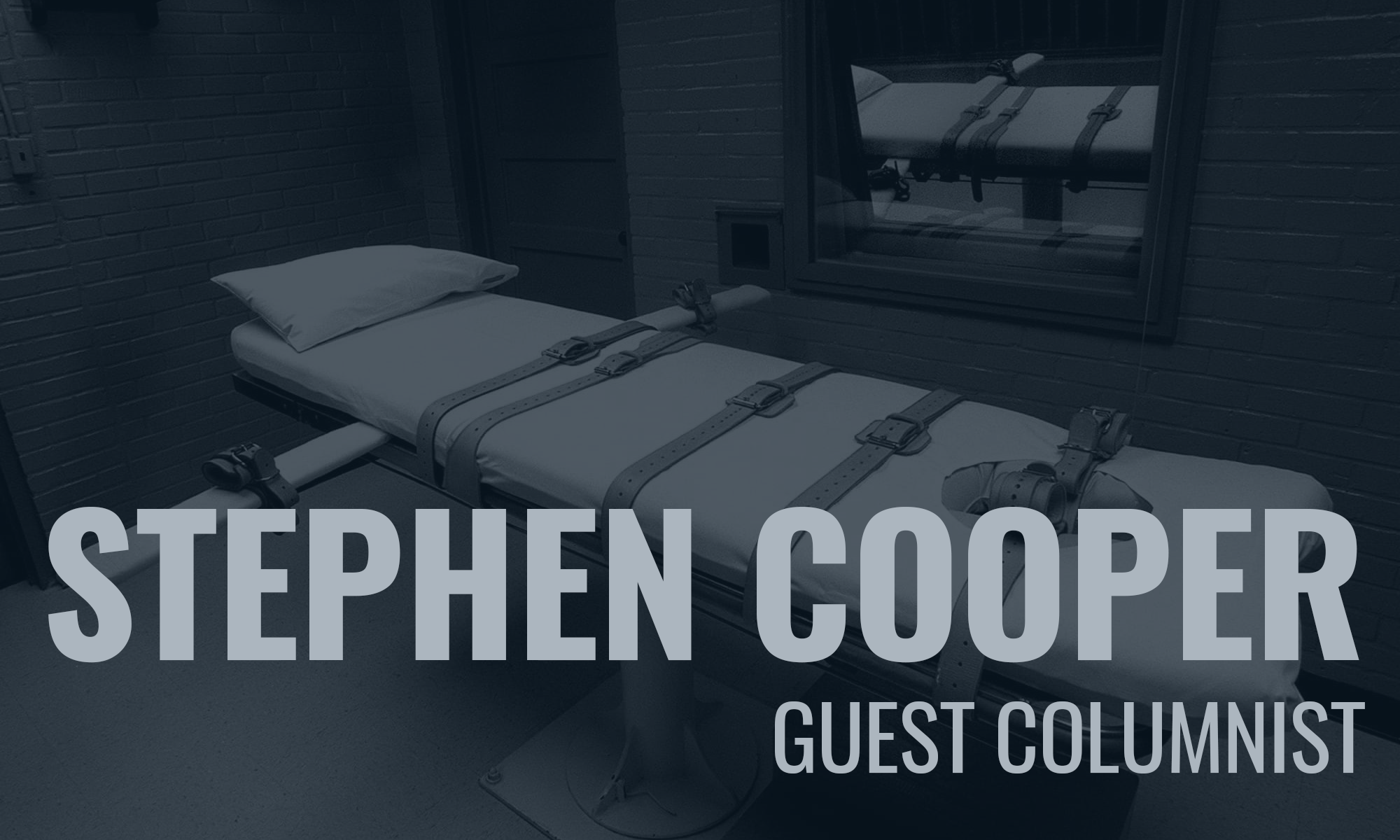 Continuing its odious tradition of ducking and dodging transparency and accountability in how the state puts its prisoners to death – (purportedly) in the name of the people – the beleaguered Alabama Office of the Attorney General has asserted in a new convoluted, churlish, and utterly cockamamie federal court filing: "[W]hile this Court found that there exists a public interest in understanding how Alabama carries out its lethal-injection procedure, there is a greater public interest at stake here: The State's ability to carry out its lawful functions."
What these public servants are circularly and asininely asserting is: although they appreciate – in the wake of Alabama'srecent history of botched executions – that it's critically important for citizens to know exactly how the killing of death row inmates occurs (again, in their name and with their tacit approval), that "there is a [still] greater public interest" in the state being able to carry on the killing, period; yes, as mind-boggling as it sounds it also is: state officials are arguing that even if their so far secret (and as they concede "zealously guarded") lethal injection protocol may be responsible for torturous executions, it's nevertheless still more important that state executioners be allowed to continue with business as usual – which here, means killing and likely torturing other human beings to death – while releasing only the most minimal information about how it's done. You don't need me to tell you, but as it is sometimes said, particularly down South: that makes as much sense as teats on a bull.
In a column titled "Is Alabama hiding that it tortured its citizens?," published in the Montgomery Advertiser in May of last year, I urged Alabamians – while also "inviting all conscientious, justice-loving Americans and citizens of the world to join, too" – to "[d]emand that authorities in Alabama be honest and transparent about executions." Today I'm sounding the horn for reason, for humanity, and for accountability again; I'm arguing for the need of the electorate to be able to ensure that their will, their vote, their system of justice, is not complicit in despicable torture.
Supreme Court Justice Louis Brandeis famously opined that "[p]ublicity is justly commended as a remedy for social and industrial diseases," as "[s]unlight is said to be the best of disinfectants"; likewise, complete and unfettered public disclosure of Alabama's lethal injection protocol to the press and public is the best medicine for the state's chronic dissembling-and-disinformation disease afflicting its increasingly disturbing, and dysfunctional administration of the death penalty.
Lecturing on capital punishment in February of 2000, the late Jacques Derrida, often recognized as one of the most influential philosophers of the twentieth century, argued that to have a discourse on the death penalty in "good conscience" that "one must do at least everything one can to come as close as possible, in one's body" – and I would add here, in one's mind and soul, too – "to those for whom the death penalty is the death penalty, effectively, [and] in an effective way, concretely[.]"
Only then, Derrida argued, will people who "will never be or believe they will never be executioners carrying out the sentence, or sentenced to death, or even the defense attorneys or prosecutors of those sentenced to death, or the governors…who wield the right of pardon," be able to truly understand, appreciate, and have a fair and honest debate about capital punishment.
Aren't Alabamians entitled to that? And if not, isn't it high time for a change? I'm asking you.
About the Author: Stephen Cooper is a former D.C. public defender who worked as an assistant federal public defender in Alabama between 2012 and 2015. He has contributed to numerous magazines and newspapers in the United States and overseas. He writes full-time and lives in Woodland Hills, California. Follow him on Twitter @SteveCooperEsq.
Opinion | This leader inspires confidence
"It takes a proven leader to make thoughtful, vigilant decisions in times of chaos."
There is no playbook in a pandemic. There are no hard and fast rules in a fast-moving crisis. Second-guessing in a crisis, especially from those who have never had to deal with such pressures, is counterproductive.
It takes a proven leader to make thoughtful, vigilant decisions in times of chaos.
Following the uncertainty that defined last spring and summer, Auburn University forged into an unpredictable fall, making necessary tough decisions in the midst of an unprecedented crisis as it transitioned back to campus. Although many institutions opted for fully remote instruction, suspending classes, or even canceling semesters entirely, Auburn committed to creating a safe campus environment while preserving many of the benefits of a residential academic community. 
Despite the pandemic's myriad challenges, Auburn remained open throughout the fall and had a successful semester, thanks to countless students, faculty, and staff who understood the importance of safety protocols and upheld shared institutional values. Not surprisingly, there was an increase in COVID-19 cases in the first few weeks of the fall semester, but the number of cases declined and remained at negligible levels for the remainder of the term. 
Amazingly, Auburn was able to avoid the employee furloughs, layoffs, salary cuts, and hiring freezes which have befallen other colleges and universities throughout the country. In addition to holding town halls with faculty and staff, I know the university worked diligently to respond to concerns, adjust policies and procedures, and implement safety measures that enabled the institution to continue delivering on its mission of teaching, research, and outreach. The versatility and nimbleness exhibited by Auburn's leadership, faculty, staff, and students in navigating the extraordinary circumstances resulting from the pandemic are impressive.
As our country grapples with an unprecedented public health crisis and a highly volatile political climate, we know that one of the best ways to support students is to foster a structured learning environment that supports critical thinking, advances problem solving, encourages empathy, and promotes diversity of thought. 
With this in mind, and using the past semester as a guide, the university is preparing to start the spring semester next week with more than 70 percent of classes face-to-face. Although some may disagree with a return to on-campus learning, the decision to do so was made based on careful consideration by the university's senior leadership. These leaders sought feedback from local, state, and federal medical professionals, shared governance groups, campus representatives at various levels, and other sources, including state government and peer institutions. 
Last month, Governor Ivey encouraged educational institutions to return to the classroom for the spring. A majority of students and faculty who have communicated their preferences favor returning to the classroom while still providing flexibility to faculty and students who request it. Indeed, there is an unavoidable cost to remote learning — we have seen its negative effect on the mental health of both students and faculty members. 
Although the decision to return to on-campus instruction is supported by many, some have voiced opposition. The changing and uncertain nature of the pandemic often leads to fear and, in some cases, anger. Unfortunately, much of this anger has been directed at Bill Hardgrave, Auburn's provost and chief academic officer. Recently, this frustration has manifested in a specially-called — and horribly misguided — meeting to take a vote of no confidence. At Auburn, it takes only 50 faculty members of the more than 1,700 faculty to sign a petition calling for such a vote. That is fewer than 3 percent of the entire faculty!
This action is regrettable. It sends a false message about a leader who has stepped up to forge an uncharted path during extraordinary times. Throughout this unprecedented year, Dr. Hardgrave has taken deliberate measures to consult with and to incorporate faculty opinion, and to allow exceptions to in-person teaching when it presented a hardship for a faculty member. He has encouraged innovative approaches to pedagogy and helped deliver excellence, which is the hallmark of an Auburn education and a renowned faculty. 
Auburn President Jay Gogue said recently, "A no-confidence vote in the midst of a global pandemic and social unrest when student, faculty, staff and administration leaders have worked diligently together for the best interests of our campus is unprecedented and destructive."
At a time when our nation is experiencing profound divisiveness at all levels, Auburn has a unique opportunity to demonstrate its role as a leader in higher education. Dr. Hardgrave's proven ability to guide Auburn's academic enterprise during these unprecedented times is indisputable. His efforts have exemplified The Auburn Creed, demonstrating a belief in education, hard work, honesty, and sympathy for the interests of the university's students, faculty, and staff.
Not only does a vote of no confidence damage the reputation of an academic leader who has served Auburn admirably for the past ten years, but it damages the reputation of our university among the higher education community, and it undermines its credibility with our students, parents, alumni, community, and accrediting agencies. It does not benefit the university, but rather undercuts the hard work of so many members of the Auburn Family in advancing our mission during the pandemic. I strongly encourage those who wish to express a rational, constructive voice in furthering Auburn's mission to continue to speak up in support of Dr. Hardgrave and, thus, in support of our university. You are being heard.