Republicans and Democrats in the U.S. Senate are gearing up for what could be a massive confirmation fight over President Donald Trump's Supreme Court nominee, and Alabama's junior senator, Doug Jones, in his first year of a short two-year term, will likely find himself right in the middle of it all.
Trump is expected to nominate a new associate justice to the Supreme Court in the coming weeks, following the retirement of the high court's longtime swing vote, Associate Justice Anthony Kennedy, who will step down on July 31.
When Trump does make his pick for a new justice, he will be sending that nominee to a tightly divided Senate, one with 51 Republican senators, 47 Democratic senators and two independent senators who caucus with Democrats.
And there's another complicating factor: Sen. John McCain, the Republican from Arizona who is battling an aggressive form of brain cancer,  has been largely absent since December, leaving Republicans with an even slimmer 50-49 majority.
Although Vice President Mike Pence, the president of the Senate, can vote in the case of a tie, Republicans will need the votes of everyone in their caucus to hold on to Kennedy's seat.
To Republicans' advantage, the Senate has effectively abandoned its filibuster rule so a 60-vote majority is no longer needed to end debate and a simple majority can confirm a judicial nominee. But a far-right nominee, one who outwardly opposes abortion and other hot-button issues — should Trump choose to go that route — may not have it so easy.
Some Republican senators have shown a willingness to break with their party. Sen. Susan Collins, a moderate Republican from Maine, insinuated Wednesday that she will take a hard look at any nominee who would consider overturning Roe v. Wade, the landmark Supreme Court decision that established the legal right to an abortion in 1973.
"I view Roe v. Wade as being settled law," Collins said. "It's clearly precedent and I always look for judges who respect precedent," Collins told reporters on Wednesday, according to The New York Times.
Kennedy, during his 30-year tenure on the high court, served as a moderating voice and often sided with more liberal justices on issues like same-sex marriage and abortion rights. His vote halted efforts to overturn Roe v. Wade.
"Over the course of the last 15 or so years, probably going back a little bit further than that, the court has had two main camps, arguably one conservative camp and one liberal camp, and Justice Kennedy has walked right through the middle of that and has effectively had one of the most impactful terms, in my opinion, on the Supreme Court, as a function of procedure," said University of Alabama Assistant Professor Allen Linken, an expert on the Supreme Court.
Abortion is likely to be the key issue when Senators do get a nominee. Many conservatives, including those in the Alabama Legislature, are hoping the Court, if it attains a favorable and reliable conservative majority, will take up a case and overturn the right to an abortion.
Republicans in the Alabama Legislature placed a constitutional amendment on November's general election ballot that, if passed, would effectively declare Alabama an anti-abortion state and preemptively grease the wheels for banning abortion by law. The measure's supporters said it was necessary to prepare if the Supreme Court tilted to the right.
With Collins' comments Wednesday, it's possible she would consider voting against a nominee who appears poised or primed to overturn that precedent. And Sen. Jeff Flake, another Republican from Arizona, said Tuesday — a day before any news of Kennedy's retirement — that he would block all of Trump's judicial nominees (there are many waiting to be confirmed to the federal bench) if the Senate doesn't take a vote to prevent Trump's new tariffs.
It's not clear if his promise to stall any nominees would extend as far as a Supreme Court nominee, should the Senate get around to a vote while Flake is still in office.
"If there were a vacancy there? I hadn't thought of that. I haven't thought of that," Flake said Tuesday before Kennedy's resignation, according to the Washington Post.
If either of those senators went nuclear and split from their party on a Supreme Court confirmation, that could leave Republicans in deep water, searching for votes from centrist Democrats who might back a Trump nominee. Sen. Lisa Murkowski, R-Alaska, is also considered a potential swing vote.
When Associate Justice Neil Gorsuch was confirmed last year, three Democrats voted for him, Sen. Heidi Heitkamp, Sen. Joe Manchin and Sen. Joe Donnelly, who are all up for re-election in competitive races in heavily Republican states. All Republicans voted to confirm Gorsuch.
Even if all three of those Democrats decided to vote with their party and against a Trump nominee, that would still leave a newly elected Democrat from a state that is perhaps even more Republican and more supportive of Trump: Sen. Doug Jones from Alabama.
"Sen. Jones becomes a crucial vote if Republicans can't keep 51 votes in the Senate or really 50 votes because of the president of the Senate, Vice President Pence," Linken said.
And Trump's nominee could decide the ideological tilt of the high court for decades to come, applying even more pressure to a confirmation vote.
"There's no question that no matter who the president nominates and, assuming that person is confirmed, the court will become more conservative as we see it on some set of issues, even a substantial set of issues," said University of Alabama Law School Professor Paul Horwitz, a former clerk on the 11th Circuit Court of Appeals and expert in constitutional law.
But Horwitz said it's unlikely that Republicans would vote against a GOP nominee, though their influence could have some effect.
"Certainly, it's a closely divided Senate with a couple of senators who have some leverage. And that may affect who gets nominated, although it is difficult to say," Horwitz said.
Both professors said it was unlikely it would get to that point, though, because Republicans are unlikely to need Jones' vote.
Jones said during the campaign that he considers abortion a settled view, and he has said nothing to suggest that he would vote for a nominee to the court that would be likely to overturn that precedent.
Months before the election, Jones said he supports a woman's right to choose what to do with her own body.
"I'm going to stand up for that, and I'm going to make sure that that continues to happen," he said. "I want to make sure that as we go forward, people have access to contraception, they have access to the abortion that they might need, if that's what they choose to do."
And since then, he joined other Democrats, Collins and Murkowski in stopping a bill to ban abortions after 20 weeks. Three other Democrats, Manchin, Donnelly and Sen. Bob Casey, R-Pennsylvania, voted in support of the measure.
Regardless, Jones — should he want to be re-elected in 2020 when his term is up — is stuck in a difficult situation that will require him to balance the desires of his Democratic base and moderate Republicans who he will need to crossover and vote for him in two years.
Prisoners quarantined at formerly closed prison kept in unconstitutional conditions, groups say
Conditions are so bad that inmates have been forced to urinate and defacate on themselves because restrooms are not accessible, the complaint alleges.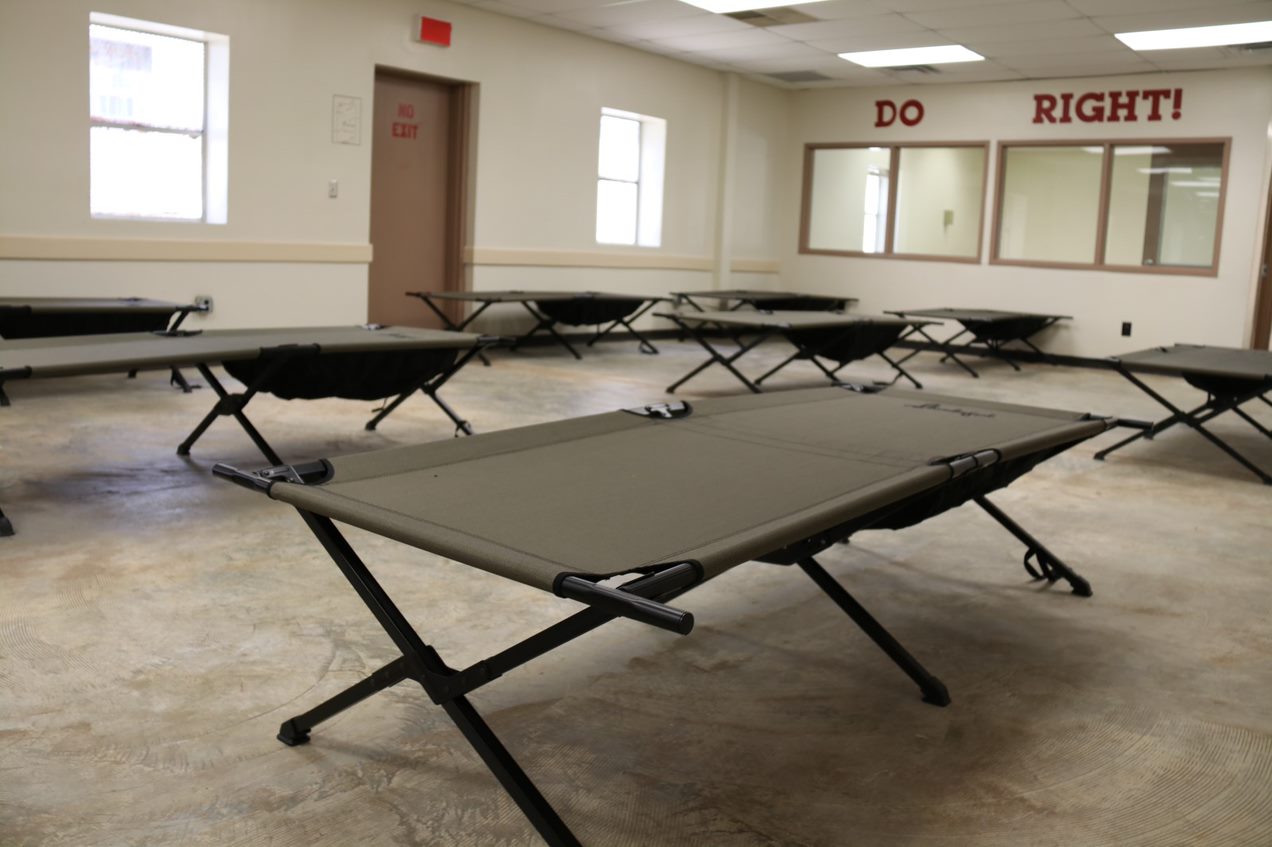 The Alabama Department of Corrections is violating the constitutional rights of inmates being quarantined in deplorable conditions in the previously decommissioned Draper prison, several civil rights groups wrote in a letter to the state's prison commissioner.
The ACLU of Alabama, the Southern Center for Human Rights, Alabama Appleseed and other groups in a letter to Alabama Department of Corrections Commissioner Jeff Dunn on Thursday detail those conditions, which include no indoor toilets or running water, repeated power outages, deprivation of regular showers and the requirement of incarcerated men to urinate in "styrofoam cups and plastic water" bottles.
"These conditions fail to meet the most basic constitutional standards and present a substantial risk of serious harm to people already suffering from a potentially fatal disease," the letter reads. "We therefore request that you immediately cease using Draper to house and/or quarantine COVID-19 patients, and instead house them in medically appropriate settings in accordance with Eighth Amendment standards."
The groups note that Draper was closed after the U.S. Department of Justice, during its investigation of violence in Alabama prisons, noted Draper as exceptionally "dangerous and unsanitary" with "open sewage" near the entrance, rat and maggot infestations and "standing sewage water on the floors."
In October 2017, the Justice Department informed ADOC of the department's shock at the state of the facility and a month later ADOC's engineer concluded that Draper was "no longer suitable to house inmates, or to be used as a correctional facility," the letter states.
ADOC reopened a portion of Draper earlier this year to house incoming inmates from county jails being quarantined amid the COVID-19 pandemic, but the civil rights groups note in the letter that ADOC failed to indicate plans to also use a classroom without bathrooms, running water or adequate medical care at Draper to house COVID-19 patients from other state prisons.
The groups allege in the letter that approximately 15 cots are located in the approximately 500 square feet former classroom, where at any given time between 5 and 15 inmates are being kept. The only restroom facilities the men can use are portable bathrooms outside, and the men have to "bang on the classroom windows to get officers' attention."
"Though officers sometimes escort the men when asked, they decline at other times and fail to maintain a schedule; thus, the men do not have access to bathroom facilities when needed," the letter reads, adding that the men aren't allowed to use the outdoor restrooms between 10 p.m. and 6 a.m.
"We have further reason to believe that one man was permitted to use the bathroom only three times during a 13-day quarantine. Another man was not taken to the bathroom until his third day at Draper, while another was forced to urinate on himself on multiple occasions after being denied bathroom access," according to the letter. "One man suffering from diarrhea was forced to wait hours to use the restroom to defecate. Many others could only relieve themselves into styrofoam cups, plastic bottles, portable urinal containers, or trash cans."
"They had to hold onto urine-filled bottles for hours at a time until they were allowed to leave the classroom to empty them. It is also our understanding that some men held in these conditions did not receive bottles at all; correctional officers simply told these men that they were 'out of luck,'" the letter continues.
The letter also details instances of alleged inadequate medical care, including a man who was sent to a local hospital with heart attack symptoms after not receiving his heart medication for several days.
The groups are also unaware of any Inmates leaving Draper who were tested for COVID-19 before being returned to Elmore and Staton prisons, the letter also states.
"We also have reason to believe that many of the symptomatic men at Staton and Elmore have not reported their symptoms to prison staff for fear of being held at Draper in the deplorable conditions described above," the letter continues.
APR has learned from several sources in recent weeks, who asked not to be identified because they have loved ones in Alabama prisons and are fearful of retributions for speaking out, that many inmates who have symptoms of COVID-19 aren't reporting those symptoms to prison staff for fear of being quarantined. Those family members are concerned that the disease is spreading much more broadly in Alabama prisons than is known as a result, putting their loved ones at greater risk of contracting the deadly disease.
Many of the concerns expressed in the letter were first reported by AL.com reported on Sept. 13, which found that access to medical care in Draper is limited and the conditions unsanitary.
In a response to AL.com's questions for that article, an ADOC spokeswoman wrote that inmates at Draper have access to "medical and mental health care, telephones, law library, mail services, and showers."
"Please remember — Inmates remanded to our custody have been convicted of a crime and handed a sentence to serve time as determined by a court. The unfortunate reality is that he or she, as a result of the crime committed and subsequent conviction, loses his or her freedoms," ADOC said in the responses.
"This response is unacceptable as a matter of principle, and inadequate as a matter of law," the letter from the civil rights group states.
"As ADOC knows, the fact of a criminal conviction does not strip incarcerated people of their rights under the Eighth Amendment, nor does it relieve ADOC of its constitutional obligations to the people in its custody, which are to provide them with 'humane conditions of confinement,' 'adequate food, clothing, shelter, and medical care,' and 'reasonable safety,'" the letter continues.
On Sept. 16, ADOC reported that there have been 403 confirmed COVID-19 cases among inmates, 21 deaths of inmates after testing positive for COVID-19, and 375 cases among prison staff. Two prison workers have died from COVID-19, ADOC previously said.
As of Sept. 14, there had been 1,954 inmate tests for coronavirus, out of the approximately 22,000 state inmates, according to ADOC.
ADOC on Sept. 16 said that on Thursday the department was to begin rolling out a plan to provide free COVID-19 tests to ADOC staff and contracted healthcare staff using fixed and mobile testing sites.
"In addition, we will test all inmates in facilities that house large numbers of inmates with high risk factors as an enhancement to our current testing protocols," ADOC said in a press release.