US Senate Judiciary Committee advances Brasher for Alabama district court nomination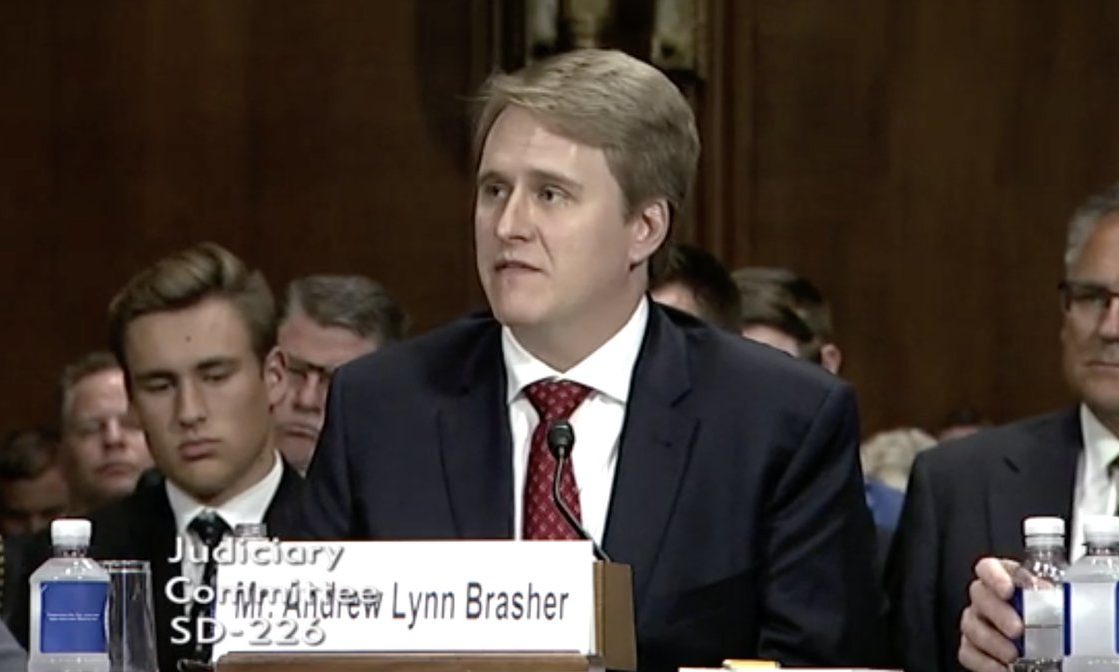 Thursday the Senate Judiciary Committee voted along party lines to advances the nomination of Andrew Brasher for the U.S. District Court for the Middle District of Alabama.
Brasher is the Solicitor General of Alabama. In that role, he has defended Alabama's Sanctity of Marriage law, pro-Life legislation passed by the legislature, Alabama's voting rights law, and filed briefs on behalf of the Alabama Attorney General's office opposing President Obama's expansion of environmental laws.
While defending the state's law is what the Solicitor General does, his actions in the performance of his duties have apparently angered many liberal activists who are now opposing his nomination by President Donald J. Trump (R) to a lifetime appointment on the federal bench.
Attorney General Luther Strange (R) appointed Andrew Lynn Brasher as Solicitor General of Alabama in 2014. Brasher has served as Deputy Solicitor General since 2011.
The White House wrote that: "Andrew Brasher serves as the Solicitor General of the State of Alabama. In this capacity, he has argued in the U.S. Supreme Court, the U.S. Court of Appeals for the Eleventh Circuit, and the Alabama Supreme Court, tried cases in Federal and State courts, and won two "Best Brief Awards" from the National Association of Attorneys General. Before his appointment as Solicitor General in 2014, he served for several years as the Deputy Solicitor General. Before joining the Alabama Attorney General's Office, Mr. Brasher practiced in the litigation and white collar criminal defense practice groups in the Birmingham office of Bradley Arant Boult Cummings LLP. Upon graduation from law school, Mr. Brasher served as a law clerk to Judge William H. Pryor Jr. of the U.S. Court of Appeals for the Eleventh Circuit. Mr. Brasher earned his B.A., with honors and summa cum laude, from Samford University, where he presently serves on the Board of Overseers, and his J.D., cum laude, from Harvard Law School, where he was a member of the Harvard Law Review and winner of the Victor Brudney Prize."
Now that the Judiciary Committee has advanced Brasher's nomination, the full Senate can consider whether or not to confirm him.
Vanita Gupta, "resident and CEO of The Leadership Conference on Civil and Human Rights said in a statement:
"Mr. Brasher is a crusading ideologue who has advanced right-wing causes and special interests throughout his career. He has attempted to restrict voting rights, LGBTQ equality, reproductive freedom, environmental protection, and other critical civil and human rights. He does not possess the neutrality and fair-mindedness necessary to serve in a lifetime position as a federal judge, and the Senate should oppose his confirmation."
The Leadership Conference sent a letter to the U.S. Senate opposing Andrew Brasher.
Matt Clark, who is an attorney with the Montgomery based Foundation for Moral Law, told the Alabama Political Reporter:
"I have never heard of this organization before, but it seems to be imposing a strict liability standard on Mr. Brasher: if he advocated for a conservative position, then he must be opposed, regardless of whether he was merely defending the law or advocating his personal views. Moreover, the Alabama Attorney General is part a coalition of conservative attorneys general from other states who sometimes file amicus briefs in high-profile cases. I'm glad that the Alabama Attorney General's Office is part of that network. As Solicitor General, I suppose that Mr. Brasher's name would have been required to be on each brief that the Alabama Attorney General decided to be a part of. That further underscores the unfairness of the accusations by this group against Mr. Brasher."
Print this piece
Five patients with COVID-19 have died at EAMC hospital in Opelika
Five patients who were being treated for COVID-19 at East Alabama Medical Center in Opelika, Alabama, have died since Friday, the hospital said in a statement Saturday.
"Our hospital family expresses its collective condolences to the families of these five patients," said Laura Grill, EAMC President and CEO.  "As everyone knows, this virus has taken a toll on our nation and world, and our community is not exempt from that. Our hearts and prayers are with these families at this very difficult time."
Three of the patients were from Chambers County and two were from Lee County. The Alabama Department of Public Health is still investigating the deaths and has not updated their website to reflect them.
Hospital officials and ADPH are working through the process for official state determination before adding them to the COVID-19 death count.
"The ICU staff, respiratory therapists and physicians who worked most closely with these patients are especially struggling and we ask that the community lift them up today just as they have been lifting up our whole organization the past two weeks," Grill said.
EAMC is currently treating 19 patients hospitalized with a confirmed COVID-19 diagnosis. Five patients who were previously hospitalized with COVID-19 have been discharged. There are 22 patients who are currently hospitalized at EAMC with suspected COVID-19.
The number of hospitalized patients has more than doubled from seven on Tuesday. It anticipates more.
The county had at least 56 confirmed cases of COVID-19 by Saturday afternoon, more per capita than Jefferson County, Shelby County and Madison County. That number has also continued to grow. To the north, Chambers County, which falls under EAMC's service area, has the most cases per capita in the state, meaning there are more confirmed cases per person than any other county. That county's total stands at 17.
Many of the patients who have tested positive, according to EAMC, had a common "last public setting" in church services.
"While there are no absolute patterns among the confirmed cases in Lee County, one nugget of information does stand out a little—the last public setting for a sizable number of them was at church," East Alabama Medical Center said in a statement Friday night.  "Not at one church, or churches in one town, but at church in general."
The hospital has urged churches to move online and cancel in-person services. Some churches have continued to meet, as recently as last Sunday, despite "social distancing" directives from the Alabama Department of Public Health that prohibited non-work gatherings of 25 or more people.
EAMC is urging the public to act as if they are under a "shelter-in-place" at home order, as the state has so far refused to issue such a directive.
"EAMC is asking everyone to shelter in place at home," the hospital said in a statement Friday night. "Sheltering in place means you stay at home with immediate family members only and should not leave your home except for essential activities such as food, medical care, or work. You should not host gatherings of people outside of your immediate family. You should also maintain a 6-foot distance from other people as much as possible, wash your hands frequently for at least 20 seconds each time, and frequently disinfect high-touch surfaces."
It's also asking businesses that have access to personal protective equipment like gowns, masks, latex gloves and hand sanitizer to bring those items to a collection site outside of EAMC's main lobby. The site is open from 9 a.m. to 4 p.m. on weekdays.
This story is developing and will be updated.
Print this piece