Haleyville pharmacy employees indicted
Thursday, the U.S. Attorney's Office for the Northern District of Alabama announced that five employees of a Haleyville compounding pharmacy company have been indicted for allegedly conspiracy to defraud health insurance companies.
The conspirators allegedly included a district and an operations manager.
U.S. Attorney Jay E. Town announced the charges against employees of Northside Pharmacy, based in Haleyville and doing business as Global Compounding Pharmacy. The indictments were part of a nationwide health care fraud takedown. Global's compounding and shipping facility was in Haleyville, but the pharmacy did its prescription processing, billing and customer service at its "call center" in Clearwater, Florida.
Attorney General Jeff Sessions and Department of Health and Human Services Secretary Alex M. Azar III on
Thursday announced the largest ever health care fraud enforcement action involving 601 charged defendants across 58 federal districts. Those charged include 165 doctors, nurses and other licensed medical professionals. The alleged health care fraud schemes involve more than $2 billion in false billings. Of those charged, 162 defendants, including 76 doctors, were charged for their roles in prescribing and distributing opioids and other dangerous narcotics.
Doctors and other medical professionals, including pharmacists are largely responsible for the opioid epidemic which has dramatically increased the number of Americans addicted to opioids, leading to the deaths of 60,000 Americans in overdoses last year alone.
Thirty state Medicaid Fraud Control Units participated in Thursday's arrests. In addition, HHS announced that from July 2017 to the present, it has excluded 2,700 individuals from participation in Medicare, Medicaid, and all other federal health care programs, which includes 587 providers excluded for conduct related to opioid diversion and abuse.
Attorney General Sessions and Secretary Azar were joined in the announcement by Acting Assistant Attorney General John P. Cronan of the Justice Department's Criminal Division, FBI Deputy Director David L. Bowdich, Drug Enforcement Administration Assistant Administrator John Martin, HHS-Office of Inspector General Deputy Inspector General Gary Cantrell, IRS Criminal Investigation Deputy Chief Eric Hylton, Centers for Medicare and Medicaid Services Deputy Administrator and Director of the Center for Program Integrity Alec Alexander, and Defense Criminal Investigative Service Director Dermot F. O'Reilly.
Thursday's enforcement actions were led and coordinated by the Criminal Division, Fraud Section's Health Care Fraud Unit in conjunction with its Medicare Fraud Strike Force partners, a partnership between the Criminal Division, U.S. Attorney's Offices, the FBI and HHS-OIG. In addition, the operation includes the participation of the DEA, DCIS, IRS-CI, Department of Labor, other various federal law enforcement agencies, and State Medicaid Fraud Control Units.
The charges announced on Thursday aggressively target schemes billing Medicare, Medicaid, TRICARE, a health insurance program for members and veterans of the armed forces and their families, and private insurance companies for medically unnecessary prescription drugs and compounded medications that often were never even purchased or distributed to beneficiaries. The charges also involve individuals contributing to the opioid epidemic, with a particular focus on medical professionals involved in the unlawful distribution of opioids and other prescription narcotics, a particular focus for the Department.
According to the CDC, approximately 115 Americans die every day of an opioid-related overdose, many of those Americans first became addicts due to drugs prescribed by their doctors.
"Health care fraud is a betrayal of vulnerable patients, and often it is theft from the taxpayer," said Attorney General Sessions. "In many cases, doctors, nurses, and pharmacists take advantage of people suffering from drug addiction in order to line their pockets. These are despicable crimes. That's why this Department of Justice has taken historic new steps to go after fraudsters, including hiring more prosecutors and leveraging the power of data analytics. Today the Department of Justice is announcing the largest health care fraud enforcement action in American history. This is the most fraud, the most defendants, and the most doctors ever charged in a single operation — and we have evidence that our ongoing work has stopped or prevented billions of dollars' worth of fraud. I want to thank our fabulous partners with the FBI, DEA, our Health Care Fraud task forces, HHS, the Defense Criminal Investigative Service, IRS Criminal Investigation, Medicare, and especially the more than 1,000 federal, state, local, and tribal law enforcement officers from across America who made this possible. By every measure we are more effective at finding and prosecuting medical fraud than ever."
U.S. Attorney Town said, "The defendants in the north Alabama case helped their employer, Global Compounding Pharmacy, defraud millions from Medicare, Blue Cross Blue Shield of Alabama and other insurance systems by pushing unnecessary medications and billing for reimbursement. The greed of these defendants, and this company, resulted in the distribution of medication when there was no need, with the primary focus on profit rather than the efficacy of care. The costs are not just monetary, but have social and health impacts on us all."
"Every dollar recovered in this year's operation represents not just a taxpayer's hard-earned money – it's a dollar that can go toward providing healthcare for Americans in need," said HHS Secretary Azar. "This year's Takedown Day is a significant accomplishment for the American people, and every public servant involved should be proud of their work."
According to court documents, defendants from the national sweep allegedly participated in schemes to submit claims to Medicare, Medicaid and TRICARE for treatments that were medically unnecessary and often never provided.
In many cases, the charges are that patient recruiters, beneficiaries and other co-conspirators were paid cash kickbacks in return for supplying beneficiary information to providers, so that the providers could then submit fraudulent bills to Medicare.
Collectively, the doctors, nurses, licensed medical professionals, health care company owners and others charged are accused of submitting a total of more than $2 billion in fraudulent billings. Virtually every health care fraud scheme requires a corrupt medical professional to be involved in order for Medicare or Medicaid to pay the fraudulent claims. Aggressively pursuing corrupt medical professionals not only has a deterrent effect on other medical professionals, but also ensures that their licenses can no longer be used to bilk the system.
In the Global Compounding Pharmacy case in north Alabama, the defendants are charged with taking part in a multi-faceted, multi-million dollar scheme to defraud multiple insurance plans and their third-party pharmacy benefit managers by billing for fraudulent, often high-dollar prescriptions that Global would fill and bill for reimbursement. To maximize proceeds, Global engaged in additional fraudulent practices including automatically refilling and billing for prescriptions, regardless of patient need, and routinely waiving co-pays to incentivize patients to accept unnecessary medications and refills, according to charges and plea agreements in the case.
The U.S. Attorney's Office charged Global Operations Manager Jeffrey South, District Manager Angie Nelson, sales representatives Roddrick Boykin, and Dawn Whitten, and biller Stacy Cardoza.
The defendants were all charged with one count of conspiracy to commit wire fraud, mail fraud and health care fraud. South, Nelson, Boykin and Whitten are also charged with varying counts of health care fraud. Whitten also faces a charge of aggravated identity theft.
South is 47 and lives in Florence, Alabama. Nelson is 40 and lives in Santa Rosa Beach, Florida. Boykin is 45 and lives in San Antonio, Texas. Whitten is 55 and lives in Columbus, Georgia. Cardozo is 28 and lives in Largo, Florida. Eight Global sales representatives of the company were previously charged by the U.S. Attorney's Office and all have pled guilty to the conspiracy and scheme.
"These defendants, motivated by pure greed, helped conduct a complicated scheme to obtain unnecessary, high-priced medications, purely to gain the insurance reimbursement," said Birmingham FBI Field Office Special Agent in Charge Johnnie Sharp Jr. "Rooting out health care fraud is central to the well-being of both our citizens and the overall economy. Health care fraud costs the country tens of billions of dollars a year, and the FBI seeks to identify and pursue investigations against the most egregious offenders involved in health care fraud through investigative partnerships with other federal agencies."
According to court documents, Global hired sales representatives were responsible for generating prescriptions from physicians and other prescribers. To generate a high volume of prescriptions, Global hired representatives who were married or related to doctors and other prescribers, and encouraged sales representatives to volunteer at doctors' offices where they would review patient files and push Global's products to patients.
The FBI, U.S. Postal Inspection Service, HHS-OIG, DCIS and IRS-CI, investigated the Global cases, which Assistant U.S. Attorneys Chinelo Dike-Minor, Don Long and Nicole Grosnoff are prosecuting.
The Medicare Fraud Strike Force operations are part of a joint initiative between the Department of Justice and HHS to focus their efforts to prevent and deter fraud and enforce current anti-fraud laws around the country. The Medicare Fraud Strike Force operates in 10 locations nationwide. Since its inception in March 2007, the Medicare Fraud Strike Force has charged over 3,700 defendants who, collectively, have falsely billed the Medicare program for more than $14 billion.
A complaint, information, or indictment is merely an allegation, and all defendants are presumed innocent until proven guilty beyond a reasonable doubt in a court of law.
A 2016 study estimated that illegal federal payments in Medicare and Medicaid cost taxpayers $140 billion a year, enough to build 13 Ford class aircraft carrier or almost seven times the NASA budget.
Redemption not revenge drives Tuberville supporter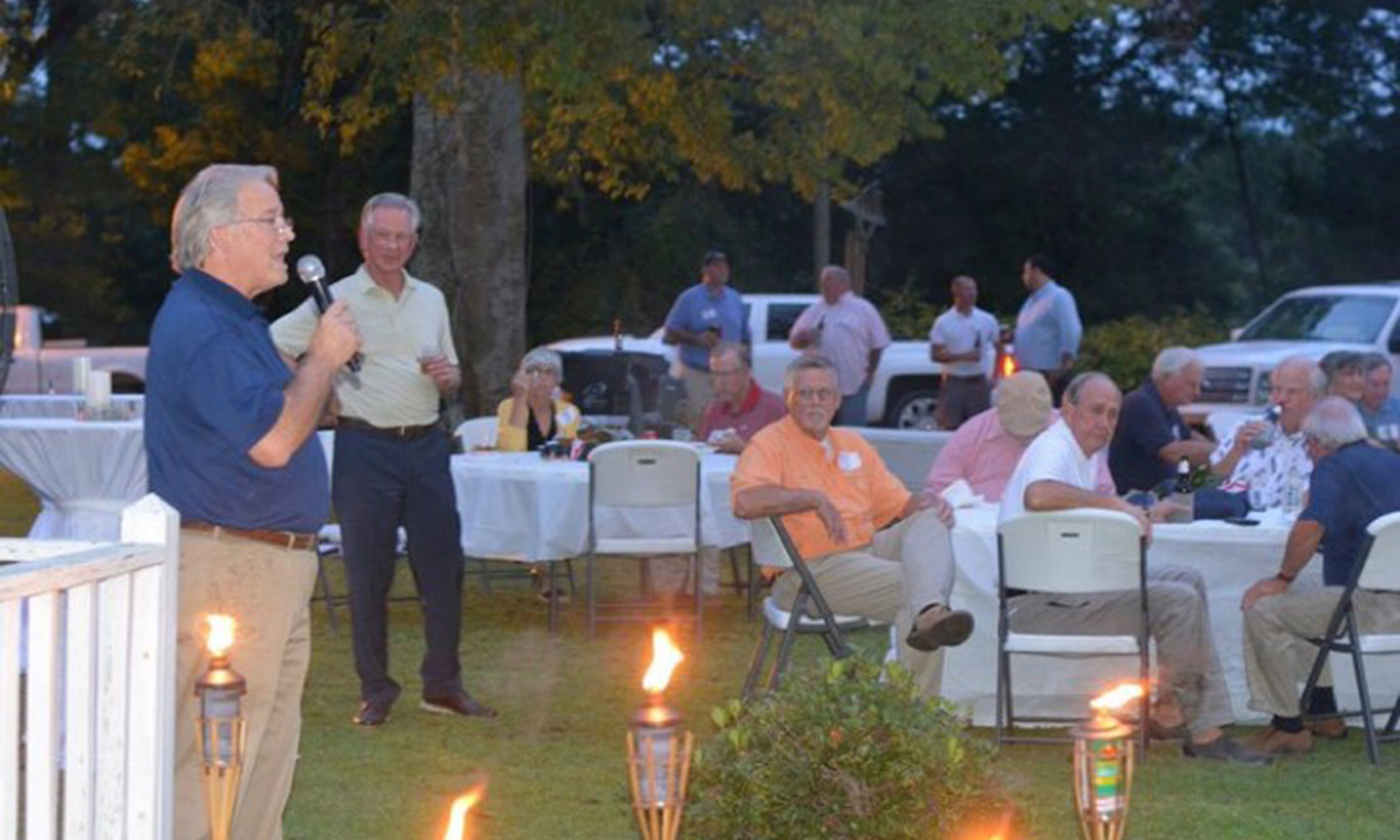 It would make for a great political story if Edgar McGraw hated Jeff Sessions. In fact, it would be the kind of legendary story of revenge that TV movies are built around.
This man, Edgar McGraw, is arrested on drug distribution charges in 1986 and prosecuted by then-U.S. Attorney Jeff Sessions. Sessions takes everything from McGraw and gives gleeful media interviews bragging about the arrest and seizures of McGraw's property.
McGraw gets out of prison, rebuilds his life and becomes a respected, successful business owner. All the while, biding his time until the day he can exact revenge upon Sessions.
One day in 2020, he sees his chance: A former college football coach in a football-crazed state is running against Sessions for U.S. Senate. McGraw throws some money to the coach, hosts a fundraiser for him.
And the coach does the unthinkable. He upsets the 30-year politician. With McGraw's help, Jeff Sessions' career is over.
McGraw smiles.
But real life ain't like the movies.
And in real life, Edgar McGraw has none of these dreams of revenge. He holds no ill will. He wasn't gleeful the night Sessions lost, instead he was glad his friend Tommy Tuberville won. And he didn't back Tuberville because he was running against Sessions, but because McGraw and Tuberville were friends long before Tuberville dipped a toe into politics.
That's life, I guess. You go looking for a revenge story and end up with a redemption story.
"(The conviction) is water under the bridge to me," McGraw said. "I made my fair share of mistakes, I paid the price, and I have moved on with my life. I believe every single person makes mistakes in life, but how you respond to those mistakes and live life afterward is what really matters. As Dr. Tony Evans says 'everyone is going to get knocked down in life in one way or another, what's important is how you get back up.'
"I never look back, that is just my personality. Just like you don't drive a car looking in the rear-view mirror, I am always looking forward."
I first heard about McGraw's history a week ago, when someone sent me photos of Tuberville speaking at an event, McGraw standing by his side. McGraw was labeled a "felon" in a description with the picture, and that piqued my interest.
I read through a few newspaper articles about his arrest in the 1980s on drug distribution charges, and I thought it was possibly one of the craziest things I've come across in quite some time.
Basically, the story is this: McGraw, who was a successful businessman in Camden even in the 1980s, conspired with a handful of people to fly about $2 million worth of marijuana from Jamaica to a private air strip in Camden. The weed was going to McGraw's farm, according to court records, where it would have been distributed and sold.
It never made it.
Drug dealers apparently aren't great at physics, and $2 million in 1980 bought a lot of marijuana — approximately 1,400 pounds — that needed to be equally distributed around the small plane. Instead, according to media reports, the guys in Jamaica — McGraw wasn't one of them — failed to secure the load and it all shifted to the tail of the plane. The plane crashed into a marsh on takeoff.
Still, Sessions and the U.S. Attorney's Office were able to build a case with several informants and by flipping witnesses. And they went hard after McGraw, who maintained that he had a limited role. The federal jury that convicted McGraw of conspiracy to distribute also acquitted him of conspiring to import the weed, so there was obviously some gray area.
Regardless, Sessions went after McGraw's property, utilizing recent and broad changes to asset seizure laws in the late-1980s that allowed prosecutors to tie virtually any property to drug money and then seize it. The federal government, with little evidence, took McGraw's motel, the Southern Inn in Camden. It was one of the biggest asset seizures in the country at the time.
McGraw ended up being sentenced to 15 years in prison. He served less than half of that and prison records show he was released in 1992.
When I learned of McGraw's history, I tweeted a couple of the newspaper clippings and speculated that McGraw had thoroughly enjoyed Tuberville ending Sessions' political career. Because, I mean, Sessions took the guy's motel — for marijuana that didn't even get here.
He has to hate him, right?
Then I emailed McGraw to ask if he'd be willing to talk to me about it. I expected one of two things to occur: Either he would ignore me altogether or he'd accept the interview and express his great personal satisfaction.
He did neither.
Instead, McGraw told me the same story that he's been telling at the Christmas party for Camden work release inmates. He volunteers with a Christian ministry that works with the prisoners. And each year, McGraw, who now is best known as part owner of the McGraw-Webb Chevrolet dealership in Camden, stands up in front of those inmates and lets them know that there is a pathway to redemption. To a better life. To a happy life.
"What happened coming up on almost 35 years ago, seems like a lifetime ago," McGraw said. "My faith grew immeasurably during those years and the Lord has blessed me immensely since. I have been happily married for 27 years and I have three wonderful children; 26, 25 and 21 years old. I would want people to know to not let the past mistakes in life mold you. Brokenness can be a breakthrough.
"I feel like I am one of the most blessed people in the world and I give God all the credit. I would hope that I would be thought of as someone who came back home, worked very hard and served his community, church, and family to the absolute best of my God given ability."
As far as his dealings with Sessions, McGraw said he's had very little. While he clearly disagrees with Sessions' decisions in his case — all McGraw would say is that he'd leave that up to Sessions to answer for — he said he's spoken to the former U.S. AG just once in the past three decades. That meeting came at an Auburn basketball game, where McGraw introduced himself and reminded Sessions of their past. McGraw said the conversation was cordial and lasted only a few minutes.
He swears he holds no ill will towards Session at this point. His support of Tuberville had nothing to do with his history, or even politics really. Records show McGraw has donated to only one campaign in his life — Tuberville's. And that came about because the two are old friends.
"My relationship with Tommy Tuberville began sometime while he was coaching at Auburn," McGraw said. "We became friends with the Tubervilles as our sons became close friends while attending Auburn University and our friendship has grown since. Our family made our first contribution to Tuberville in April of 2019. I want to be very clear that my support of Tommy Tuberville was only influenced by our friendship and his political views and had nothing to do with Jeff Sessions."
And maybe that's for the best.
2020 has more than its fair share of nasty political stories, revenge stories and just plain ol' dirtiness. Maybe a good story of redemption is something we could all use at this point. Maybe what we need to hear is the message that McGraw gives to those 100 or so inmates each year at Christmas.
"I strive to give (them) the hope that whatever they have done in the past does not have to limit their future," McGraw said. "I learned to take nothing for granted and that every single day is a gift from above."