Kay Ivey receives Distinguished Service Award from the Alabama Agribusiness Council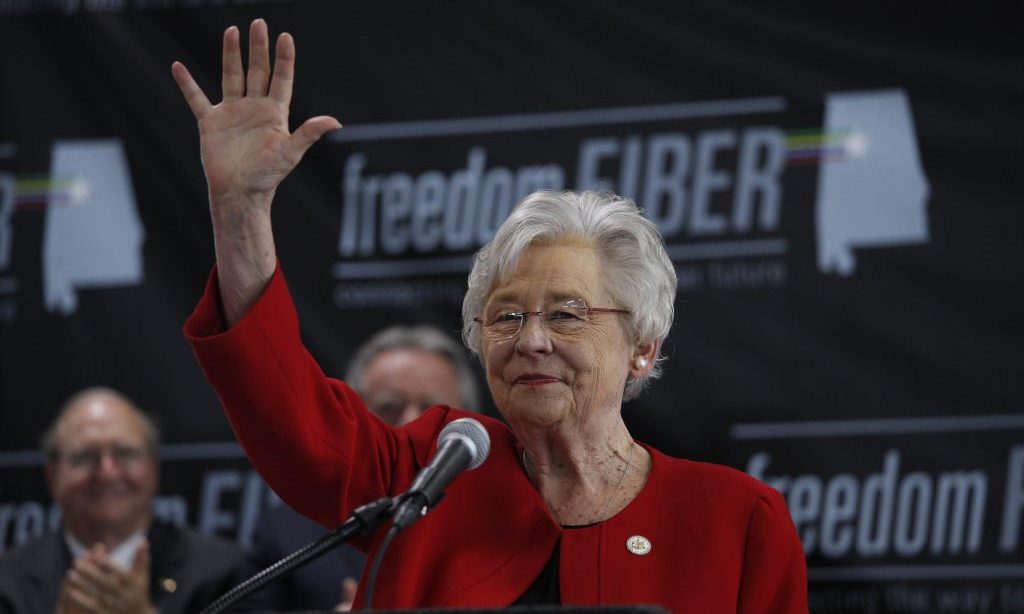 Alabama Governor Kay Ivey (R) was awarded a Distinguished Service Award from the Alabama Agribusiness Council during their annual meeting t the Perdido Beach Resort in Orange Beach on Monday, June 26.
"Farming is a part of my heritage & a part of who I am," Gov. Ivey said. "This evening, I'm humbled to receive the Distinguished Service Award from the @ALAgribizCounc. Agribusiness is a driving force for our economy, and we appreciate the folks who make this a thriving industry."
Kay Ivey was born on a cattle farm in Wilcox County. The Council stated that, "Governor Ivey has a great appreciation for rural Alabama and an impeccable record for supporting agriculture, forestry and rural Alabama."
The group honored Dr. Billy Powell, who recently retired as the Executive Vice President of the Alabama Cattlemen's Association for his nearly 30 years of dedicated service. Dr. Powell is the Executive Director of the Southeastern Livestock Exposition. State Senator Clay Scofield (R-Guntersville) won the group's Legislator of the Year awards.
Highlights from the meeting on Monday morning include the election of our new Board President, Ben Gore with Alabama Farm Credit and the 2018-2019 Board of Directors. AAC then honored members retiring from the Board, Billy Adams, Ray Hilburn and Glen Zorn as well as Jason Davis of the Alabama Power Company, immediate past AAC President, for their service on the Board and to the Council.
The mission of the Alabama Agribusiness Council is to advocate, enhance, and promote agribusiness in Alabama as the collective voice. Their stated primary purpose is to work with groups and organizations to effectively promote and enhance the business of agriculture and forestry in Alabama. They represent the broadest base of agricultural interest in Alabama. Membership is open to individuals, trade associations and companies ranging from 1 to 500+ employees who share a common interest in positively enhancing agriculture and agribusiness in Alabama.
Economic Developer and Alabama Agribusiness Council Member Nicole Jones told the Alabama Political Reporter, "Agriculture is part of our heritage as Alabamians and plays a dominant role in our state's economy. Alabama ranks second in the United States in freshwater fish production, third in poultry production, third in peanut production, and in the top ten tier for cotton production."
"Thank you to Executive Director Leigha Cauthen and the Alabama Agribusiness Council for hosting an informative annual meeting focused on agricultural economics, strengthening rural communities, and the importance of agriculture in our daily lives," Nicole Jones added. "We all learn from one another and can strengthen our respective agribusiness communities when we engage in workforce development efforts like this conference."
Dr. Joe Sumners, with the Auburn University Government & Economic Development Institute, discussed how while state-level support and coordination for rural development are desperately needed and partnerships are essential, but the real work of rural development must take place within each individual community. Dr. Ben Mullinax with the Ala. Dept. of Ag gave a presentation on agricultural emergency preparedness. Chris Jaworowski, with the AL Cooperative Extension System spoke about the economic impact of wild hogs and control methods. Dr. Brittney Goodrich, Auburn University spoke on the $18 billion in agricultural production dependent on pollinators, with a majority of that production depending on managed honey bees for pollination services. Clint Casey, at SunSouth discussed the latest farming technology trends. Max Runge, Auburn University, spoke on the mid-year look at the Agricultural Markets (corn, cotton, peanuts, soybean, wheat, and cattle).
Finance director: Alabama expects to spend nearly all of $1.8 billion in CARES Act funds
"I think we'll be down to less than $10 million, and hopefully less than that," the state finance director said.
Alabama has until Dec. 30 to spend the $818 million that remains of $1.8 billion in federal CARES Act money allocated to the state, or the remaining funds revert back to the federal government, but the state's finance director believes that's possible, for the most part. 
"I think we'll be down to less than $10 million, and hopefully less than that," said Alabama State Finance Director Kelly Butler, speaking to reporters Wednesday. 
With new daily COVID-19 cases continuing to break records in Alabama and coronavirus hospitalizations reaching record levels this week, many have expressed concern that Alabama could leave millions on the table at a time when the money could do the most good. 
It's not clear if lawmakers in Washington D.C. will agree in time to extend the deadline for states to spend the cash, and Butler said Wednesday that state officials had hoped the extension would come to pass but aren't banking on it. 
"The reality is, if we're going to be able to get the money out the door, we can't wait on that any longer," Butler said. "So we've got to put the pedal to the metal and assume that December 30 is a hard cutoff, and that's the way we're operating." 
Butler explained that almost all of the CARES Act money to various state programs and entities are reimbursement programs, meaning those entities must show they spent the money on coronavirus-related expenses, as required by the federal government, then ask the state for reimbursement. 
"This is particularly true for local governments, state government agencies, hospitals," Butler said. 
Butler also explained that despite the many needs, the federal money comes with substantial limitations. 
"There is a perception out there that this money can solve everybody's problem, and can be used for everything that people want it to be used for," Butler said. "And the reality is that the Treasury guidance, particularly the audit guidance issued by the Treasury, it just does not allow us to do everything that everybody wants us to do, and the penalty, if we use the money outside the bounds outside the law and the regulations, is that the state has to repay the money." 
Gov. Kay Ivey on Nov. 23 allocated $3.6 million in CARES Act funds to food banks statewide, Butler noted, and another $2 million to a program that provides counseling for veterans with PTSD. 
"We have money out there for hospitals, nursing homes. We are in constant communication with them," Butler said. "We have done before this latest grant program, we've done one small business grant program, a faith-based organization grant program, a nonprofit organization grant program, a medical provider grant program, an agricultural producer grant program, so we haven't stopped since May." 
Asked whether any of the federal aid has gone to the Alabama Department of Public Health to help set up the administration of COVID-19 vaccines, Butler said the state has allocated more than $30 million to the Department of Public Health, but most of that was done before it was clear Alabama could get a vaccine this month. 
Butler said until recently it wasn't thought a vaccine would be available before the end of the year, and that "up until recently, it was not something that we were allowed to spend money on." 
"We have allocated a small amount to a company in Huntsville called Aclinnate Genetics for vaccine education, particularly in the African American community throughout the state," Butler said. 
There remains the possibility of reallocating unspent money to other programs, Butler said, as has been done twice before. That requires conversations between Butler, Gov. Kay Ivey and legislative leadership Butler said, adding that he anticipates at least one more reallocation before the deadline. 
"Our plans are to, as I've said daily, evaluate the programs and somewhere around the middle of this month, sort of do a final tally and go back to the Legislature and ask for reallocations so that we can allocate money to things that and programs that might need it," Butler said. 
One possibility would be to allocate additional money to the state's unemployment trust fund, Butler said. As much as $287 million could be reallocated to the fund, he said. 
"Health care, with the virus continuing, is also another definite possibility," Butler said. 
Asked about concerns some local governments and other groups have had that the entities don't have the money to spend, to then ask for reimbursement, Butler said that he has heard those concerns but that federal guidelines connected to the CARES Act funding are strict. 
"The reality is the Treasury guidance and the CARES act, we believe, prohibit us from sending the money out upfront," Butler said. "And it's just not something we believe we can do." 
Butler said the state has worked closely with local municipalities and groups, including the Black Belt Foundation, to help them apply for reimbursements and get the money returned quickly. 
A reporter asked about as-of-yet unpaid reimbursement requests of more than $850,000 from the Madison County Commission from August, and Butler said the state does have a backlog of requests, and that while the program was established on May 28, many local governments waited until August to submit applications.
Butler then said that he's been told the Madison County Commission's requests were being processed Wednesday and the commission should see that money soon. 
Butler said the state has received word from the U.S. Treasury that as long as those reimbursement requests are turned in before the Dec. 30 deadline "we will have a two to three month period to work out those prior bills as long as they were expenses incurred before December."