Mike Huckabee endorses Twinkle Cavanaugh
Monday, Public Service Commission President Twinkle Andress Cavanaugh (R) announced that she has been endorsed by former Arkansas Governor and two time GOP Presidential candidate Mike Huckabee (R).
Cavanaugh is running for Lieutenant Governor in the Republican primary runoff.
Cavanaugh is a small business owner and was the first woman to chair the Alabama Republican Party. She was also the chair of Gov. Huckabee's 2008 Presidential Campaign in Alabama, when he carried the state over U.S. Senator John McCain and Gov. Mitt Romney.
Before he became Arkansas' 44th Governor, Huckabee served in the ministry. Today Huckabee is best known for his many cable TV shows and as the father of Whitehouse Press Secretary Sara Huckabee Sanders.
"I am honored to have the endorsement of my friend, Governor Mike Huckabee," Cavanaugh said. "Governor Huckabee has been a role model to me throughout my time in public service, and I am deeply humbled that he has chosen to support our campaign and our vision of a brighter future for our children and grandchildren."
"I have known Twinkle for over a decade and consider her to be a friend and a staunch Republican ally," Gov. Huckabee said. "But I am not supporting Twinkle simply because we are friends. I am supporting Twinkle because of the Christian, conservative values she and I share. We need leaders who are not afraid to fight for their core values and have the courage to hold their peers accountable when they stray from their promises to the people. Twinkle has kept her promises as President of the Public Service Commission, shrinking her agency's budget by 30%, saving the taxpayers over $60 million through cuts, and bringing transparency and honesty to the office."
Governor Huckabee is a strong supporter of President Donald Trump, serving as a frequent surrogate on television and radio for the President since the 2016 Republican Presidential Primaries.
Cavanaugh's opponent in the July 17th runoff is State Representative Will Ainsworth (R-Guntersville).
Ainsworth was the Alabama Chair of Senator Marco Rubio's 2016 presidential campaign. Cavanaugh has tried to take issue with some of Ainsworth's statements made while he was actively fighting for Rubio's presidential bid.
In an interview this month with AL.com's John Sharp, "Ainsworth, however, said he's always been a supporter of Trump, and that … he denies that he called the president a 'con artist.'"
The Alabama Political Reporter was the original reporter of Ainsworth's written statement and we stand by our reporting.  We were not aware in 2016 that Ainsworth would ever be a statewide candidate. Neither did we know then that Donald Trump and not Marco Rubio, Ted Cruz, or Hillary Clinton would win the 2016 election.
Gov. Huckabee commented, "While Ainsworth was campaigning against Donald Trump, Twinkle Cavanaugh was going door to door for the President. Twinkle fought for Donald Trump, not against him. There's a clear choice for Lt. Governor. Twinkle Cavanaugh is a champion for Donald Trump. And she'll continue to fight for the people of Alabama."
The winner of the Republican primary runoff will face Dr. Will Boyd (D) in the Democratic primary.
Print this piece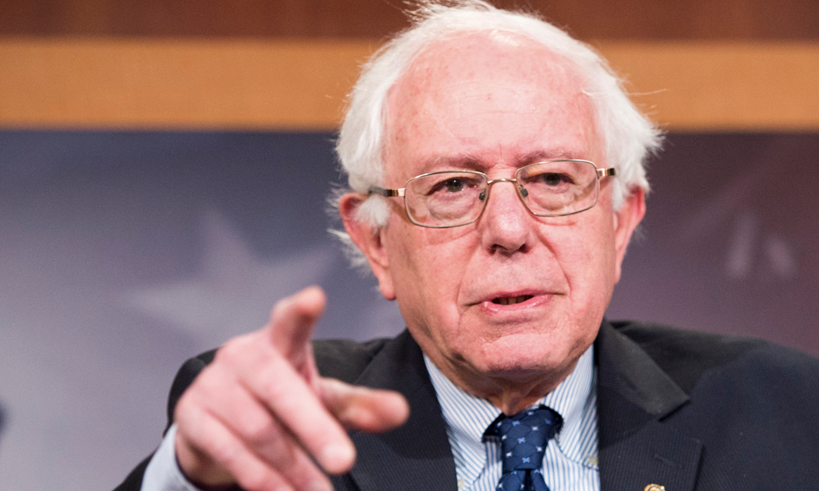 Saturday, U.S. Senator Bernie Sanders, I-Vermont, appears to have followed his victory in the New Hampshire primary with a victory in the Nevada caucuses.
"First we won the popular vote in Iowa. Then we won the New Hampshire primary. And now we have won the Nevada caucus," Sen. Sanders said. "Let me first thank the people of Nevada for their support. We put together a multi-racial, multi-generational coalition across the state that will win not only in Nevada, but all across this country. No other campaign has a grassroots movement like we do, which is a large reason why we're gonna win this election."
The Alabama primary is just one week away on Super Tuesday.
"We are going to win across the country because the American people are sick and tired of a corrupt administration that is undermining American democracy." Sanders continued. "They are sick and tired of a government based on greed and lies. It is time for an administration which is based on the principles of economic justice, social justice, racial justice, and environmental justice."
Sanders received 47.1 percent of the vote. Former Vice President Joe Biden received 21 percent of the vote. South Bend Mayor Pete Buttigieg received just 13.7 percent of the vote. U.S. Senator Elizabeth Warren, D-Massachusetts, continued to underperform with just 9.6 percent of the vote. Billionaire Tom Steyer of California received just 4.7 percent of the vote. Sen. Amy Klobuchar, D-Minnesota, failed to gain any momentum off of her strong third place finish in New Hampshire and received just 3.9 percent of the vote.
Sanders is clearly the frontrunner going into the South Carolina primary. The self -proclaimed socialist has won 34 delegates to this point. Buttigieg is in second with 23, and Biden and Warren are tied with eight. Klobuchar has seven delegates.
New York City Mayor billionaire Michael Bloomberg have foregone the early primaries. He participated in his first debate and according to most observers did not fare well. Moderate Democrats have expressed concern that the party may suffer in November if the socialist label is attached to its nominee. Republicans are taking enjoyment from the Democrats' strife.
"Michael Bloomberg maybe a Billionaire but when questioned by his fellow Socialist Democrats, he looked like a Deer in headlights!" Trump national finance committee chair Perry Hooper Jr. said. "Mini Mike was clear the Debate looser. It is very apparent that the National Democrat party today are controlled by the Left and they are very comfortable with Socialist Democrat, Bernie Sanders. But I think the real Looser is the Democrat Party! The Winner is and will continue to be heavy weight Champion, President Donald J. Trump."
It takes 1,994 delegates to win the nomination. The next contest is the South Carolina Primary
The Alabama Democratic primary is March 3.
Print this piece