Roby, Agriculture Committee Chairman Conaway Address Farmers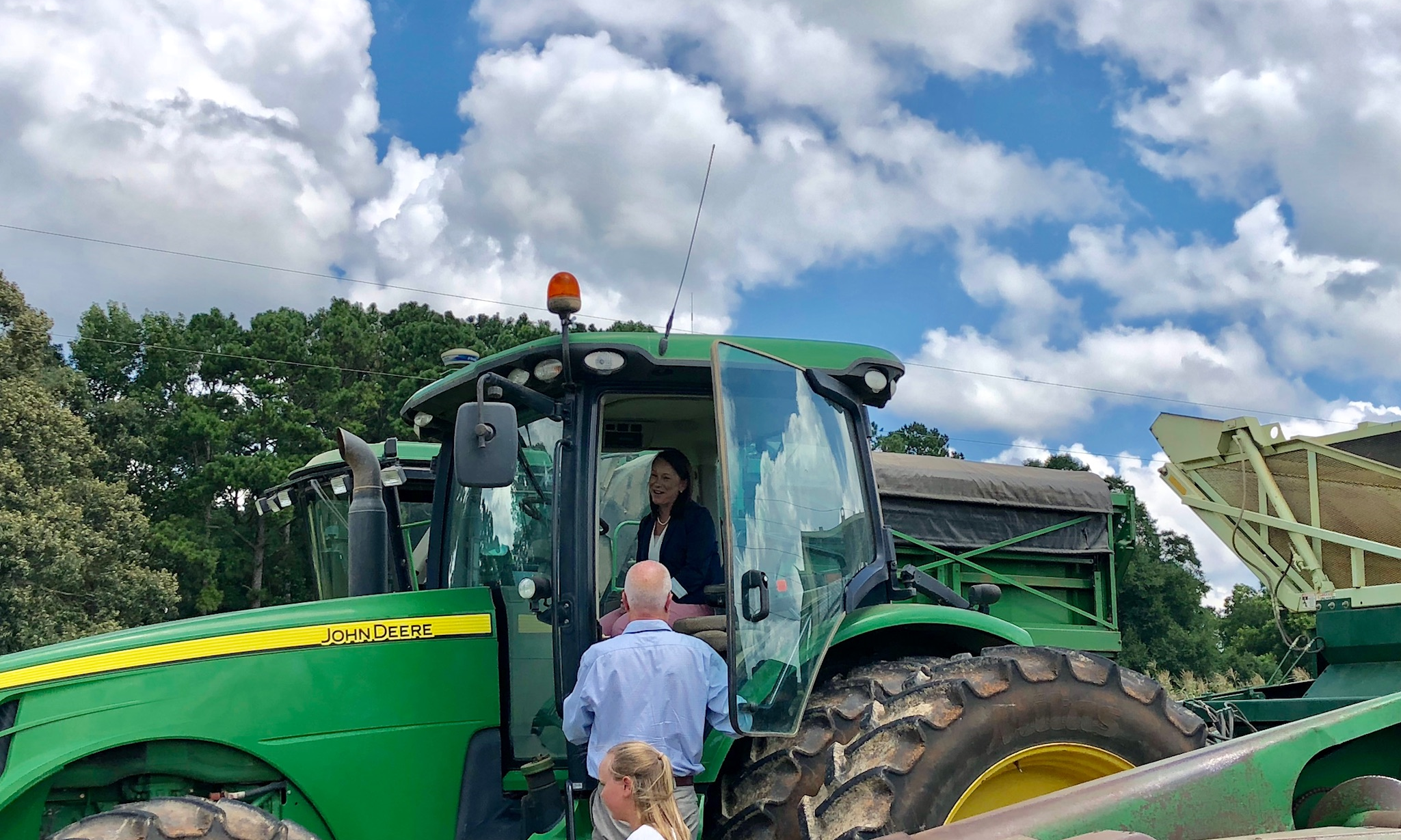 U.S. Representative Martha Roby, R-Alabama, and House Agriculture Committee Chairman Mike Conaway, R-Texas, met with farmers in Alabama's 2nd Congressional District to discuss agriculture policy, the farm bill and growing trade concerns.
At the beginning of the day, Roby and Conaway addressed a packed crowd of farmers in Troy at the Pike County Cattleman's Association Building. The congress members then toured farms in Pike, Coffee and Geneva Counties.
"It was a great day visiting farms and discussing agriculture policy in the Wiregrass," Roby said. "I deeply appreciate House Agriculture Committee Chairman Mike Conaway and his wife Suzanne for making themselves available to the farmers in Alabama's Second District. I believe it was a truly valuable experience for the people I represent to have the opportunity to discuss with me and the Ag Chairman the agriculture policies before Congress, especially the farm bill. I look forward to working alongside my colleagues to deliver a smart, strong farm bill to the President for his signature soon."
The Alabama Political Reporter asked whether U.S., China and other nations appear to be on the verge of a trade war. Soybeans traded in June at their five-year low and there much concern that an escalating trade war could dramatically impact commodity prices and the farm economy.
Roby said that she has heard concerns from the farmers, she was carrying those concerns with her to Washington and that they were watching that situation closely.
The Alabama Farmers Federation's (ALFA) Jimmy Parnell said that the trade negotiations are ongoing and isn't finished yet and that the farmers are making their concerns heard in Washington.
Both the House and the Senate have passed the farm bill, but they are radically different versions of the bill. Conaway's committee drafted a more conservative version of the bill that included work requirements for able bodied people receiving benefits through the Supplemental Nutritional Assistance Program (SNAP) still commonly referred to as food stamps.
"If you want to work 20 hours a week and/or participate in state-based, state-run federally funded job training program then we're going to help you," Conaway said. Conaway said that Americans from both political parties support that when polled.
Conaway acknowledged that the farm bill that comes out of conference committee will be something between the two existing versions of the bill. Conway said that the Senate rules are such that the Senate Agriculture Committee had to get Democratic Party vote. The House farm bill narrowly passed by just two votes. No House Democrats voted for the House farm bill.
The farm bill sets agriculture and food stamps policy for the next five years, Conaway said.
"It's important we get this farm bill done on time," Conaway said.
Roby is in the Republican primary runoff on July 17 against former Congressman Bobby Bright.
APR asked Roby: Some critics of yours have said that you are not conservative enough. After the primary and three candidates got knocked out leaving just you and Congressman Bright are you the most conservative candidate left in this race?
"Absolutely," Roby said. "I stand on my conservative voting record. Look at Bright's voting record. He voted for Nancy Pelosi for Speaker of the House. He could have voted for the Republican alternative to Obamacare and he didn't."
Conaway said that he appreciates the work that Roby does and that she is an ally on the Appropriations Committee.
Roby is an attorney and a former Montgomery City Councilwoman. She defeated Bright (who was then a Democrat) in the 2010 general election. Bright is a former Mayor of Montgomery.
The eventual winner of the Republican primary will face Tabitha Isner (D) in the November 6 general election.
GOP candidate Tommy Tuberville leads Trump "boat parade" in Orange Beach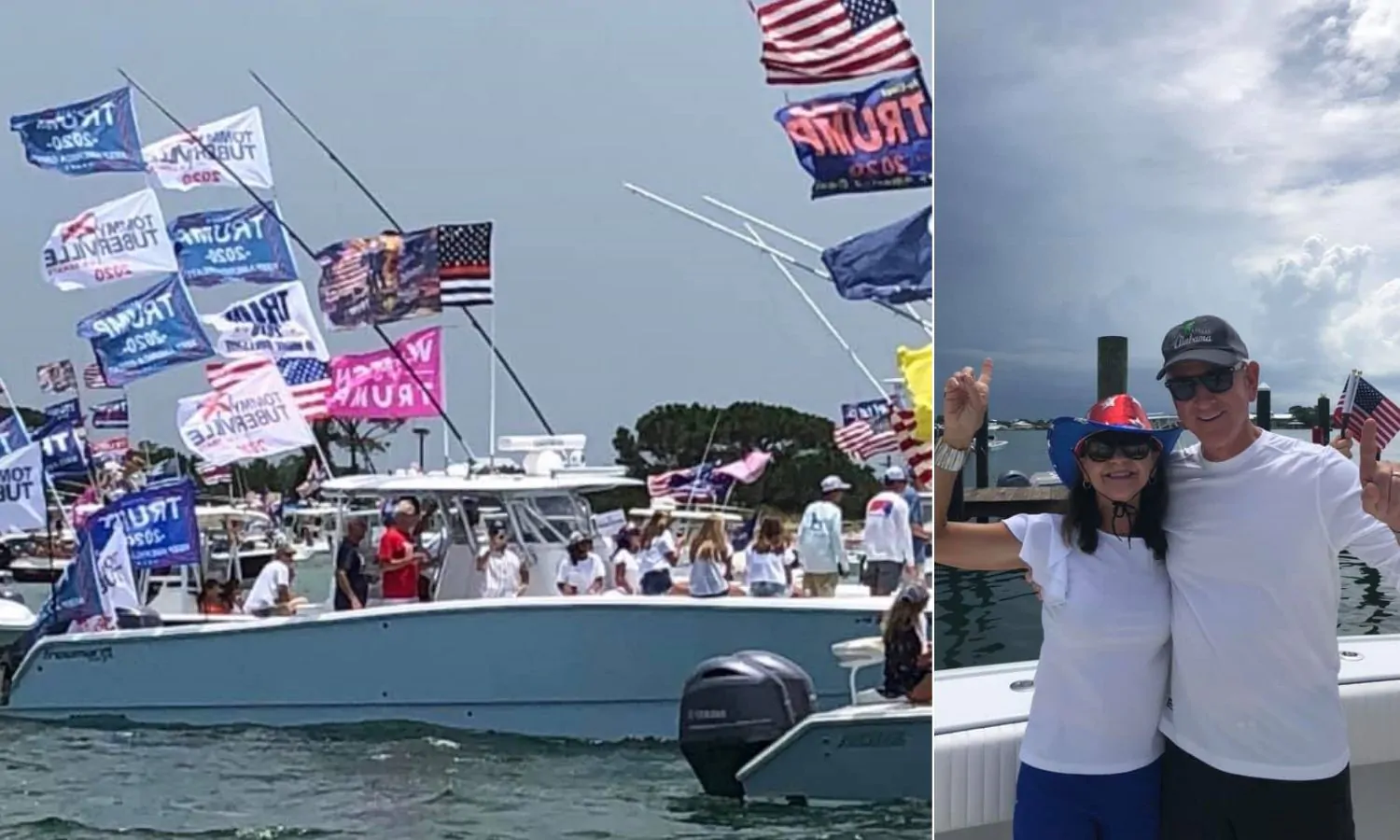 Senate candidate Tommy Tuberville rode in the lead boat in a "boat parade" on Sunday in Orange Beach, celebrating Independence Day and the launch of President Donald Trump's re-election campaign.
Hundreds of boats participated in the Trump parade in the Perdido Pass area. WKRG TV estimates that more than 8,000 people joined. Orange Beach and Gulf Shores boats joined boats from Pensacola and Dauphin Island.
Trump supporter and Alabama Republican Executive Committee member Perry Hooper Jr. was also present.
"It was Awesome having Coach Tommy Tuberville on The TRUMP Boat at Orange Beach Alabama," Hooper said. "Tommy was a Great Coach and he will be a Great US Senator. It's Great To Be A TRUMP/ TUBERVILLE AMERICAN. Everybody was so Happy cheering for The President and Tommy on! Fun Day!"
Hooper is a former state representative from Montgomery.
Tuberville is a former Auburn University head football coach. The Arkansas native lives in Auburn.
President Donald Trump spoke at Mount Rushmore in South Dakota on Friday.
"Today we pay tribute to the exceptional lives and extraordinary legacies of George Washington, Thomas Jefferson, Abraham Lincoln, and Teddy Roosevelt," Trump said. "I am here as your president to proclaim before the country and before the world, this monument will never be desecrated, these heroes will never be defamed, their legacy will never ever be destroyed, their achievements will never be forgotten, and Mount Rushmore will stand forever as an eternal tribute to our forefathers and to our freedom."
Trump accused opponents of trying to dismantle America.
"Make no mistake. This left-wing cultural revolution is designed to overthrow the American Revolution," Trump alleged. "In so doing they would destroy the very civilization that rescued billions from poverty, disease, violence, and hunger, and that lifted humanity to new heights of achievement, discovery, and progress. To make this possible, they are determined to tear down every statue, symbol, and memory of our national heritage."
"President Trump has given several good Speeches," Hooper said. "This Speech was by far his best! It was straight up AWESOME! His speech was all about the Greatness of America! President Trump loves our Country and its great History. President Reagan has given some of the best speeches ever. This speech topped Reagan's best. As for Perry O. Hooper Jr., I would get in a foxhole and fight for him to the end. God Bless President Donald J. Trump and GOD BLESS THE USA!"
Trump faces a stiff challenge from former Vice President Joe Biden, who is leading in the polling.
Tuberville has been endorsed by Trump in the July 14 Republican primary runoff for U.S. Senate. Tuberville faces former Sen. Jeff Sessions.