Shelby returns from trip to Russia
U.S. Senator Richard Shelby, R-Alabama, returned on Saturday from his recent trip to Russia.
Shelby led a congressional delegation trip to Russia, which included meetings with high-level U.S. government and Russian officials. The eight member, all Republican, congressional delegation was led by Sen. Shelby.
"During a time of heightened tensions between Russia and the United States, I led a congressional delegation, the largest in many years, to Russia to meet with key leaders of the Russian government," Shelby said. "Our goal was to have a sober assessment of our differences and to put the unvarnished truth on the table. We had candid discussions with the Foreign Minister, members of the Duma, and the Federation Council about a number of issues, including election interference, Crimea, Ukraine, and Syria. We were honest and frank in expressing our concerns and our shared belief that Russia must make changes in its behavior if our relationship is going to thaw."
"The United States does not want, nor does it need, to resume a Cold War posture with Russia, and our delegation trip was a small step towards trying to ensure that does not happen," Sen. Shelby continued. "We will always be competitors, but we do not have to be adversaries. Russia can achieve a better relationship with the U.S., but it has to be earned, one step at a time."
\The group of congressional members also stopped to meet with officials in Finland and Norway.
The eight-member delegation struck a conciliatory tone with government officials over the course of the trip to St. Petersburg and Moscow, leading to criticism by some in Washington.
"Cannot believe GOP, once the party that stood strong against Soviets & only a decade ago sought to democratize the Middle East, is now surrendering so foolishly to [Russian President Vladimir] Putin and the Kremlin's kleptocracy — only two years after Russia interfered in U.S. election," tweeted Clint Watts, an information warfare specialist at the Foreign Policy Research Institute.
President Donald J. Trump (R) is preparing to meeting with Russian President Vladimir Putin.
The United States imposed sanctions on Russia after Russia seized the Crimea from Ukraine and backed armed ethnic Russian militias that revolted against the pro-Western Ukrainian government. Fighting between Ukraine and the Russian backed militias in Eastern Ukraine has not stopped though the war has been locked in a stalemate for years.
Tensions between the Russian government and the West has grown in recent days. On Sunday, 44 year old British woman Dawn Sturgess died after handling an item contaminated with Novichok, a nerve agent manufactured by the Soviet Union during the Cold War. Sturgess's boyfriend remains in critical condition. British authorities claim that Novichok was used 12 kilometers away at Salisbury to poison former spy Sergei Skripal and his daughter in March. British Prime Minister Theresa May says that Sturgess's death is being investigated as a murder. Russia has denied any involvement.
Richard Shelby is the chairman of the powerful Senate Appropriations Committee and its Subcommittee on Defense.
(Original reporting by the Washington Post and The Guardian contributed to this report.)
Print this piece
Rogers opposes housing persons infected with coronavirus in Anniston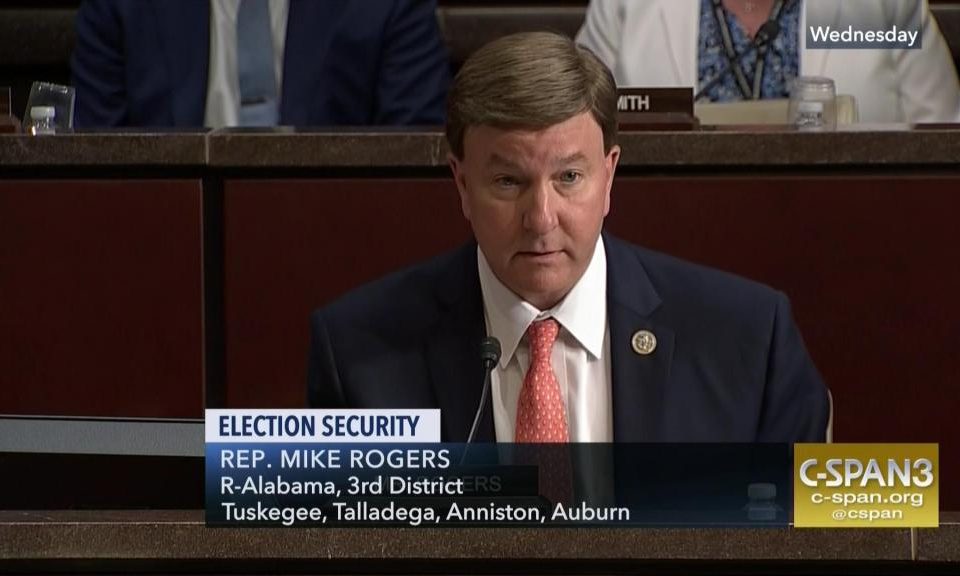 Saturday, the U.S. Department of Health and Human Services (HHS) announced that the Center for Domestic Preparedness (CDP) would be used as a quarantine center for some Americans exposed to Coronavirus (COVID-19). Congressman Mike Rogers, R-Saks, announced that he thinks this is the wrong decision and he is opposed to housing the coronavirus patients in Anniston.
"Earlier this evening, I spoke with President Trump. He agreed with me that the decision by the Department of Health and Human Services to house those Americans exposed to Coronavirus at the Center for Domestic Preparedness in Anniston is the wrong decision," Rogers said in a statement. President Trump had no advanced notice and these individuals were brought to the continental United States without his consent. I will continue to work with President Trump and HHS to find the best facilities that meet the needs for those Americans that have been exposed to this dangerous virus. The CDP is not that place," Rogers said.
The coronavirus is normally just the common cold. We have all had it multiple time. The novel (new) strain of the coronavirus appeared in Wuhan City, Hubei Province China in December. The new strain of the virus has been named SARS-Cov-2 and the disease the coronavirus disease 2019, which is being abbreviated as COVID-19
A percentage of people get the virus and show no symptoms. They feel nothing. Are they shedding the virus is a question researchers are still trying to understand. Most of the people who get the Novel strain of the coronavirus wake up with a fever and have flu-like symptoms. A not so small percentage have severe symptoms. Healthcare workers in Wuhan were particularly hit hard.
Efforts by the Chinese to contain this in Hubei Province failed and the disease has now spread to Beijing, Hong Kong, and 32 countries including the United States.
On January 30, 2020, the International Health Regulations Emergency Committee of the World Health Organization declared the outbreak a "public health emergency of international concern." On January 31, 2020, Health and Human Services Secretary Alex M. Azar II declared a public health emergency (PHE) for the United States to aid the nation's healthcare community in responding to COVID-19.
According to the CDC, Coronaviruses are a large family of viruses that are common in many different species of animals, including camels, cattle, cats, and bats. Rarely, animal coronaviruses can infect people and then spread between people such as with MERS-CoV, SARS-CoV, and now with this new virus (named SARS-CoV-2).
The SARS-CoV-2 virus is a beta-coronavirus, like MERS-CoV and SARS-CoV. All three of these viruses have their origins in bats. The sequences from U.S. patients are similar to the one that China initially posted, suggesting a likely single, recent emergence of this virus from an animal reservoir.
While it likely began at a large live animal market in China and spread animal to person, person-to-person spread began both in China and beyond, including in the United States.
Both MERS-CoV and SARS-CoV have been known to cause severe illness in people. The complete clinical picture with regard to COVID-19 is not fully understood. The CDC and world health authorities have an ongoing investigations to learn more. The CDC says that this is a rapidly evolving situation and information will be updated as it becomes available. More cases are likely to be identified in the coming days, including more cases in the United States. It's also likely that person-to-person spread will continue to occur, including in the United States.
The CDC is shipping test kits for the virus to laboratories CDC has designated as qualified, including U.S. state and local public health laboratories, Department of Defense (DOD) laboratories and select international laboratories. The test kits are bolstering global laboratory capacity for detecting SARS-CoV-2. The federal government is working closely with state, local, tribal, and territorial partners, as well as public health partners, to respond to this public health threat.
On January 21, the CDC activated its Emergency Operations Center to better provide ongoing support to the COVID-19 response. February 2, 2020, at 5:00 pm, the U.S. government suspended entry of foreign nationals who have been in China within the past 14 days.
U.S. citizens, residents, and their immediate family members who have been in Hubei province and other parts of mainland China are allowed to enter the United States, but they are subject to health monitoring and possible quarantine for up to 14 days.
The CDC has issued the following travel guidance related to COVID-19:
China — Level 3, Avoid Nonessential Travel — last updated February 22;
Japan — Level 2, Practice Enhanced Precautions — last updated February 22;
South Korea — Level 2, Practice Enhanced Precautions — issued February 22;
Hong Kong — Level 1, Practice Usual Precautions — issued February 19.
The CDC also recommends that all travelers reconsider cruise ship voyages into or within Asia at this time.
The CDC has deployed multidisciplinary teams to support state health departments with clinical management, contact tracing, and communications.
The CDC has worked with the Department of State, supporting the safe return of Americans who have been stranded as a result of the ongoing outbreaks of COVID-19 and related travel restrictions. CDC has worked to assess the health of passengers as they return to the United States and provided continued daily monitoring of people who are quarantined.
The CDC has been uploading the entire genome of the viruses from reported cases in the United States to GenBank as sequencing was completed. The CDC has grown the COVID-19 virus in cell culture, which is necessary for further studies, including for additional genetic characterization. The cell-grown virus was sent to NIH's BEI Resources Repository for use by the broad scientific community.
According to the CDC, while the immediate risk of this new virus to the American public is believed to be low at this time, everyone can do their part to help us respond to this emerging public health threat: It's currently flu and respiratory disease season and CDC recommends getting a flu vaccine, taking everyday preventive actions to help stop the spread of germs, and taking flu antivirals if prescribed. If you are a healthcare provider, be on the look-out for people who recently traveled from China and have fever and respiratory symptoms. If you are a healthcare provider caring for a COVID-19 patient or a public health responder, please take care of yourself and follow recommended infection control procedures. If you have been in China or have been exposed to someone sick with COVID-19 in the last 14 days, you will face some limitations on your movement and activity. Please follow instructions during this time. Your cooperation is integral to the ongoing public health response to try to slow spread of this virus. If you develop COVID-19 symptoms, contact your healthcare provider, and tell them about your symptoms and your travel or exposure to a COVID-19 patient. For people who are ill with COVID-19, please follow CDC guidance on how to reduce the risk of spreading your illness to others.
As of Sunday morning, there have been 78,966 cases of COVID-19. 53,079 of these are active. 23,418 people have recovered from their illness and been discharged. 2,469 have died. The number of deaths have doubled since February 12.
It affects the elderly worse than younger people. For 80+ years old the mortality rate is 14.8 percent, for 70-79 year old the mortality is 8 percent, for 60-69 years old 3.6 percent, for 50-59 years old 1.3 percent for 40-49 years old 0.4 percent, 30-39 years old 0.2 percent, 29 years old 0.2 percent, 10-19 years old 0.2 percent, and 0-9 years old there have not yet been any fatalities. The mortality rate for males is 2.8 percent. For females it is 1.7 percent.
Pre-existing conditions greatly increases the fatality rate. For those with cardiovascular disease the death rate is 10.5 percent, diabetes 7.3 percent, chronic respiratory disease 6.3 percent, hypertension 6.0 percent, cancer and 5.6 percent; though it has a death rate of .9 percent for those with no pre-existing conditions.
On Thursday, it was announced that educators have begun working on plans to use online education over the internet if American schools have to be closed in the event that COVID-19 becomes a pandemic in the United States forcing schools to close.
To this point there have been only 35 COVID-19 cases in the United States and no deaths.
Rogers serves as Ranking Member on the Committee on Homeland Security and a senior member of the House Armed Services Committee.
Print this piece