Ivey announces Tim McCartney to head Alabama Workforce Council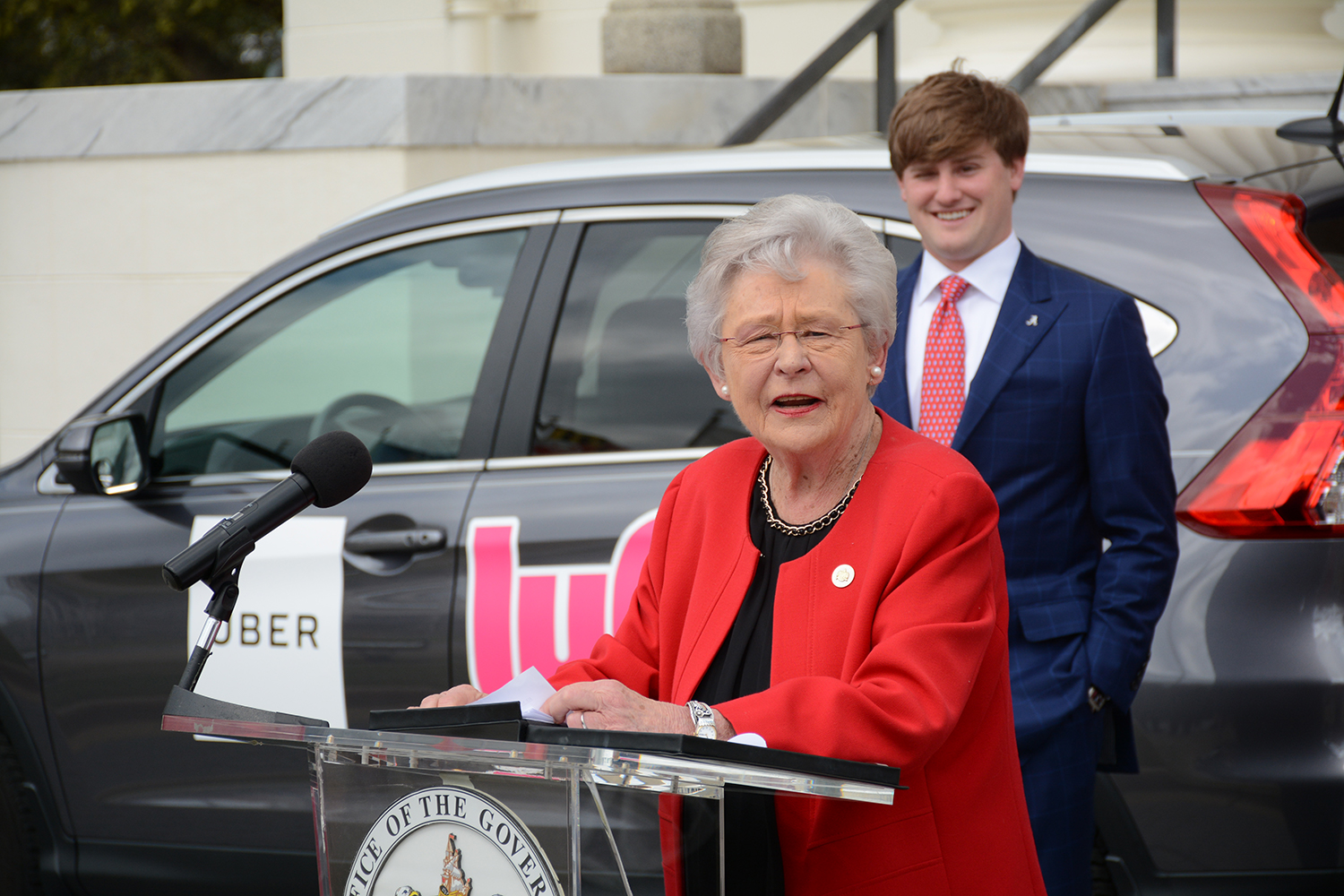 Tuesday, Alabama Governor Kay Ivey (R) announced a transition of leadership for the Alabama Workforce Council. Ivey announced that Tim McCartney, formerly of McCartney Construction, will be the new chairman and issued a commendation thanking outgoing Chairman Zeke Smith for his service.
"The Alabama Workforce Council seeks to analyze and understand issues that will help build a stronger, more sustainable workforce, thereby improving the lives of Alabama's workers and their families by creating new employment opportunities in our state," Governor Ivey said. "Zeke Smith has been an integral part of that process as Chairman of the Alabama Workforce Council. His leadership has benefited employees and employers alike, as well as economy in our state, and I congratulate him on completing an outstanding term of service on the Alabama Workforce Council."
The Alabama Workforce Council serves as an advisory body of business and industry leaders tasked with formulating policies, developing innovative educational workforce programming and discussing issues critical to workforce development needs in Alabama.
Zeke Smith is the Executive Vice President of Alabama Power. He has served as Chairman of the Alabama Workforce Council since it was established in 2014. George Clark of Manufacture Alabama has served as Vice Chairman.
"I am thankful for the opportunity to work with this special group of leaders who are represented on the Alabama Workforce Council," Zeke Smith said. "There are too many to call by name, but I hope that you know how much I appreciate each of you. Together we have made tremendous strides in raising awareness of state workforce needs and have taken action to create opportunities for those looking to build a career in Alabama."
Governor Ivey welcomed incoming Alabama Workforce Council Chairman Tim McCartney and new Vice Chairwoman Sandra Koblas with Austal USA.
Ivey challenged the Alabama Workforce Council to focus on implementing the Success Plus plan – one part of her Strong Start, Strong Finish education initiative. The plan was developed by a committee of the Alabama Workforce Council to address Alabama's increasing need for workers with certificates, credentials, or degrees in addition to a high school diploma.
"I share the vision of the governor and believe that the Success Plus plan provides us a blueprint as a Council moving forward," Tim McCartney said. "I would like to ask each committee to adopt one of five priorities identified in the Success Plus plan as their committee focus moving forward."
Over the past four years, recommendations made by the Alabama Workforce Council have resulted in the realignment of the state's workforce structure, increased productivity of the regional workforce development councils, encouraged collaboration between the education and business communities, helped grow the number of career coaches in the state's public high schools, developed a statewide AlabamaWorks! workforce brand, and established a statewide educational attainment goal.
The Alabama education system is widely acknowledged as one of the worst in the entire country. Former Governor Robert Bentley (R) admitted publicly that, "Our education system sucks." The adoption of the controversial College and Career Ready standards, which were aligned with Bill Gates' Common Core, has produced no positive tangible benefits to this point.
Of Alabamians age 25 and older, 540,000 do not have a high school diploma or equivalent. 992,000 have nothing beyond a high school diploma. 703,000 have some college. 236,000 have an associates degree. 458,000 have a bachelor's degree. 188,000 have master's degrees. 45,600 have professional degrees and 30,800 have doctoral degrees.
The state is finding that more and more of today's jobs require a two-year certificate or higher.
Compounding the problem is that many of those students who finish high school do not leave with a career path or a marketable skill. There is a growing demand for skilled trades; but there is a declining pool of qualified workers for those positions and the state is struggling to keep up with the demand.
Print this piece
Five patients with COVID-19 have died at EAMC hospital in Opelika
Five patients who were being treated for COVID-19 at East Alabama Medical Center in Opelika, Alabama, have died since Friday, the hospital said in a statement Saturday.
"Our hospital family expresses its collective condolences to the families of these five patients," said Laura Grill, EAMC President and CEO.  "As everyone knows, this virus has taken a toll on our nation and world, and our community is not exempt from that. Our hearts and prayers are with these families at this very difficult time."
Three of the patients were from Chambers County and two were from Lee County. The Alabama Department of Public Health is still investigating the deaths and has not updated their website to reflect them.
Hospital officials and ADPH are working through the process for official state determination before adding them to the COVID-19 death count.
"The ICU staff, respiratory therapists and physicians who worked most closely with these patients are especially struggling and we ask that the community lift them up today just as they have been lifting up our whole organization the past two weeks," Grill said.
EAMC is currently treating 19 patients hospitalized with a confirmed COVID-19 diagnosis. Five patients who were previously hospitalized with COVID-19 have been discharged. There are 22 patients who are currently hospitalized at EAMC with suspected COVID-19.
The number of hospitalized patients has more than doubled from seven on Tuesday. It anticipates more.
The county had at least 56 confirmed cases of COVID-19 by Saturday afternoon, more per capita than Jefferson County, Shelby County and Madison County. That number has also continued to grow. To the north, Chambers County, which falls under EAMC's service area, has the most cases per capita in the state, meaning there are more confirmed cases per person than any other county. That county's total stands at 17.
Many of the patients who have tested positive, according to EAMC, had a common "last public setting" in church services.
"While there are no absolute patterns among the confirmed cases in Lee County, one nugget of information does stand out a little—the last public setting for a sizable number of them was at church," East Alabama Medical Center said in a statement Friday night.  "Not at one church, or churches in one town, but at church in general."
The hospital has urged churches to move online and cancel in-person services. Some churches have continued to meet, as recently as last Sunday, despite "social distancing" directives from the Alabama Department of Public Health that prohibited non-work gatherings of 25 or more people.
EAMC is urging the public to act as if they are under a "shelter-in-place" at home order, as the state has so far refused to issue such a directive.
"EAMC is asking everyone to shelter in place at home," the hospital said in a statement Friday night. "Sheltering in place means you stay at home with immediate family members only and should not leave your home except for essential activities such as food, medical care, or work. You should not host gatherings of people outside of your immediate family. You should also maintain a 6-foot distance from other people as much as possible, wash your hands frequently for at least 20 seconds each time, and frequently disinfect high-touch surfaces."
It's also asking businesses that have access to personal protective equipment like gowns, masks, latex gloves and hand sanitizer to bring those items to a collection site outside of EAMC's main lobby. The site is open from 9 a.m. to 4 p.m. on weekdays.
This story is developing and will be updated.
Print this piece