Mallory Hagan takes Congressional campaign to Moody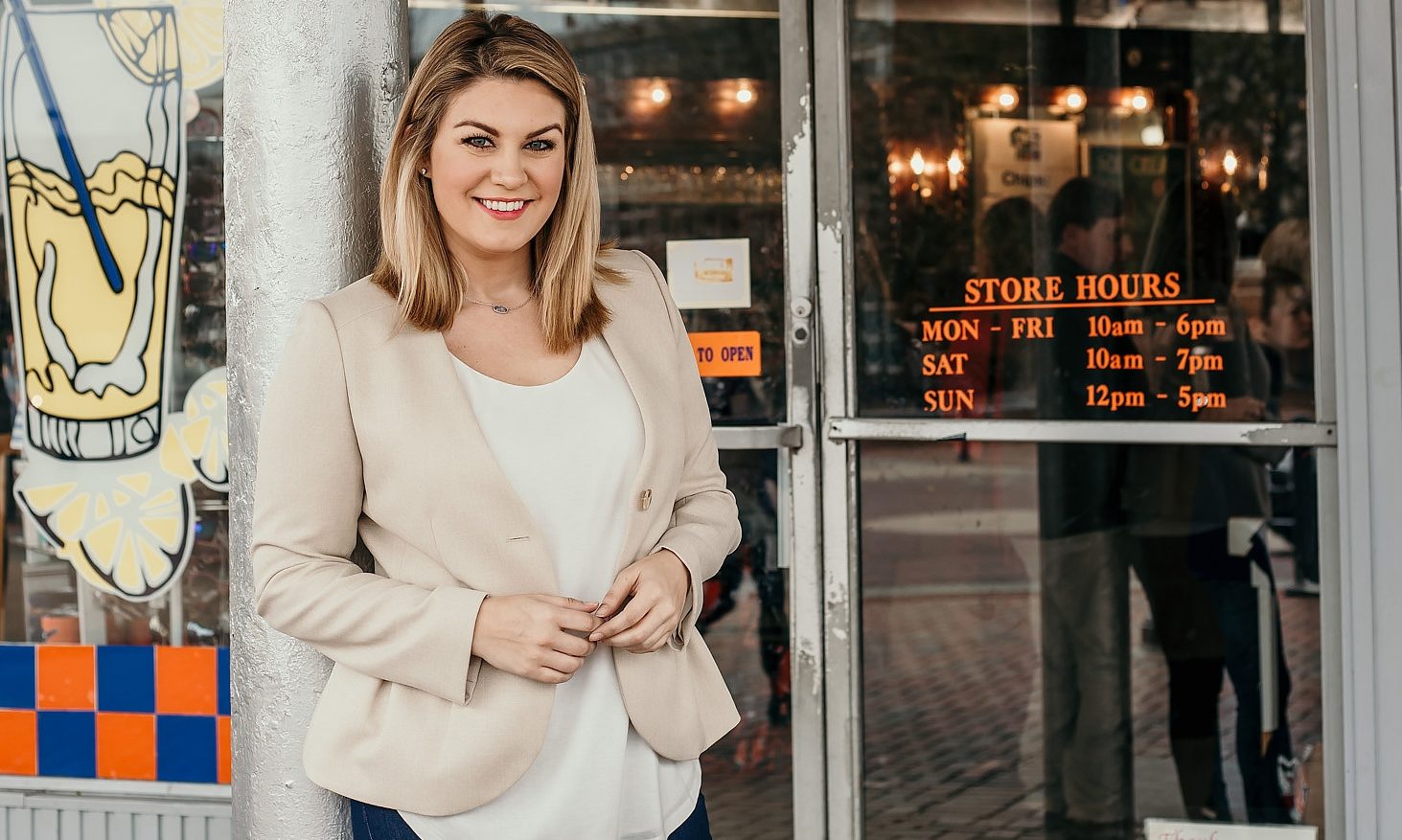 Thursday, Mallory Hagan (D) was in Moody campaigning to represent Alabama's Third Congressional District. Hagan held a pizza and cookies campaign event at the new Moody Civic Center facility, along with Carl Carter (D) who is running for state Senate District 11. An estimated 50 people were present to kick off Hagan's general election campaign in St. Clair County.
Hagan thanked Carter, a Moody resident, for organizing the event: "We appreciate all the work you have done to make this happen. I have not spent that much time in St Clair County to this point."
"This has been the most fun experience that I have ever had doing anything in my 29 years," Hagan said. "I am officially now the Democratic nominee for Alabama's third District."
Hagan said, I am an Alabama native. I remember picking muscadines with my Grandmother in Alexander City. My parents are graduates of Auburn High School. In their senior year my Mother got pregnant with me. "My parents are now 48 and my father just turned 49. We used the government to go by early on. I am very grateful that the government was here to help us through that time frame. I am an only child. My mom owned a hair salon and then owned a dance studio. My mom has 25 years as a business owner." Since she was at the business for long hours I had to learn to do things for myself.
"I started working at 12 as a baby sitter," Hagan said. "At 14 I got my first job at Jim Bob's Chicken Fingers." I wanted to go to Auburn. I worked three jobs as a freshman. I studied biomedical science. After that first year I decided I didn't really like that. "I had a yard sale and sold all of my stuff. I made $975 and used that money to move to New York City."
"The very first day I was there I did 22 job interviews," Hagan said. "I got two jobs that first day and found a place to stay within that first week. After I while I decided I want to go back to school. I enrolled in the Fashion Institute." I entered the Miss New York to pay for college. I paid for my first year of college with the prize winnings. I paid for my second year with my winnings the second year. "I won Miss New York on the third time and went on to be Miss America."
"I was an advocate for art education," Hagan said but "I wanted to spend that year impacting more people. One in three young women have been sexually abused. One in seven boys are sexually abused. I was sexually abused. Every woman in my family has been sexually abused and some have been sexually assaulted." The Child Advocacy Centers were cut in that year's budget request. I spent that year lobbying for that money. "I know how important those places are for our kids." That was when I realized that I can create change if I was in the arena.
"I decided to move home," Hagan said. "I took a job in news in Columbus Georgia." Nothing will make you want to get involved like sitting in the newsroom having to decide which of the three fatal shootings in our area to cover on the news that night."
I don't think any woman in American should fear for her rights to her own body, Hagan said. "I don't think any young man in America should fear being pulled over by the police. There are only four women under 40 in Congress. That is crazy. It is very important to diversify. Millennials are the largest voter block."
"The most common thing I heard about Congressman Rogers is that he doesn't listen," Hagan said. If you email you don't get an email back unless it is rubberstamped and clearly not addressed to your issue. If you call his office they are combative.
"Since February I have been traveling the district," Hagan said. "The top three things that keep rising to the top are: Health care, education, and equality."
"I care about my friends who are gay," Hagan said. "I have friends in New York City who are Muslim. I have friends who are Buddhists. I am concerned about them."
"I think all of us just want a place to belong," Hagan said. "Hopefully as the next Congresswoman, it is my plan to always have an open door. The whole goal is to be a true representative of Alabama's third district."
"It is amazing to see our country so energized particularly the Democrats but that means that the money, the boots on the ground are tremendously fragmented," Hagan continued. "We need to make sure everybody gets out and everybody votes."
Hagan was Miss America in 2013.
Mallory Hagan (D) will challenge incumbent Congressman Mike Rogers (R) for the Third Congressional District in the general election on November 6.
Since the Third District was redistricted by the Republican Super Majority in the state legislature after the 2010 Census, incumbent Mike Rogers has won 66.9, 66.1, and 64 percent of the vote.
First presidential debate is tonight
Tuesday's debate, set to begin at 8 p.m. CST, will be moderated by Fox News Sunday anchor Chris Wallace.
President Donald Trump and former Vice President Joseph Biden, the Democratic nominee for president, are preparing for Tuesday night's debate.
Tuesday's debate will be moderated by Fox News Sunday anchor Chris Wallace. The debate will be at 8 p.m. CST and is being hosted at Case Western Reserve University and the Cleveland Clinic in Cleveland, Ohio.
Due to COVID-19, the two candidates and the moderator will not shake hands. There will be a small number of ticketed guests inside the debate hall, along with debate officials, crews and TV network anchors including Fox News.
Trump has prepared with help from former New Jersey Governor Chris Christie and former New York City Major Rudy Giuliani but has chosen not to have traditional lengthy practice sessions.
Trump is suggesting he doesn't want to overdo it.
"Sometimes you can go too much in that stuff," Trump told reporters on Sunday.
Biden has been holding mock debate sessions with senior adviser Bob Bauer and top aides, according to CBS News.
"I'm prepared to go out and make my case as to why I think he's failed and why I think the answers I have to proceed will help the American people, the American economy and make us safer internationally," Biden said.
"The president prepares by being president," Trump campaign communications director Tim Murtaugh reportedly said. "And by regularly facing hostile news media. That's pretty good practice by any measure."
The debate as to whether Trump should have appointed Judge Amy Coney Barrett to fill the vacancy on the Supreme Court created by the death of Ruth Bader Ginsburg will almost certainly come up.
"Joe Biden spent a lot of time in his basement to study up," said Lara Trump, the president's campaign adviser and daughter-in-law. "He's been in this game for 47 years. I assume he'll do OK. Quite frankly, the bar has been lowered so much for Joe Biden that if he stays awake for the whole thing it's like maybe he won."
The two candidates are running very different campaigns.
From March until the last week in August, according to news reports, Biden made no in-person speeches or campaign appearances. Biden's events since have been rare and attended by just a few invited guests.
Trump, on the other hand, has been holding mass campaign rallies. Trump has held 14 in-person rallies in September including in swing states New Hampshire, Michigan, Wisconsin, Nevada, Florida, Virginia and Minnesota with multiple trips to Ohio, North Carolina and Pennsylvania.