Roby thanks Trump, Pence for helping her defeat Bright
Congresswoman Martha Roby (R-Montgomery) won a resounding victory over former Congressman Bobby Bright. The two had faced off before in 2010 when the Republican Montgomery City Council woman Roby unseated the Democratic incumbent in Bright. Roby won the first contest in a hard fought general election. Eight years later, Bright had switched to the Republican Party and Roby was the incumbent U.S.
Representative. Roby won the rematch in a race that was nowhere near as close as polls had anticipated.
A triumphant Roby thanked a crowded room full of supporters at Montgomery's Renaissance Hotel and Conference Center.
"I'm honored and humbled that the people of Alabama's Second District have again placed their trust and confidence in me, and that I will have the opportunity to continue to do this job on their behalf," Congresswoman Roby said. "On behalf of my family and me, thank you to each person who went out to the polls today to support me."
"Over the past several months, Team Roby traveled up and down our district to touch as many voters as we possibly could to remind them why I believe I am best positioned to continue to fight for the conservative values we all hold dear," Roby said. "To all of the people who took the time to talk with me and my team on your doorstep, on your porch, while driving down the road, or enjoying a meal — please know how much the time you spent with us means to our campaign. We didn't take one vote for granted, and I truly valued visiting with so many great people on the campaign trail."
Roby thanked God, her campaign team, the Second Congressional District voters and her family who, "I could not have done this without." Roby also offered her, "Sincere thanks for President Trump and Vice President Pence for their endorsements and support."
Both President Donald J. Trump (R) and Vice President Mike Pence (R) had personally endorsed Roby in her bid for re-election.
"I wake up each and every day trying to be the best representative for you," Roby told her supporters. "and to be in the best position to fight for your conservative values."
"I am proud of the race we ran," Roby said. "We ran a campaign based on fact and record and not on one of character assassination. As your representative I will always try to campaign with civility and grace."
"Over the last year and a half, it's been a great privilege to be a part of the conservative momentum and to work alongside my colleagues in Congress and the Trump Administration to push some very important priorities over the finish line," Roby added. "We are in a unique position to accomplish even more, and I'm eager to continue the fight."
Roby acknowledged that not everyone in this room is in total agreement on policy; but that is a good thing.
Roby was elected in the 2010 Republican wave election that swept Republicans into control of the House of Representatives after four years of Democratic control. Some conservatives in the district have criticized Roby in the past for being too willing to work with Speakers of the House Paul Ryan and John Boehner before that. Some of those conservatives supported a challenger against Roby in 2016, Wetumpka Tea Party founder Becky Gerritson. GOP voters chose Roby; but then became angry with the Congresswoman over some angry comments that Roby had for Donald Trump during the 2016 campaign and her withdrawing her endorsement of Trump.
Conservatives were incensed and Roby faced four primary challengers in the GOP primary. Roby had less than forty percent of the vote in the primary with Bright besting three more conservative challengers.
Between the primary and the primary runoff, the Republican Party however coalesced behind Roby, and are poised to move on to the general election on November 6 with momentum.
At press time, with 82 percent of the vote in Martha Roby had 41,386 votes, 68.2 percent versus Bobby Bright who had just 19,322 votes, 31.8 percent.
Bobby Bright is a former Mayor of Montgomery.
Roby will face Tabitha Isner (D) in the November 6 general election.
Print this piece
Sessions attacks Tuberville's views on China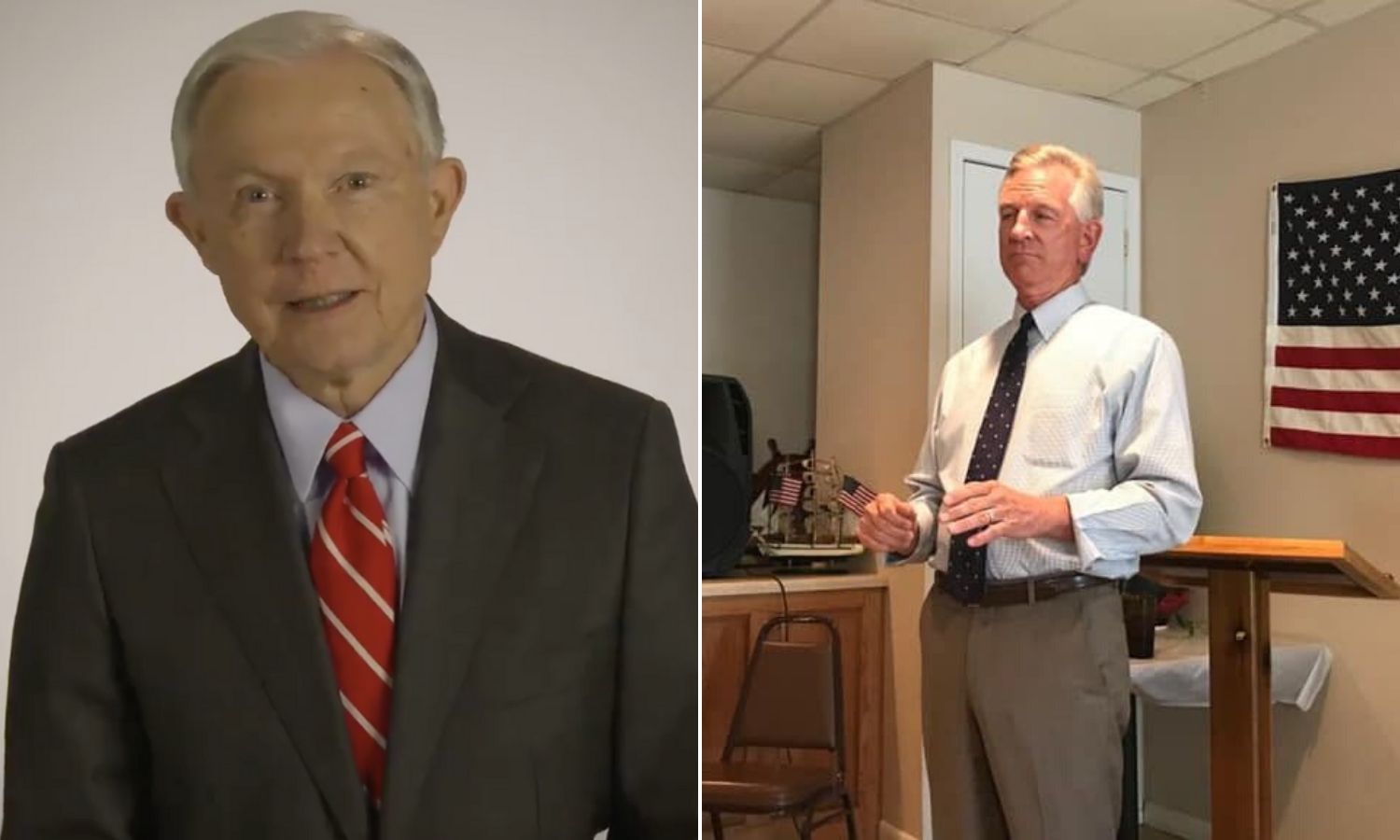 Former Sen. Jeff Sessions, R-Alabama, rolled out an ambitious, comprehensive plan to hold the Chinese government accountable for what Sessions called a cover-up of the coronavirus that has killed tens of thousands of people and devastated economies worldwide.
In an interview Thursday on the Matt & Aunie radio show on Talk 99.5 in Birmingham, for Auburn head football Coach and current GOP Senate candidate Tommy Tuberville expressed his views on China.
Matt Murphy asked: What do you see happening with China?
"Well, we can't worry about China right now…" Tuberville responded.
"You say you don't need to worry about China, but this came from China and our economy depends on China," Murphy asked on follow up. "Specifically how to overcome some of that dependence on Chinese goods and specifically in the pharmaceutical industry because right now we're dependent on the country that covered this up."
"Now we're seeing firsthand the results of letting everything go to China," Tuberville said. "The good thing about this is we'll have manufacturing come back and drugs and all those things….we're headed in that direction, just the simple fact that we can't control our own destiny. Everything's controlled by China. But that'll take care of itself."
During the show, Tuberville also characterized the Wuhan Virus, which has killed over 53,000 people and infected more than 1 million people across the globe, which then including over 1,300 people in Alabama, as "just a virus."
Jeff Sessions issued a statement critical of Tuberville on Friday in response.
"Amazingly, Tommy Tuberville said yesterday, 'We can't worry about China right now,"" Sessions quoted. "China is where the virus is from, and their deliberate lies hid the danger and resulted in a pandemic that never should have happened. We must take on China now and win, not run scared like Tommy Tuberville."
"There are over 1 million infected with the Wuhan Virus, and more than 1,300 in Alabama already," Sessions continued. "This is serious. But Tommy Tuberville said yesterday that 'this is just a virus.' What planet is he on? Tuberville is clueless. No wonder he's scared to debate me. We must stop relying on China for our critical medicines and equipment. I have a detailed plan to fix it. Amazingly, Tuberville also said yesterday, 'Everything's controlled by China, but that'll take care of itself.' Wrong! We must lead with action, this will not 'take care of itself.'"
On Thursday, a U.S. intelligence report claimed that China understated the damage that the coronavirus was doing in their country.
"Alabama's next Senator must be a leader who has the drive and determination to push a Congress that is too often unwilling to confront the critical issues of our time," Sessions continued. "I have proven my willingness and preparedness to lead from Day One. Tuberville is weak: all talk and no action."
Sessions is a former Senator, U.S. Attorney General, Alabama Attorney General, Chairman of the Alabama Republican Party, U.S. Attorney, asst. U.S. Attorney, and U.S. Army Captain.
The Republican primary runoff has been moved to July by Alabama Governor Kay Ivey (R) due to fears of the coronavirus. The virus is believed to have originated in Wuhan City, Hubei Province, China in late 2019.
As of press time, 10,943 Americans have died from COVID-19 including 53 Alabamians. 367,650 Americans have been diagnosed with COVID-19, including 2,006 Alabamians. At this point, only 240 Alabamians are confirmed hospitalized with COVID-19.
COVID-19 is the medical condition caused by a strain of coronavirus first identified late last year in Wuhan City, Hubei Province China, SARS-CoV-2. Since then it has spread across the globe infecting 1,346,566 persons that we are aware of killing 74,697 people.
The winner of the Republican primary runoff will then face Senator Doug Jones (D-Alabama) in the November election.
Print this piece