Jones, Alexander introduce bill to delay Trump's auto tariffs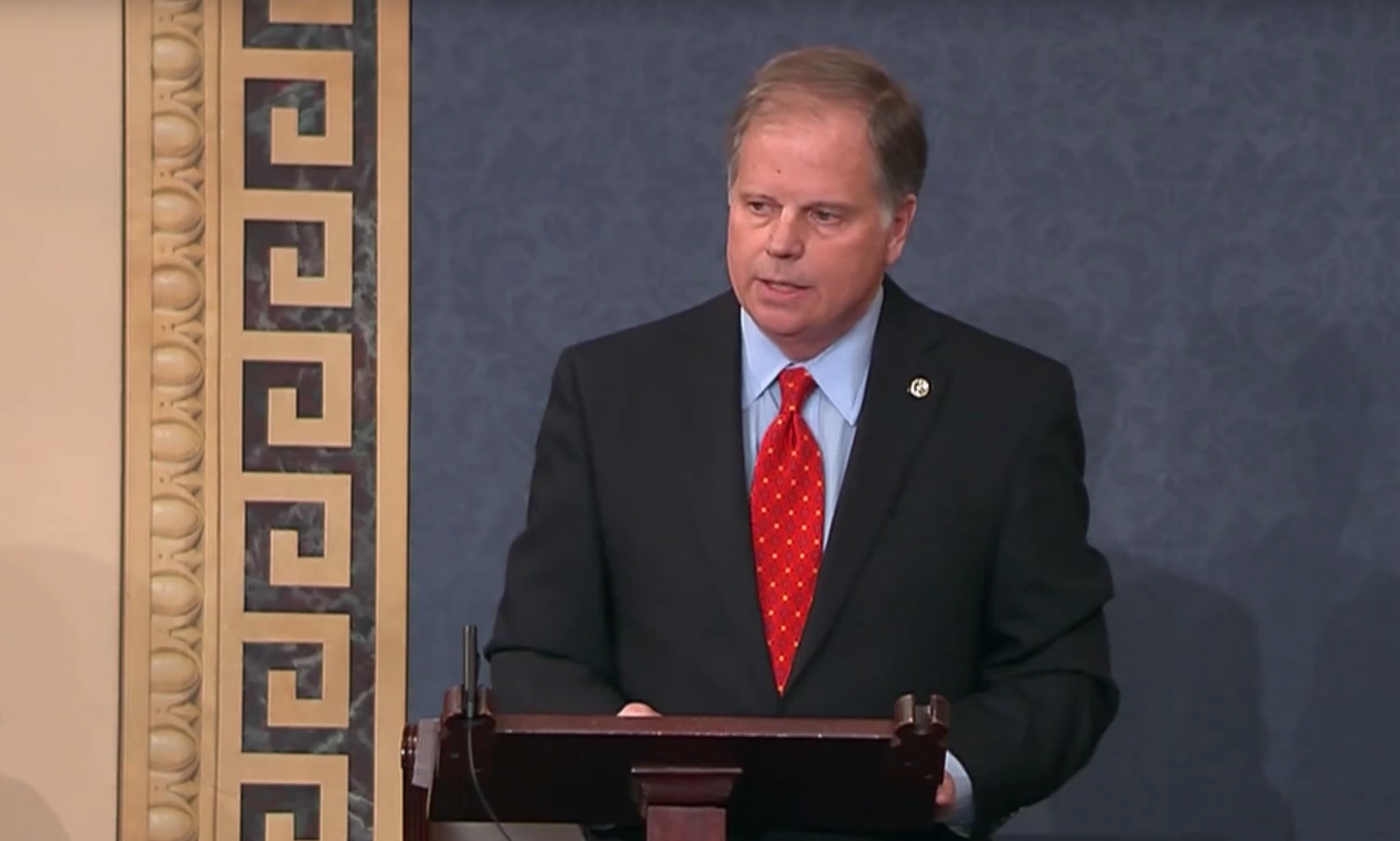 Wednesday U.S. Senators Doug Jones (D-Alabama) and Lamar Alexander (R-Tennessee) introduced the Automotive Jobs Act of 2018. The bipartisan bill would delay President Donald J. Trump's (R) recently proposed twenty five percent tariff on imported cars, trucks, and automobile parts.
At President Trump's direction, the U.S. Commerce Department initiated a Section 232 investigation in May to determine whether imported automobiles, trucks, and parts are a threat to U.S. national security and to subsequently levy tariffs.
The senators' legislation would require that the International Trade Commission (ITC) conduct a comprehensive study of the well-being, health, and vitality of the United States automotive industry before any tariffs could be applied.
"These tariffs are a tax on American consumers and they're going to cost Alabama jobs," said Senator Jones. "I share the President's goal to reinvigorate manufacturing and secure trade deals that benefit our country, but not at the expense of one of Alabama's biggest job creators. This bipartisan legislation will hold the Administration accountable by ensuring it has all of the facts about the positive impact American automakers have on their communities, regardless of where they're headquartered. With that information in hand, the Administration could no longer make the ridiculous claim that this industry is somehow a national security threat."
"This bill would delay the administration's proposed 25 percent tariff on automobiles and automotive parts imported into the United States until the President has a second opinion from the International Trade Commission about the effect those tariffs would have on the more than 7 million jobs in the American automotive industry," said Senator Alexander. "About 136,000 of those auto jobs are in Tennessee, one third of our state's manufacturing jobs. The president has gotten the world's attention with his tariffs, but what deserves more attention is his long term solution – zero tariffs, zero barriers, which is, as the president said at the G7 summit in June, 'the way it should be.' Taking steps in the direction of reciprocity—insisting that other countries do for us what we do for them—rather than a trade war, will be much better for the American worker."
Last month, the senators wrote a letter to U.S. Department of Commerce Secretary Wilbur Ross urging him to reconsider the tariffs. This legislation addresses the key concerns the senators raised in their letter to Secretary Ross.
As part of the mandated study, the ITC will be required to assess, among other things: The number of automobiles assembled in the United States that are exported each year and to which countries; The percentage of component parts of automobiles assembled in the United States that are imported: The number of component parts for automobiles that are not produced in the United States and would thus not be available to United States automotive producers if prohibitively high duties were imposed on imports of those parts; and, The effect an increase in automotive manufacturing costs would have on jobs in the United States.
The ITC will be required to deliver the report to Congress and is to include policy recommendations based on the study. Under this legislation, these tariffs cannot be applied until the report is delivered.
In recent administrations, Congress has delegated more and more authority to U.S. Presidents to deal with trade disputes and issue retaliatory tariffs. With the Trump Administration, the Congress appears to be moving toward exercising more control and input over these matters. Now if this somehow passes both Houses of Congress, why would any President sign any bill that reduces his own presidential authority?
Both Governor Kay Ivey (R) and Commerce Secretary Greg Canfield have both expressed their own concerns about Trump's proposed automotive tariff.
The problem with tariffs on automobile parts is that even American made cars all have foreign parts in them. The tariff will dramatically increase the cost of cars produced in the U.S. and foreign retaliation on American exports will price American cars out of many foreign markets.
Earlier today negotiators between the U.S. and the E.U. suggested that they could be on a path toward no tariffs at all between the two. The Trump Administration is reportedly also making progress on bilateral negotiations with Mexico.
Doug Jones is Alabama's junior Senator.
Print this piece
League of Women Voters of Alabama sue over voting amid COVID-19 pandemic
The League of Women Voters of Alabama on Thursday filed a lawsuit against Gov. Kay Ivey, Secretary of State John Merrill and several Montgomery County election officials asking the court to expand Alabama's absentee voting and relax other voting measures amid the COVID-19 outbreak. 
The nonprofit is joined in the suit by 10 plaintiffs who range in age from 60 to 75, many of whom have medical conditions that put them at greater risk for serious complications or death from COVID-19. 
"Voting is a right, not a privilege, and elections must be safe, accessible, and fairly administered," the League of Women Voters of Alabama said in a press release Thursday. "Alabama's Constitution specifically requires that the right to vote be protected in times of 'tumult,' clearly including the current pandemic." 
Currently, to vote absentee in Alabama, a person must send a copy of their photo ID and have their ballot signed by a notary or two adults. The lawsuit asks the court to require state officials to use emergency powers to waive the notary or witness requirement, the requirement to supply a copy of a photo ID and to extend no-excuse absentee voting into the fall. 
Among the plaintiffs is Ardis Albany, 73, of Jefferson County who has an artificial aortic valve, according to the lawsuit. 
"Because she fears exposing herself to COVID-19 infection, Ms. Albany has already applied for an absentee ballot for the November 3, 2020, general election," the complaint states. "Her application checked the box for being out of county on election day, and she is prepared to leave Jefferson County on election day if necessary to vote an absentee ballot." 
Another plaintiff, 63-year-old Lucinda Livingston of Montgomery County suffers from heart and lung problems and has been sequestered at home since March 17, where she lives with her grandson, who's under the age of five, according to the complaint. 
"She fears acquiring COVID-19, given her physiological pre-morbidity, and she fears spreading the virus to her grandson at home," the complaint states. "She has never voted an absentee ballot, but she wishes to do so in the elections held in 2020. She does not have a scanner in her home, cannot make a copy of her photo ID, and has no way safely to get her absentee ballot notarized or signed by two witnesses." 
In response to the COVID-19 outbreak, Gov. Ivey pushed the Republican runoff election back until July 14. Although Merrill has allowed those who may be concerned about voting in person in the runoff to vote absentee by checking a box on the ballot that reads "I have a physical illness or infirmity which prevents my attendance at the polls."
Merril has not extended that offer for voters in the municipal and presidential elections in November, however. 
Meanwhile, the number of confirmed COVID-19 cases in Alabama continue to rise, while testing for the virus has remained relatively flat in recent weeks. 
"We're extraordinarily concerned about the numbers that we have been seeing," said Alabama State Health Officer Dr. Scott Harris, speaking during a press briefing Thursday. 
Harris said the department continues to see community spread of the virus and have identified several hotspots. He's concerned that the public isn't taking the virus seriously or following recommendations to wear masks in public and maintain social distancing, he said Thursday. 
"One hundred years ago the nonpartisan League of Women Voters was founded to protect and preserve the right to vote and the integrity of the electoral process," said Barbara Caddell, President of the League of Women Voters of Alabama, in a statement. "The unexpected risks posed by the novel coronavirus SARS-CoV-2 (COVID19) challenge our election system to the utmost.  Today, we ask that Alabama's courts use Alabama's laws to make it safe and possible for all citizens to vote."
The League of Woman Voters of Alabama's lawsuit is similar to a suit by the Southern Poverty Law Center, the NAACP Legal Defense Fund and Alabama Disabilities Advocacy Program which asks the court to require state officials to implement curbside voting for at-risk citizens during the coronavirus pandemic and to remove requirements for certain voter IDs and witnesses requirements.
The U.S. Department of Justice on Tuesday filed a brief in that suit that states the department doesn't believe Alabama's law that requires witnesses for absentee ballots violates the Voting Rights Act.
Print this piece