Republican State Rep. Randy Davis indicted in wide-ranging federal public corruption probe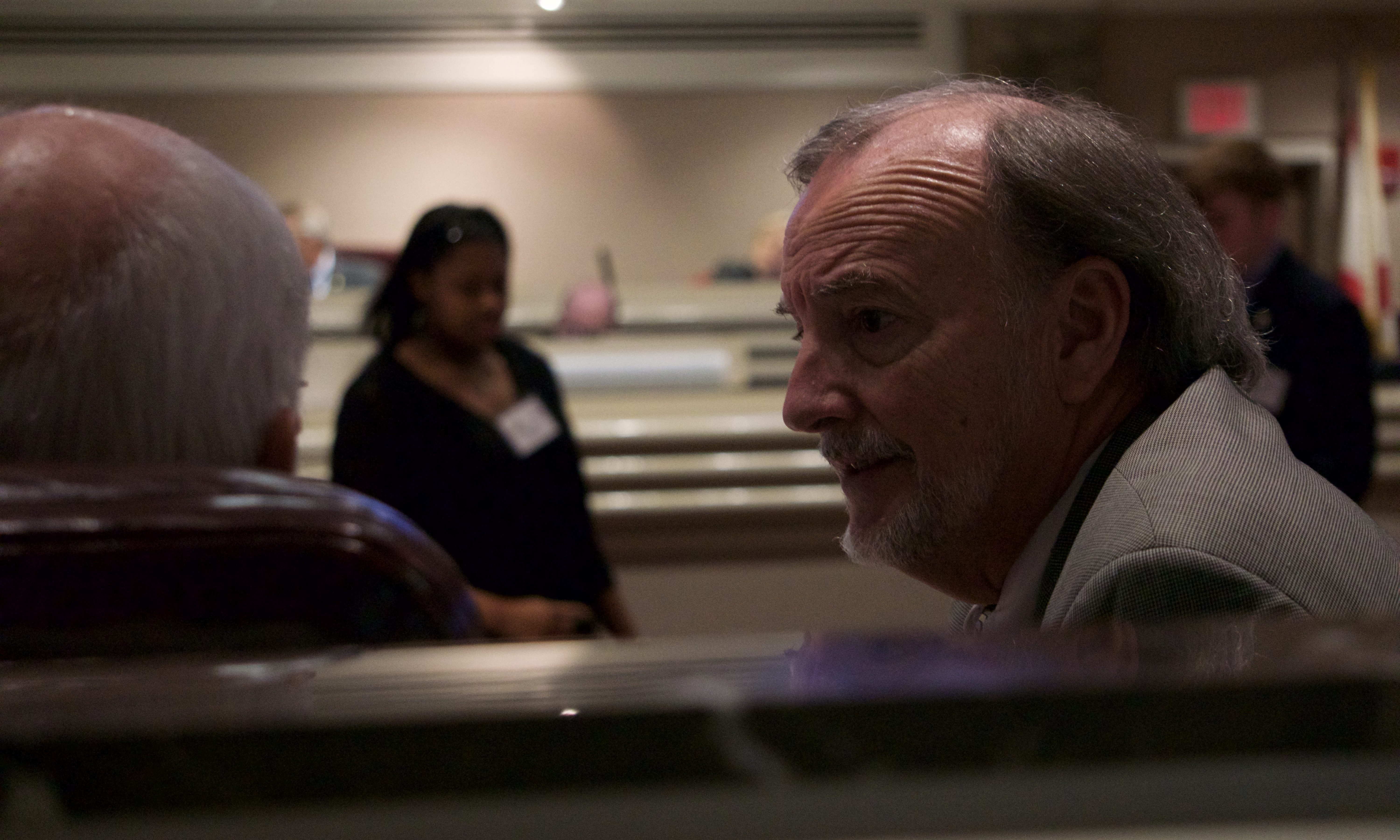 A federal grand jury indicted another Alabama Republican lawmaker this week as part of an ongoing public corruption probe that has already seen the indictment of Rep. Jack Williams, R-Vestavia Hills.
Rep. Randy Davis, R-Daphne, who is 66, was arrested and indicted Wednesday on charges of conspiracy and bribery. Prosecutors with the U.S. Attorney's Office for the Middle District of Alabama say Davis worked with former House Majority Leader Micky Hammon, R-Decatur, an investor in the diabetes clinics, which were operated by Trina Health.
Hammon pleaded guilty to a mail fraud charge last year.
Federal prosecutors charged Davis in the new superseding indictment along with co-defendants G. Ford Gilbert, 70, from Carmichael, California, and Martin J. "Marty" Connors, 61, from Alabaster. The prosecutors say Davis participated in an improbable attempt to pressure Alabama's largest health insurer, Blue Cross Blue Shield, to cover insulin therapies offered at Trina's health clinics while he had a financial interest in those clinics and stood to gain from seeing their treatments covered.
The clinics offered an intravenous insulin treatment, OIVIT, for those with diabetes. The Centers for Disease Medicare and Medicaid Services issued a decision in 2009 stopping coverage of the treatment.
Davis, who was elected in 2002 and is not seeking re-election, is accused of lobbying BCBS on behalf of Trina and working with Hammon to recruit new investors for Trina Health in return for finders' fees. In 2016, Davis and Hammon worked to push a bill through the Legislature that would force coverage of the treatment, prosecutors said, and he met with then-Gov. Robert Bentley.
Prosecutors said Gilbert — the CEO of Trina health, the California based company that operates the treatment clinics all over the U.S. and in some foreign countries — then made payments to and gave things of value to Hammon in exchange for his efforts behind the scenes to push the bill.
In 2014 and 2015, Trina opened three clinics in Alabama. Shortly thereafter, BCBS told Trina it would no longer cover the treatments in question. That's when, according to prosecutors and previous indictments, Gilbert decided to hatch a plan to push the insurer — which is also a powerful political force in the state — to change its position on the treatment coverage.
It's unlikely Hammon, Davis or any legislator could force BCBS to change such a decision, given their political prowess in the state.
Prosecutors say Gilbert also hired Connors as a lobbyist on behalf of the bill, and Connors knew of Gilbert's payments to Hammon.
Davis took several steps to advance the bill that would have forced coverage of the treatment. Trina would have stood to gain financially if the state's largest insurer covered their treatment. Prosecutors wrote in the indictment that Davis helped recruit a sponsor for the bill, arrange a public hearing to be video recorded and spoke in favor of the bill at a public hearing.
The grand jury's indictment charges Davis, Gilbert, and Connors with conspiracy to commit bribery related to federal program and alleges Gilbert committed various acts of bribery related to federal programs. Gilbert and Davis were also charged with interstate travel and communications in aid of racketeering. The last count in the new indictment alleges Connors made a false statement to a federal agent.
In total, Davis faces three federal charges. He appeared at Montgomery's federal courthouse Wednesday.
If convicted, each defendant faces a maximum sentence of 10 years in prison, significant monetary penalties, asset forfeiture and restitution, the Department of Justice said.
The United States Postal Inspection Service investigated the case with the assistance of the Federal Bureau of Investigation.
When Davis announced he wouldn't seek re-election for his seat in the Alabama House, he announced a bid for Baldwin County probate judge. He later dropped that bid.
Hammon stepped down in 2017 as House majority leader before pleading guilty to devising a scheme to commit mail fraud related to his campaign account in September 2017. That was the first charge and conviction in this case, which has grown to include several Republican lawmakers.
Hammon was automatically removed from office when he pleaded guilty to the felony. Prosecutors said Hammon used campaign money to pay his own personal expenses, writing checks from his campaign committee account and depositing them into his personal account.
State Rep. Micky Hammon, former majority leader, pleads guilty to campaign finance violations
Hammon was sentenced to three months in prison and was released late last month.
Gilbert and Williams were first indicted in April as part of the same Trina scheme. Prosecutors said Williams held a public hearing on the bill requiring BCBS to cover the treatment despite knowing that Hammon had financial stake in Trina.
Williams has said he's innocent.
The indictment names an individual "C.B." who knew Gilbert and Hammon. He approached Hammon in 2014, making him a proposal that if he could recruit new investors, he would get him an ownership stake in the company. Later, Hammon would bring Davis on board with a similar promise, prosecutors said.
Prosecutors cited an email from Davis to Hammon, which said he hoped they "could make millions" on the deal. Trina had promised the clinics would be profitable.
Hammon attempted to evade required disclosure of his stake in the company by lowering it from 5 percent to 4 percent, which would have fallen under the disclosure thresholds of Alabama law.
Prosecutors say Davis also tried to persuade another state representative, listed only as "State Representative C" in the indictment, to help them change BCBS's position on the diabetes treatment.
"Aware of Representative Hammon's previous involvement with BCBS-AL and Davis' close relationship with Hammon, State Representative C asked whether Davis was acting for the purpose of benefitting Hammon," the indictment reads. "Davis replied that he was motivated only by a desire to help the diabetic patients who resided in his legislative district."
The bill never became law.
Hammon, Williams and Davis aren't the only lawmakers facing legal trouble with federal prosecutors. Another Republican lawmaker, State Rep. Ed Henry, R-Hartselle, was indicted and arrested last month in connection with a pill farm operation in Montgomery.
State Rep. Ed Henry arrested and charged in health care fraud case
Henry was indicted on over a dozen charges that included health care fraud, conspiracy to commit health care fraud and unlawful kickbacks. Henry owned an operated a healthcare company, MyPractice24, which was paying various kickbacks to Montgomery physician Dr. Gilberto Sanchez in return for Sanchez's practice referring Medicare beneficiaries to MyPractice24 for chronic care management.
Among the kickbacks were direct payments to a staff member at Sanchez's practice, free chronic care management services, free billing services and free clinic services. Henry, who maintains his innocence, was the 14th person indicted in the pill mill scandal.
Democratic State Rep. Oliver Robinson, D-Birmingham, pleaded guilty to bribery charges last year.
Sen. Doug Jones won't support SCOTUS nominee before Nov. 3 election
"Certainly, power grabs are not uncommon in our political system, but few are accompanied by such blatant hypocrisy as we are witnessing now," Jones said.
Sen. Doug Jones, D-Alabama, on Friday said he would not support any nominee to the U.S. Supreme Court before the outcome of the Nov. 3 election is determined. 
Speaking during a livestreamed briefing, Jones said that while Republicans appear to have enough votes to replace the late Justice Ruth Bader Ginsburg, he will not be a party to denying the people a voice in the process in the election of the next president "in just under 44 days." 
President Donald Trump said Saturday that he plans to nominate Amy Coney Barrett to replace Ginsburg, who on Friday became the first woman, and first Jewish person, to lie in state at the U.S. Capitol. 
Several Republicans who voiced opposition to President Barack Obama's nomination of Judge Merrick Garland to the Supreme Court more than 10 months before the 2016 election have reversed course, and now say they support Trump nominating a selection with election day just a little more than a month away. 
"Certainly, power grabs are not uncommon in our political system, but few are accompanied by such blatant hypocrisy as we are witnessing now," Jones said. "In fact, I believe that the level and intensity of hypocrisy being displayed by Senator McConnell and the president, with regard to the rush to confirm Justice Ginsburg's successor, is unmatched in the history of our constitutional government." 
Jones said what McConnell and other Republicans should be focusing on instead is getting another round of much-needed COVID-19 aid to small businesses and people impacted by the pandemic. 
"Rather than pushing this confirmation to the top of the Senate calendar, the majority leader should turn his focus instead to protecting the lives and livelihoods of the American people. We should pass a new bipartisan COVID-19 stimulus package to give Americans and businesses the relief that they desperately need, and that economists say if required to shore up the economy now," Jones said. 
Jones expressed concern as well for what medical experts are warning could be a new spike in COVID-19 nationwide. 
"There could be an even greater urgency, if our health care professionals' warnings come to pass," Jones said. "And that is as temperature drops and people go indoors that this virus spikes, and we see another surge." 
Asked why his opponent, Tommy Tuberville, won't debate Jones, he said, "It's pretty simple. He doesn't know what he's talking about."  
"He has no clue. He is Coach Clueless," Jones said. 
Jones noted that when asked recently on his thoughts on extending the John R. Lewis Voting Rights Act of 2020, Tuberville stumbled through an answer that indicated he wasn't sure what the Voting Rights Act was.
"He had no earthly idea," Jones said. 
Jones said Tuberville isn't going to debate him because Tuberville doesn't want to talk about issues.
"He doesn't want to talk about a plan. His plan is simply this: Whatever Donald Trump says, I'm good," Jones said, "and if Donald Trump says or does something that is not good, it's crickets coming from Coach Tuberville." 
Jones noted that after multiple news outlets, including Fox News, confirmed reporting that Trump had said disparaging things about veterans who died in combat, Tuberville has not spoken out against Trump's comments. 
Jennifer Griffin, senior national security correspondent for Fox News, reported that she has spoken to senior U.S. officials who backed up reporting by The Atlantic, and said Trump said of the Vietnam War "anyone who went was a sucker." 
"He has not said a thing about what was confirmed by Fox News about the president's comment," Jones said of Tuberville. "That's just disgraceful."