Questionnaires show Maddox consistent, Ivey lying
Kay Ivey is lying.
With a capital L.
She's not using a "talking point," as many in the media have claimed. She's not ducking a question. She's not being politically savvy.
When Kay Ivey looks into cameras and tells the people of Alabama that she won't debate because her Democratic opponent, Walt Maddox, keeps changing his stances on important issues, she is lying.
Bald-faced. Shamelessly. Desperately.
Lying.
It's a lie so absurd, so obvious that she might as well be telling you that she thinks Alabama voters are so unbelievably stupid and careless that they won't bother to check her on it.
She thinks you're that dumb, that easily swayed by the R or D beside a candidate's name.
Because checking her on her claims would be incredibly easy. And it wouldn't involve anyone with any bias. You can do it yourself.
Last week, after Ivey, exasperated by a single question about debates, explained that only the media and Maddox "care about" gubernatorial debates and claiming that Maddox keeps shifting positions on important issues, Maddox spokesman Chip Hill sent out the following statement: "Walt has been crystal clear on all these issues, and many others, as as he travels the state. While Kay Ivey has been in hiding, Walt Maddox has been looking the people of Alabama in the eye and answering all their questions for over a year and has consistently explained and placed his views in writing."
But Hill didn't stop there.
He backed it up.
Along with the statement, Hill sent media outlets copies of multiple questionnaires that Maddox has filled out for a variety of media outlets, special interest groups and nonprofit organizations, including Yellowhammer News/Alabama Policy Institute, The Decatur Daily, Alabama Arise, Conservation Alabama and The League of Women Voters.
Most of those questionnaires are easily accessible online and Maddox filled them out in great detail. They cover every topic that Ivey has raised, including the 2nd amendment and abortion (Maddox is a pro-life Democrat and received an endorsement from Moms Demand Action, for what it's worth).
Those questionnaires were filled out over the course of several months, and Maddox's answers on them never vary.
Ivey and her team know this. They're just banking that you don't. And that you won't check.
And that Ivey will be able to again duck out of debates.
Which, by now, you have to be asking why, right? I mean, Kay Ivey has been a politician for multiple decades now. She knows that debates are part of the process.
So, why is she going to all of this trouble? Making up lies and trying to pretend that voters don't care about debates?
There are several answers to this question, none of them particularly flattering for Ivey. But the two that matter most are these: Maddox has better answers to the state's most pressing questions and Ivey's physical ability to withstand an hour-plus-long debate with Maddox is very much in question.
Look through Maddox's questionnaires, read his answers. Then compare those answers to Ivey's.
Ivey has been governor of this state for more than a year now, and I'd like any of you to provide one thing she's actually done to promote the job growth she takes credit for or the improving economy that she takes credit for.
In her API/Yellowhammer questionnaire, she attributes her "signing the largest middle class tax cut in a decade" to this success. This is utter nonsense.
That tax cut provided, on average, just $22 per YEAR back to only 182,000 people in the state. It also originated with Senate Republicans, not Ivey — who had zero influence in it passing.
It also sucked $4 million out of the state's education budget. In a time when parents are still buying their kids toilet paper to take to school.
But that's the way the entire Ivey tenure has been, as she's taken credit for the work of others, ducked any tough questions and avoided debates.
At a point, you have to wonder if Republican voters are ever going to catch on to this game, if they're ever going to realize that Ivey is just more of the same ol' good-ol-boy gang that has turned this state into a national embarrassment and kept the hardworking people living paycheck to paycheck.
Will they simply vote for the R, and ignore the lack of substance? Will they continue to buy the lies and talking points over good ideas and a fresh perspective?
Or are Alabama voters really as dumb as Kay Ivey seems to think?
Print this piece
Opinion | Facts are stubborn things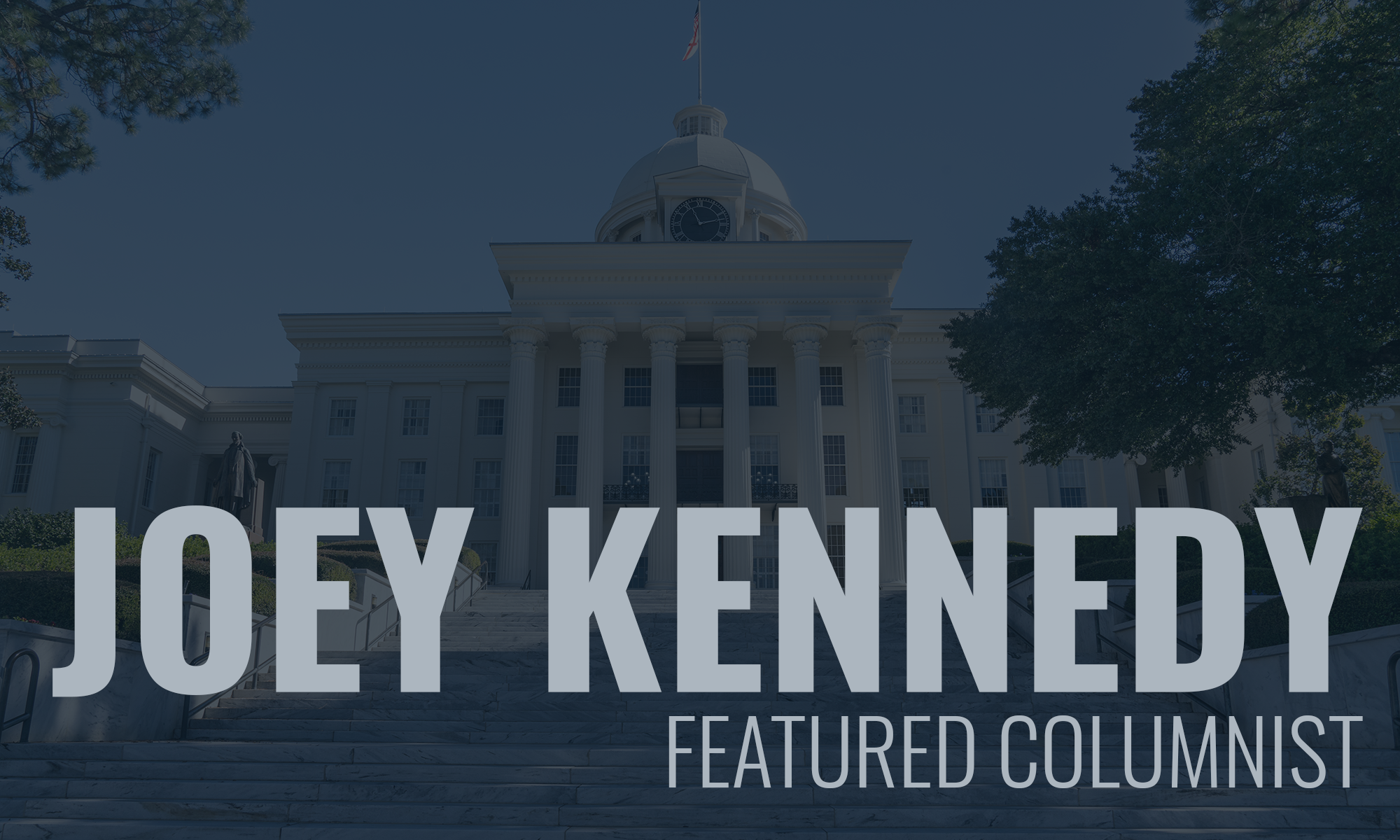 I'm in my 20th year of teaching in the English Department at UAB. I've never taught my primary discipline, journalism, and I really don't have much of a desire to, either.
Yet, in 2017, the leadership of UAB's University Honors Program asked me to be a part of their interdisciplinary faculty for the fall. UHP's fall semesters are themed, and that year, the first year of Donald Trump's term as president, the theme was appropriate: "Evidence and Belief in a Post-Truth Society." For UHP, I was a "communications" (journalism) professor. I taught with a scientist and public health professor, a religion professor, a philosophy professor, a literature professor and a psychology professor.
The students in this program – all 100-plus of them – are among the smartest students on campus. Needless to say, I was intimidated. For my first lecture before the students, I took a Xanax (it's prescribed because I do have anxiety sometimes). The Xanax didn't make me lecture better, but it made me not really care if I screwed up.
I'm sort of a one-trick pony – I teach and write in the only language I know: English. Here, you had neuroscience and biology and chemistry majors galore. And, yes, there were a few English and history and business and engineering students, too. Pretty much every discipline taught at UAB is represented in UHP, and certainly in its umbrella school, the UAB Honors College.
That fall went by quickly. I only took the Xanax for the first lecture. I settled into my groove pretty quickly. But when it was over, I ached for the continued intellectual stimulation I received as a teacher. I'm a lifetime learner, and that program taught me a lot. And I got to teach others a lot, too.
I thought it was a one-shot deal. Until, that is, the program's director, Dr. Michael Sloane, asked me to return in the fall of 2018 to direct the first-year students' literary analyses. And that fall, I was also asked to propose a UHP seminar class for the spring of 2020. I returned last fall to once again direct the first-year literary analysis. And I've been asked to return for first-year LAs again this coming fall.
This semester, I'm teaching the class I proposed, "Media and Social Justice." And I've already got another self-created UHP seminar class scheduled for next spring, "Media and War: Men and Women Making a Difference on the Front Lines."
Unlike my composition and literature classes in the English Department, these seminars have no template. I have to create the teaching as I go. Some days, I'm very confident; others not so much.
I divided the "Media and Social Justice" class into six two-week units: Nellie Bly (mental illness and investigative journalism), The Jungle (food safety and immigration), Jim Crow Lives (the civil rights era and voter suppression), #MeToo (sexual assault and harassment), Black Lives Matters (police and other shootings of people of color), and March for Our Lives (gun violence and sensible gun regulation).
These classes are limited to 16 honors students, but 19 students wanted in my "Media and Social Justice" class, so I have 19 students.
I teach these classes as a communications professor, not an English professor. I direct the literary analyses as a literature professor, not a communications professor.
We're covering historical topics, for sure, but also contemporary topics. It doesn't get any more current than Black Lives Matter, #MeToo, voter suppression, or March for Our Lives.
We don't just talk about the journalism around these topics, but also about other media. For example, I find protest songs for each topic. While it's not on our plate, did you know Trump has inspired a whole catalog of protest songs? Most every president inspires protest songs, though Trump has inspired an awful lot of them.
Maybe at some point, I'll create a "Media and Donald J. Trump" class. There is plenty of material.
The point, though, is that we all should be lifelong learners. I can't tell you how much I've learned from by English students and my honors students, how much the English faculty has taught me, and how much the faculty and directors of the University Honors Program have taught me.
That I get to return the favor by teaching these unique classes says a lot about UAB, and how it values critical thinking and learning.
I hope I never lose my enthusiasm for learning, or become too stubborn to change when the facts point toward another direction. That is our responsibility to the truth. I guess I am stubborn in one way: There are no alternative facts. Facts are truth, reality. The alternative is false, untruth, lies.
Readers, that's a fact, and like me sometimes, facts are stubborn.
Joey Kennedy, a Pulitzer Prize winner, writes a column every week for Alabama Political Reporter. Email: [email protected].
Print this piece