After a tumultuous summer for the Business Council of Alabama, one of the state's most prominent business and lobbying groups, that included the ouster of the group's longtime CEO, the BCA's board of directors announced Wednesday a new plan to revitalize the group and a new executive committee that will lead the group through that transition.
The BCA says the plan "strengthens the organization's governance structure to include a range of business leaders."
The new executive committee, which welcomed back a number of previous BCA members, includes a number of BCA member organization leaders including some who had drawn back their involvement over the course of the last several months. One of those is Alabama Power, long considered the state's most powerful business entity in the political arena.
Alabama Power was one of the first companies to temporarily withdraw from the organization in June in protest over the group's leadership and management.
"The wholesale governance and leadership changes made today show what is possible when businesses come together with a common goal," said Alabama Power Co. CEO Mark Crosswhite. "While the hard work of moving this organization forward remains, I am pleased with this progress and look forward to working with businesses across our state for a stronger BCA and a better Alabama."
The BCA's new executive committee is made up of 11 individuals. Five represent some of the group's larger businesses, five represent the group's smaller businesses, and one trustee represents the Alabama Self-Insured Worker's Compensation Fund.
"This structure ensures that BCA's governance structure will be focused on those core issues that are critical to businesses of every variety and size," said former BCA chairman Carl Jamison, who is also a member of the executive committee. "Going forward, it will allow us to build on BCA's finest traditions and take the organization to a whole new level."
The new executive committee elected today includes:
Rey Almodovar, CEO, Intuitive Research and Technology
Mark Crosswhite, CEO, Alabama Power Co.
Perry Hand, Chairman, Volkert Inc.
Denson Henry, Owner/Vice President, Henry Brick Co.
Carl Jamison, Shareholder, JamisonMoneyFarmer PC
Johnny Johns, Executive Chairman, Protective Life Corp.
John Mazyck, Principal, The Frazer Lanier Co.
Gary Smith, CEO, PowerSouth Energy Cooperative
John Turner, CEO, Regions Bank
Bobby Vaughan, Chairman of the Board, Alabama Self-Insured Worker's Compensation Fund
Tim Vines, CEO, Blue Cross and Blue Shield of Alabama
The new restructuring follows the ouster of former BCA CEO Billy Canary, who has now taken a position with the U.S. Chamber of Commerce. A number of high-profile withdrawals — including Regions Bank and PowerSouth Energy — rocked the group. The companies that withdrew from the group called for new leadership and a restructuring of the organization's governance.
If the withdrawals were permanent, which now doesn't appear to be the case, BCA could have lost its top seven contributors and more than $1 million in annual contributions, which could have been a devastating blow to a group that prided itself on being able to influence state politics.
One of the main tipping points was Canary's degrading relationship with political leaders both on the state and national level along with his inability to foster any meaningful legislative progress. He was reportedly named a persona non grata in the Sen. Richard Shelby's office and shunned by most of the state's delegation in Congress. As APR editor Bill Britt put it at the time of the withdrawals, "Canary has accumulated more enemies than friends and increasingly finds himself isolated."
His reputation was severely tainted during the June Republican primary elections and few candidates publicized a BCA endorsement while still taking the group's monetary contributions. Much of Canary's problems date back to his aligning himself with former Republican House Speaker Mike Hubbard, who was convicted of a dozen felony ethics charges in 2016.
In both the 2017 legislative session, the BCA failed to push through any meaningful legislation and this year's legislative session wasn't much better, failing to garner support for key pieces of legislation top contributors backed.
When Alabama Power, Blue Cross Blue Shield, Regions Bank, Drummond Coal and others pushed back against Canary over the last year in an effort to reform the group, their efforts were rebuked by Canary and BCA chairman Perry Hand.
"Despite repeated assurances that our concerns will be addressed, there has been no meaningful response," Crosswhite said in a June letter announcing the company's temporary withdrawal from the group.
Representatives from Drummond Co. Inc., Kemp Management Solutions, Maynard Cooper & Gale, Parker Towing Co. and Progress Rail Services Corp. were also elected to the BCA board today.
Bobby Vaughan, a representative from the Alabama Self-Insured Worker's Compensation Fund, said the restructured BCA should ensure the organization can provide value to the members.
"At the end of the day, our members are our customers," Vaughan said. "Our job is to serve the interests of our members, and the new structure will enable us to do that more effectively."
Heather Brothers New, chairwoman of the Chamber of Commerce Association of Alabama, also weighed in.
"We are fortunate in Alabama to have a business community that understands the importance of providing strong leadership on matters that affect our state's economic success," New said. "Individuals, families and communities can't thrive if our state doesn't provide an environment where businesses can thrive. Everyone in Alabama benefits from this effort to ensure a unified and effective BCA."
Alabamians request more than 101,000 absentee ballots with 30 days left to apply
So far, 35,184 absentee ballots have been successfully returned for the general election.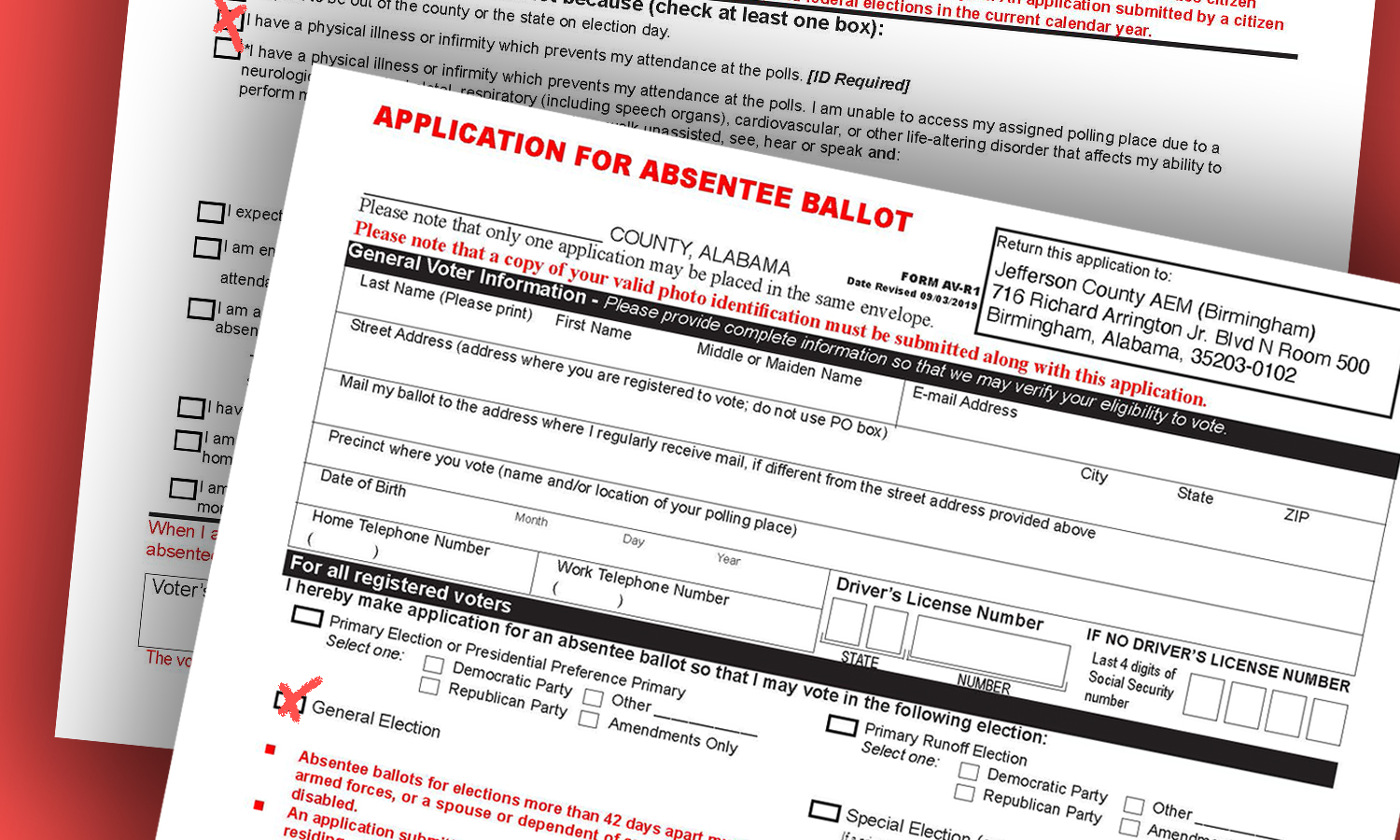 At least 101,092 absentee ballots have been requested so far in Alabama according to Secretary of State John Merrill, with just 30 days left to apply for an absentee ballot for the Nov. 3 General Election. So far, 35,184 absentee ballots have been successfully returned for the general election.
In order to protect the safety and well-being of voters, Merrill is encouraging those who are concerned about contracting or spreading the coronavirus to apply for and cast an absentee ballot.
Absentee ballot applications can be downloaded online or requested by visiting or calling your local absentee election manager's office.
Voters may also contact the Secretary of State's office at 334-242-7210 to request an absentee ballot application.
Due to the declared states of emergency, any qualified voter who determines it is impossible or unreasonable to vote at their polling place shall be eligible to check the box on the absentee ballot application that is most applicable to that individual. In the case none of the boxes are appropriate, voters can check the box which reads, "I have a physical illness or infirmity which prevents my attendance at the polls. [ID REQUIRED]"
For the Nov. 3 General Election, the deadline to register to vote is Monday, Oct. 19, the deadline to submit an absentee ballot application is Thursday, Oct. 29, the deadline to return an absentee ballot to the absentee election manager is the close of business Monday, Nov. 2, and the last day to postmark an absentee ballot is Monday, Nov. 2.
Voters who are eligible to vote pursuant to the Uniformed and Overseas Absentee Voting Act will have until Tuesday, Nov. 3 to postmark an absentee ballot.
Voters concerned about COVID-19 are encouraged to select the box on the affidavit, which accompanies the absentee ballot, which reads as follows: "I am physically incapacitated and will not be able to vote in person on election day."
Due to recently witnessed delays with the U.S. Postal Service, Merrill encourages voters interested in returning their ballot by mail to go ahead and make application for their absentee ballot. As a reminder, Merrill worked with the Legislature last year to pass Act 2019-507, allowing voters the opportunity to return their absentee ballot by commercial carrier in addition to U.S. mail.