State, National leaders react to death of Sen. John McCain
The Senior Senator from Arizona John McCain (R) died Saturday from brain cancer after a lengthy illness. McCain ran for President twice and won the Republican nomination in 2008. The people of Alabama overwhelmingly preferred McCain; but then Illinois Senator Barack H. Obama (D) won the presidency instead. Many Alabama leaders had statements of condolences upon learning of McCain's passing at the age of 81.
U.S. Senator Richard Shelby, R-Ala., said, "John McCain was a brave American and a true hero – one who honorably served our country for 60 years. His distinguished presence in the Senate will be missed, and his unwavering commitment to our country will live on in his legacy. The McCain family remain in our thoughts and prayers during this hard time."
U.S. Senator Bradley Byrne, R-Montrose, said, "Last year, I had the opportunity to visit the "Hanoi Hilton" with Senator McCain, where he was held captive. It was a remarkable experience that I will never forget. May his service to our country never be forgotten. His family, friends, and colleagues will be in our prayers."
The Speaker of the Alabama House of Representatives Mac McCutcheon, R – Monrovia, said, "As Speaker of the Alabama House, I would like to express the body's deepest and most heartfelt condolences upon the passing of a great patriot, U.S. Senator John McCain. John McCain devoted a lifetime of service to his country as a naval aviator and prisoner of war and, later, as a member of the U.S. House and Senate. Just as when he turned down the early release offered to him by his North Vietnamese captors, Sen. McCain turned his back on the easy route of quiet military retirement and thrust himself into the combative and turbulent public arena because he felt his country's call."
"Even when he sometimes took positions in the U.S. Senate that disappointed conservatives, his sense of sacrifice, perseverance, and duty to nation was always recognized, admired, and celebrated," Speaker McCutcheon continued. During the 2008 presidential campaign, he carried the Republican Party's banner as its nominee, and he ran a strong and competitive race even when a historic economic downturn and the effects of an increasingly unpopular war conspired against him. Our thoughts and prayers of contentment go out to the McCain family during this time of loss."
House Majority Leader Nathaniel Ledbetter, R-Rainsville, said, "The members of the Alabama House Republican Caucus join the rest of the nation in mourning the death of U.S. Senator John McCain, a true American patriot."
"John McCain was a fierce warrior in every sense of the word whether he was fighting the North Vietnamese who held him captive, promoting the issues in which he believed on the floor of the Senate, or battling the aggressive brain cancer that ultimately took him," Ledbetter continued. "His examples of bravery, resilience, and devotion to his country are legendary. While a prisoner of war in Vietnam, he turned down an early release and, instead, organized resistance efforts against his captors while working to buoy the spirits of his fellow POWs."
"As a member of the U.S. Senate, he promoted a strong and well-funded military, sought to recover the remains of servicemen who were listed as POW/MIA for decades, and helped heal the wounds of the Vietnam conflict by returning to visit the 'Hanoi Hilton,' where he was once held captive," Ledbetter said. "While some of us may have differed with him politically from time to time, no one can question his commitment to our nation and to charting what his heart believed was the right course. We pray that God will give comfort to Sen. McCain's family as we celebrate the example of selfless public service that he leaves behind.
"Like several of my Facebook friends, I had the honor of meeting Senator John McCain when he visited Montgomery in 2007," State Representative April Weaver (R) added. "While some of us may have differed with him politically from time to time, no one can question his bravery, commitment to our nation and love for our country. Rest In Peace, Senator John McCain. Thank you for your service! You are a true American hero."
House Speaker Paul Ryan, R-Wisconsin, said, "This is a sad day for the United States. Our country has lost a decorated war hero and statesman. John McCain was a giant of our time—not just for the things he achieved, but for who he was and what he fought for all his life. John put principle before politics. He put country before self. He was one of the most courageous men of the century. He will always be listed among freedom's most gallant and faithful servants. Our hearts are with his wife, Cindy, his children, and his grandchildren. This Congress, this country mourn with them."
2012 Republican presidential nominee Mitt Romney said, "No man this century better exemplifies honor, patriotism, service, sacrifice, and country first than Senator John McCain. His heroism inspires, his life shapes our character. I am blessed and humbled by our friendship."
Print this piece
Mexico isn't paying for Trump's border wall. Alabama is.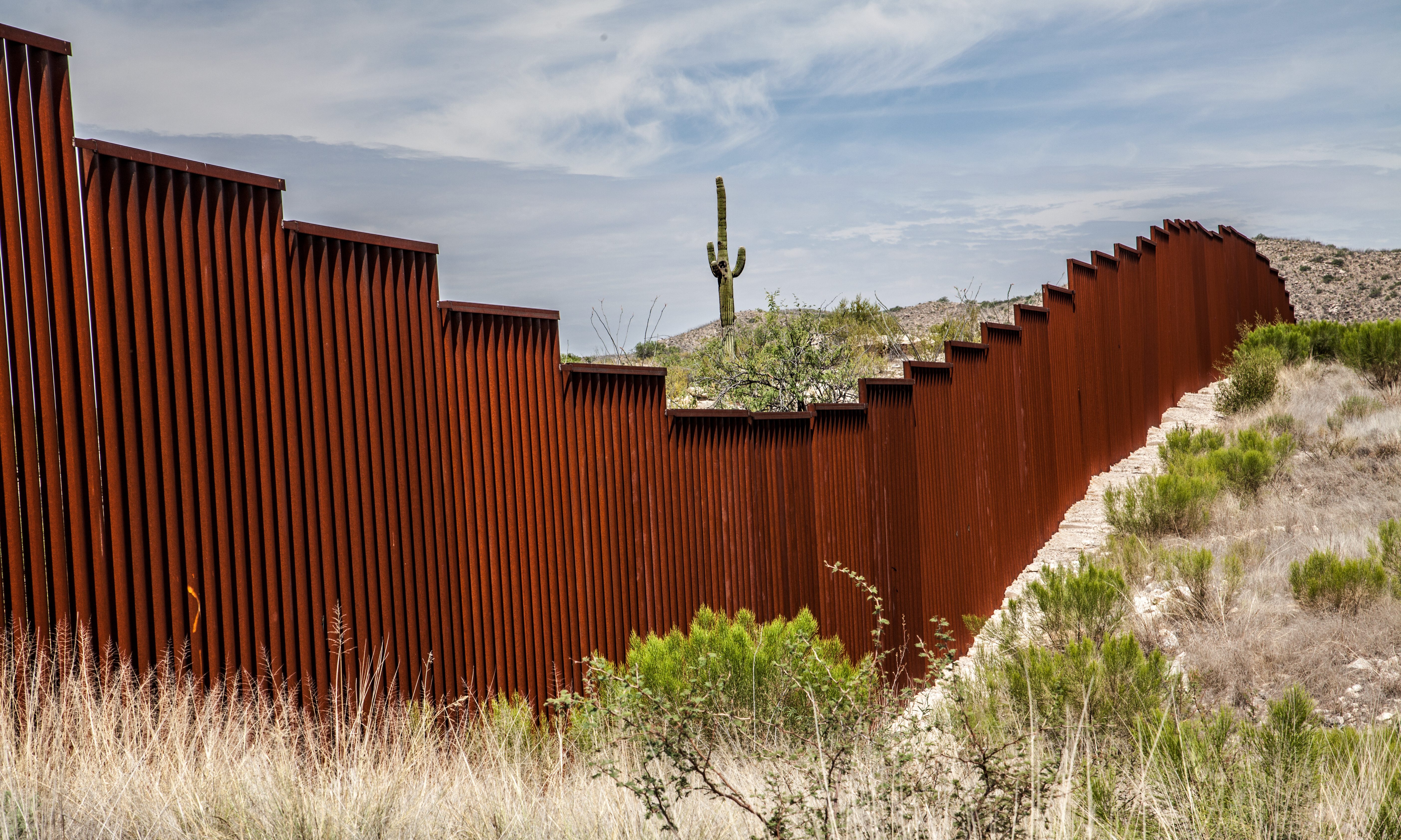 Looks like Mexico isn't paying for that "big, beautiful wall" at the southern border. 
Alabama is. 
The Trump administration announced on Thursday that it would be diverting more than $260 million of funds originally slated for a Navy ship building operation located in the Port of Mobile and will instead use those funds to construct a portion of Trump's border wall. 
"I am very concerned about the impact a decision like this could have on communities like Mobile, whose ship-building workforce is second to none," Alabama Sen. Doug Jones said. "I understand and agree we need to protect our borders, but I can't understand for the life of me why folks in Mobile would be paying for this wall."
The money was originally earmarked for Austal Inc., which had been selected by the Navy to build 11 Expeditionary Fast Transport ships. Those EFT ships are designed to provide the Navy with quick, shallow-water transport of both troops and equipment. 
"First and foremost, I support the President's efforts to build the wall," Sen. Richard Shelby said. "My strong preference is to do so through a direct appropriation, but Democrats have refused. While I am disappointed that the Department of Defense intends to target important priorities such as the Expeditionary Fast Transport, the Democrats left the President little choice in finding the funds necessary to build the wall. Ultimately, building the wall and providing for our national defense should be our highest priorities."
This is not exactly true. The 2020 Federal Budget included $1.37 billion in funding for the wall — a total agreed upon by Congress last year after tense budget negotiations. 
To date, Trump's wall has cost American taxpayers — who are footing the entire bill for this project, despite Trump's promises — more than $400 million and is projected to exceed more than $11 billion at its current rate. 
Thus far, only about 110 miles of border wall has been built, and nearly all of that is replacement of the border structures that were in place. 
The goal was to erect a border wall covering the majority of an 864-mile zone that the administration deemed a priority. So far, zero miles of that zone have been completed, and the entire project has faced a number of setbacks. Most troubling is the fact that nearly half of that zone consists of privately owned lands in Texas, and the landowners have refused to sell. 
However, the Trump administration is moving forward, continuing to push money into the project. And the search for additional funding has been almost as controversial as the project itself, with the Trump administration taking heat for pulling money from a variety of projects, including the improvement of base housing around the country. 
And now, Alabama stands to lose hundreds of millions. 
"The (transport ship) is responsible for hundreds of good-paying jobs in South Alabama, but I am even more concerned about the impact this decision has on our men and women in uniform and our national security," Jones said. "This decision puts Alabama jobs on the line and it is going to make us less safe by denying our troops the resources they need to stay safe and fulfill their missions."
Immigration experts also question the effectiveness of the wall on illegal immigration, and most national security experts agree that it will have little effect on the nation's overall. 
The overwhelming majority of undocumented workers in the U.S. don't enter through the southern border. Additionally, despite constant rhetoric from Republicans and from Trump that terrorists are crossing the Mexican border, a CATO Institute study in 2018 found that of the seven terrorism suspects apprehended in the U.S. after entering the country illegally, none crossed the southern border. Instead, they entered through Canada.
Print this piece