Counselor in Troy indicted for Medicaid fraud
Tuesday, Alabama Attorney General Steve Marshall (R) announced the indictment of a former Troy counselor on charges of Medicaid fraud and theft.
AG Marshall announced that Yvonne Bradford-Porterfield had been arrested on charges that she defrauded the Alabama Medicaid Agency. Bradford-Porterfield is 61 and a former resident of Troy. She surrendered Tuesday morning at the Montgomery County Detention Facility and was released on a $10,000 bond.
Attorney General Marshall's Medicaid Fraud Control Unit (MFCU)  presented evidence to a Montgomery County grand jury resulting in Bradford-Porterfield's indictment in April of 2017. The indictment charges her with one count of Medicaid fraud and one count of first-degree theft of property. She has resided out-of-state since before the indictment was returned against her.
The case was investigated by the Attorney General's Medicaid Fraud Control Unit after it was referred from the Alabama Medicaid Agency's Program Integrity Division.
Prosecutors allege that, while Bradford-Porterfield was the owner of Because We Care Counseling Service in Troy, that she submitted claims to the Medicaid Agency for counseling sessions for at-risk youth that never occurred. Prosecutors allege that Bradford-Porterfield received over $11,000 in improper payments.
If convicted, Bradford-Porterfield could face a maximum penalty of two to 20 years for the theft charge, which is a class B felony, and one to 10 years for the Medicaid fraud charge, which is a class C felony.
An indictment is merely an accusation. Everyone is presumed to be innocent until proven guilty as judged by a jury of their peers.
Steve Marshall was appointed Attorney General by then Governor Robert Bentley (R) in 2017. Marshall defeated a crowded GOP primary field to get the GOP nomination for AG. Marshall faces Joseph Siegelman (D) in the general election on November 6.
According to the Office of the Inspector General at the U.S. Department of Health and Human Services, in 2016 the Alabama Attorney General's Medicaid Fraud Control Unit (MFCU) conducted 62 Medicaid fraud investigations, returned 23 indictments, and 11 civil settlements/judgements. The unit's eight member staff recovered $17,034,541 at a cost of just $1,379,311. By comparison Mississippi's MFCU has a staff of 35, conducted 521 investigations, returned 54 indictments, 64 convictions, 14 civil settlements/judgement, and recovered $19,821,844 at a cost of $3,406,060. Georgia's MFCU has a staff of 44, conducted 495 investigations, returned 19 indictments, 15 convictions, 18 civil settlements/judgement, and recovered $31,571,210 at a cost of $4,719,262. Tennessee's MFCU has a staff of 36, conducted 273 investigations, returned 35 indictments, 44 convictions, 22 civil settlements/judgement, and recovered $105,835,521 at a cost of $4,828,604. Florida's MFCU has a staff of 156, conducted 664 investigations, returned 78 indictments, 51 convictions, 21 civil settlements/judgement, and recovered $165,545,781 at a cost of $17,316,568. Louisiana's MFCU has a staff of 54, conducted 492 investigations, returned 86 indictments, 75 convictions, 16 civil settlements/judgement, and recovered $40,374,660 at a cost of $5,710,826.
https://oig.hhs.gov/fraud/medicaid-fraud-control-units-mfcu/maps/interactive-map2016.asp#
Trump Truck and boat parades this weekend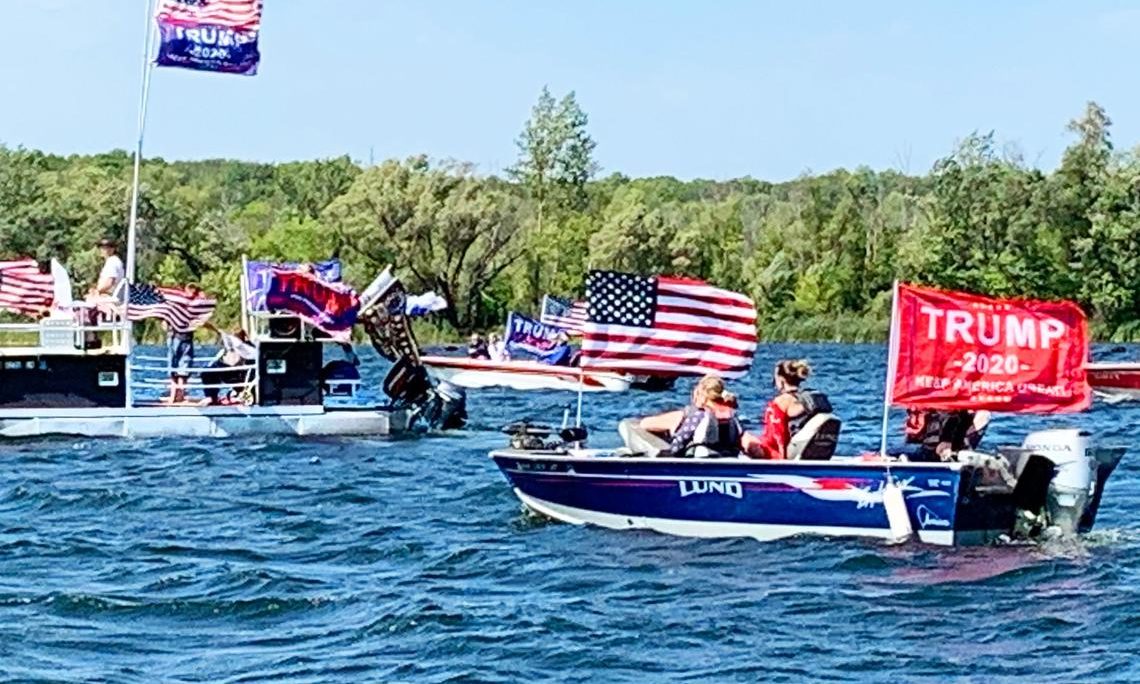 As Election Day draws near, Alabama Republicans are excited about promoting the re-election of Donald J. Trump as President and the election of Tommy Tuberville for U.S. Senate. This weekend two pro-President Trump events are happening in the state. There will be a truck parade from Ashland to Phenix City on Saturday sponsored by the Clay County Republican Party, while there will also be a boat parade on Wilson Lake in the Shoals sponsored by the Colbert County Republican Party on Sunday.
The pickup trucks will assemble at the Ashland Industrial Park in Clay County, 8240 Hwy 9, Ashland. There is a pre-departure rally at 10:00 a.m. central standard time. The trucks will depart at 11:00 a.m. and then proceed on a parade route that will take them into the bitterly contested swing state of Georgia. The Trump Pickup Parade will wind through east Alabama and West Georgia traveling through LaGrange and Columbus before concluding near the Alabama/Georgia line in Phenix City, 332 Woodland Drive, Phenix City at approximately 2:00 p.m. central time. Speakers will begin at 3:00. Trump flags will be on sale at the event.
The Phenix Motorsports Park will be hosting what sponsor hope could possibly the world's largest Pickup Tuck parade in U.S. history that is routing over 50 mile through Georgia in effort to "pickup" President Trump's numbers in GA.
A number dignitaries have been invited to address the Phenix City rally, including Coach Tuberville. Former State Sen. Shadrack McGill, Trump Victory Finance Committee member former State Rep. Perry O. Hooper Jr., and Paul Wellborn, the President and CEO of the largest Family owned Kitchen Cabinet manufacture in the USA are among the featured speakers who have committed to speak at the event.
Entertainment will be provided by: Charity Bowden, an up and coming country music singer who was the runner up on "The Voice". Charity will sing 'I am Proud to be an American' as well as songs from her Voice performances. The McGill Girls will also perform. The three beautiful and talented sisters will be singing patriotic songs in three part harmony. Geoff Carlisle, a professional DJ will be keeping the crowd pumped with music and entertainment.
Following the speakers and the entertainment there will Trump truck-vs- Joe Bidden truck races down the drag strip for the finale.
The Northwest Alabama boat parade will be on Sunday. The boats will gather at 2:00 p.m. near Turtle Point and then the flotilla will parade around the open waters of Wilson Lake til 3_00 p.m.. There will be a contest for best decorated Trump boats.
Trump supporters have held a number of large boat parades across the state to show their support for the re-election of Pres. Trump.
Boat parade sponsors say that this parade will be: pro-American, pro-law enforcement, pro-military.