Alabama Republican Party incorporates repeal of Common Core into platform
Saturday, the Alabama Republican Party Executive Committee passed its first ever platform. The 550 member executive committee was meeting for their summer meeting on the Tuscaloosa campus of the University of Alabama. Among the other planks in the platform is an expressed opposition to the controversial Common Core curriculum.
The platform explicitly says: "We oppose the implementation of the Common Core Curriculum."
The Alabama Republican Party controls every constitutional office in the state, has super majorities in both Houses of the Alabama legislature, every statewide elected judicial position, six of the seven congressional districts, one of the two U.S. Senate seat, and a majority on the state school board. Alabama Republicans have the power to repeal the controversial Alabama College and Career Ready Standards, which are aligned with the Common Core curriculum; but they have not done it to this point.
The party is now telling every elected official and candidate running under their banner that opposition to Common Core is expected if they are going to run as Republicans in Alabama and they are to do everything in their power to oppose implementation of the Common Core curriculum.
Advocates for the inclusion of this language in the platform are calling on the school board, the governor, and the legislature to vote to overturn the Common Core curriculum including the Alabama College and Career Ready Standards.
Some prominent Republican grassroots activists have been opposed to Common Core for years.
Ann Eubank with the Alabama Legislative Watchdogs told the Alabama Political Reporter:
"We applaud the inclusion of the opposition of Common Core in the Republican Platform," Eubank said. "The Republicans were warned 7 years ago that Common Core would destroy America, and turn our children into "good little Socialists." We hope this will encourage the Republican supermajority in the Alabama legislature to do more than just give lip service about ridding our schools of this cancer. As always, we will be watching."
A number of bills have been introduced in the Alabama legislature over the years to repeal the Alabama College and Career Ready Standards and they have all been opposed by many Republican legislators including some in the leadership.
While many grassroots Republicans have steadfastly opposed Common Core, particularly the controversial new math standards, Montgomery politicians have to this point largely ignored Republican groups on this issue, many of whom have taken campaign contributions from special interests, including publishers of Common Core aligned text books, that favor Common Core.
The most powerful special interest opposing repeal legislation has been the Business Council of Alabama.
"The Alabama College and Career Ready Standards are vital in preparing students to compete in the 21st century global workforce which requires highly skilled workers," said then BCA president and CEO William J. "Billy" Canary said. Repeal of the Alabama College and Career Ready Standards, "Would be a giant step backward, based on a false premise that Alabama and local school systems would lose control over their curriculum. While some will continue a campaign of fear on this issue, we will continue to stand united in the business, education and military communities in offering our children the hope of a bright future."
That was March 2013, when Canary's friends in the legislature had just blocked legislation to repeal the Common Core curriculum. Five years have passed and Alabama schools are still widely viewed as one of the worst school systems in the entire country and progress, if any, has been hard to quantify.
Republican legislators, school board members, and school superintendents will have to decide next year if they are going to honor their party platform or not.
Alabama lawmaker suggests more should become infected with COVID-19
The leader of Alabama's State Senate suggested to a reporter that he'd actually like to see more people become infected to build the state's overall immunity to the virus, a claim that would require thousands more deaths to become a reality.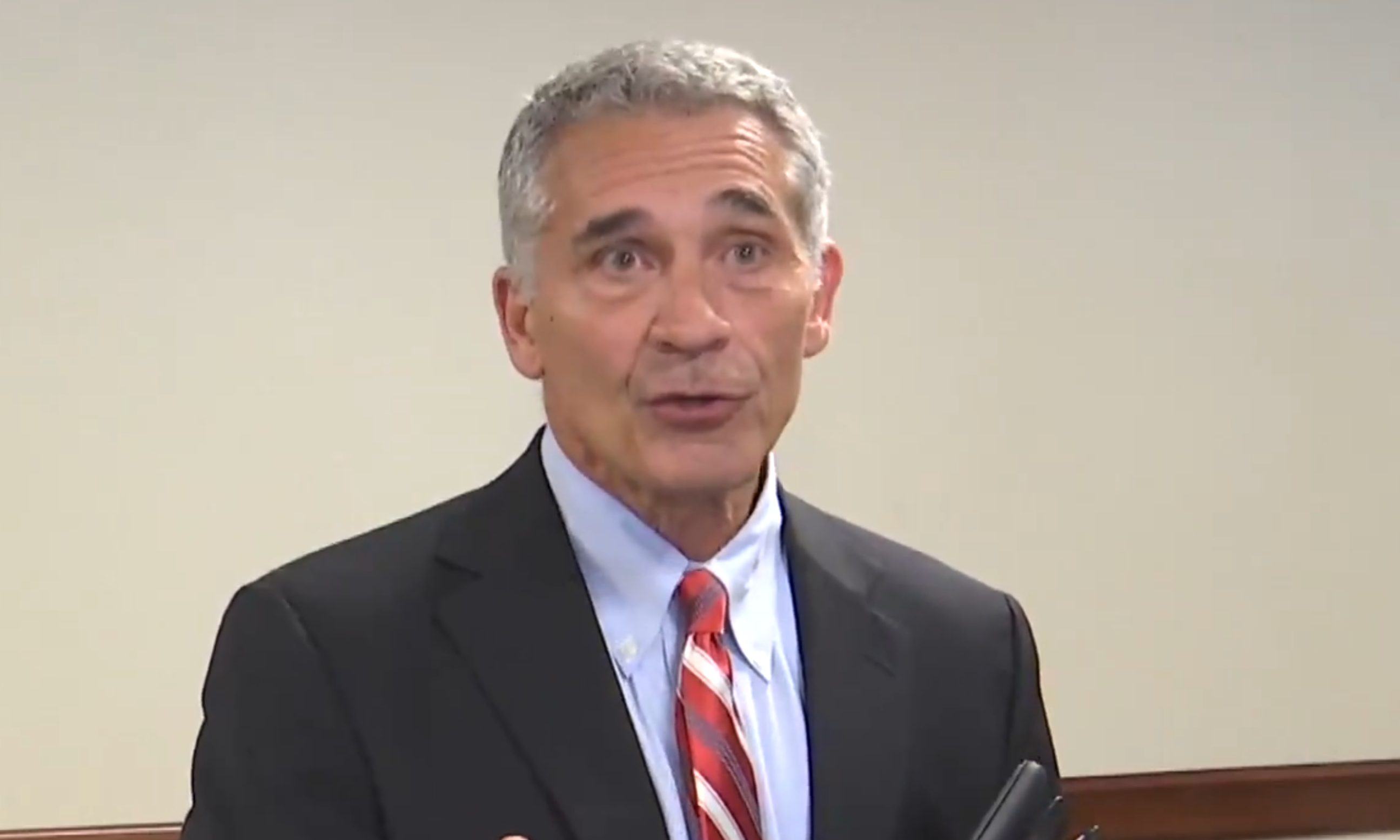 East Alabama Medical Center's critical care beds on Thursday were at 90 percent capacity, and COVID-19 hospitalizations statewide on Thursday were at another record high for the fifth straight day. Administrators at EAMC sounded the alarm Thursday that if things don't change soon, the exponential growth of COVID-19 cases could stress the hospital to the breaking point.
UAB Hospital's COVID-19 intensive care and acute care units were approaching their existing capacity Tuesday, when the hospital was caring for 92 coronavirus patients. The hospital had 91 inpatients who had been diagnosed with COVID-19 on Wednesday. Jefferson County has added more than 1,000 COVID-19 cases over the last week.

Alabama has experienced numerous record increases in cases and hospitalizations in the last several weeks, as the state continues to grapple with a growing pandemic and stressed hospitals.
Despite that, the leader of Alabama's State Senate — and member of Gov. Kay Ivey's COVID-19 task force — suggested to a reporter that he'd actually like to see more people become infected to build the state's overall immunity to the virus.
The state's top health officials suggested Thursday that doing so would lead to unnecessary deaths.
Sen. Del Marsh, R-Anniston, told CBS 42's Reshad Hudson that he's not concerned with the growing number of COVID-19 cases.
Sen. Del Marsh (R) Anniston, says he wants to see more people get #coronavirus to build up an immunity. I asked was he concerned about Alabama's latest surge in cases. pic.twitter.com/omb2GVg9Ev

— Reshad Hudson (@ReshadHudson) July 9, 2020
"I'm not concerned so much at the number of cases. In fact, quite honestly, I want to see more people because we start reaching an immunity, if more people have it and get through it," Marsh said.
"I don't want any deaths. As few as possible. I get it," Marsh said, adding that we need to do all we can to protect those with preexisting conditions and the elderly. "But I'm not concerned. I want to make sure that everybody can receive care, but right now, to my knowledge as of today we still have ample beds."
Marsh has said in interviews this week that he doesn't predict a statewide mask order or a return to the restrictions that data shows slowed the virus's growth.
State Health Officer Dr. Scott Harris was asked by a CBS42 reporter about Marsh's statement encouraging more infections.
"There is absolutely no reason to think at this point that getting infected will give you any degree of immunity. We simply don't know that," Harris said.
"We've looked at countries like Sweden, who have tried to actually generate herd immunity among their population, and it's been disastrous. They've had increased numbers of deaths much higher than their neighbors, in trying to keep their economy open. It does not work well at all," Harris said.
In Sweden, one study found that after months of infections and deaths, less than 10 percent of the population had developed antibodies to the virus. Public health experts believe at least 60 percent of the population would need to be infected for a population to reach herd immunity.
In reality, reaching a level of herd immunity that would be high enough to slow transmission would require tens of thousands more infections and thousands more deaths.
"The way to prevent illness and death, and to keep the economy open, quite frankly, is to keep people from getting this disease," Harris said. 'We need people to wear face coverings, to wash their hands, to stay home when they're sick and to practice social distancing."
Harris told CBS 42 that the state's availability of ICU beds was at its lowest point since the start of the COVID-19 pandemic. Of around 1,400 ICU beds, less than 200 were available Thursday, he said.
Because of Sweden's decision to attempt herd immunity, deaths in country have been eight times higher than in Denmark and 19 times higher than in Norway, according to The Washington Post.
Sweden has seen 543 deaths per million of its population, compared to just 105 per million in Denmark, according to the Worldometer.
 "I believe we're at another pivotal point," said EAMC President and CEO Laura Grill in a statement Thursday. "We had flattened the curve in our community, but due to relaxed state orders and an unwillingness by some people to follow the three simple guidelines needed to help control COVID-19, we are almost back to square one. It's frustrating and quite demoralizing to our staff and physicians, and those in our community who are following the rules."
On Thursday 259 of EAMC's  314 beds were occupied, six nursing units were at 100 percent capacity and 27 of the 30 critical care beds were in use. 
"In other words, EAMC was having a 'red census' day for the second time this week. Patients with positive COVID-19 cases occupied 36 of the beds, with two other patients awaiting results," the hospital said in a release. 
The 36 COVID-19 patients was less than the hospital's peak of 54 on April 11, but at that time the hospital had 164 total patients, and Thursday hospital staff were treating 100 more than that. 
Grill noted the record-breaking number of new COVID-19 cases statewide on Thursday and called for the public to do what's needed to slow the spread. 
"This morning, Alabama announced 2,164 new cases in the past 24 hours—by far the most in a single day—and people are still debating the merits of wearing a mask, calling the virus a hoax and questioning qualified health officials on whether an asymptomatic person can spread the virus. It's all very frustrating," she said.

COVID-19 hospitalizations statewide on Thursday were 1,125, the highest it's been since the start of the pandemic. Nine of the last 11 days the state has seen record high coronavirus hospitalizations. 
Regional Medical Center in Anniston, Marsh's hometown in Calhoun County, on Thursday was caring for 15 coronavirus patients, a record high for the hospital, according to The Anniston Star.
Calhoun County on Thursday added 33 new COVID-19 cases, which was the second-highest single day of new cases the county has seen since the pandemic began. In the last week the county added 156 cases, or 35 percent of the county's total coronavirus cases.