Rogers addresses MARC in Vestavia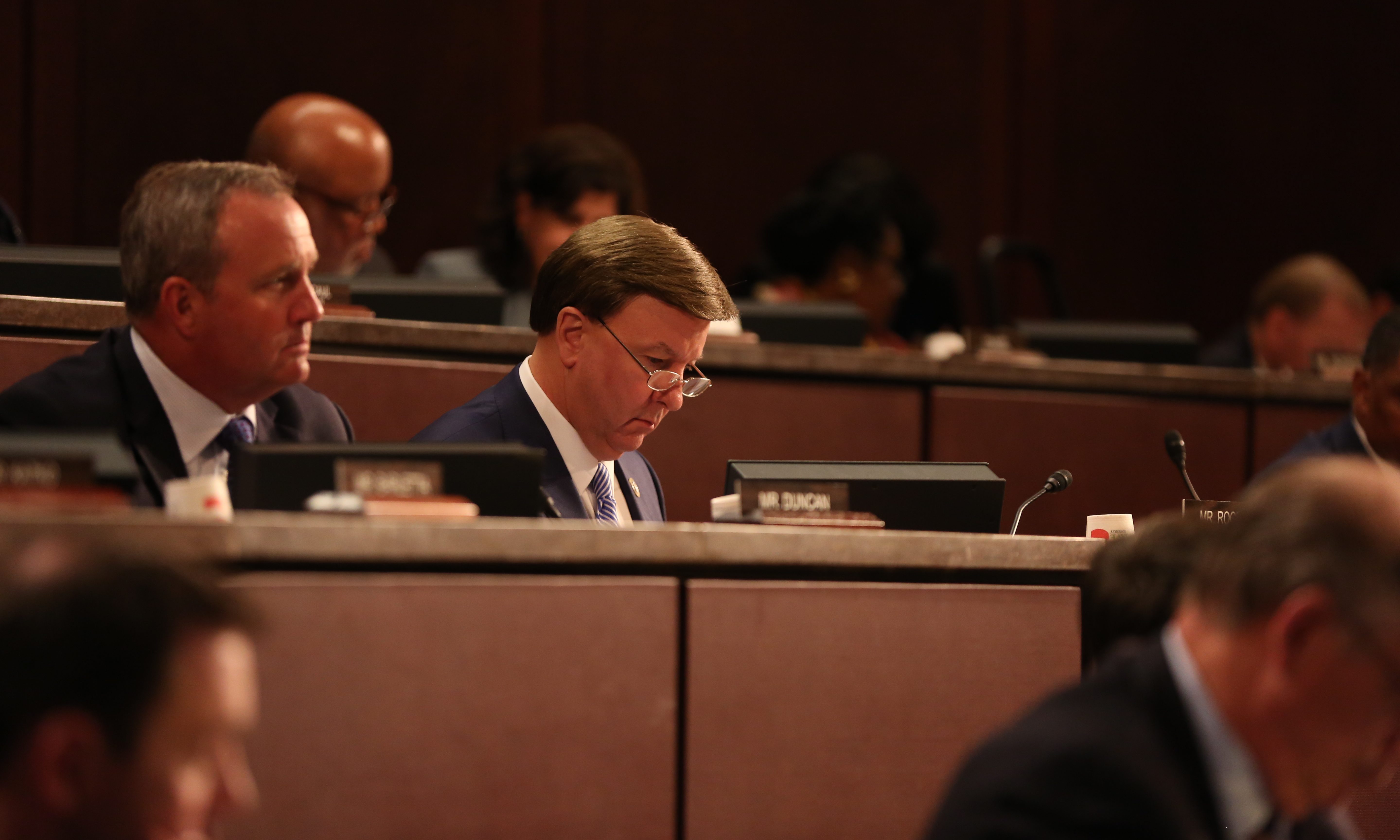 Saturday. Congressman Mike Rogers updated the Mid Alabama Republican Club (MARC) on the national political scene.
Rogers said that while Vestavia Hills is not in his district, it does not include nearby St. Clair County. "I love St. Clair County."
Rogers said that when he was in the state legislature, even though Republicans were in the minority the capital press corps, it is a lot smaller now, would let us get our message across. It is not like that in Washington. "The national new media is completely in the tank for the Democrats. We have Fox but that reaches a very small sliver of the national audience."
"The country wanted us out of that economic morass and they wanted a conservative Justice to replace Justice Antonin Scalia," Rogers said. Both of those have been achieved.
We used the Congressional Review Act to begin overturning regulations that the Obama Administration passed on their way out, Rogers said. Then the President's cabinet picks started getting in there and started doing the same things. "The stock market stated ticking up because they realized that they did not have an enemy in the White House."
Rogers said that Trump did something unique. He produced a list of 25 names he would appoint to the Supreme Court. His first pick, Neil Gorsuch sailed through. He went back to that list when he picked Brett Kavanaugh. "I think that (announcing a list of judges during the campaign) is going to be expected going forward."
"We went forward on repealing and reforming Obamacare," Rep. Rogers said. "We got a replacement for Obamacare through the House. We thought we had the votes in the Senate. Senator McCain told the Majority Leader and the President that he was a yes vote and then came in, voted no, and hugged Diane Feinstein."
"Senator McCain has been replaced by Senator Kyle," Rogers said. "Kyle is a much more reliable Republican vote than McCain."
"We went through months of vigorous debate and on December 17th we finally passed the Tax cut bill," Rogers said. "We brought the corporate tax rate down from 35 percent to 21 percent. We had the highest corporate tax rate in the world." We cut all the tax rates. "When that passed we were 16 points down in the generic ballot. All the people had heard in the news media was that Republicans were watching our for rich folks."
"Corporate America got a 40 percent tax cut," Rogers said. "Apple announced they were going to create 20,000 new jobs and were moving $30 billion back overseas with the intent to bring it all back eventually. We estimate that there is $4 trillion in U.S. corporate tax dollars overseas. Most of it in banks in Great Britain and Ireland." Corporations have a fiduciary responsibility to their shareholders and they weren't going to bring that money back at a confiscatory tax rate. Wal-Mart raised their minimum wage to $11 an hour. Regions Bank and Protective Life raised their minimum wage to $15 an hour. The average taxpayer got a tax cut of $1000. Nancy Pelosi said that that was "just crumbs." She thinks that a $1000 is just crumbs. If you are married to a fellow with over a $100 million that may just be crumbs, but in my district that is a new set of tires."
"In the last quarter we had 4.1 percent growth," Rogers said. "The Fed has reported that in the current quarter we have 4.2 percent and predicted that it will be 4.6 percent in the fourth quarter. It is driving the Democrats nuts. Americans see that he is making their lives better."
"He (Pres. Trump) has also made us safer," Rogers said. "North Korea was testing ICBMs almost weekly. China was building islands in the South China sea and it was not to grow flowers on but to build bases."
Rogers said that in Barack Obama's last few years our European allies were telling us that they were not sure that we were a reliable ally anymore.
"Everybody understands that America is the 800 pound gorilla in NATO," Rogers said. When Pres. Trump fired the cruise missiles into Syria, "I was leading a CODEL and we were meeting with Gen Scaparrotti who was the Commander of NATO. We did not know it but he had been up all night planning that attack. Those European defense ministers were grinning ear to ear. America is back."
"The President dropped a MOAB on Afghanistan, that is the mother of all bombs, and that got their intention," Rogers said. "It also got the intention of Kim Jung Un."
Kim Jung Un stopped his testing and wanted to meet, Rogers said. Testing is how you learn. Kim Jung Un was learning each time he tested. They met in Singapore, that is important because Singapore is one of the hottest economies in Asia. The message is clear we can make North Korea like Singapore if they will work with us and not be a threat Rogers said.
According to media reports they had developed a missile to reach Alaska and California, Rogers said. And they had developed a nuclear tipped weapon. "Don't get me wrong I don't trust that little runt," Rogers said.
Rogers predicted, "We are going to keep the United States House of Representatives."
One member of the audience asked Rogers what he thought about what Jeff Sessions is doing.
"I don't know what to say," Rogers said. "He is radio silent. I don't know what is going on. There is some speculation that he is investigating Hillary Clinton and the email scandal. I love Jeff Sessions but the public has a right to know."
One audience member asked who was going to be the next Speaker of the House.
"It is going to be Kevin McCarthy," Rogers said. Steve Scalise has endorsed McCarthy. "Kevin has got the vote we have just go to hold on to the House."
One audience member asked why the House can vote so much faster than the Senate even though it has more than four times the members.
Rogers credited electronic voting for that. "We push the green button for yes, red for no, or yellow for I am too stupid to know how to vote or present." The Senate has voice votes where they read a roll and each Senator announces how they are voting. They should probably go to an electronic voting system to but there are a lot of things in the House that the Senate should adopt.
The Federation of Young Republicans Chair Jackie Curtiss and Jefferson County Republican Party Chair Sallie Bryant announced that they were organizing volunteers to door knock for state Representative David Faulkner (R-Mountain Brook).
"It is a very tight race," Curtis said. "We are on the bubble."
The Mid Alabama Republican Club meets on the Second Saturday of each month in the Vestavia Hills Public Library. Former State Representative Paul DeMarco is the President of the MARC.
Congressman Mike Rogers represents Alabama's Third Congressional District.
U.S. Supreme Court rules Alabama can ban curbside voting
"The District Court's modest injunction is a reasonable accommodation, given the short time before the election," the three dissenting justices wrote.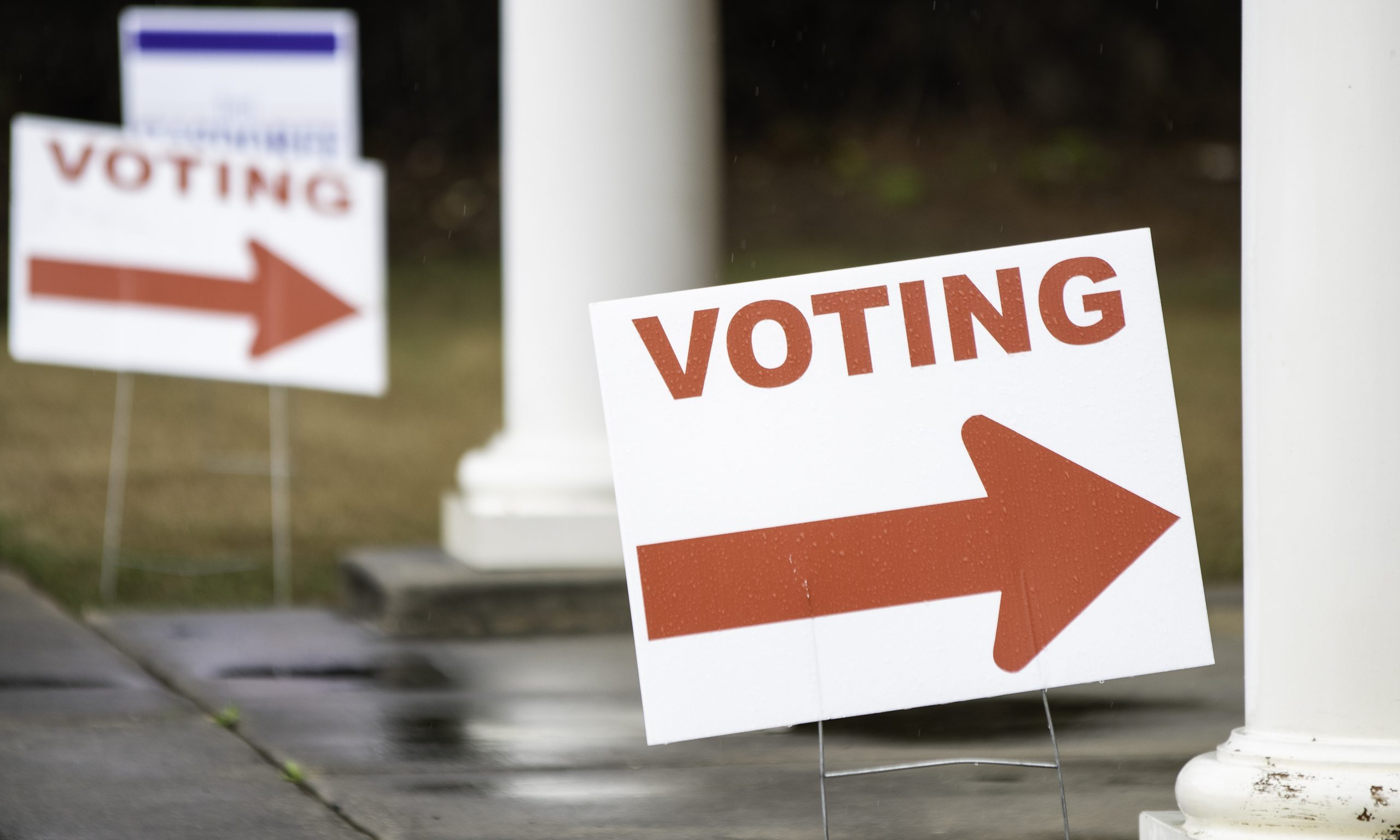 The Supreme Court, in a 5-3 decision, allowed Alabama Secretary of State John Merrill to ban curbside voting, staying a district court injunction that had allowed some counties to offer curbside voting in the Nov. 3 election amid the COVID-19 pandemic.
The Supreme Court's majority in its order declined to write an opinion, but Justices Stephen Breyer, Elena Kagan and Sonya Sotomayor's five-page dissent is included.

The lawsuit — filed by the NAACP Legal Defense and Educational Fund, Southern Poverty Law Center, American Civil Liberties Union, ACLU of Alabama and Alabama Disabilities Advocacy Program — was brought on behalf of several older Alabamians with underlying medical conditions.
"The District Court's modest injunction is a reasonable accommodation, given the short time before the election," the three dissenting justices wrote. 
Sotomayor, who wrote the dissent, closed using the words of one of the plaintiffs in the case. 
"Plaintiff Howard Porter Jr., a Black man in his seventies with asthma and Parkinson's disease, told the District Court, '[So] many of my [ancestors] even died to vote. And while I don't mind dying to vote, I think we're past that – We're past that time,'" Sotomayor wrote. 
Alabama Secretary of State John Merrill on Wednesday applauded the Supreme Court's decision. 
"I am proud to report the U.S. Supreme Court has now blocked a lower court's order allowing the fraudulent practice of curbside voting in the State of Alabama," Merrill said in a statement. "During the COVID-19 pandemic, we have worked diligently with local election officials in all 67 counties to offer safe and secure voting methods – including through the in-person and mail-in processes. I am glad the Supreme Court has recognized our actions to expand absentee voting, while also maintaining the safeguards put into place by the state Legislature."
"The fact that we have already shattered voter participation records with the election still being 13 days away is proof that our current voting options are easy, efficient, and accessible for all of Alabama's voters," Merrill continued. "Tonight's ruling in favor of election integrity and security is once again a win for the people of Alabama."
Sherrilyn Ifill, president and director-counsel of the NAACP Legal Defense and Education Fund, expressed frustration after the ruling in a tweet.
"Another devastating loss for voters and a blow for our team fighting to ensure safe voting for Black and disabled voters in Alabama. With no explanation, the SCOTUS allows Alabama to continue making it as hard as possible for COVID-vulnerable voters," Ifill wrote.
Curbside voting is not explicitly banned by state law in Alabama, but Merrill has argued that because the practice is not addressed in the law, he believes it to be illegal. 
A panel of federal appeals court judges on Oct. 13 reversed parts of U.S. District Judge Abdul Kallon's Sept. 30 order ruling regarding absentee voting in the upcoming Nov. 3 elections, but the judges let the previous ruling allowing curbside voting to stand. 
In his Sept. 30 ruling, Kallon wrote that "the plaintiffs have proved that their fears are justified" and the voting provisions challenged in the lawsuit "unduly burden the fundamental Constitutional rights of Alabama's most vulnerable voters and violate federal laws designed to protect America's most marginalized citizens."
Caren Short, SPLC's senior staff attorney, in a statement said the Supreme Court's decision has curtailed the voting rights of vulnerable Alabamians.
"Once again, the Supreme Court's 'shadow docket' – where orders are issued without written explanation – has curtailed the voting rights of vulnerable citizens amidst a once-in-a-century public health crisis. After a two-week trial, a federal judge allowed counties in Alabama to implement curbside voting so that high-risk voters could avoid crowded polling locations," Short said. "Tonight's order prevents Alabama counties from even making that decision for themselves. Already common in states across the South and the country before 2020, curbside voting is a practice now encouraged by the Centers for Disease Control and Prevention (CDC). It should be a no-brainer to implement everywhere during a pandemic; the Alabama Secretary of State unfortunately disagrees, as does the Supreme Court of the United States."